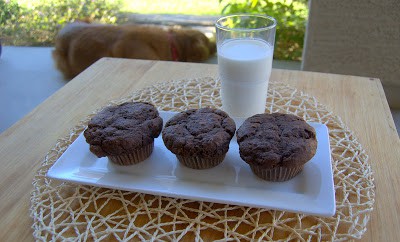 Chocolate with a side of milk brings my spirits up anytime. Now with double the chocolate, we'll have to double the milk.
Once again, I was craving some chocolate. Is that a surprise? Seems like the majority of this year I've been craving chocolate. I was thinking a chocolate chip muffin would do the trick.
But it couldn't be just a vanilla muffin with chocolate chips, it had to be a chocolate flavored muffin with chocolate chips IN it! Yeah.
Just. plain. yum.
The doggie likes to be with me whenever I take my pictures. Ok, and whenever I'm baking in the kitchen. He watches me like a hawk, forever ready to leap at the first sight of something hitting the floor or waiting for the gift of a handout.
SAVE THIS CHOCOLATE CHIPS MUFFIN RECIPE TO YOUR FAVORITE PINTEREST BOARD!
I left the SD card in the computer my husband took to work, hence the pictures of the finished product and none of the process. That's ok. I like looking at these anyway. It's almost as good as eating them. Saves you on the calories, anyway.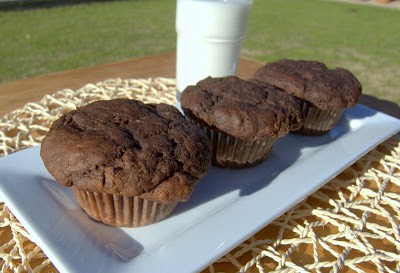 This comes to us from the Brown Eyed Baker which she found in Dorie Greenspan's book, Baking: From My Home to Yours. Thanks, Michelle!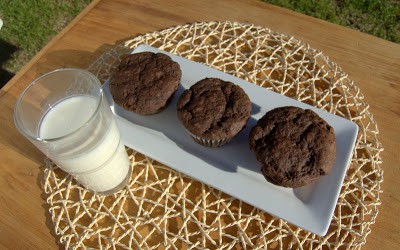 Ingredients
6 tablespoons Butter (3/4 stick)
4 ounces bittersweet chocolate, coarsely chopped
2 cups flour
⅔ cup sugar
⅓ cup unsweetened cocoa powder, sifted
½ teaspoon baking soda
1 tablespoon baking powder
½ teaspoon salt
1 ¼ cups buttermilk
1 egg
1 teaspoon vanilla
Instructions
Place a rack in the center of the oven and preheat it to 375 degrees. Place muffin cups into a 12-inch muffin tin and place on a baking sheet.

In a medium bowl placed over a small pan of simmering water, melt the butter and 1/2 of the chopped chocolate. Remove from heat.

Whisk together the flour, sugar, cocoa, baking powder, baking soda, and salt in a large bowl.

In a medium bowl, mix together the buttermilk, egg, and vanilla. Mix until combined.

Add the buttermilk mixture and the chocolate mixture to the dry ingredients. Stir quickly and gently with a rubber spatula being careful not to overmix.

Fold in the remaining chopped chocolate. Fill the muffin cups 2/3 full.

Bake for 20 minutes until a cake tester is inserted and comes out clean. Allow the pan to cool on a wire rack for 5 minutes before removing the muffins from the tin.
Did you make this recipe?
Share it with me on Instagram and make sure to follow me on Pinterest for more recipes.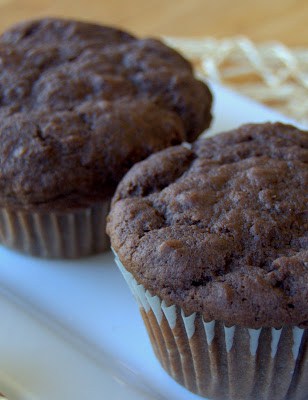 I rate everything I bake on a scale from 1-4 and these Chocolate Chocolate Chip Muffins earned 3 rolling pins.
I loved the bittersweet chocolate chunks, but I think the only thing that held me back from rating these higher was that I was hoping for a fudgier muffin.
It was more like cake and I am SO into chocolate fudgy brownies. Don't get me wrong though, these were very good and did satisfy my chocolate craving.
Whether it's to snack on after dinner, or that first thing you eat for your day, these Blueberry Cornmeal Muffins are the real deal.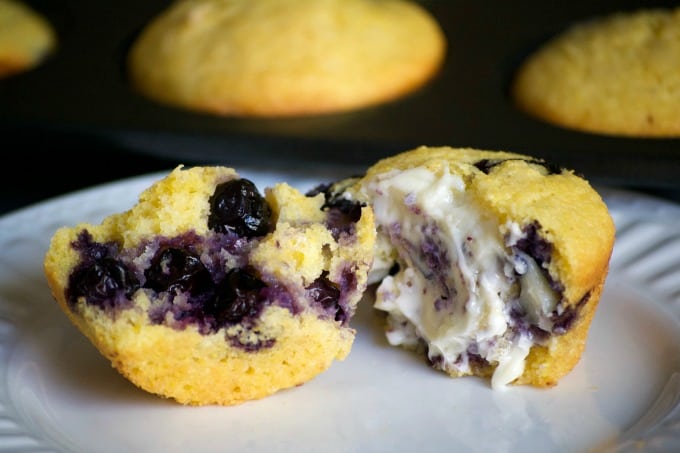 I don't think anyone can resist this recipe of Cinnamon Roll Muffins. I know I can't!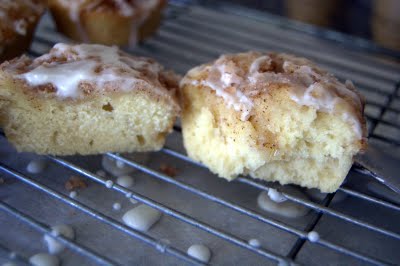 We have A LOT of new faces over at our Facebook page. We're up to 611!!! Can you believe it?? And here I was thinking that we might not reach the 500-mark before 365 was up and we still have two weeks left!
Woo Hoo!
If you haven't already "like"d it, head on over here. I'm telling you now because it will be to your advantage when we have the giveaway on Day 365 – you'll get another entry!
Thank you!!
Reader Interactions