Red, White, and Blue Berry Delight – Strawberries Lenox, blueberries, fresh whipped cream, and homemade pound cake make up this festive patriotic holiday dessert!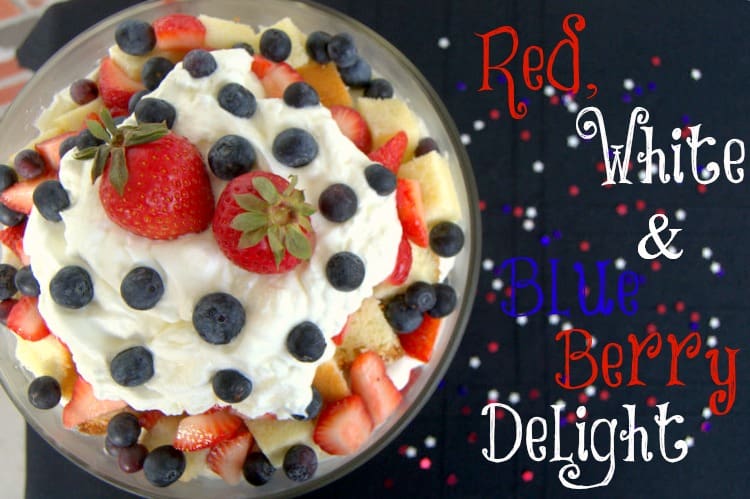 Ok, so I was going to call this puppy a trifle…
But realized I couldn't do that in all honesty because I'd left the custard out.
Hmmm….imagine how good it would have been if I'd used custard.
It would have ROCKED!
Not that it doesn't because each ingredient in this baby is out of this world delicious!
And let me tell you something. Word of advice, really. Make it with this pound cake recipe. Please.
You'll be doing a huge disservice to the family and friends you'll be feeding it to and spending a heck of a lot more money, too. Trust me on this.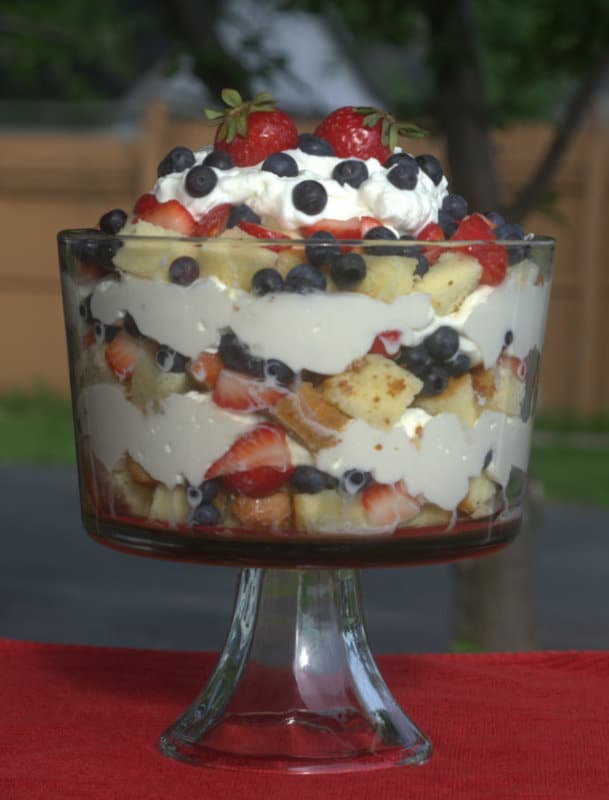 The first time I made it, I bought not one, but TWO of those let's just shall we say very well known packages of pound cake that can be found in your grocer's freezer.
You know who's I'm talking about – female, she's been around for years and *clearing throat – ahem* "nobody doesn't like her".
Yeah, her.
Well, I bought two of the smaller cakes and when I took them out of the package…BIG let down!!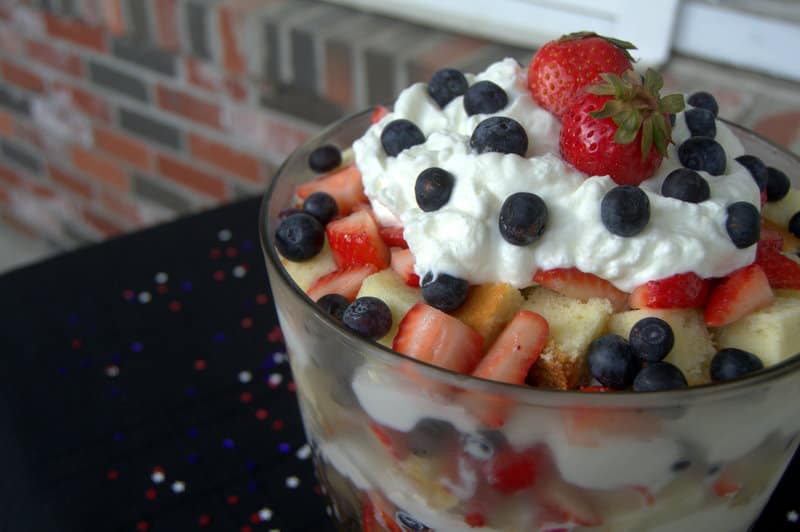 Holy CROW! Have those things shrunk in the past few years or WHAT?!?!
It was clearly half the size I remember the last time I bought it (and yes, that was a few years ago since I've been baking more pound cakes myself, but c'mon!) and of course, it costs, MORE!
See it here on my Instagram. BOO!!!!
AND it was D-R-Y! heh heh, this is NOT a good review of that product, is it? 😉
I know time is of the essence when preparing meals and desserts, especially if you're going to be having company, but really, do yourself and everyone a favor, make this incredibly delicious pound cake that I found in my Fannie Farmer Cookbook. There's nothing better.
Oh, AND (before I forget) get this…I only used HALF of the pound cake. Yuppers. H-A-L-F! There was so much and it was so thick and yummilicious that I could only fit half of it in the bowl. Eat the rest. Plain. By yourself. In a closet. Where no one else will find you.
You deserve it after making such a great pound cake.
I used my The Fannie Farmer Cookbook Thirteenth Edition, p. 571; author, Marion Cunningham; publisher, Alfred A. Knopf, division of Random House; ISBN 0-394-56788-9 for the pound cake and the Strawberries Lenox recipe for the strawberries with syrup. It's included below.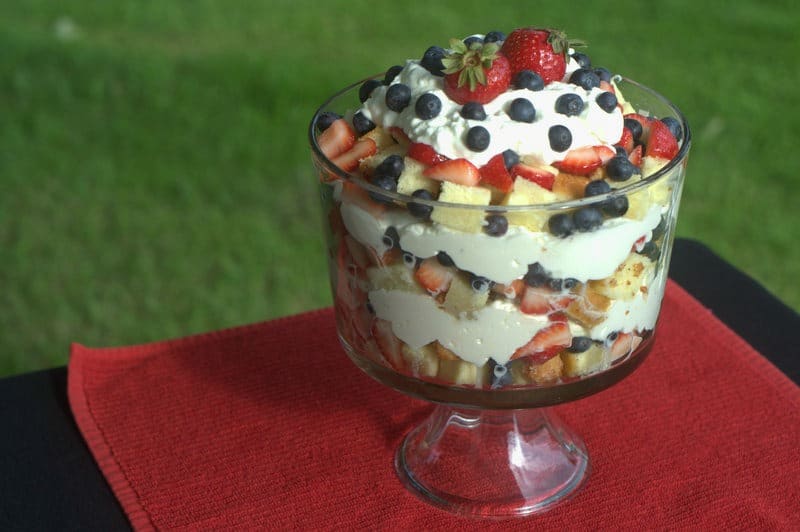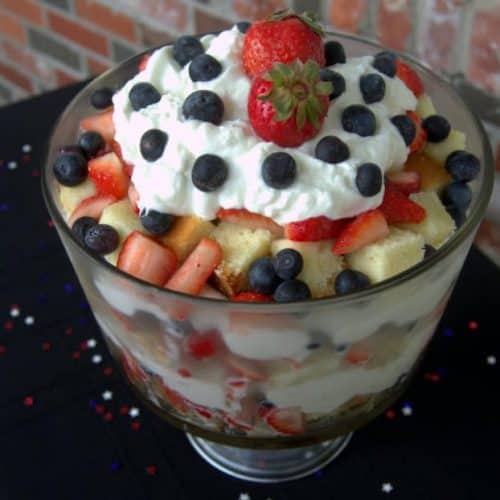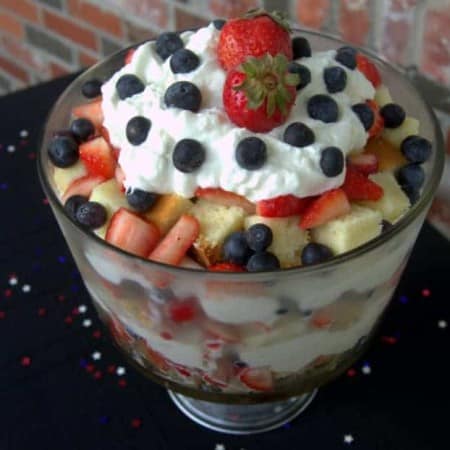 Red, White and Blue Berry Delight
Ingredients
1 9 X 5-inch Pound Cake
1 Strawberries Lenox Recipe
16 ounces fresh blueberries
Fresh whipped cream
Strawberries Lenox
32 ounces strawberries rinsed, cored and quartered (set two whole berries aside for top decoration)
½ cup orange juice
½ cup granulated sugar
2 teaspoons Blue Curaçao
Pound Cake
½ lb. 2 sticks unsalted butter
1 ⅔ cup sugar
5 eggs
2 cups cake flour
½ teaspoon salt
1 teaspoon vanilla
Whipped Cream
16 ounces whipping cream
1 ½ teaspoons sugar
Instructions
Strawberries Lenox
Place cut strawberries into a medium bowl.

In a small bowl, mix together the orange juice, sugar and Blue Curaçao.

Pour over the strawberries and gently toss to completely coat.

Cover and refrigerate at least two hours before using.
Pound Cake
Preheat oven to 325 degrees F.

Prepare a 9 X 5-inch loaf pan by spraying with with cooking spray and lightly flouring it.

Cream the butter.

Slowly add the sugar and beat until light.

Add the eggs, one at a time and beat until well incorporated.

Add the vanilla.

Stir in the flour and salt and mix well.

Pour into prepared pan.

Bake for 1 1/4 to 1 1/2 hours or until a toothpick inserted into the middle comes out clean.

Cool in the pan for 5 minutes.

Then run a knife around the sides of the cake to loosen it before turning it out on a wire rack to cool completely.

Cut half the loaf into one inch cubes.
Whipped Cream
Pour the whipping cream into a mixer and beat at medium for about 3 minutes until soft to medium peaks form. Gradually add sugar while beating.
Assembly
In a trifle bowl, place a single layer of poundcake cubes on the bottom.

Cover with a third of the Strawberries Lenox and remember to use that juice!

Sprinkle with 1/3 of the blueberries.

Evenly spread 1/3 of the whipped cream to cover the bottom layer.

Repeat process until reaching the top of the bowl.

Top with remaining whipped cream, sprinkle with a few blueberries and seal the deal with those whole strawberries.

Refrigerate until serving.
Notes
Don't be scared by the extensive list of ingredients and directions. It comes together quickly and it is SO worth it!
Prepare the strawberries first because they'll need a couple hours to soak up that goodness in the fridge and can do that while you prepare and bake the cake.
I used the Pam Baking spray on the loaf pan and it worked like a charm.
Did you make this recipe?
Share it with me on Instagram and make sure to follow me on Pinterest for more recipes.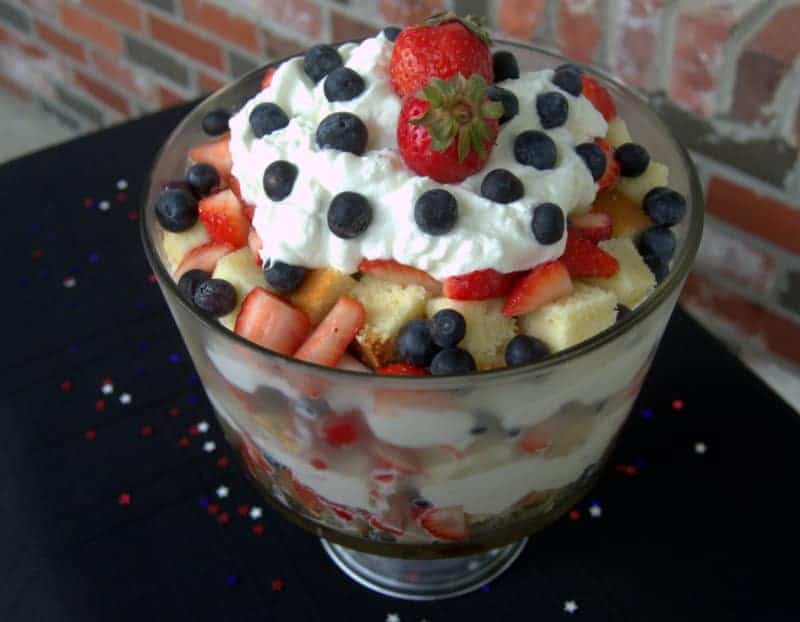 I rate everything I make on a scale of 1-4 with 4 being the best and this Red, White, and Blue Berry Delight earned 4 rolling pins. Yuppers. You need to add this puppy to your MUST-MAKE list.
Promise.
It was devoured by our family. The first time I made it, I brought it over to Mr. 365's aunt and uncles' house for dinner. They loved it as well.
It's the perfect summertime dessert. Light and fresh, delicious and completely satisfying! Bet you won't be able to pass up a second helping. 😉
Reader Interactions