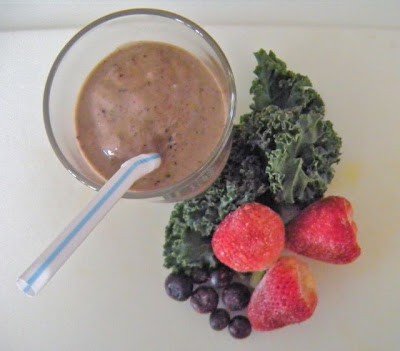 Yes, it is that time for the March reveal of the Secret Recipe Club!!

The Secret Recipe Club is the brain-child of Amanda from Amanda's Cookin. It is based on the idea of Secret Santa where every blogger is assigned a different blog every month. We are to "secretly" stalk them (wait isn't that what you do when you stalk someone anyway, do it secretly? Ok, a little redundant, I guess.). We search for a recipe that we are interested in and then reveal the results of what we have chosen to make on a certain day of the month. My group is lead by Angela of Big Bear's Wife and we usually have our post on the third Monday of the month. The Secret Recipe Club has gotten so large that now there are 4 groups and it's still growing. It is so much fun to do and I can't WAIT every month to see what my blog assignment will be for the following month!
This month I was given…
This blog was created by Brittany and Julie, who are both full-time college students. I give them lots of credit going to school, blogging and eating much better than most college students I know usually do.
Although we don't have any vegan family members here at the 365 home, there are plenty of recipes that can be adapted and some I'd definitely like to try in the future like the
Sweet Potato Risotto
.
For today's reveal though I chose something that I didn't have to BAKE. I was SO VERY excited that this month I would be able to choose ANY recipe!!!! WOO HOO!
I picked something easy and healthy and also something that I would have shared on Smoothie Saturday, but decided this would be our first Smoothie post. I did make some adaptations which I will go over after the recipe.
Berry Blast Green Smoothie – serves 2
1 handful of kale, washed and torn
1 large handful of fresh spinach, washed and torn
3/4 cup frozen blueberries
10 large frozen strawberries
1/2 cup Greek yogurt
1/2 cup white grape juice
1/2-3/4 cup water
1 heaping tablespoon flaxseed meal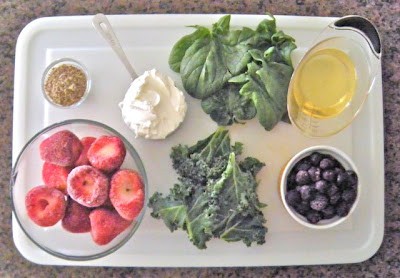 In a blender, combine all ingredients and blend until well mixed and smooth.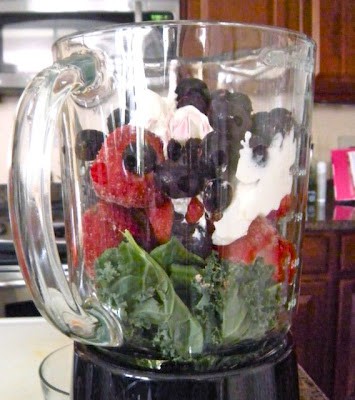 Pour into serving glasses.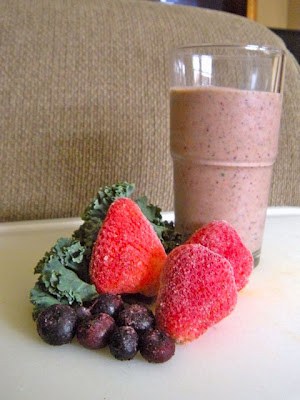 Could this be ANY easier and be healthy for you, too?
I admit using the white grape juice may not have been the best choice because of the sugar content and I could have just used 1/2 cup water in place of it, but I wanted to add that little bit of extra flavor.
As I stated before, there were some things that I changed in We Heart Vegan's recipe. I deleted the frozen cherries and added 4 more strawberries than they called for. I didn't have any almond milk, but now I'm thinking I may go get me some for future smoothie recipes. In place of the milk, I used the white grape juice, water and Greek yogurt. I also substituted the flax meal for the meal powder and omitted the ice since I added the extra strawberries and yogurt.
I rate everything I make on a scale of 1-4 with 4 being the best and this Berry Blast Green Smoothie earned 3 rolling pins.
My daughters and I really liked the flavor, but we agreed that I may have added too much yogurt. I think 1/3 cup would have been sufficient. It just made it a tad bit more tart than we would have liked.
I have to say that I really enjoyed seeing all those little specks of color at the bottom of my glass as I slurped that last little bit through my straw. The combination of blue, green and red made me feel really happy that I was treating my body well with this drink.
It may not be the prettiest looking drink, but it tasted really good.
I'll be making this again, but I will be omitting the white grape juice and using the almond milk. I'll also cut the yogurt back to 1/3 cup.
I give you BIG baking hugs and muffins!!