Who can say no to a Panini when there's fresh mozzarella in between tomato and prosciutto? Let this warm panini sandwich be a staple in your weekday plans like it is in mine!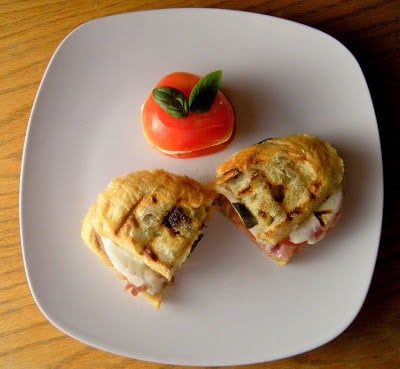 And don't forget that last bite of the panini you take will be just as good as the first!
ESPECIALLY when you have that crunch from the Italian bread. Yes, those grilled sandwiches have become QUITE popular mainly because they're so very delicious. And because I don't have a panini maker at home, I didn't think I'd be able to make one.
BUT…
enter my trusty George Foreman Grill! No, this is not a plug for that wonderful kitchen appliance, but I have to tell you that I really do love that thing. My mother-in-law gave it to me a few years ago for Christmas after I saw the girls at my old job using it and decided I had to have one.
SAVE THIS PANINI TO YOUR FAVORITE PINTEREST BOARD!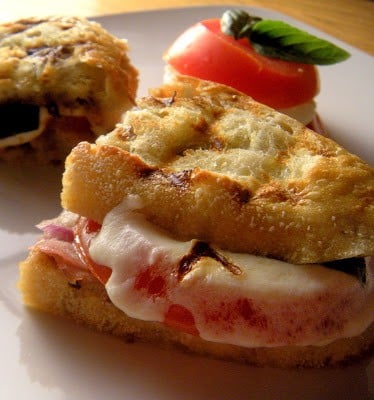 That thing is probably one of the best appliances I have in my kitchen, AND I've really only been using it to cook chicken because it cooks it in like, ready for this, 5-7 minutes!!!! SSSOOOO wonderful when you need a healthy dinner made quickly. Yesterday while searching for a Pasta Fagioli recipe, I had the craving for a tomato, basil, and mozzarella panini.
So, skip the soup, for now, because we're going with the sandwich!
If for some reason you're not using a panini maker or George Foreman grill, carefully flip sandwich using a large spatula and press down to compact. I'm saying this because the other day I had someone say they didn't know what a panini was. How can you not know the one of a kind panini sandwich?
And you know me, I told them what they were missing! Which makes this panini recipe a good post to get you folks ahead of the curve. Or I'll have to come knockin' on your doors with paninis at the ready, which I'm sure you won't protest.
I adapted this from Epicurious.com.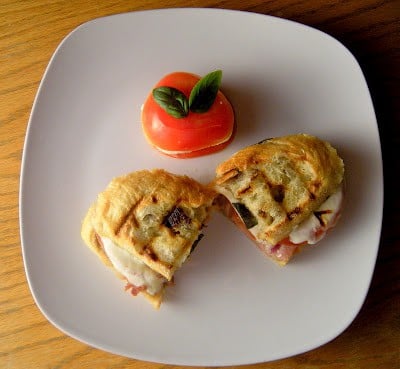 Ingredients
8 slices Italian bread
½ cup olive oil
3 tablespoons balsamic vinegar
1 large clove garlic, minced
salt and freshly ground pepper
8 thin slices Prosciutto
12 slices tomatoes
16 thin slices red onion
10 ounces whole-milk mozzarella, sliced thin
¼ cup fresh basil leaves
Instructions
Preheat grill to medium-high heat, and in a small bowl mix together the olive oil, balsamic vinegar, and garlic. Season with salt and pepper.

Brush two slices of Italian bread with the dressing on the inside. On one side with the dressing side up, place the prosciutto, red onions, and tomatoes.

Place the mozzarella over the tomatoes and then top with the basil leaves. Place the second piece of Italian bread, dressing side down on top of the assembled sandwich.

Repeat with remaining ingredients.

Place on grill and cook until bread is golden brown and cheese has melted.
Nutrition
Calories: 1989kcal | Carbohydrates: 106g | Protein: 17g | Fat: 168g | Saturated Fat: 46g | Cholesterol: 5mg | Sodium: 676mg | Potassium: 1168mg | Fiber: 9g | Sugar: 65g | Vitamin A: 3015IU | Vitamin C: 46.6mg | Calcium: 56mg | Iron: 5.4mg
Did you make this recipe?
Share it with me on Instagram and make sure to follow me on Pinterest for more recipes.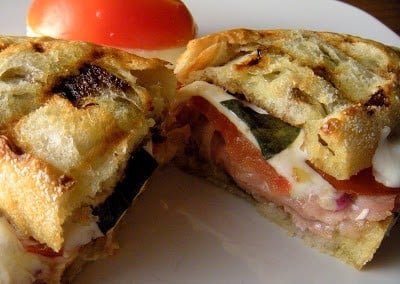 I rate everything I make on a scale of 1-4 with 4 being the best and this Prosciutto, Mozzarella, Tomato, and Basil Panini earned 3 1/2 rolling pins. I liked everything except the prosciutto. I'm not a big fan of it to begin with. For me, I had a difficult time eating it because it was rather stringy.
To help you with some other 365 recipes, here are some others that I really believe you'll love!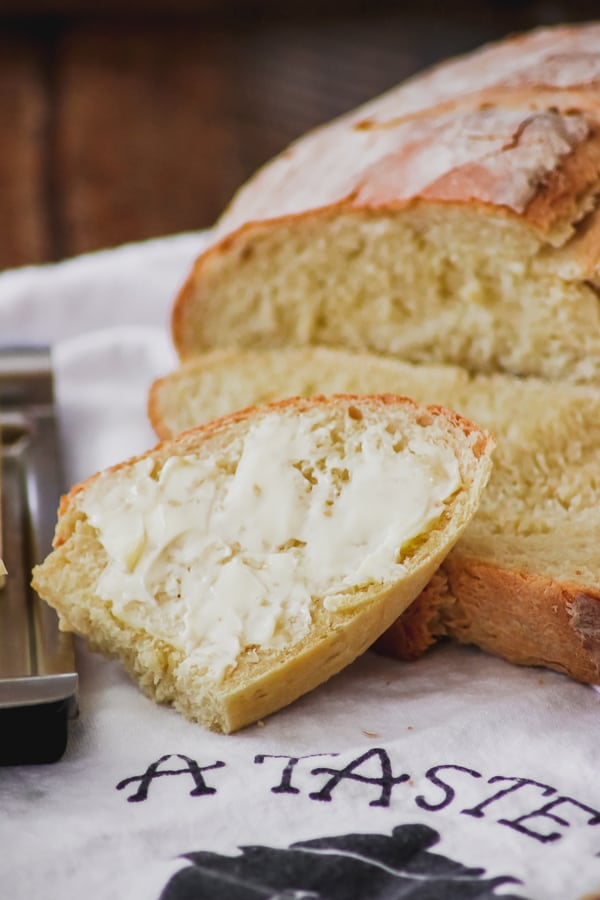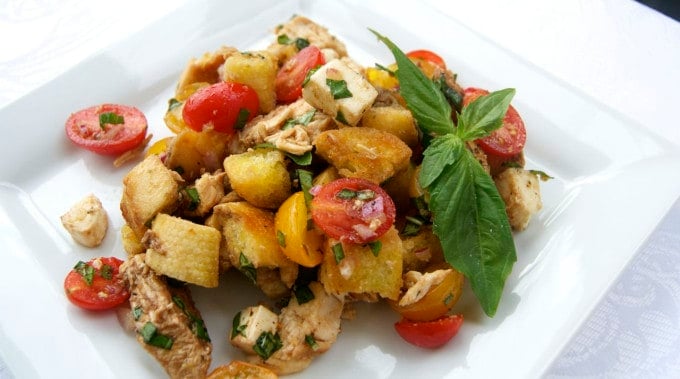 My husband loved it, but next time I'll be leaving it off of mine. However, I loved, loved, LOVED the flavors of the onion, tomato, Mozzarella, and basil. AND the grilled Italian bread with the dressing seeping through…
MAGNIFICO!!!
There may seem to be a lot of the dressing, but make sure you brush the pieces of bread generously.
Reader Interactions