Chicken Panzanella – toasted bread cubes, tomatoes, red onion, basil and fresh mozzarella tossed in olive oil and balsamic vinegar. This salad is full of flavor and makes a great dinner for a hot summer's night or any night!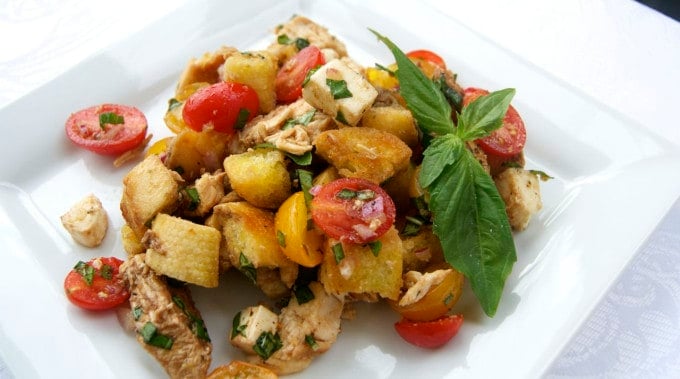 There are times as a blogger when I make a recipe that I have a really hard time coming up with a name for it unless I've borrowed it from another site.
Yesterday I was in the grocery store, trying to figure out what to make for dinner and it came to me!
I'd made this "salad" a couple of months ago and the family loved it. I'd put it together one night after we'd eaten some Caprese paninis a few nights before.
It had bread, tomatoes, mozzarella, basil, and I tossed it in some olive oil and balsamic vinegar.
It was SO good!
We ate it so fast that I didn't take pictures or even write the recipe down…or if I did, I have no idea where it disappeared to.
SAVE THIS CHICKEN PANZANELLA RECIPE TO YOUR FAVORITE PINTEREST BOARD!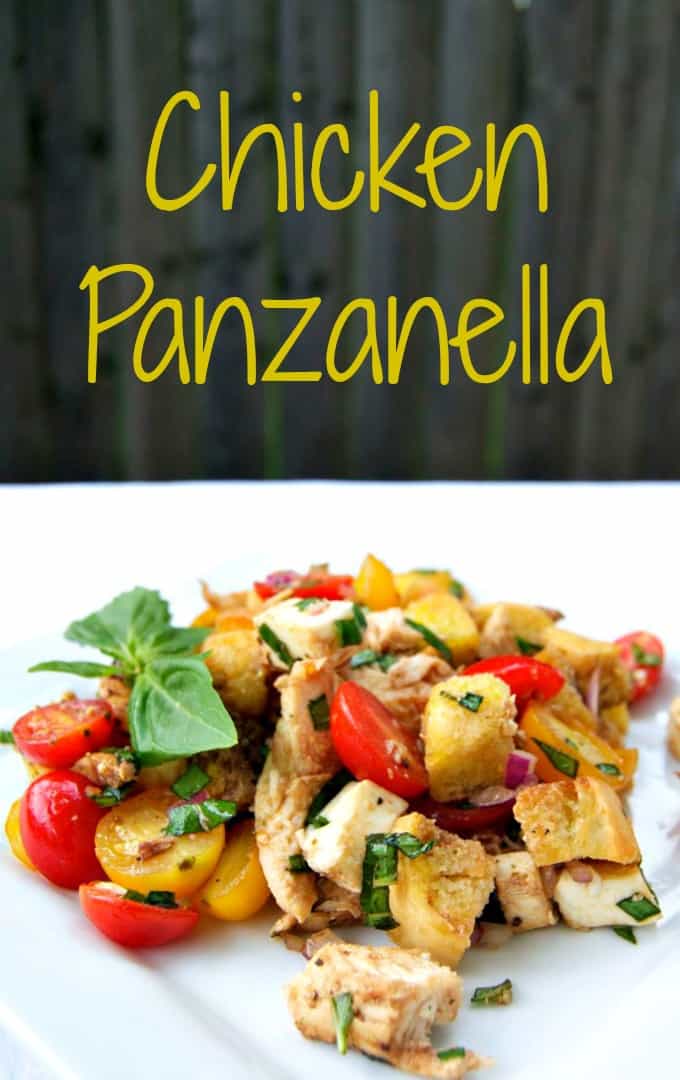 So, last night I did my best to recreate it and fortunately, I did. It was delicious and aside from the prep work of cutting those little tomatoes in half, was pretty easy to put together. And it was so worth it!
After dinner, we sat around the living room and I was trying to come up with a name for it…Caprese Chicken Bread Salad, Tomato Chicken Bread Salad, and on and on it went. Then I watched an old episode of Chopped and one of the contestants was making a bread salad with tomatoes and referred to it as this "Panzanella" thing.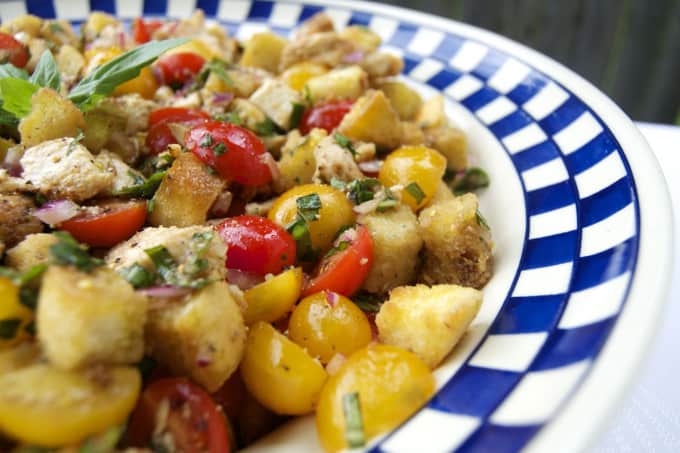 DUH!!!!

My daughter started laughing, "that saves you a whole lot of trouble." Good grief, I'll say!
So, there you have it. I just put the chicken in front of the Panzanella because it's an important ingredient, but feel free to leave it out.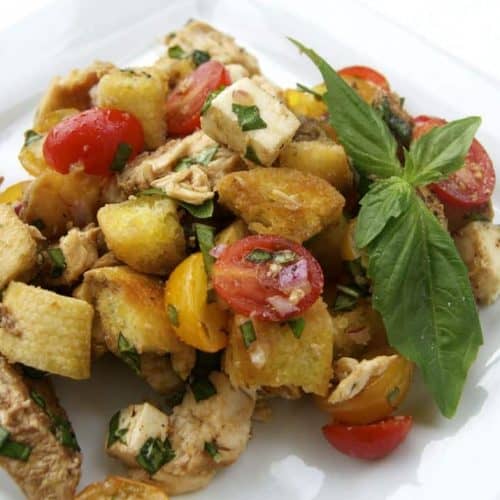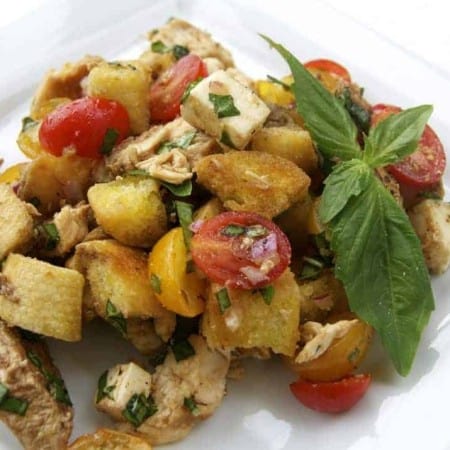 Ingredients
6 cups cubed bread cut up into 1-inch pieces
1 lb..seasoned cooked chicken, cut up into bite-size pieces
1 10.5 ounce container cherry tomatoes
1 10.5 ounce container yellow tomatoes
¾ cup olive oil divided
½ cup chopped fresh basil leaves
⅓ cup minced red onion
8 ounces fresh mozzarella cut up into bite-size pieces
¼ cup balsamic vinegar
salt and freshly ground pepper to taste
Instructions
Preheat oven to 350 degrees F.

In a large bowl, toss bread cubes with 1/4 cup olive oil. combine well and then toss with another 1/4 cup olive oil.

Spread bread cubes onto a rimmed baking sheet.

Sprinkle with salt and freshly ground pepper to taste.

Bake for 10 minutes, until bread is lightly golden.

In a large bowl, combine chicken, cherry and yellow tomatoes, basil, red onion, and mozzarella.

Pour the balsamic vinegar and remaining 1/4 cup of olive oil into the bowl and toss to completely coat.

Add salt and freshly ground pepper to taste.
Notes
I used one 8 ounce loaf of bread and cut it up into one inch cubes.
I seasoned the chicken before I cooked it with 1 tablespoon of McCormick's Montreal Chicken Seasoning.
Did you make this recipe?
Share it with me on Instagram and make sure to follow me on Pinterest for more recipes.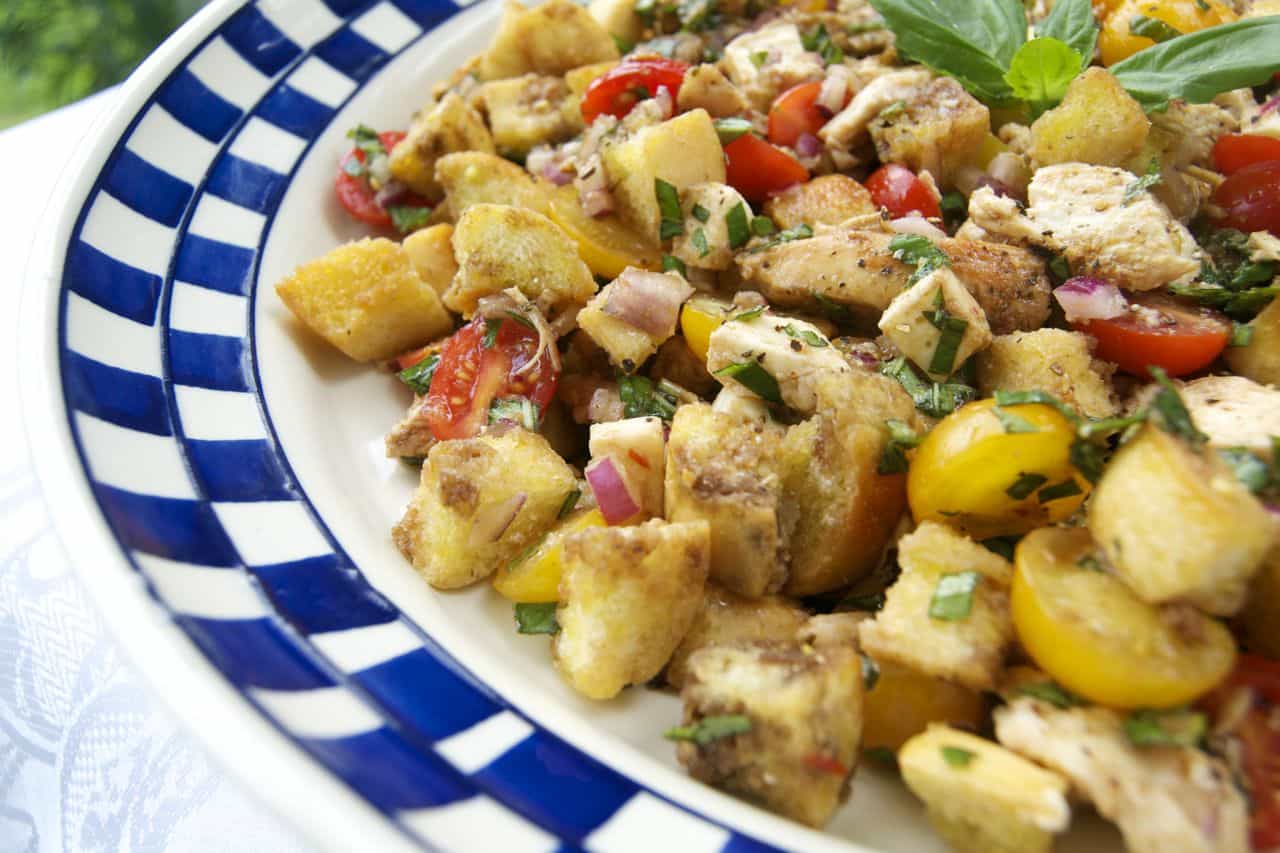 I rate everything I make on a scale of 1 -4 and this Chicken Panzanella earned 4 rolling pins!
WhoopdeeDO!!! I do believe this is one of my favorite meals I've made so far.
What's not to love – fresh tomatoes, mozzarella, bread, basil, the dressing, the chicken and….oh, man…
I want more! This will definitely be a regular on our summertime menu.
There's such a variety of ways to have chicken in a meal. Here are a few more that are a huge hit with the 365 family!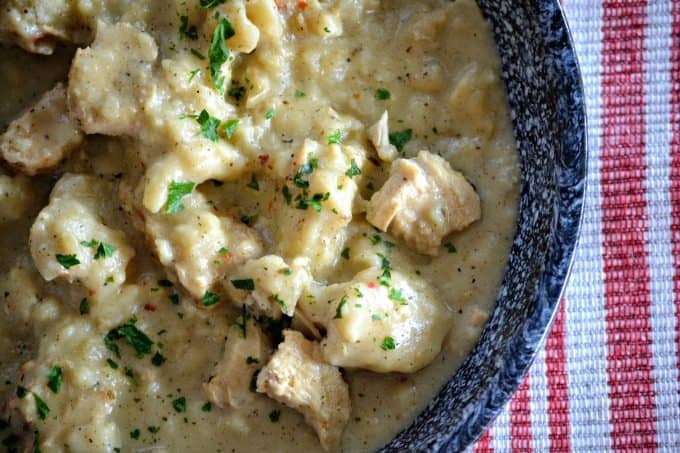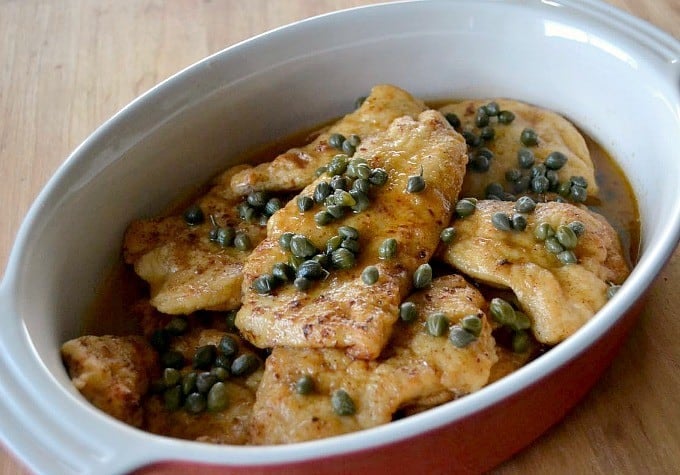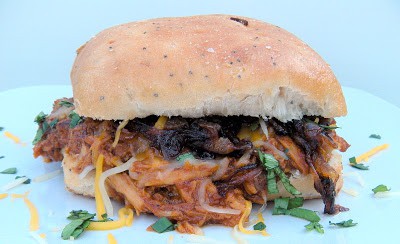 Reader Interactions