Greek Tortellini Pasta Salad combines cheesy pasta with crisp fresh veggies! Tossed with a homemade Greek dressing, this refreshing side dish makes a perfect picnic food!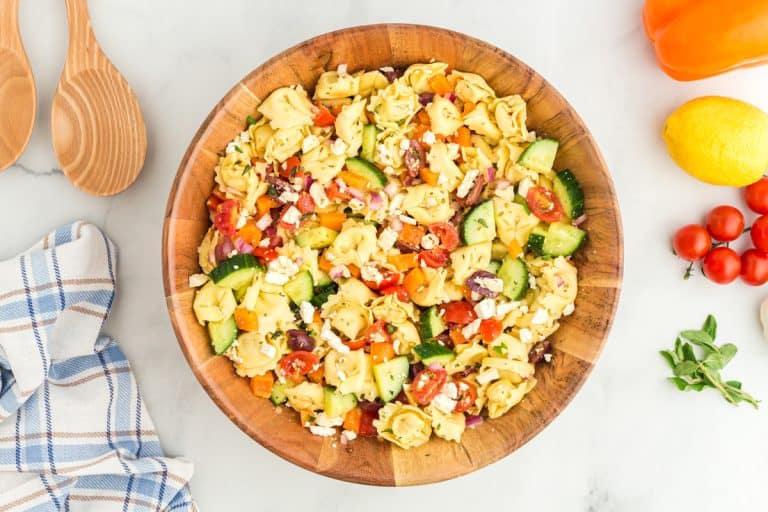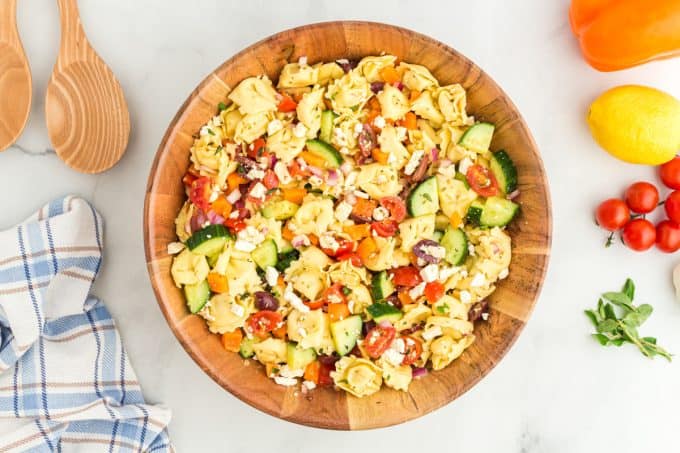 We are ALL about the chilled salads and fresh produce during the hot summer months. If you've tried this Pesto Chicken Pasta Salad recipe, you know that cheese tastes delicious in a cold pasta salad!
Today's recipe is the ultimate in cheesy pasta salad goodness. Cheesy tortellini is cooked al dente, then combined with garden fresh cucumbers, tomatoes, olives, feta and a zesty homemade dressing.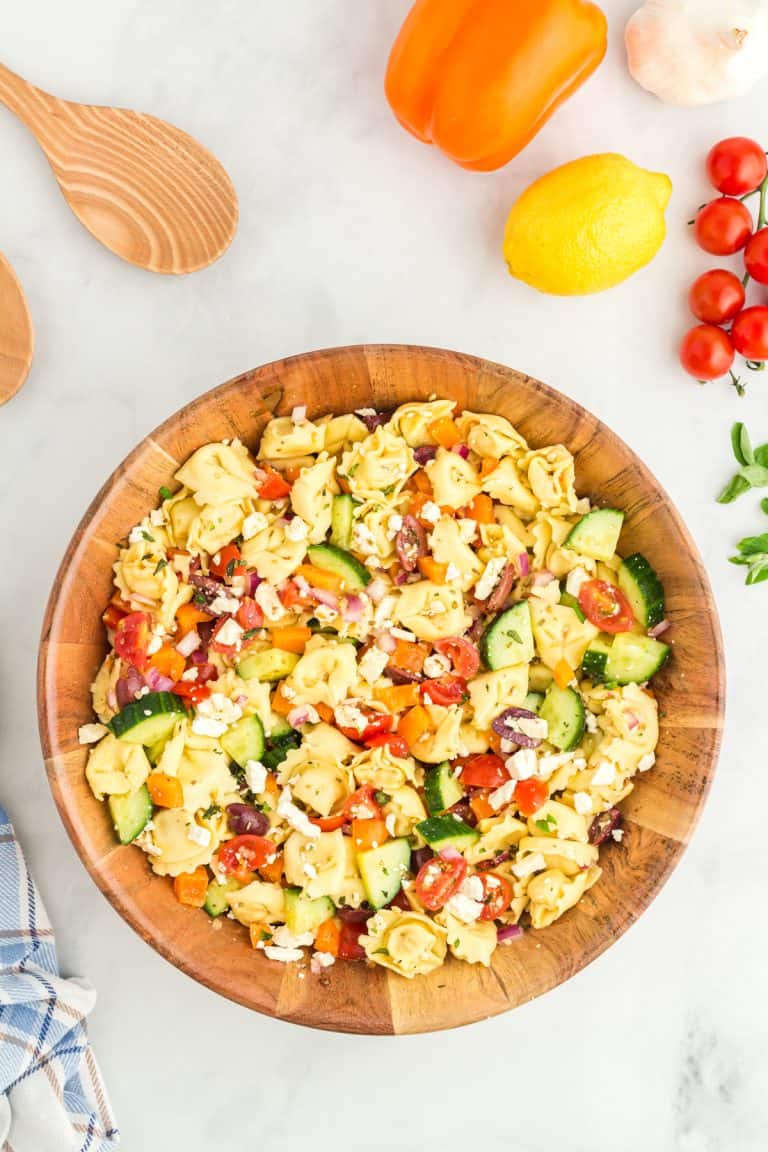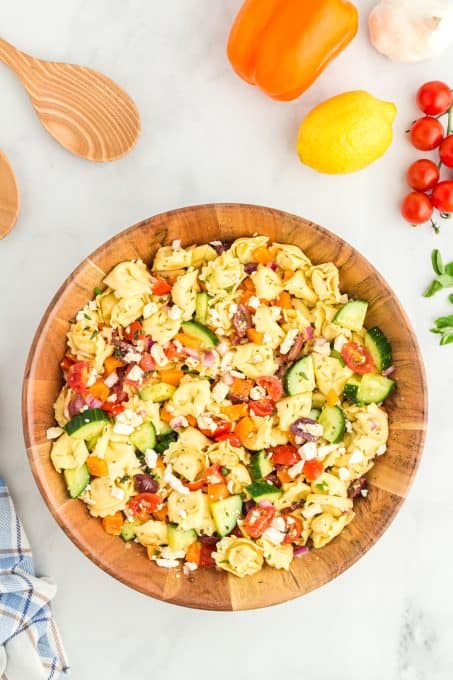 This Greek Pasta Salad is like eating the rainbow with all the bright colors and Mediterranean flavors! We use a combination of fresh and dried herbs for a delicious aroma, plus a handful of feta cheese for good measure. You get the heartiness of a cheesy pasta dish with the light, refreshing experience of a good Greek salad.
No need to turn on the oven or stand sweating over a stove. And since it's an easy pasta salad without mayonnaise, it's ideal for picnics, BBQs and summer dinners al fresco!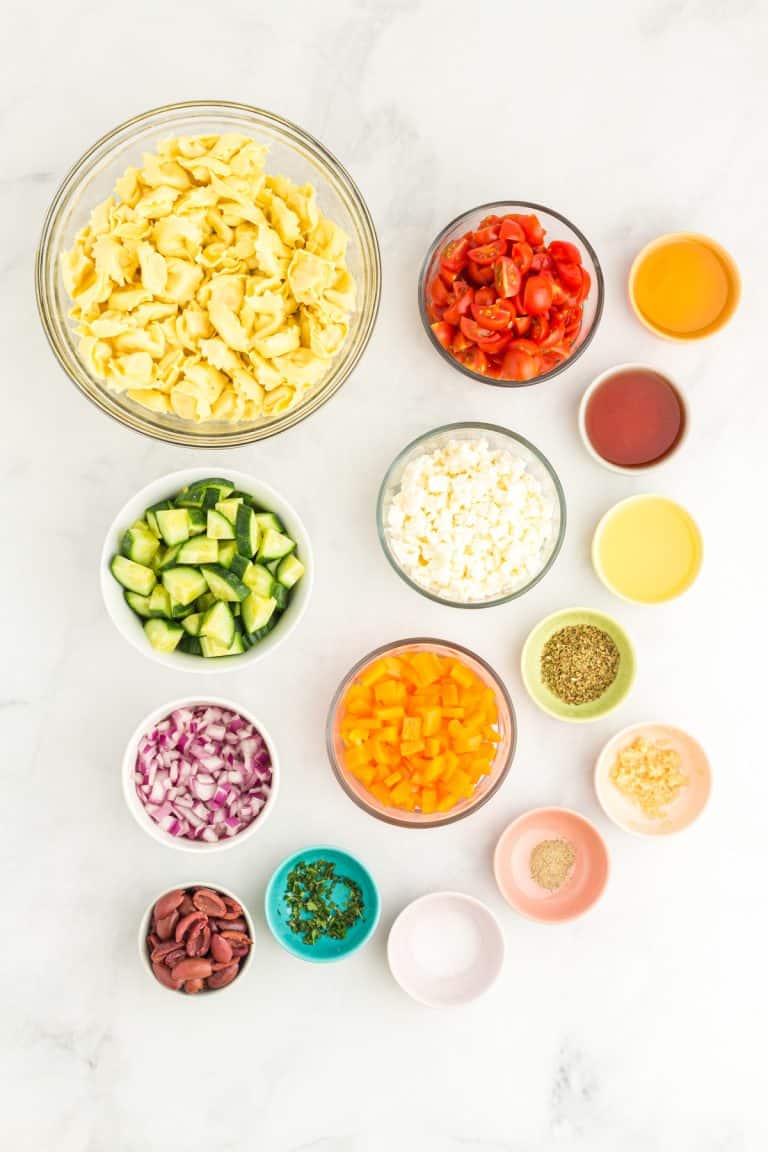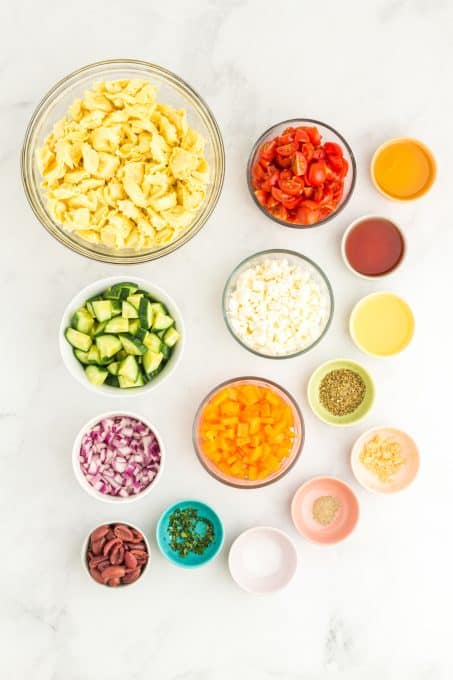 What do I need to make this Greek Pasta Salad recipe?
Let's chat about the ingredients for Greek tortellini pasta salad. Don't be intimidated by the long ingredient list here. This is a simple pasta salad recipe that comes together in about 20 minutes.
Here's what you'll need:
fresh cheese tortellini – uncooked
cucumber
cherry or grape tomatoes
orange bell pepper
crumbed feta cheese
Kalamata olives
red onion
fresh oregano
Dressing Ingredients
red wine vinegar
extra virgin olive oil
lemon juice
minced garlic
dried oregano leaves
salt
ground black pepper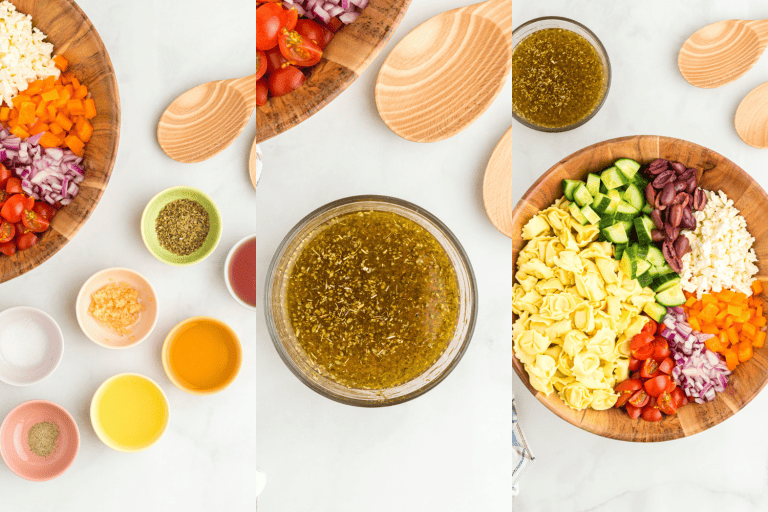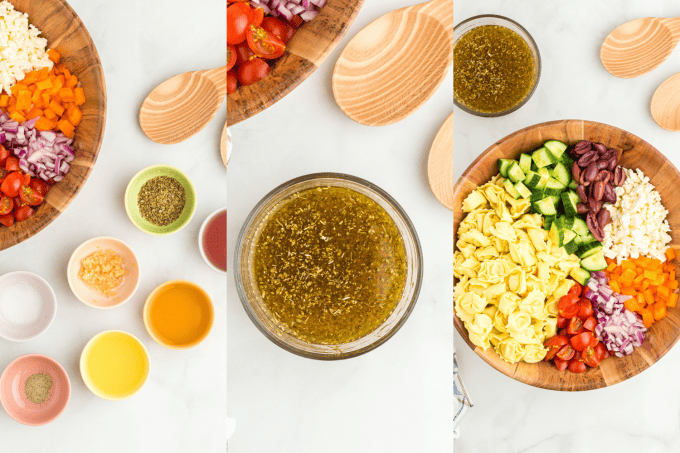 How to make cheese tortellini pasta salad
STEP 1. Cook tortellini.
Boil tortellini pasta in a pot of salted water until it's al dente. "Al dente" means that the pasta is soft enough to pierce with a fork but still a bit firm. Drain all the water from the tortellini.
STEP 2: Assemble the salad.
Transfer the cooked tortellini to a large bowl. Add chopped crisp cucumbers, sliced tomatoes, diced bell pepper, crumbled feta cheese, sliced olives and diced red onion.
STEP 3. Add dressing
Stir together the remaining ingredients in a separate bowl to make the dressing. Pour dressing over the pasta salad and toss to coat. Sprinkle the salad with fresh oregano leaves. Add some fresh basil, too, if you'd like.
STEP 4. Serve or store
You can serve the Greek pasta salad right away, or store it in the refrigerator for later. In a food safe sealed container, this tortellini pasta salad stays fresh and delicious for up to 3-4 days!
I like it best when it's had a little bit of time to chill in the fridge. The flavors really mingle and combine for an even bolder, zestier taste. Everyone raves over this salad whenever I bring it to a party or gathering, and it's a family favorite for summertime dinners, too.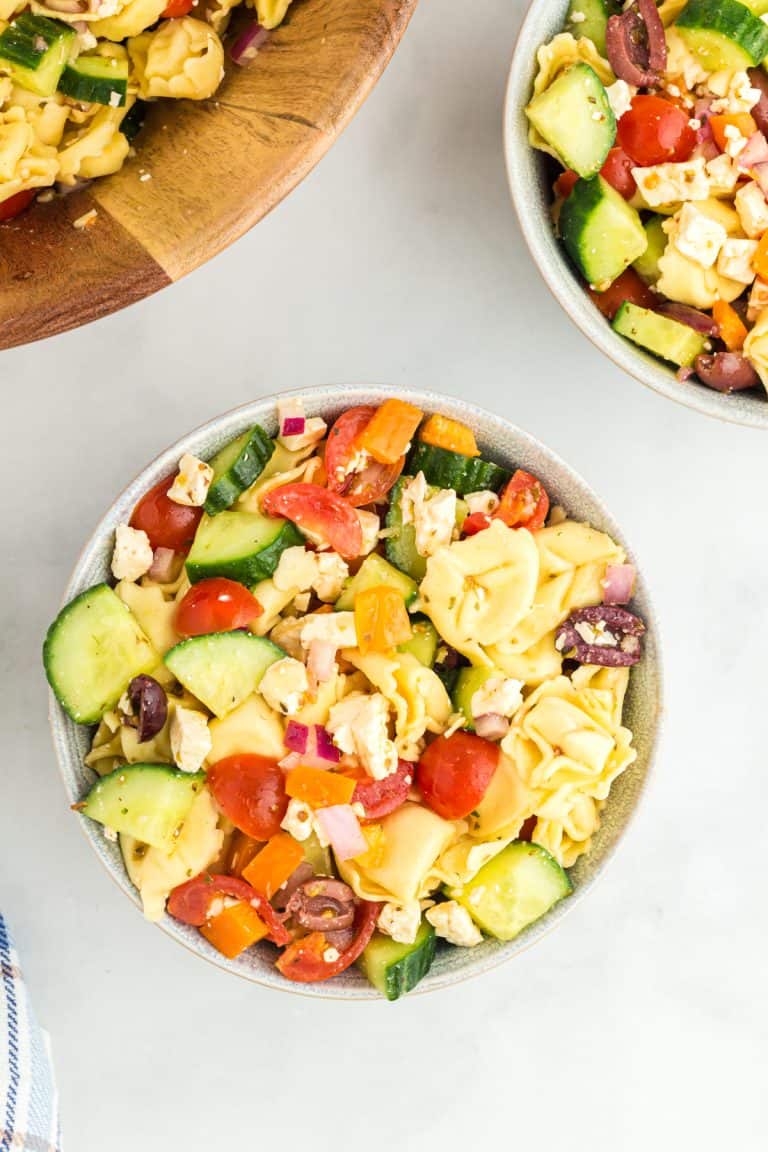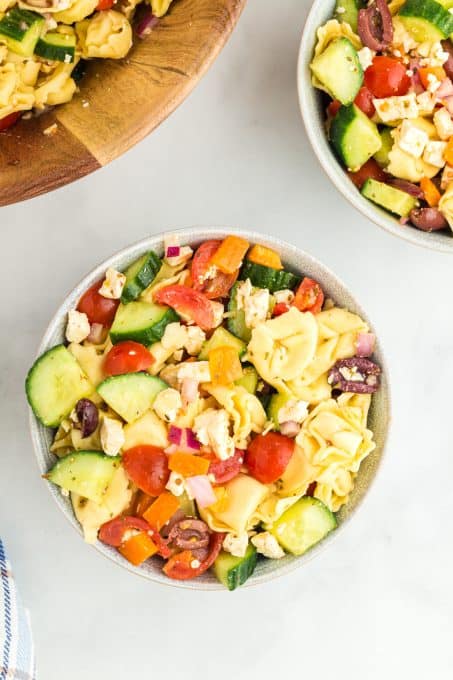 Does this Greek Tortellini Salad recipe need to be refrigerated?
Yes, this salad should stay refrigerated until ready to eat. It is fine left out for a couple hours while serving at your summer BBQs or picnic but leftovers should be refrigerated.
What else can I add to this recipe?
Feel free to add grilled chicken, rotisserie chicken or another favorite protein to this salad to make it even heartier! You can also swap out some of the vegetables for other favorites. Try it with green olives instead of Kalamata. Green or red peppers can be used instead of orange. Artichoke hearts would add some great flavor, too! Salad recipes tend to be forgiving so you're welcome to mix and match based on what you have on hand.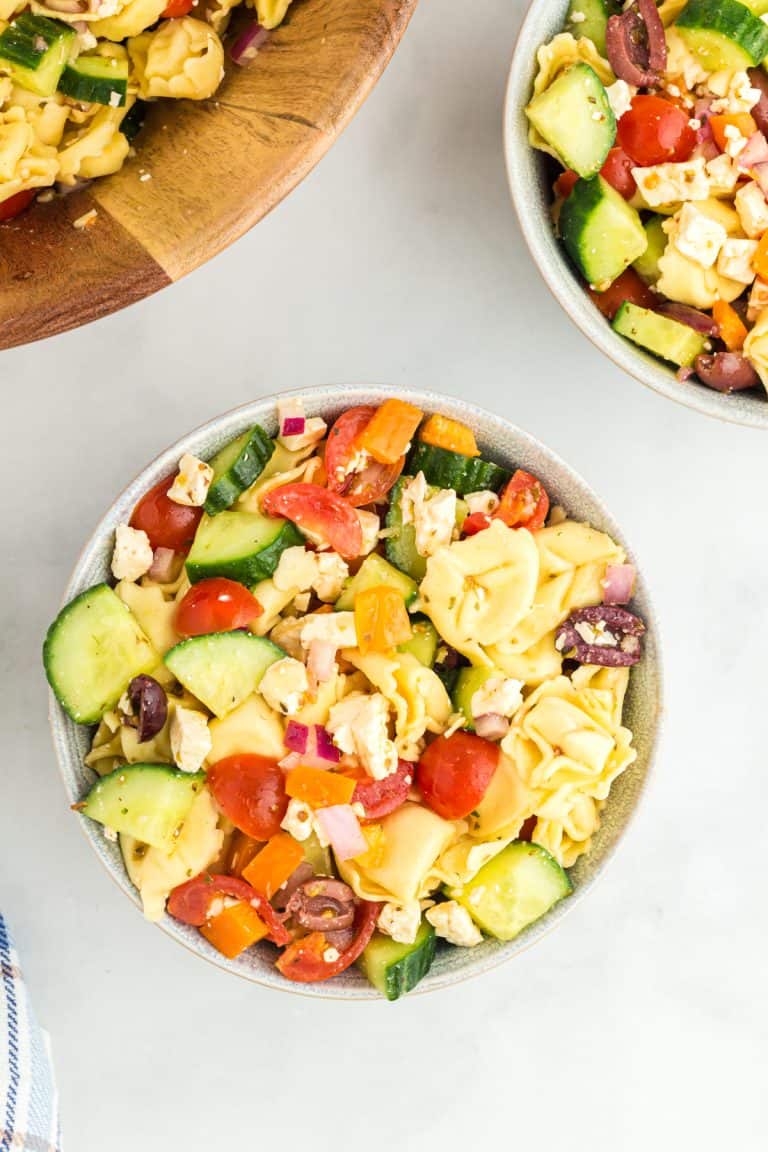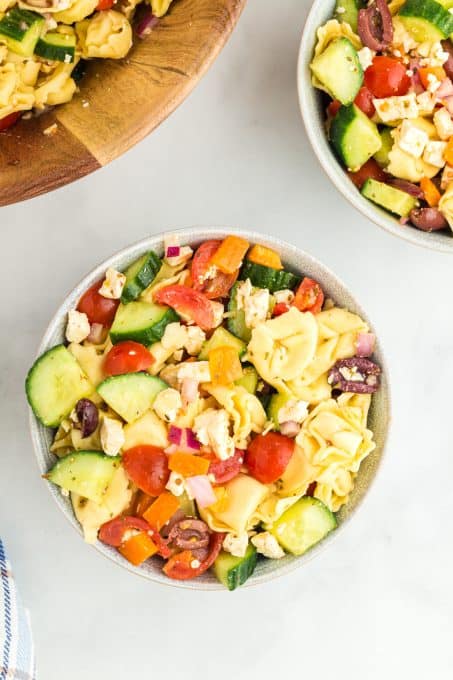 Summer Salad Recipes
If you think salads are boring, you're doing it wrong. I have so many fun, flavorful and exciting salad recipes on the blog that can turn anyone into a salad lover. Fans of Italian and Greek flavors will adore my Grilled Vegetable, Feta and Orzo Salad recipe or my Greek Quinoa Salad with Chicken. 
Chicken Caesar Salad is a classic for a reason. Once you try making your own Caesar dressing from scratch, you'll never want to go back to the bottled stuff. This Couscous Chicken Salad made with pearled couscous will be a favorite with the kids for sure! For a different twist on a familiar dish, try my easy Miso Chicken Salad recipe next.
Looking for a side dish with some southwestern flair? This Tex-Mex Pasta Salad will knock your boots off. So will a big helping of Chicken Taco Salad!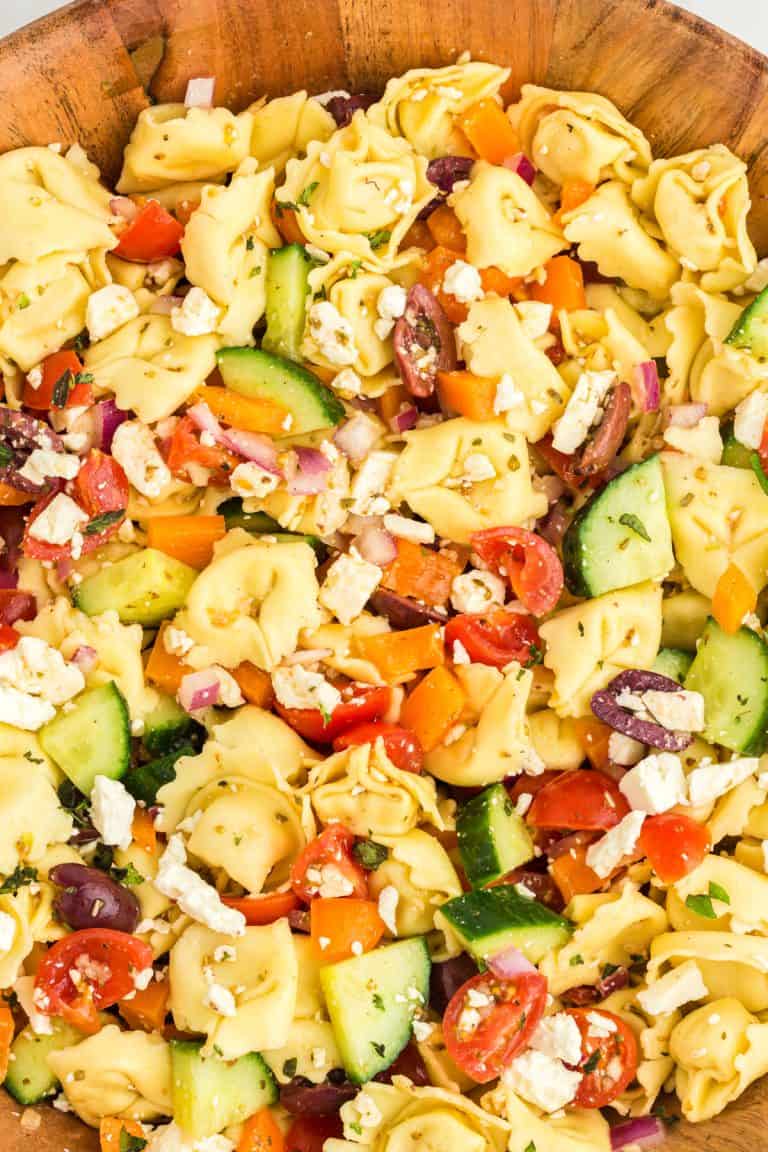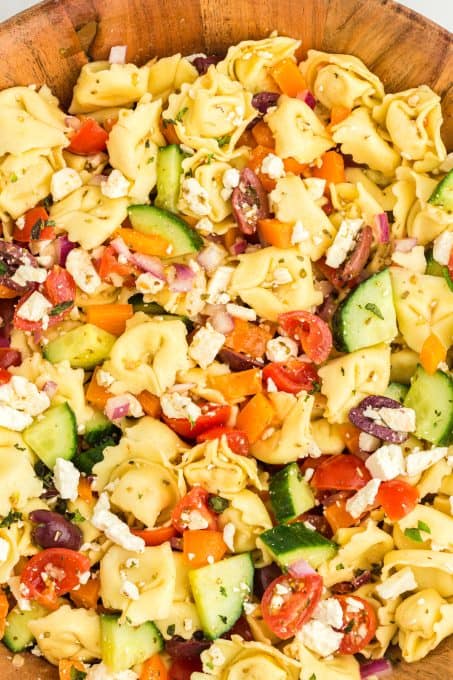 Fresh and light, this Easy Three Bean Salad is a vegetarian friendly side dish for hot summer nights. For a seafood version, check out this recipe for 4-Bean Tuna Pasta Salad.
These Avocado Tuna Salad Bites are another one to add to your list. You can enjoy them in bite size form or make Avocado Tuna Salad Lettuce Wraps instead!
Looking for more pasta salad recipes? Start with my mom's recipe for an Easy Macaroni Salad — a staple picnic food that'll never steer you wrong. Sausage Veggie Pasta Salad is hearty and filling with smoked bourbon sausage. Ranch BLT Pasta Salad comes together in no time with a quality store bought dressing for added convenience.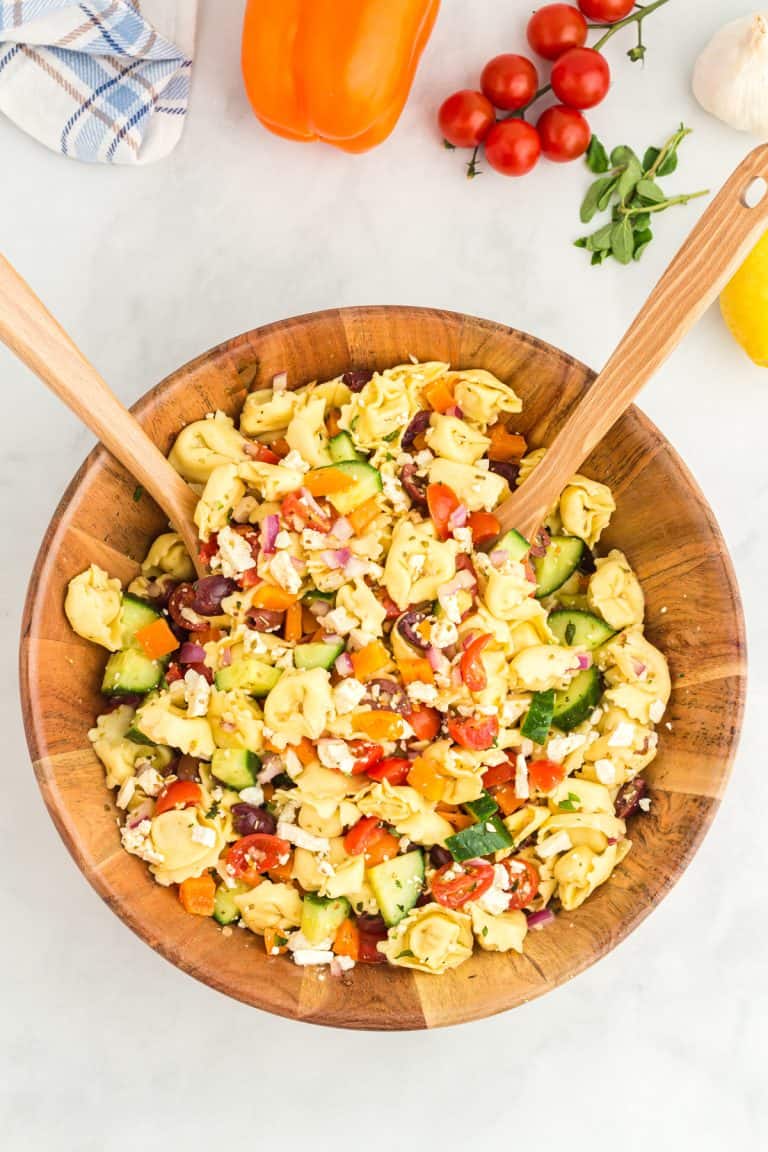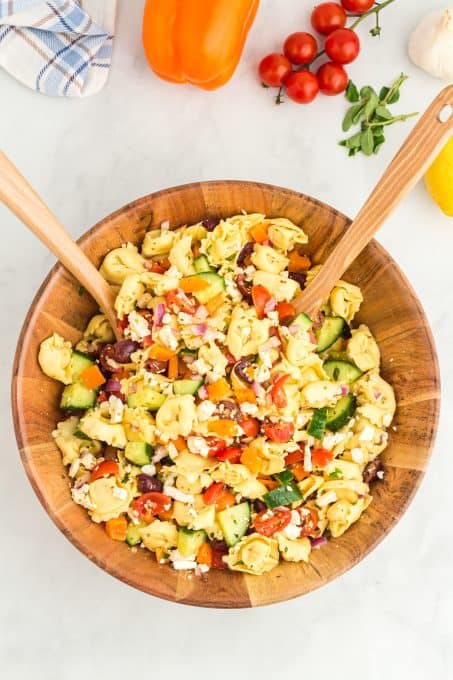 Best Picnic Foods
Today's Greek Tortellini Pasta Salad is easy to eat and serve at any outdoor picnic. Take a look at some of our other favorite picnic-ready dishes, from main courses to sides and desserts!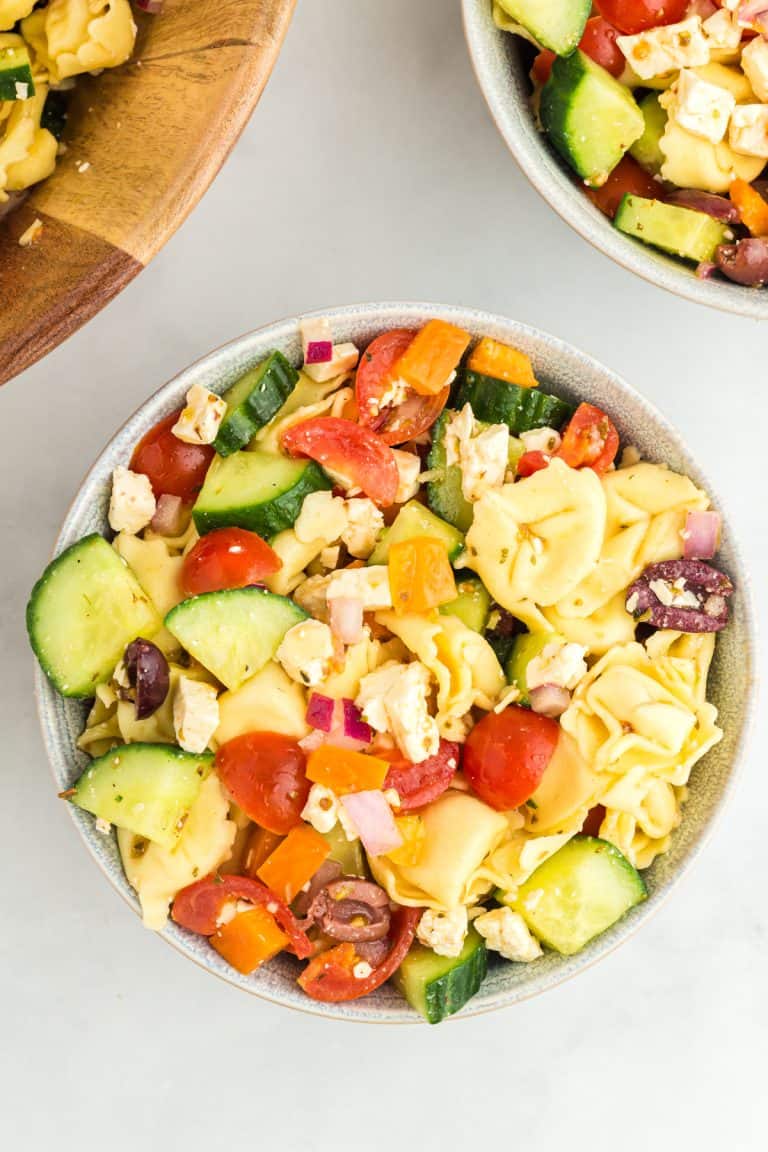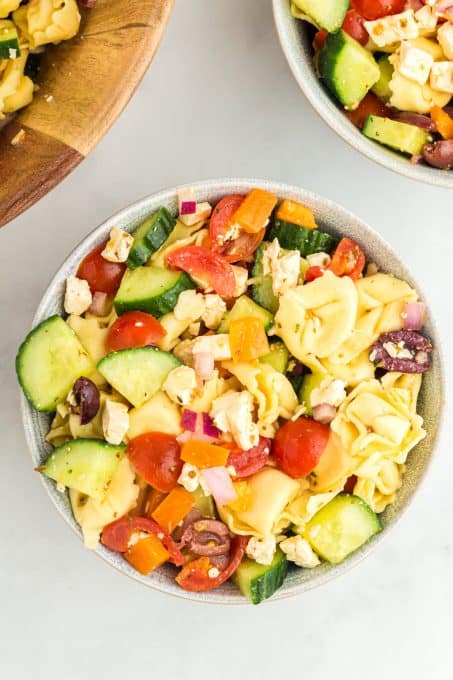 With cheese-filled tortellini, a variety of ingredients, and a tangy dressing, you can have a great main dish that's perfect for summer potlucks, pool parties and weeknight dinners.
~ FOLLOW ME ~
Keep an eye out for more of my easy recipes each week!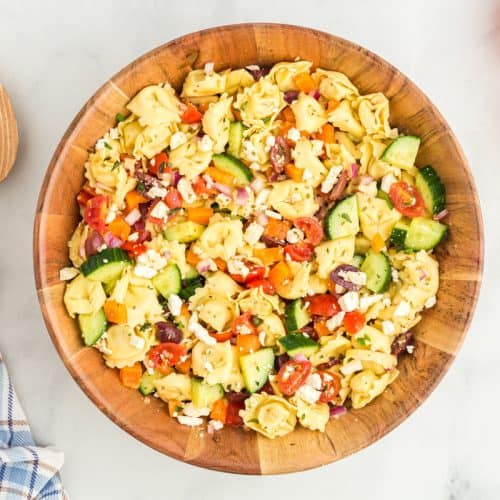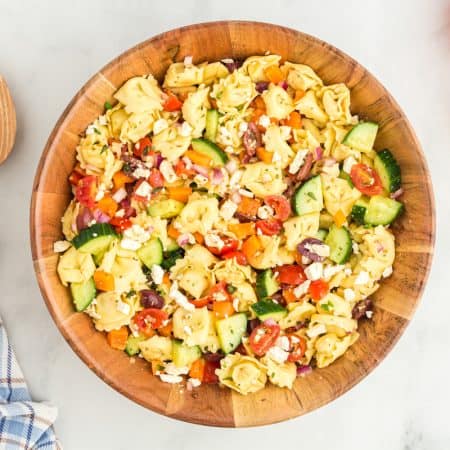 Greek Tortellini Pasta Salad
Greek Tortellini Pasta Salad is full of cheese stuffed pasta, fresh vegetables and Mediterranean flair. Enjoy the taste of summer with this easy, flavorful pasta salad recipe!
Ingredients
20 oz cheese tortellini uncooked
2 ½ cups chopped cucumber about 1 large English cucumber
1 ½ cups cherry tomatoes cut into halves or quarters
1 cup orange bell pepper diced
1 cup crumbled feta cheese
½ cup kalamata olives pitted and sliced into halves
¼ cup red onion diced
1 tsp fresh oregano chopped
For the dressing
¼ cup red wine vinegar
¼ cup extra virgin olive oil
¼ cup freshly squeezed lemon juice juice from 1-2 lemons
2 tsps minced garlic
2 tsps dried oregano leaves
½ tsp salt
¼ tsp freshly ground black pepper
Instructions
In a large pot of lightly salted boiling water, cook tortellini pasta until it is al dente*.

Strain water from pasta and rince with warm water. Strain warm water from pasta.

Add cooked pasta to a large mixing bowl along with the chopped cucumbers, cherry tomatoes, red onion, olives, bell pepper and feta cheese. Set aside.

In a separate bowl, mix together the dressing ingredients until well combined. Pour dressing over salad and toss well. Make sure all of the tortellini are coated with dressing.

Sprinkle salad with fresh oregano leaves. Serve pasta salad right away or store in a sealed container in the refrigerator. Keep refrigerated until ready to serve and enjoy within 3 days.
Notes
*The pasta should be cooked to al dente meaning that the pasta is cooked (softened) but still firm. This helps the pasta to hold its' shape when tossed with the rest of the ingredients. Pasta that is too soft will break apart when tossed with the other ingredients.   
Nutrition
Serving: 1serving | Calories: 365kcal | Carbohydrates: 37g | Protein: 14g | Fat: 18g | Saturated Fat: 6g | Polyunsaturated Fat: 1g | Monounsaturated Fat: 7g | Cholesterol: 44mg | Sodium: 804mg | Potassium: 203mg | Fiber: 4g | Sugar: 5g | Vitamin A: 876IU | Vitamin C: 35mg | Calcium: 223mg | Iron: 3mg
Did you make this recipe?
Share it with me on Instagram and make sure to follow me on Pinterest for more recipes.
Reader Interactions