These Mini Raspberry Cheesecakes have a homemade graham cracker crust and velvety cream cheese filling. You'll love these bite-sized treats with the sweet and tangy flavor of real raspberries in every bite!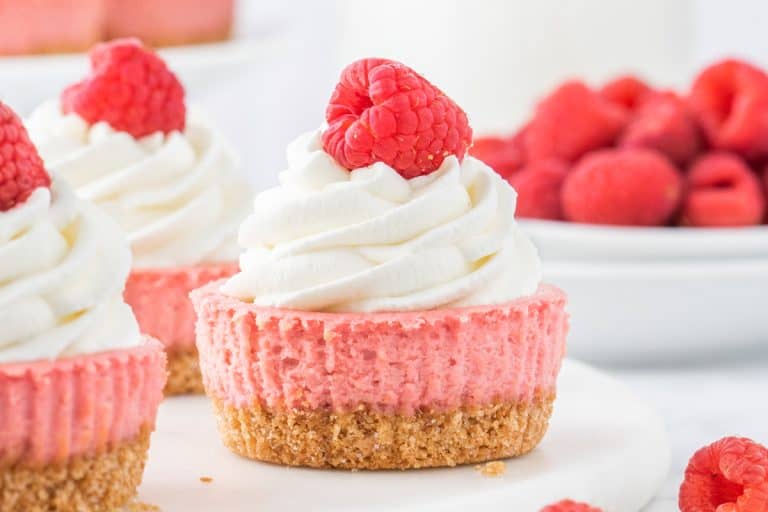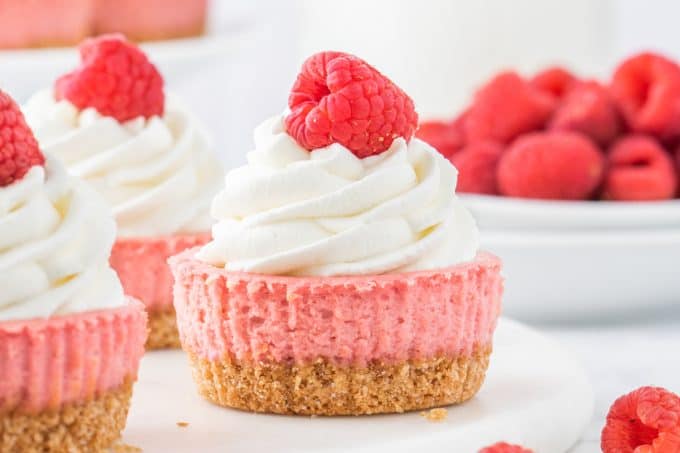 Craving cheesecake? These mini cheesecakes are perfectly portioned with a creamy, raspberry center that's almost unbelievably easy to make.
Berries and cream belong together. These Raspberry Cheesecakes have all the sweet and creamy goodness of my no bake Raspberry Cream Dream Bars baked into mini cheesecakes!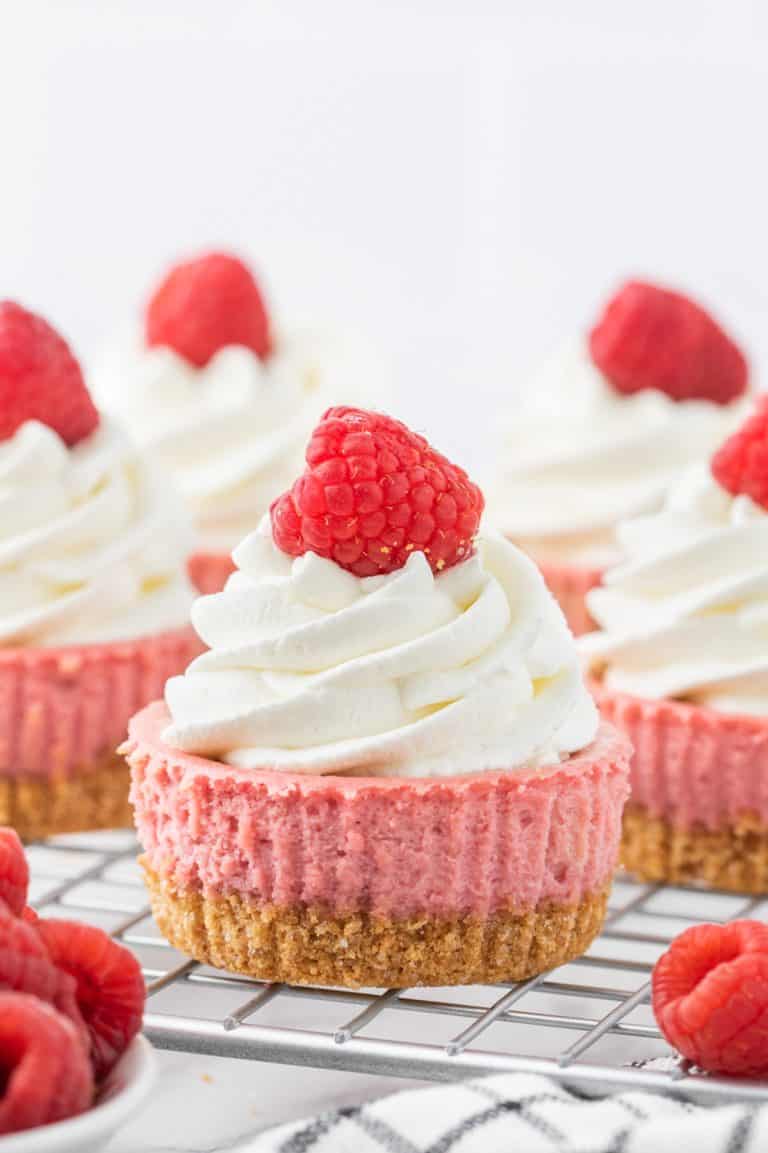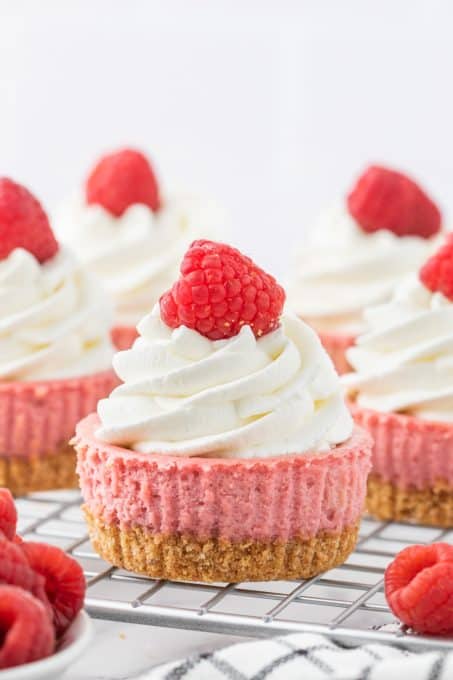 Everyone needs a good cheesecake recipe in their toolbox. I love making cute little mini cheesecakes for a few reasons. The first reason is convenience. You can bring these mini cheesecakes with you anywhere and they are the perfect size. No cutting or slicing necessary.
The second reason is that mini cheesecakes just look so darn adorable. They're literally cheesecake cupcakes! And let me tell you: everyone loves a food in miniature form. Each one is the equivalent of a slice of cheesecake, only you get the satisfaction of having a "whole" cheesecake all to yourself. 
Aside from those reasons, Mini Raspberry Cheesecakes are just downright delicious. From the sweet and buttery graham cracker crust to the vanilla-infused raspberry center, every bite is memorably good.
You'll be amazed at how easy these little desserts are to make, too! With just a few minutes of prep time, 20 minutes to bake and a couple of hours to chill in the fridge, you'll have a swoon-worthy homemade dessert that any cheesecake fan will adore.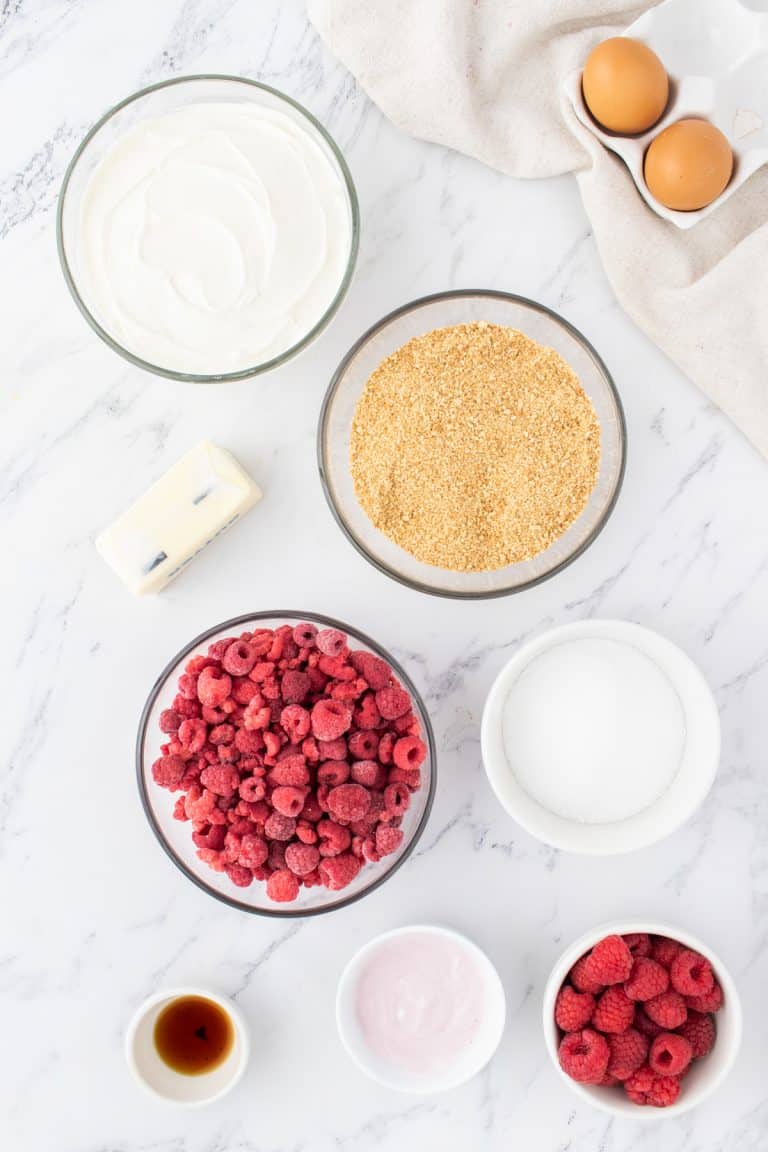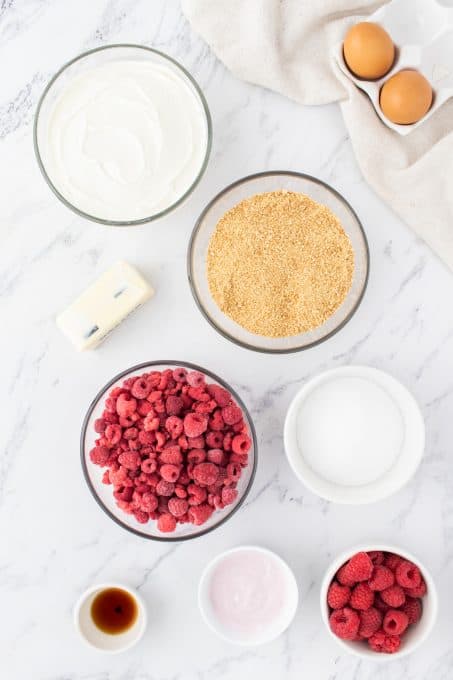 Raspberry Cheesecake Ingredients
This recipe starts with a homemade graham cracker crust made with three simple ingredients:
Graham cracker crumbs
Sugar
Melted butter
For the raspberry cheesecake filling itself, you'll need:
Frozen raspberries
Cream cheese
Sugar
Greek yogurt or sour cream
Vanilla extract
Eggs
Using Greek yogurt in the filling makes such a difference! Thick but easy to stir, it helps the cream cheese blend easily with the raspberry syrup for a velvety smooth consistency. The tanginess of the yogurt heightens the natural tartness of the raspberries adding a nice contrast to all the sweetness. 
I used raspberry flavored Greek yogurt for this raspberry cheesecakes recipe. If you don't have any, plain or vanilla versions work well too.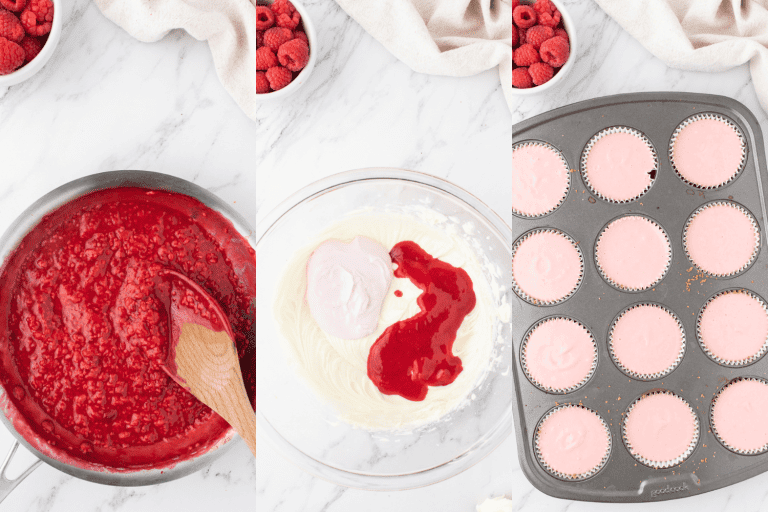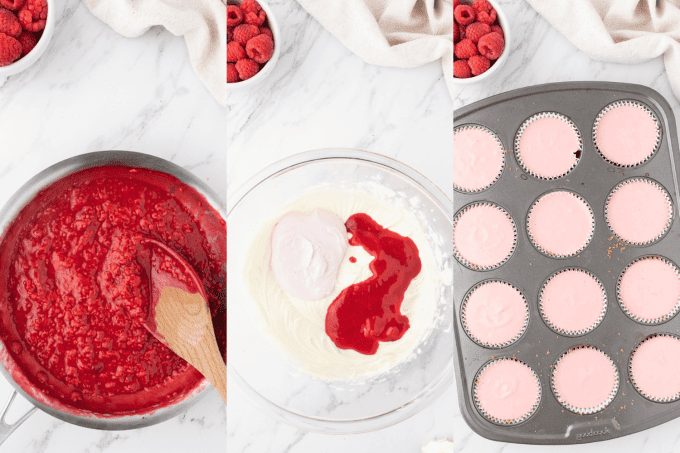 How to Make Raspberry Mini Cheesecakes
First heat your oven to 350° F and line a muffin tin with 12 muffin cups.
For the graham cracker crust, combine cookie crumbs, granulated sugar, and melted butter. Stir until the crumbly mixture starts to hold together.
Evenly distribute the mixture into each cupcake liner. Press the crust with your fingers or the back of a spoon firmly to create an even layer. Now bake the graham cracker crusts in your preheated oven for 5 minutes. Leave the crusts in the cupcake pan while they cool.
While the crusts are cooling, make the cheesecake filling.
Heat frozen raspberries in a sauce pan for several minutes until they break down and resemble syrup. Remove the mixture from heat and using a fine mesh strainer, strain the berries to remove raspberry seeds. Chill the syrup in the refrigerator until ready to use.
For the cheesecake batter, combine cream cheese and sugar together in a large bowl. Add Greek yogurt, vanilla, and raspberry syrup, then mix until fully combined. Add the eggs and mix again just until everything is combined. Pour onto the cooled mini pie crusts and bake cheesecakes.
After baking, chill them in the refrigerator for at least 2 hours. Then remove the cupcake liners and serve. Enjoy topped with whipped cream and fresh raspberries!
See complete ingredients, detailed instructions, and nutrition information in the recipe card below.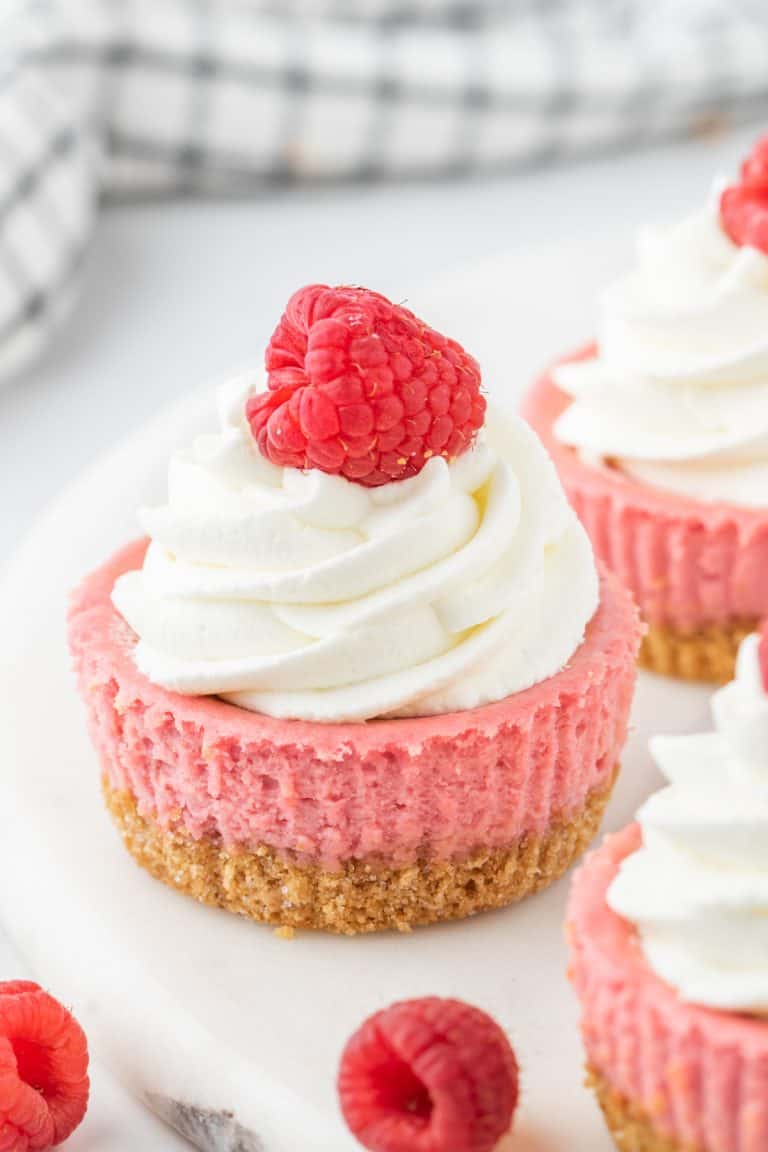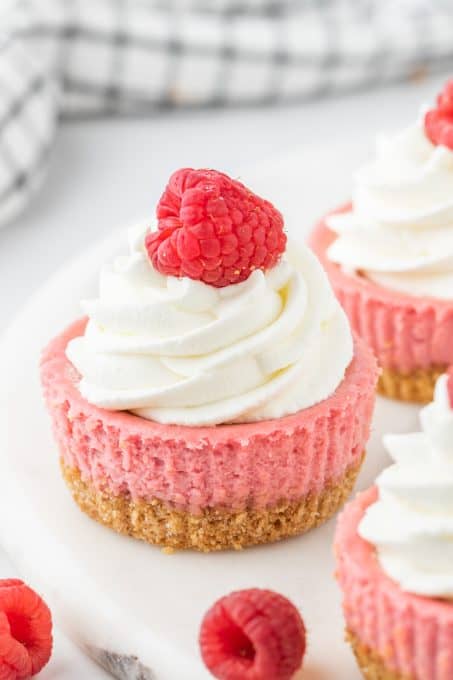 How long to bake mini cheesecakes?
Mini cheesecakes need less baking time than a large cheesecake. In my oven, these took about 20 minutes to reach the perfect consistency.
You'll know the cheesecakes are ready to come out of the oven when the edges look set but the center is slightly jiggly. It will continue to set as it cools and you want to be careful not to overbake these. Overbaking leads to every cheesecake bakers nightmare: cracked tops!
How can I keep my cheesecake from cracking?
Along with over baking, one of the biggest causes of cracked tops is lack of moisture. While mini cheesecakes are nowhere near as finicky as the full sized ones, cheesecakes do best in a humid oven. For best results, you can instantly add humidity by placing a pan of water on the bottom rack of your stove. The water creates a nice stream bath for the raspberry cheesecakes to enjoy as they bake! 
Speaking of cracked tops, I have more good news for you. If the tops of your mini cheesecakes crack, there's an easy solution. Just cover the crack with whipped cream! No one will know the difference. They'll be too focused on how delicious the cheesecake tastes! Add that to the list of reasons whipped cream is awesome.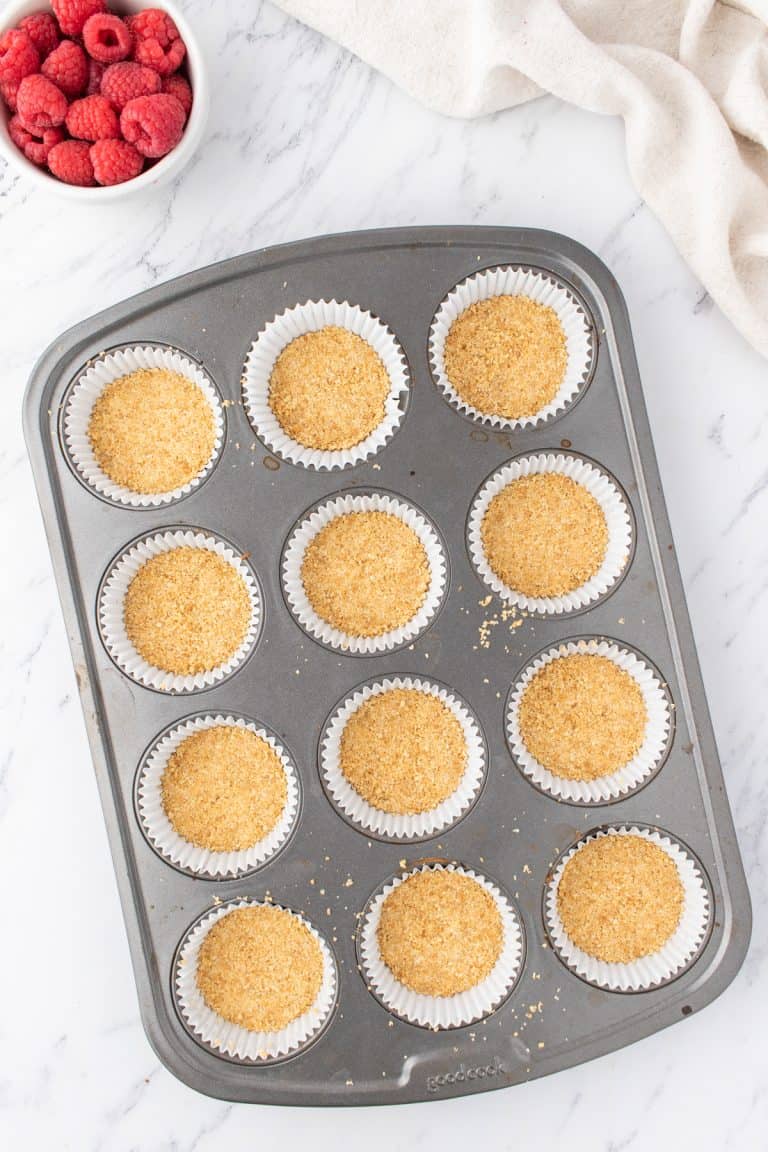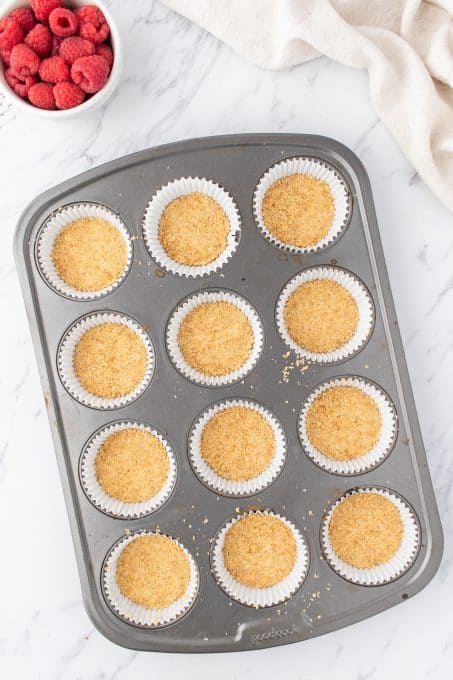 Storing Cheesecake with Raspberries
Like all desserts with fresh fruit and dairy, these cheesecakes should be kept well chilled. Store raspberry cheesecakes covered in an airtight container in the refrigerator until you're ready to enjoy them. They stay fresh and delicious for several days, so feel free to make them in advance.
Wondering if you can freeze raspberry cheesecake? You sure can! These mini raspberry cheesecakes keep well in the freezer for several weeks. Make sure to double wrap them in freezer bags or foil to prevent freezer burn. The graham cracker crust does soften after thawing but the flavor isn't affected.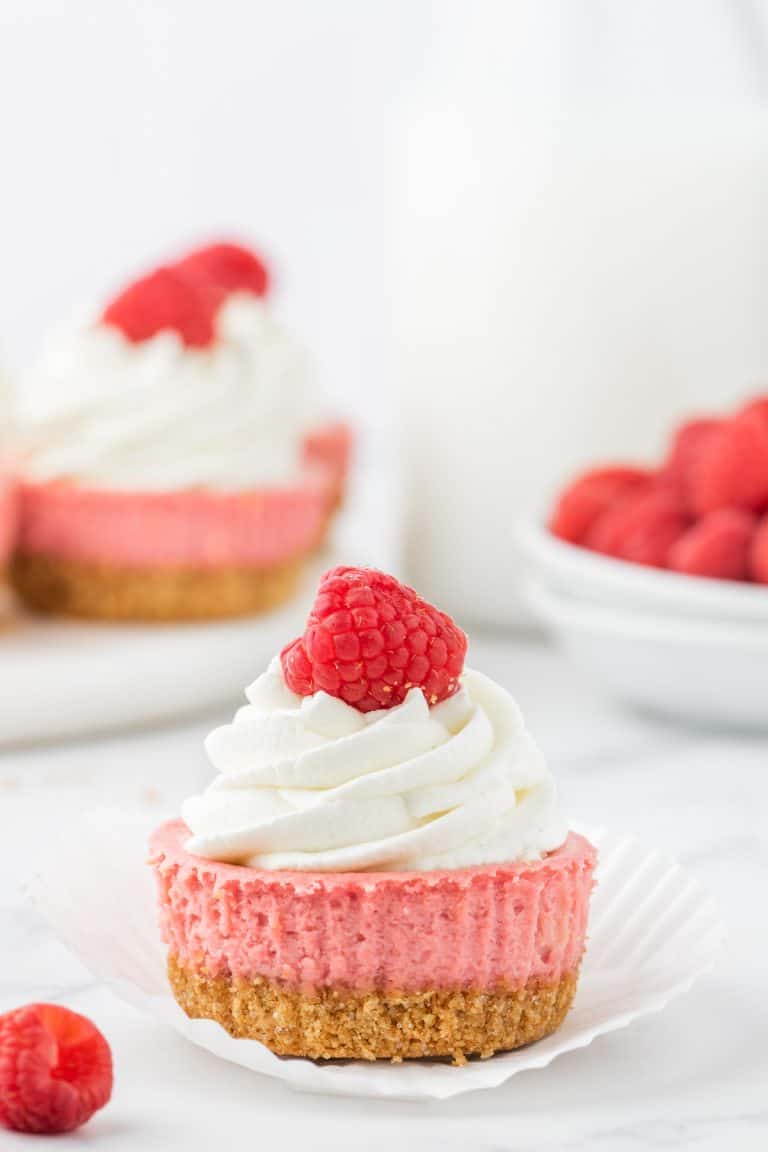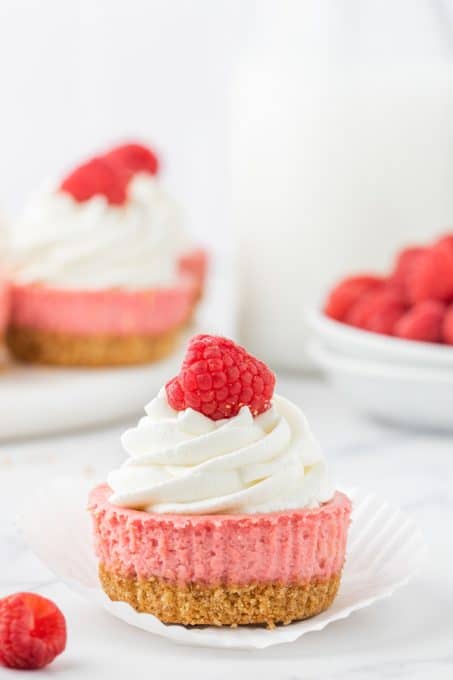 Raspberry Recipes
If you love the combination of raspberries and cream cheese, make sure to try my Raspberry Cream Cheese Scones! They're buttery, biscuit-y and perfect served with a cup of afternoon tea. Raspberry Star Bread is another easy pastry with raspberries that's begging to be your next holiday breakfast!
These Blue Raspberry Dream Bars are an additional easy way to enjoy raspberries and cream cheese in one dessert. You'll love them during the summertime when you don't want to fire up the oven! Serve them with a glass of iced tea or lemonade flavored with my Simple Raspberry Syrup for a refreshing summer treat.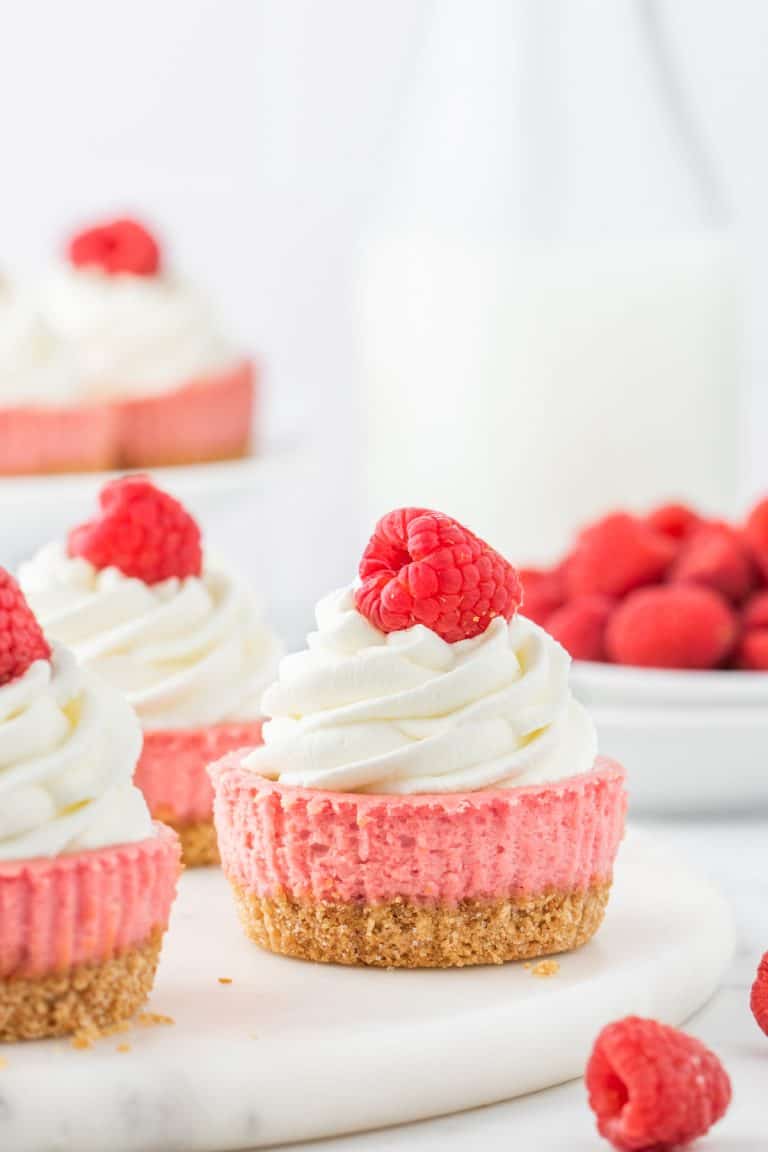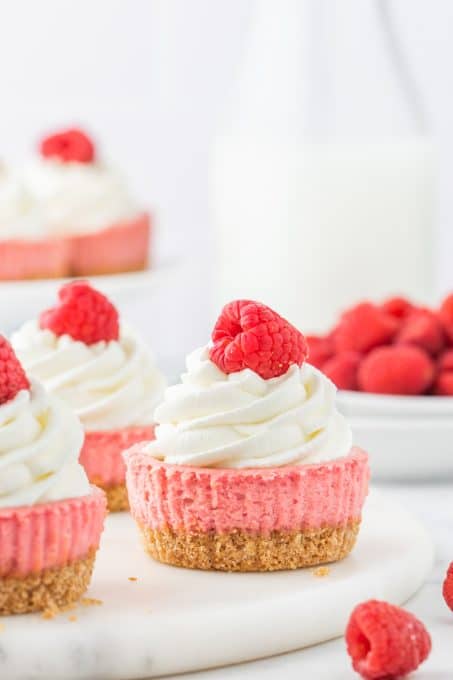 Favorite Cheesecake Recipes
Fresh berries are the star of today's raspberry cheesecakes, but I have plenty of cheesecake ideas for every craving. 
These Mini Peanut Butter Cup Cheesecakes feature plenty of creamy peanut butter and rich chocolate. There's even a surprise inside and on the bottom! Chocolate Cookies and Cream Cheesecakes are cheesecake full of Oreo cookies and topped with fluffy Oreo mousse. For an even easier chocolate cheesecake, check out this No Bake Cherry Hot Chocolate Cheesecake! 
Most of the time, I prefer single-serving cheesecakes or cheesecake bars to full size cakes. Funfetti Oreo Cheesecake Bars, Chocolate Crumble Cheesecake Bars are two long time favorites that turn any day into a special occasion. 
But oh, how everyone absolutely loves these Caramel Apple Cheesecake Bars, especially when Fall rolls around!
When you want to serve cheesecake but you don't have time to make it, this Chocolate Cheesecake Dip is a life saver! Want fruit instead of chocolate? This Lime Cheesecake Dip is full of zesty citrus and creamy cheesecake flavor.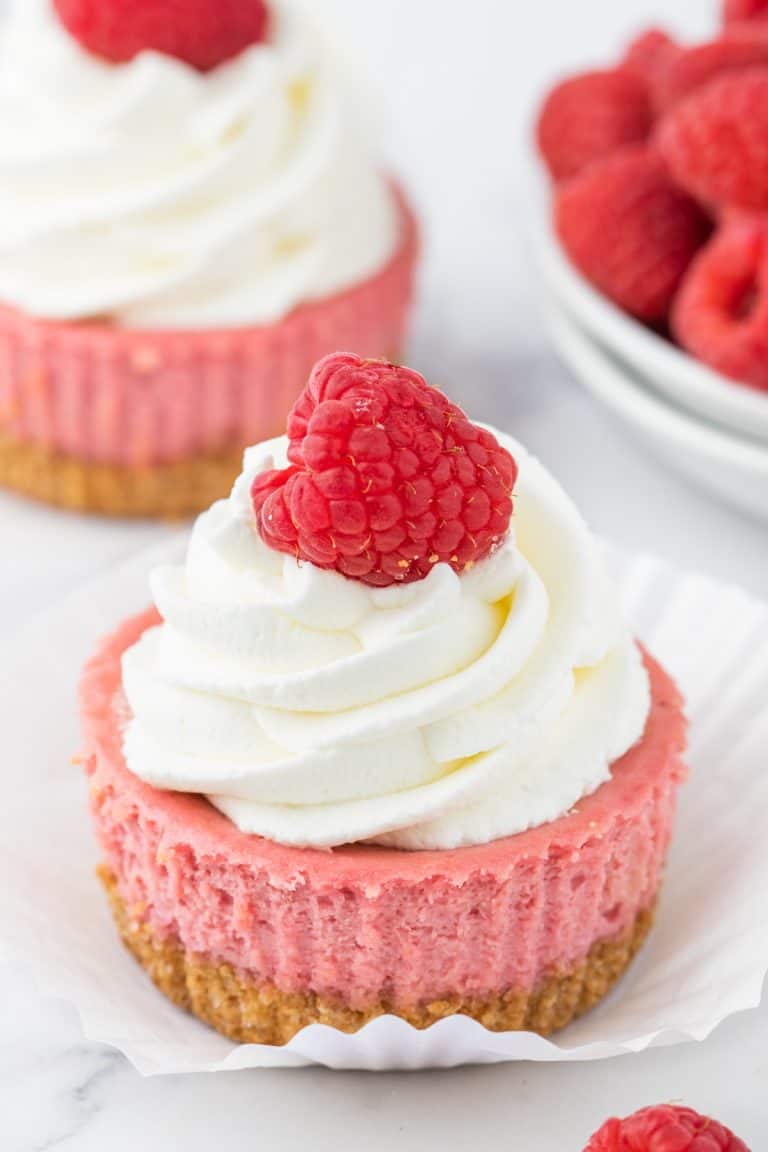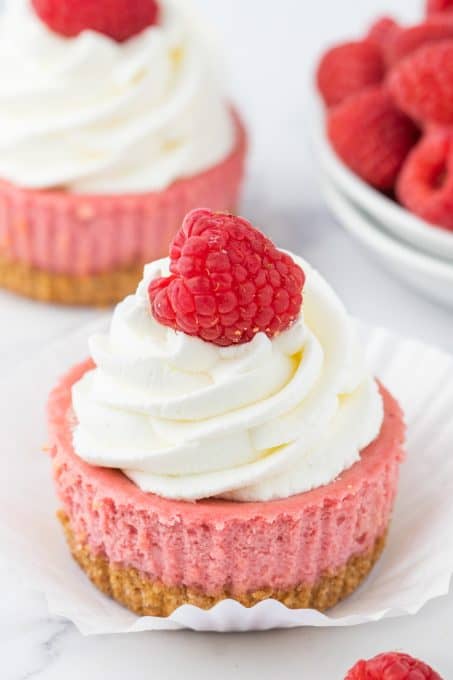 Raspberry Cheesecake Bites are mini cheesecakes with creamy filling and sweet and tangy raspberry flavor! The cheesecake lovers in your life won't be able to eat just one.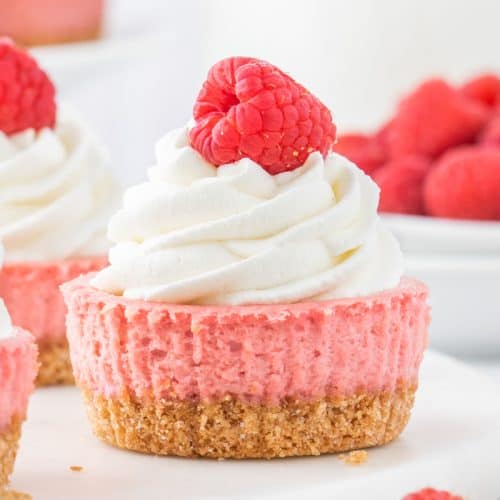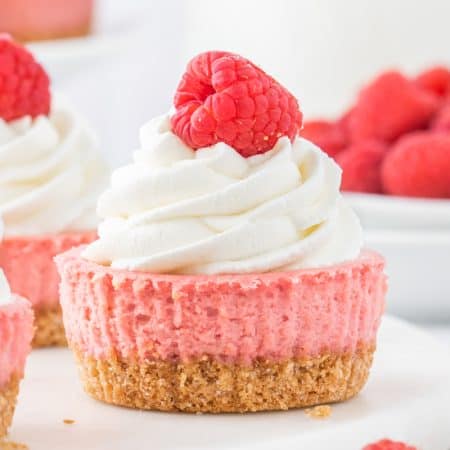 These raspberry cheesecakes have a homemade graham cracker crust, smooth and creamy filling and plenty of juicy raspberries! This easy recipe makes 12 individual cheesecakes — perfect for a party!
Ingredients
Graham Cracker Crust
1 ½ cups graham cracker crumbs
3 tablespoons granulated sugar
4 tablespoons melted butter
Raspberry Filling
2 cups frozen raspberries
16 ounces cream cheese softened
⅔ cup granulated sugar
¼ cup raspberry Greek yogurt can use plain Greek yogurt or the same amount of sour cream
1 teaspoon vanilla extract
2 large eggs
Optional Toppings
Whipped cream
Fresh Raspberries
Instructions
For the graham cracker crust:
Preheat the oven to 350 degrees F. Prepare a 12 count cupcake pan with cupcake liners. Set aside.

In a small mixing bowl, combine the graham cracker crumbs, granulated sugar, and melted butter. Mix until a crumby mixture forms. Evenly distribute the mixture into each cupcake liner and press firmly into an even layer.

Bake the graham cracker crusts at 350 degrees for 5 minutes. Remove the baked crusts from the oven and let cool while you make the filling.
For the raspberry cheesecake filling
Add the frozen raspberries to a medium saucepan. Let the berries simmer for about 5 minutes, stirring occasionally, until the berries break and begin to dissolve into a syrup.

Remove from the heat and strain the berries to remove the seeds. Allow the syrup to chill in the refrigerator until ready to use.

In a large mixing bowl, beat the cream cheese and sugar until smooth. Add the Greek yogurt, vanilla, and raspberry syrup. Mix until completely combined.

Add the eggs and mix again just until combined.

Evenly distribute the cheesecake filling into the cupcake liners. Bake at 350 degrees for 20-25 minutes, or until the centers are still slightly jiggly but not runny.

Remove from the oven and allow to cool at room temperature. Move to the fridge and let them chill for at least 2 hours before removing the papers.

If desired, top with whipped cream and fresh raspberries before serving
Nutrition
Serving: 1serving | Calories: 289kcal | Carbohydrates: 27g | Protein: 5g | Fat: 19g | Saturated Fat: 10g | Polyunsaturated Fat: 1g | Monounsaturated Fat: 5g | Trans Fat: 0.2g | Cholesterol: 76mg | Sodium: 230mg | Potassium: 117mg | Fiber: 2g | Sugar: 19g | Vitamin A: 671IU | Vitamin C: 5mg | Calcium: 60mg | Iron: 1mg
Did you make this recipe?
Share it with me on Instagram and make sure to follow me on Pinterest for more recipes.
Reader Interactions