A great no-bake dessert, Strawberries Lenox is made with fresh strawberries soaked in a perfect combination of orange juice, sugar, and Cointreau or Grand Marnier and chilled before serving with fresh whipped cream. This easy and simple dessert is sure to go quickly and put a smile on everyone's face!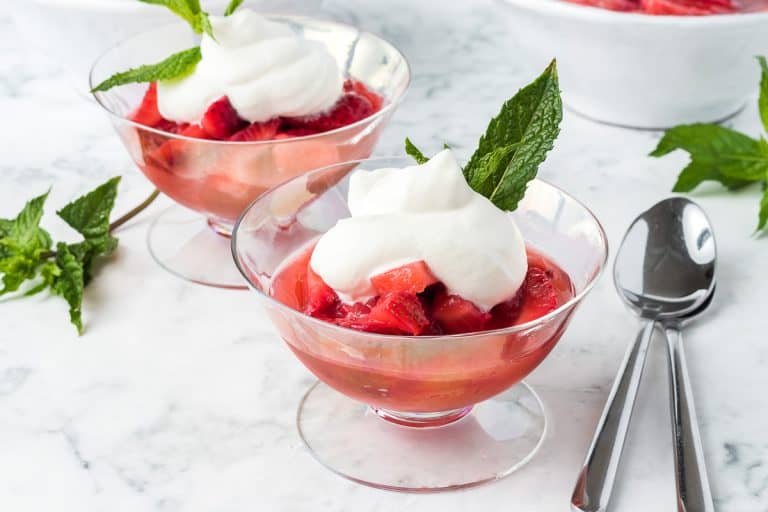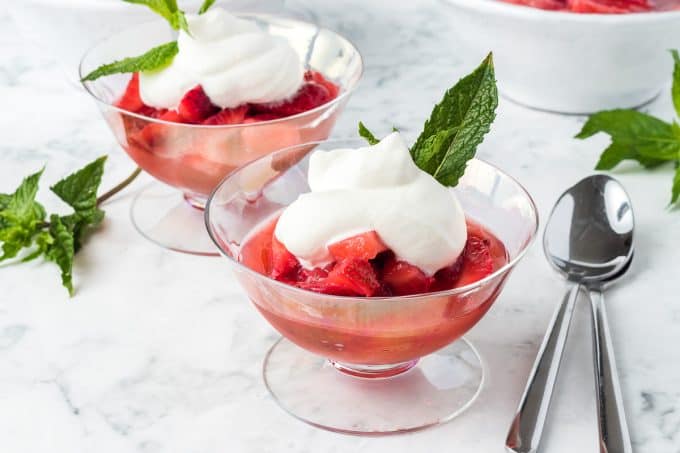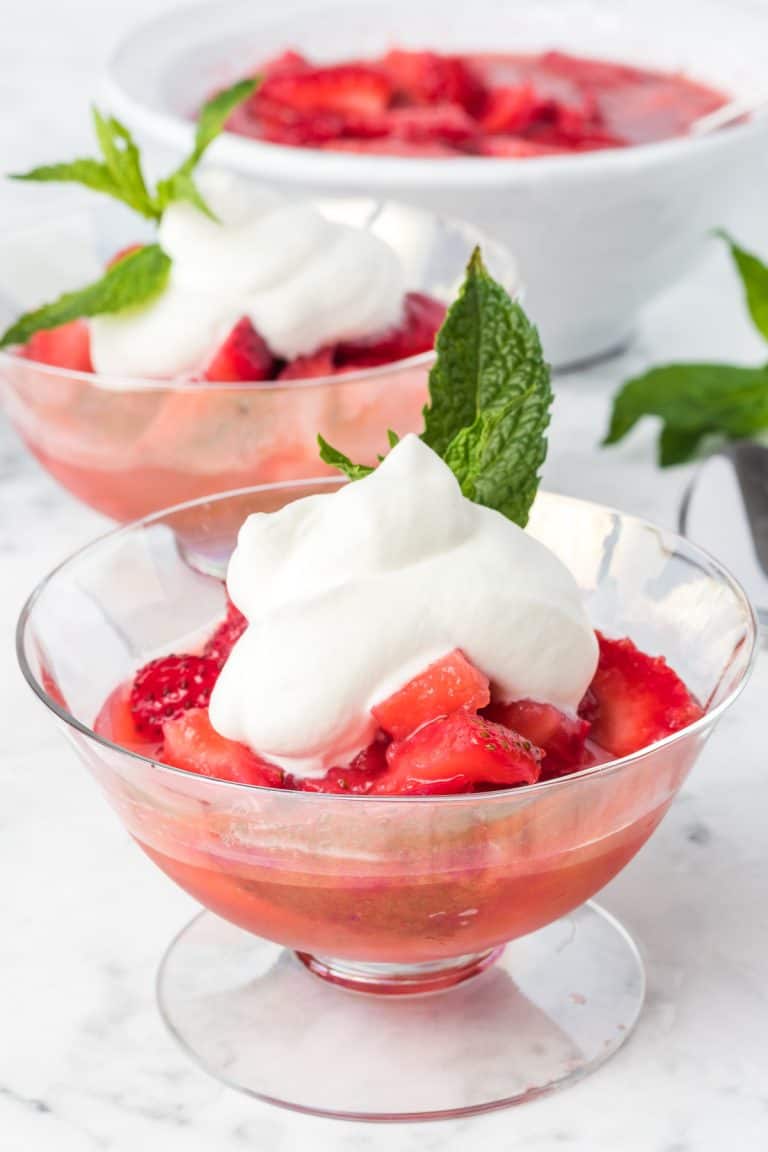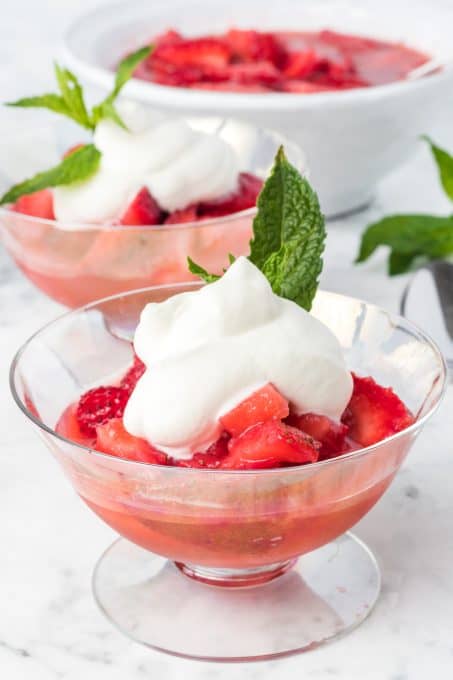 Recipe History
My mother got the recipe from my grandmother, my father's mother, and I have no idea why it's called Strawberries Lenox. It's actually quite similar to the Strawberries Romanoff recipe, named for the Romanoff family, a former ruling family in Russia.
All I know is that it's pretty darn good. I think you'll like them.
Mom always made a smaller, separate "virgin" bowl for me, which made me feel special. And these strawberries were always a special treat.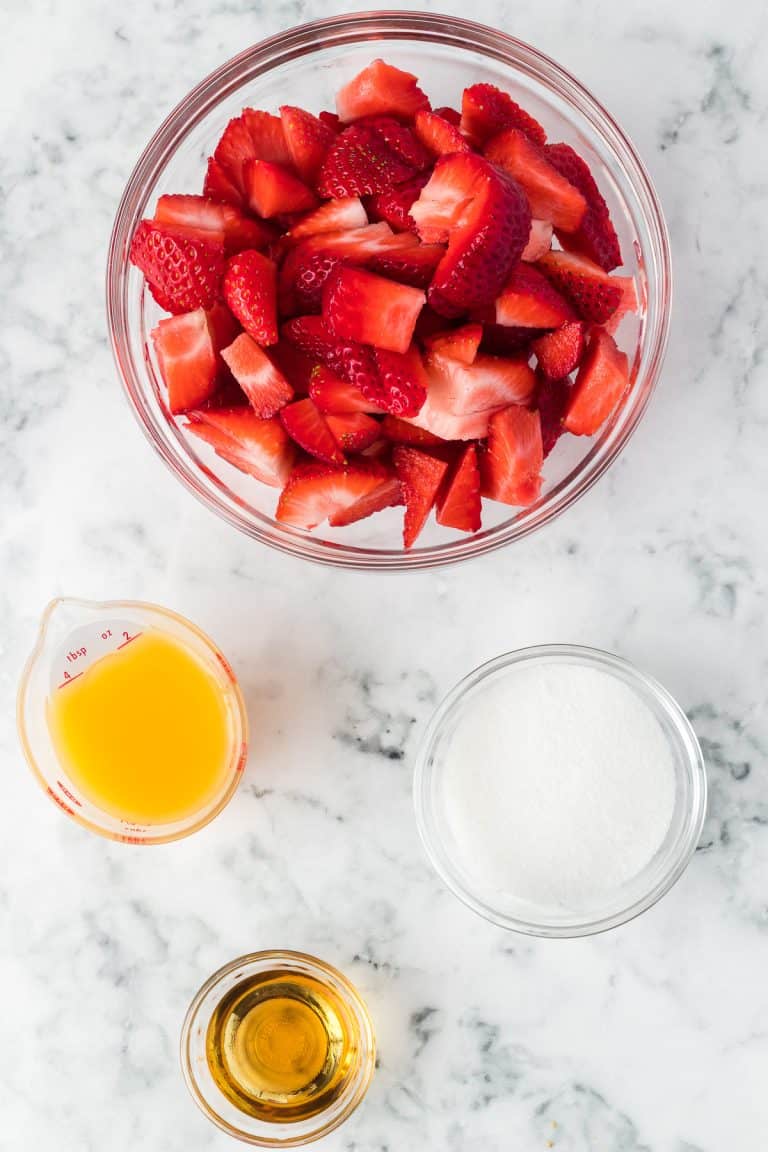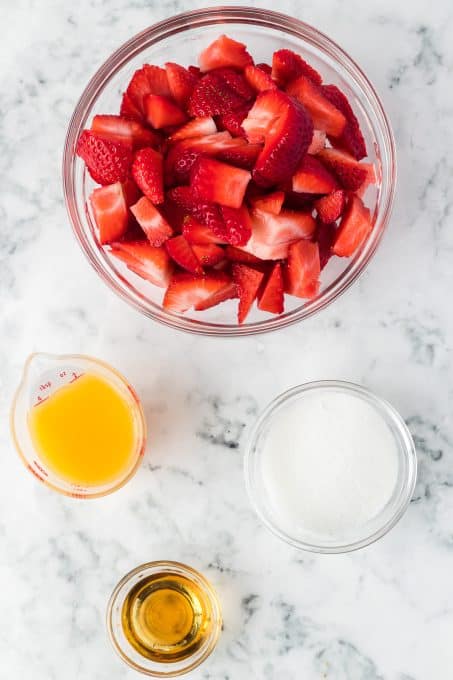 Ingredients for the Perfect Strawberries Lenox
To make this light dessert, you will need the following ingredients:
Fresh Strawberries: Select strawberries that are plump, sweet, and free from any blemishes. It is important to choose perfectly ripe strawberries to ensure the best flavor and texture.
Sugar: The sugar is used to macerate the strawberries and add a touch of sweetness to the dessert. This family recipe uses granulated sugar, but some people prefer powdered sugar.
Orange Juice: The juice adds a refreshing and tangy flavor to the Strawberries Lenox.
Orange Liqueur: Use Cointreau or Grand Marnier to enhance the orange flavor of this dish.
Fresh whipped cream: Serve this as a topping on the strawberries or mix them together for a velvety smooth coating. Make your own from heavy cream, sugar, and vanilla extract, or buy some at your local grocery store. You can also use my recipe for Stabilized Whipped Cream.
See the recipe card below for exact amounts and directions.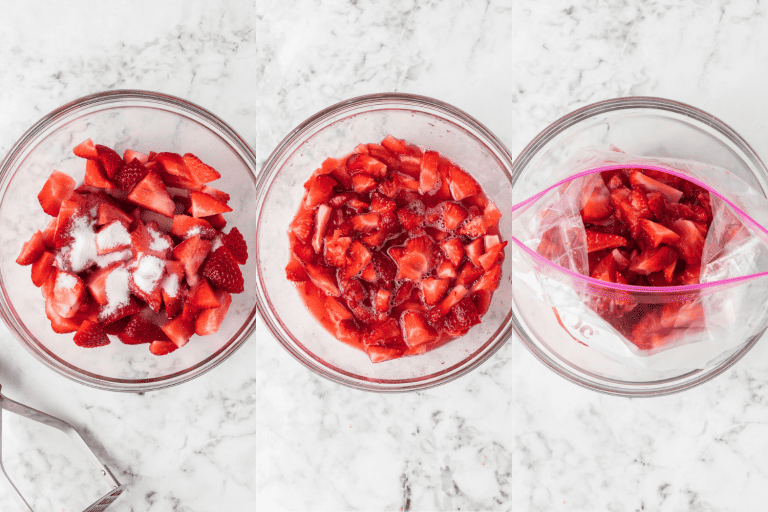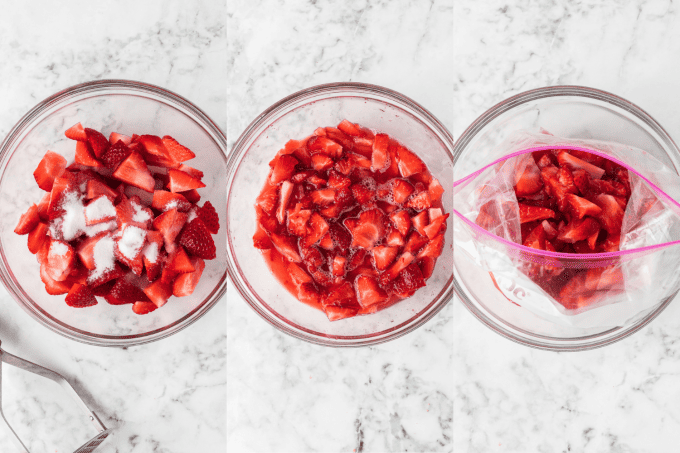 How to make Strawberries Lenox
This strawberry dessert recipe is super easy to make!
Start by washing the strawberries under cold water and pat them dry with a clean kitchen towel. Remove the stems and cut the strawberries into halves or quarters, depending on their size.
Place strawberries in a large bowl. In a separate small bowl, combine orange juice, white sugar, and orange-flavored liqueur. Pour this mixture over the strawberries and gently stir to coat.
Cover and refrigerate the strawberries for at least 2 hours before serving.
The macerated strawberries can be served with the liquid when transferred to individual dessert bowls or a large serving bowl. Spoon the whipped cream on top of the strawberries before serving.
No judgement if you drink right from the bowl after eating the strawberries because I always do!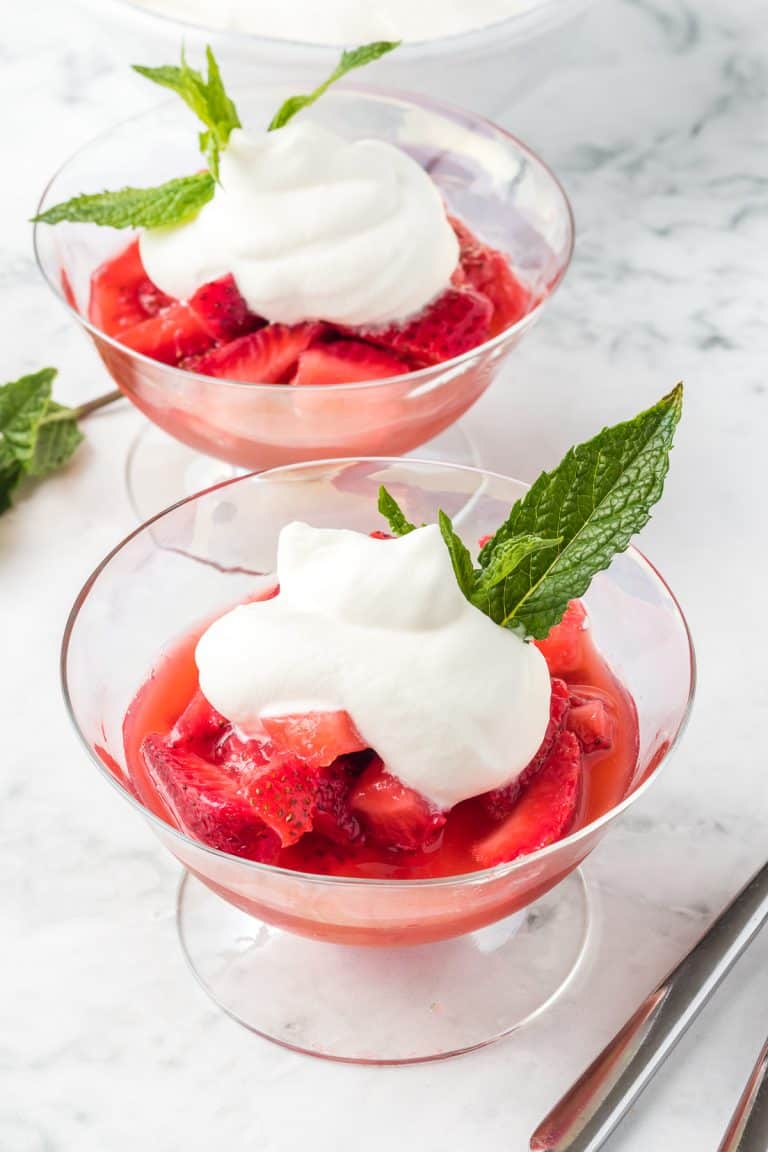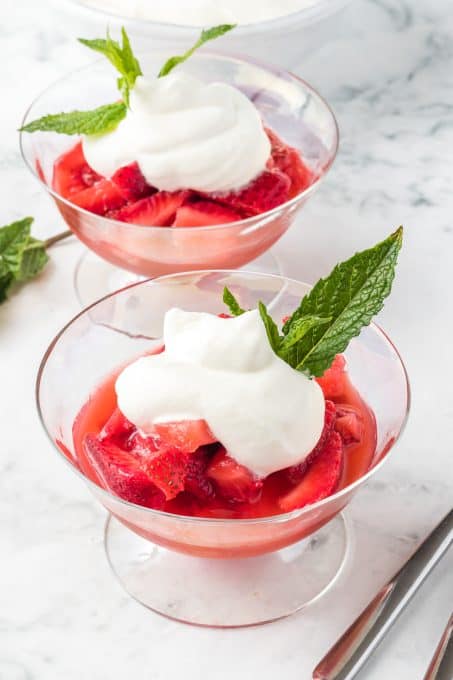 How to make an alcohol-free version of Strawberries Lenox
It's so easy to make this recipe without alcohol! You don't need to substitute anything- simply omit the liqueur. It tastes just as good as the original version with only orange juice and sugar, making it perfect for kids or for those who don't consume alcohol.
Ideas for Serving and Presenting
This recipe brings back memories of a peach-colored Tupperware bowl sitting on the bottom shelf in the fridge. Man, how I wanted to devour the contents straight from that plastic bowl!
I'm sure your family and friends will feel the same. But if you want to elevate your presentation for a bridal shower or other nicer event, here are some fun ideas:
Use glassware: Serve the Strawberries Lenox in clear glassware to showcase the vibrant colors of the strawberries and cream. The visual appeal will make the dessert even more enticing.
Layered presentation: Create a visually appealing layered presentation by alternating layers of macerated strawberries and cream mixture in individual serving glasses. Top it off with a final layer of cream and garnish with orange zest or mint leaves.
Serve with a side: Serve this dessert dish with a side of shortbread cookies or ladyfingers. The buttery and crumbly cookies are perfect for dipping into the creamy mixture.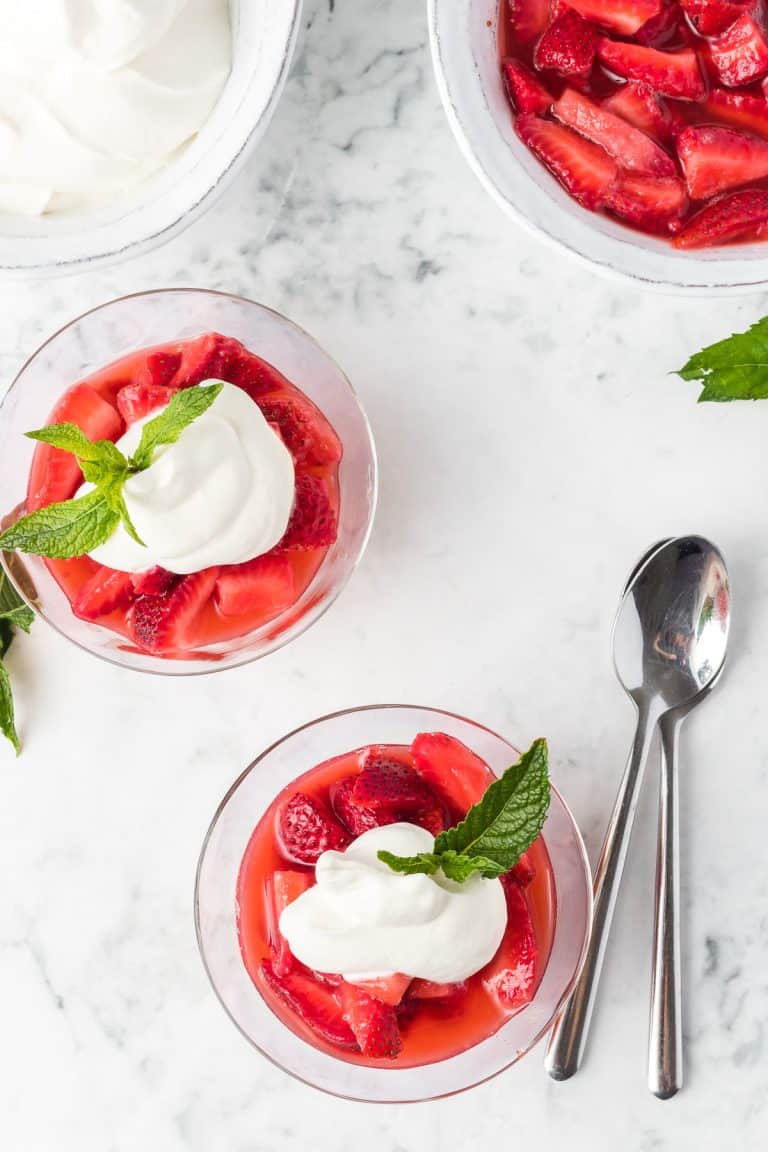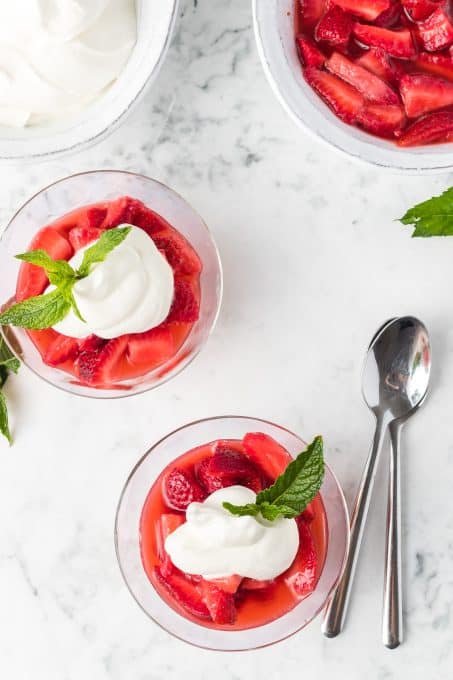 FAQs
Can I make Strawberries Lenox in advance?
Yes, you can prepare the macerated strawberries in advance. Keep the macerated strawberries refrigerated and the whipped cream chilled until ready to serve.
Can I serve this without whipped cream?
This recipe is delicious on its own. I also love it as an adult topping for vanilla ice cream. Feel free to serve it however you like!
How long can I store Strawberries Lennox?
This dessert is best enjoyed within 24 hours of preparation. The strawberry juices released over time can affect the texture of the dessert. Keep it in the refrigerator in an airtight container.
Can I freeze this dish?
I wouldn't recommend freezing this dish, as strawberries tend to become mushy when thawed, especially after being soaked in sugar juice.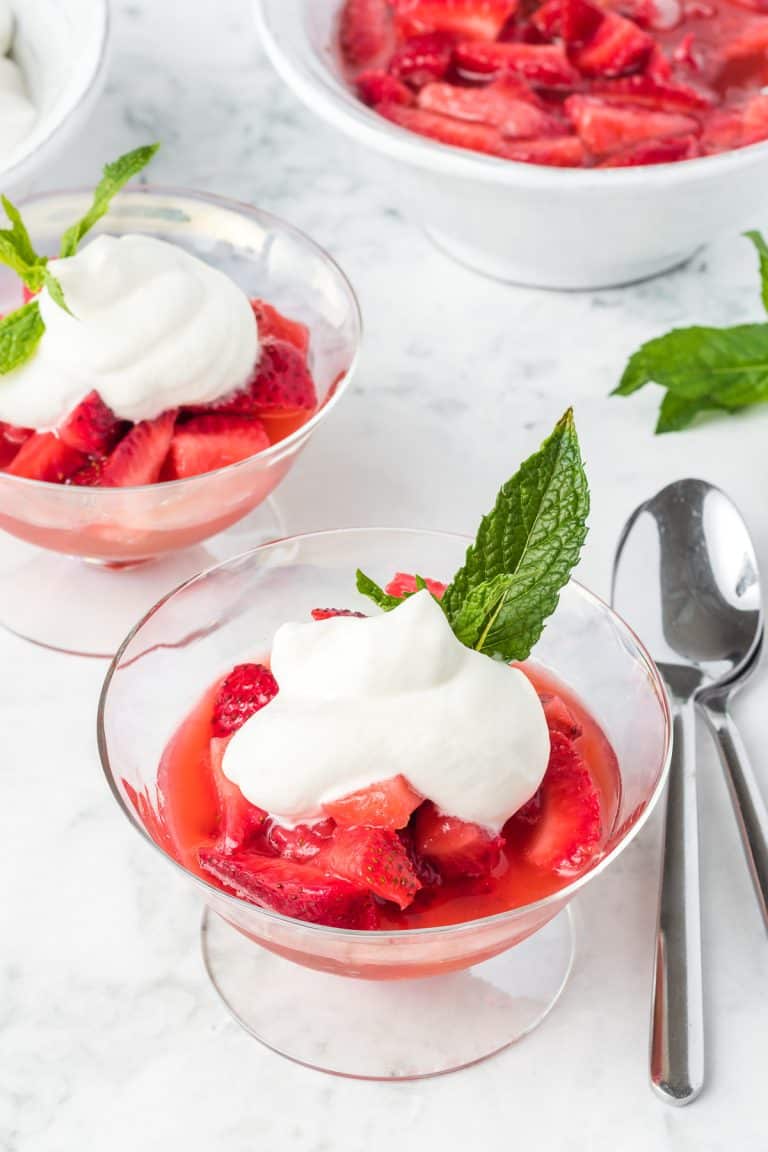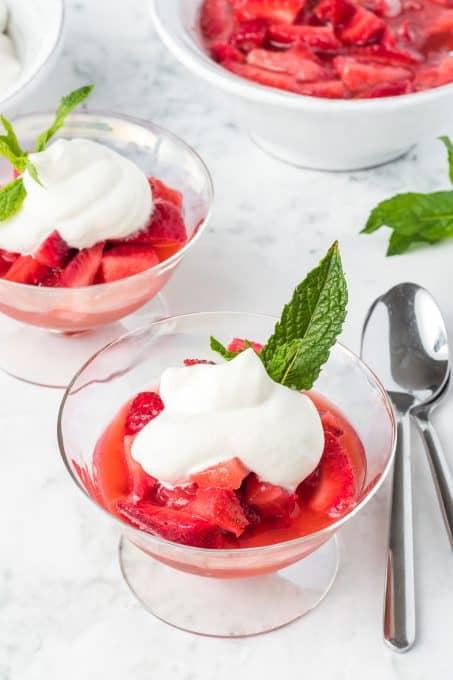 More Summer Desserts
If you're looking for light and refreshing dessert recipes, you need to try one of these:
When they're in season, strawberries are my go-to for a great summer recipe. Here are a few strawberry dessert dishes I always make this time of year!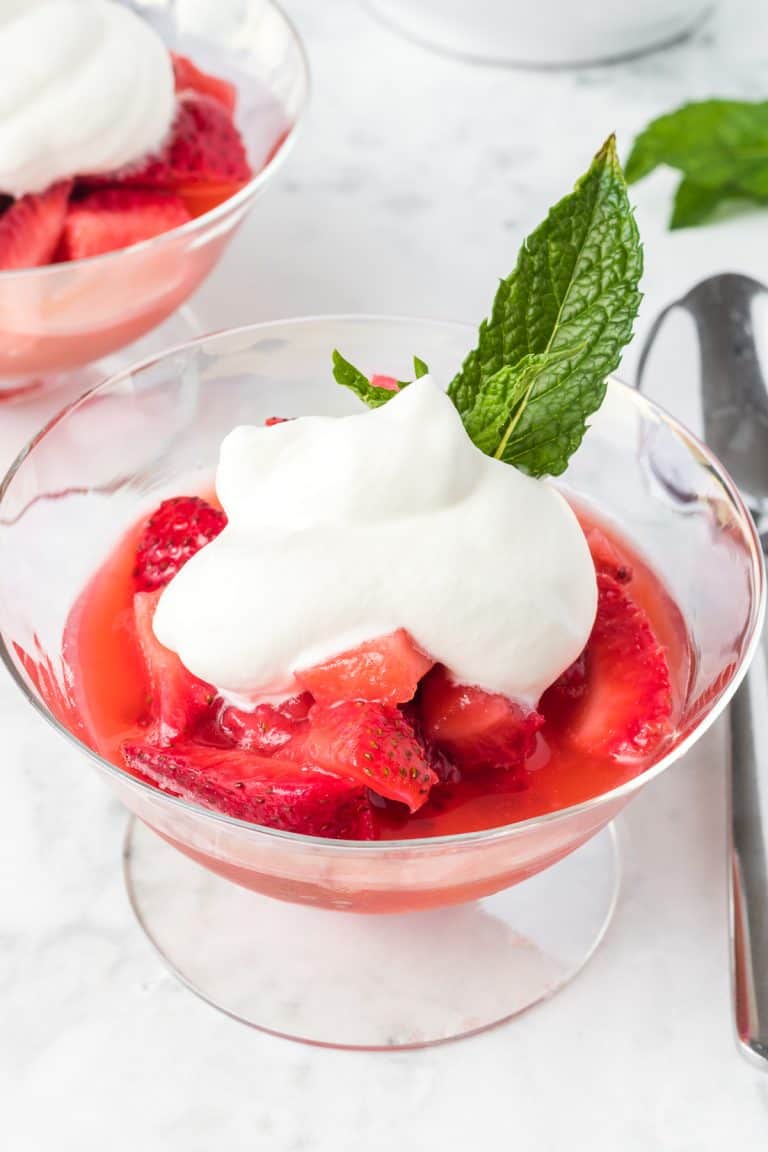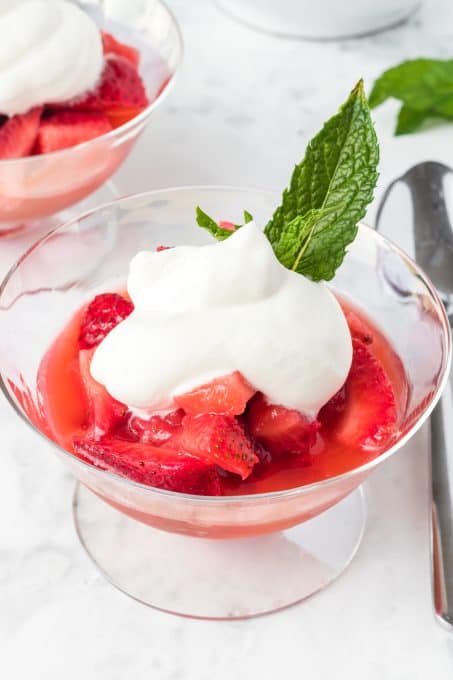 ~ FOLLOW ME ~
Keep an eye out for more of my easy recipes each week!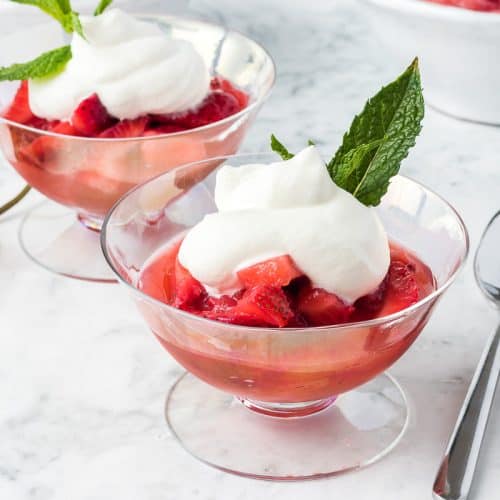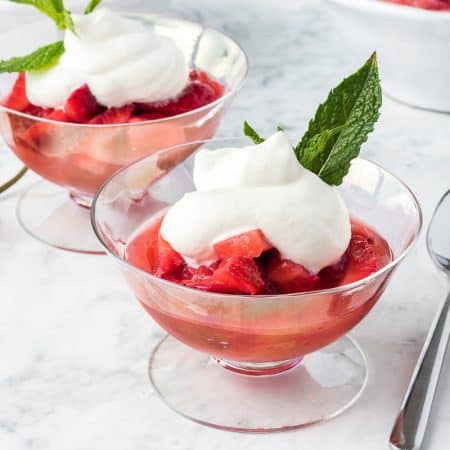 Fresh strawberries soaked in a mixture of orange juice, sugar and orange liqueur and chilled before serving. A simple and delicious summertime treat!
Ingredients
16 ounces strawberries rinsed, cored and quartered
½ cup orange juice
½ cup granulated sugar
1 tablespoon Cointreau or Grand Marnier
Fresh Whipped Cream for topping
Instructions
Place strawberries into a medium bowl.

In a small bowl, mix together the orange juice, sugar and orange liqueur.

Pour over the strawberries and gently toss to coat completely.

Cover and refrigerate at least 2 hours before serving.
Notes
Instead of using a bowl to refrigerate the strawberries, I'll often place them with the liquid into a large plastic bag and put that into a bowl in the fridge. This way, I can mix them up a bit whenever I open the fridge and crush a few of them, too. 
Nutrition
Serving: 1serving | Calories: 158kcal | Carbohydrates: 38g | Protein: 1g | Fat: 0.5g | Saturated Fat: 0.03g | Polyunsaturated Fat: 0.2g | Monounsaturated Fat: 0.1g | Sodium: 2mg | Potassium: 237mg | Fiber: 2g | Sugar: 34g | Vitamin A: 76IU | Vitamin C: 82mg | Calcium: 22mg | Iron: 1mg
Did you make this recipe?
Share it with me on Instagram and make sure to follow me on Pinterest for more recipes.
This post was originally published June 14, 2014. It has been updated in format and with pictures on July 14, 2023.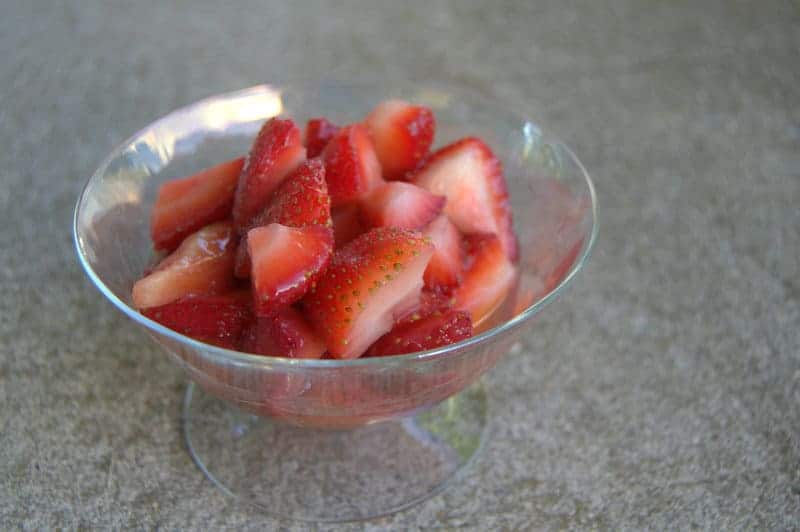 Reader Interactions