Cake Flour – some baking recipes call for this specific flour which has less protein than all-purpose flour and helps to make cakes light and airy.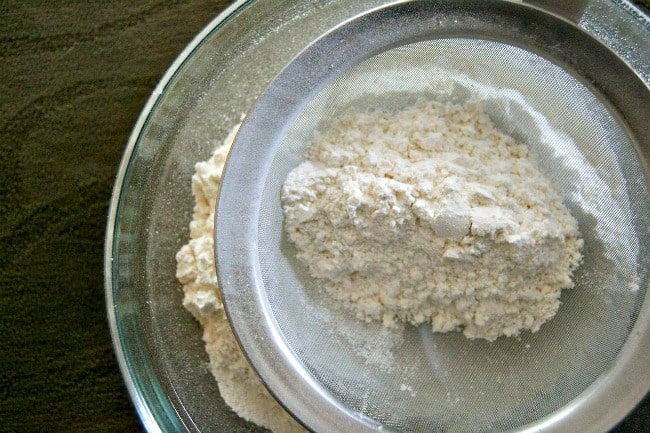 Do you have that box of cake flour in your pantry?
Or is it a product that you hardly ever use, yet you come across a recipe every now and again that calls for it?
At any given time, I'll have one here in the 365 pantry, but on the occasion that there isn't a back-up box I have to figure out a solution, especially when I'm right in the middle of a recipe.
Did you hear me grumble right there?
I know that's never happened to you – you're in the middle of making something, thinking you have enough of whatever-it-is you need, only to discover that your son has raided your chocolate chip stash or that when holding the box of cake flour that it certainly "felt" like two cups, but really just contained one.
What's a girl…or guy to do?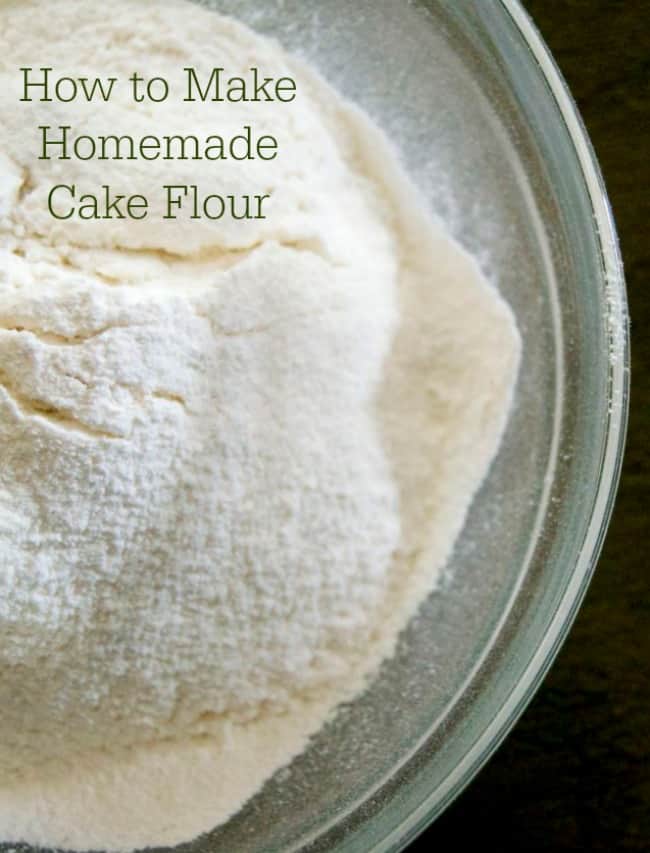 Well, I've got the solution.
You make it yourself with just two ingredients you most likely already have in your pantry ~ all-purpose flour and cornstarch.
See, you can use all-purpose flour explicitly in cakes, but they'll be a bit more dense. Like some people I know. haha
Ok, I'll stop. I didn't mention any names! 😉
The cake flour on the other hand, has less gluten and will give your cake layers great structure and texture. And I don't know about you, but I'm into structure and texture when it comes to my cakes!
In regards to storing cake flour, I want to let you know the best way to store this product, and if it needs to be refrigerated or frozen since it's a product you may not use too often. There are many kinds of cake flour out there and King Arthur Flour (KAF) has a great Unbleached Cake Flour that I've used. So, I went directly to the source (KAF) today and talked to Jonathan. He said (and he gave me permission to quote him. Thanks, Jonathan! ):
There really isn't one correct answer to this, Lynne. Cake flour is quite shelf stable, so you don't have to worry about rancidity. Instead, your biggest issue is bugs. That's why we suggest storing flour in airtight containers in your pantry. Only whole grains such as rye or whole wheat need to be frozen. However, if your home is relatively pest free, you can store them right in the container they come in.
…Freezing really only helps keep whole grains from going rancid. We never suggest to use products beyond their best by dates, but you have some wiggle room for processed flours.
So, there you have it.
I also found the post Joy the Baker did on The Best Cake Flour Substitute very informative about why cake flour is so special in baking.
My post was based on Miss Amanda's over at I Am Baker. Actually, it was her "Aunt Inga's" and you should go check that one out, too! Two pretty special ladies doing their thing and doing it so very well!
How to Make Cake Flour
Ingredients
1

cup

all-purpose flour

2

tablespoons

corn starch
Instructions
Place the one cup of flour into a sifter.

Remove two tablespoons of the flour, placing it back into the container.

Add in the two tablespoons of the cornstarch to the sifter and sift together.

Sift together a second time before using.
Things you can do yourself!
Ain't life grand? 😉
Oh, and be sure to watch Wednesday for the recipe I was making when I ran out of the cake flour!
*I was not paid or given free product for this post, it's just my opinion.
I give you BIG baking hugs and muffins!!