I don't know about you, but this year is FLYING!!!!
I cannot believe it is June already! And that tomorrow is Sunday again.
Time keeps going faster and faster. The busier I am, the faster it goes. There are times I just want to scream, "STOP, things are moving too quickly!" I wish I'd been able to do that when the kids were little.
But at that point in time all I wanted to yell was, "HURRY UP, I want this to go faster!"
Funny how we tend to lose sight of things for what they are when we are in the midst of them and "wish" it would be tomorrow or "wish" whatever it was that was bothering us would go away.
My husband says this to me all the time because I have a tendency to become um… overworked, shall we say, about things, "what you worry or are concerned about and are spending SO much energy on RIGHT now is not going to matter a week, a month or even three months from now."
Looking back on things that I did spend that energy on, he's right.
Darn it! DON'T tell him I said that. I already know what kind of a look he'd give me.
I don't like it when he's right and I fight him on it alot of the time and I think that's partly because I'm an only child and I most usually want my way. I won't deny it.
Yet, he is my balance and he keeps me very grounded, calming me when anxiety gets the better of me.
Yes, he is my rock, and I honestly do not know where I'd be without him.
Ok, someone please tell me HOW I got off on this tangent?!
I was starting to get really sappy there. I started talking about how time was moving so fast and just ended with my rock of a husband and almost teared up.
Good grief. It isn't even close to our anniversary and he hasn't done anything extra-special or out of the ordinary to deserve this extra special praise AND I'm not even hormonal. So what gives?!
…Sometimes, or rather, more often, I need to tell him directly how (oh, here I go…) proud I am of him for the husband that he is, the work that he does, the way he provides for his family, and the father that he is.
And that it is truly an honor being his wife. I am honestly more in love with him now than the day we married 20+ years ago.
(sigh)
If you'll excuse me, I need to go talk to Mr. 365…
This is from The New Doubleday Cookbook, p. 667; authors, Jean Anderson and Elaine Hanna; publisher, Alfred A. Knopf, Inc., a division of Random House, Inc.; ISBN 0-385-19577-X.
Zucchini Bread – 9″ X 5″ X 3″ loaf (about 20 slices)
2 cups sifted unbleached flour
½ cup unsifted whole wheat flour
¾ cup granulated sugar
1 tablespoon baking powder
½ teaspoon salt
2 eggs, lightly beaten
½ cup butter, melted
½ cup milk
2 cups finely grated zucchini (leave skin on)
1 tablespoon finely grated orange rind (optional)
½ cup coarsely chopped walnuts (optional)
* I omitted the last two ingredients*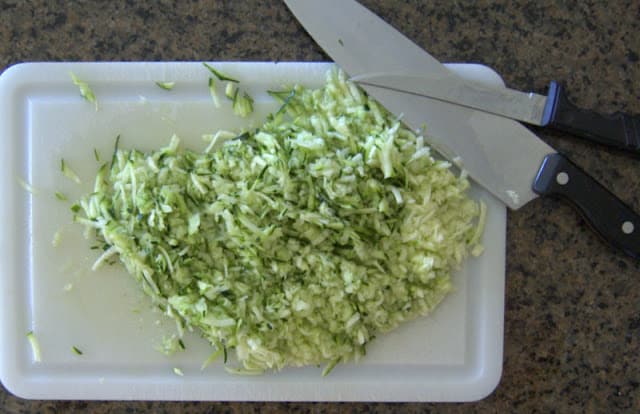 Ok, PLEASE don't think that I did this with two knives. My chopping skills are not that adept. I used the processor and some of the strands were too long, so I chopped them smaller.
YOU can practice your knife skills if you'd like and let me know how that works for you.
Preheat oven to 350ºF.
Butter a 9″ X 5″ X 3″ loaf pan; set aside.
Sift flours, sugar, baking powder and salt into a mixing bowl.
Add all remaining ingredients and mix well.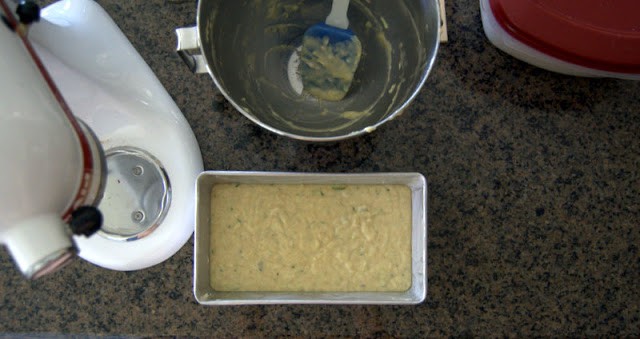 Spoon into loaf pan and bake for approximately 50 minutes until loaf shrinks slightly from sides of pan and is springy to the touch.
(Note: Do not underbake; test by inserting a toothpick or cake tester in center of loaf; it should come out clean.)
Cool bread upright in pan on wire rack for 20 minutes, then turn out. Cool completely before cutting.
The loaf will cut more easily if wrapped airtight and stored overnight.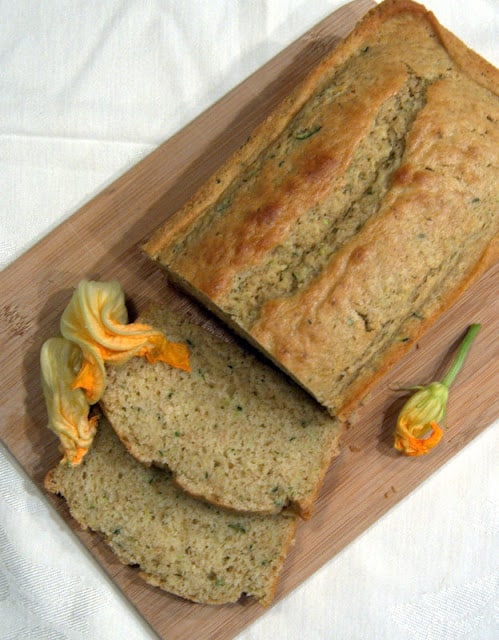 This was a good quick bread to make. I've only ever made banana bread, so it was nice to make something different.
The flavor was really good and I liked the addition of the whole wheat flour. I think it would have been even better if I had added the orange rind and the walnuts.
Next time.
I rate my baked items on a scale of 1-4 with 4 being the best. This Zucchini Bread is much better than yesterday's Indian Pudding recipe, not that you can even compare the two, but this bread earned 3 rolling pins.
I have to say that it's wonderful to be able to go out to the garden and pick things that I'll be using in the recipe. It's SO convenient, not to mention, much healthier.
Happy baking!