Hope everyone had a pleasant weekend!
I've been craving oatmeal the past few days, oatmeal cookies to be exact.
I haven't had a craving for a specific cookie in quite some time.
So, I really needed to make these today.
I don't know why they're called Cape Cod Oatmeal Cookies. There's no explanation of it in the book. Marion Cunningham must really like the east coast because there are quite a few New Englandy recipes in there.
Fannie Farmer Cookbook Thirteenth Edition, p. 615; author, Marion Cunningham; publisher, Alfred A. Knopf, Inc., a division of Random House, Inc.; ISBN 0-394-56788-9.
Cape Cod Oatmeal Cookies
1½ cups flour
½ teaspoon baking soda
1 teaspoon cinnamon
½ teaspoon salt
1 egg, lightly beaten
1 cup sugar
½ cup melted butter
1 tablespoon molasses
¼ cup milk
1¾ cups uncooked oatmeal
½ cup raisins
Preheat the oven to 350ºF.
Mix the flour, baking soda, cinnamon, and salt together in a large bowl.
Stir in the remaining ingredients.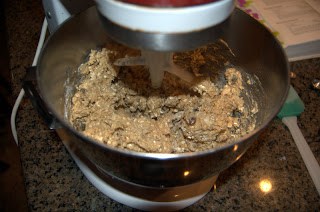 Arrange by teaspoonfuls on unbuttered cookie sheets.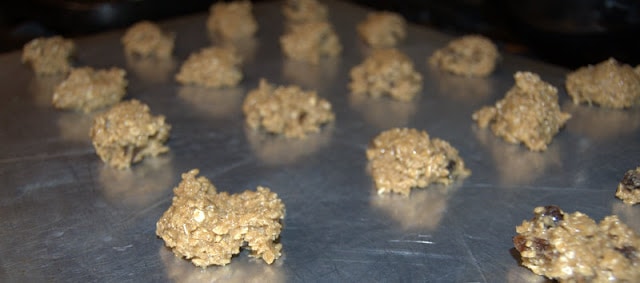 Bake until edges are brown, about 10-12 minutes.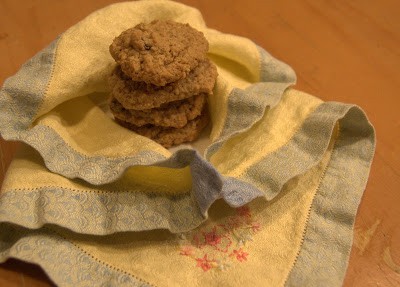 I usually make the oatmeal cookie recipe that is on the package of the Quaker oats because I figure if it's on the oats container, it's must be a good recipe. And it is.
I really liked this one though. I liked the flavor and the chewiness of today's cookie better than the other.
There is quite a list of ingredients, but they came together very quickly and the cookies were easy to make. I think I'd add another ¼-½ cup more of raisins though because I didn't think there was enough.
I really like a lot of raisins in my oatmeal cookies.
I rate things on a scale of 1-4 with 4 being the best, and these Cape Cod Oatmeal Cookies earned 3½ rolling pins.
The whole family really enjoyed them, too.
Happy baking!