I drove my son to volleyball camp today and discovered, or rather, rediscovered my pet peeve: people driving in the high speed lane when they AREN'T PASSING ANYONE!!!!!
Oh my gosh!!!!
You know, I thought it was bad when we lived in Rhode Island, but out here in Arizona, people do it
ALL. THE. TIME!
It drives me up a FREAKIN' wall!!
(as if you hadn't noticed)
I'm ok with those who choose not to use their blinkers – that doesn't really bother me. I know it really gets to some people though, like my daughter.
But this driving in the high speed lane…
Maybe it's because I've gone over the driver's manuals in the past few years with my daughters and it's so fresh in my mind. I have STRONGLY impressed upon them that when driving on a road with two or more lanes that you STAY to the right UNLESS you are PASSING!
I think these particular drivers skipped right over that part when they were studying for their license.
And it's not just OLD people neither, so don't be thinkin' I'm upset with them.
I do have a tendency to drive faster than I should, so yes, this does slow me down when I am in a hurry, I admit.
But I do have to brag here for just a second. I have been driving for nearly (yikes!) 27 years and I have not once received a speeding ticket. This is actually pretty remarkable considering the past two years or so I have been without a speedometer on my car because it's broken and we haven't had it fixed. I've become very good at judging my rate of speed.
I just had to vent.
Thanks for listening.
Texting while driving…that's a WHOLE 'nother story…
Today I used The New DoubleDay Cookbook, pp. 815,819; authors, Jean Anderson and Elaine Hanna; publisher, Doubleday, a division of Random House, Inc.; ISBN 0-385-19577-X.
Easy Butterscotch-Spice Cupcakes
1 1/3 cups sifted flour
2 teaspoons baking powder
¼ teaspoon salt
½ teaspoon cinnamon
½ teaspoon nutmeg
¾ cup firmly packed brown sugar
¼ cup vegetable shortening
2/3 cup milk
1 egg
1 teaspoon maple flavoring
Preheat oven to 375ºF.
Sift flour, baking powder, salt, cinnamon and nutmeg together into a large mixing bowl.
Add shortening and milk, stir to blend, then beat slowly about 1½ minutes with an electric mixer.
Add egg and maple flavoring and beat slowly for 1½ minutes.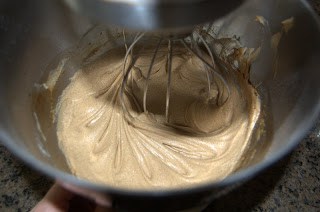 Spoon batter into muffin tins lined with cupcake papers, filling each half full.
Bake 20-25 minutes until cakes are springy to the touch.
Remove cupcakes from pans and cool on wire racks.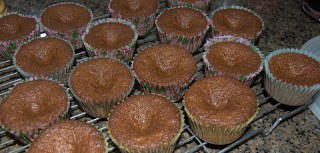 Cream Cheese Frosting
2 (3-ounce) packages cream cheese, softened to room temperature
1 (1 lb.) package confectioners' sugar, sifted
1 teaspoon vanilla
1-2 tablespoons milk
Beat cream cheese until very soft, then gradually beat in confectioners' sugar.
Mix in vanilla and enough milk to make a good spreading consistency.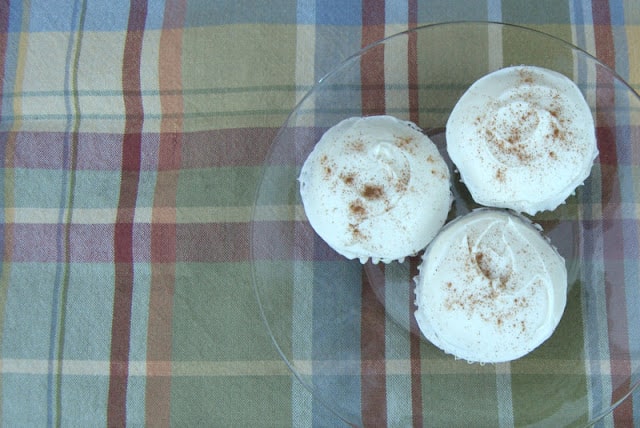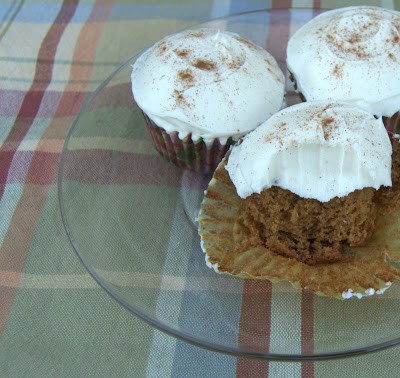 Aye, matey! Those cupcakes when they came out of the oven looked like they contained sunken treasure with the middles looking like they did.
What was up with that?
I think it was that I opened the oven door a little while after I put them in because I wanted to take a picture.
And unfortunately, these really didn't taste as I thought they would.
Bummer!
They tasted more like spice cake than they did butterscotch, so I don't really think butterscotch should even be in the title. My family didn't taste it either.
The cream cheese frosting on the other hand, was…DELICIOUS!
The cookbook didn't recommend a particular frosting for this cupcake, so I asked my daughter to pick one and she nailed it!
It's a shame the cupcakes weren't better. We were disappointed.
I rate my daily baking on a scale of 1-4 with 4 being the best and these Butterscotch-Spice Cupcakes with Cream Cheese Frosting earn 2 rolling pins. I don't think I'll make them again.
The cream cheese frosting however, will definitely be making a return appearance!
Happy baking!