St. Patrick's Day Marshmallow Pops are whimsical, festive and fun to eat! Bring a little good luck to your celebration with these dipped marshmallow treats.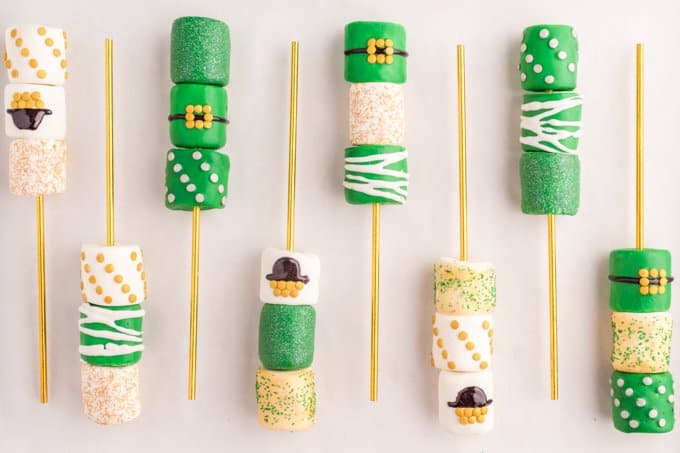 Okay, marshmallows dipped in white chocolate and sprinkles probably don't actually bring you good luck.
But you'll feel lucky to be eating one!
SAVE THIS MARSHMALLOW DESSERT RECIPE TO YOUR FAVORITE PINTEREST BOARD!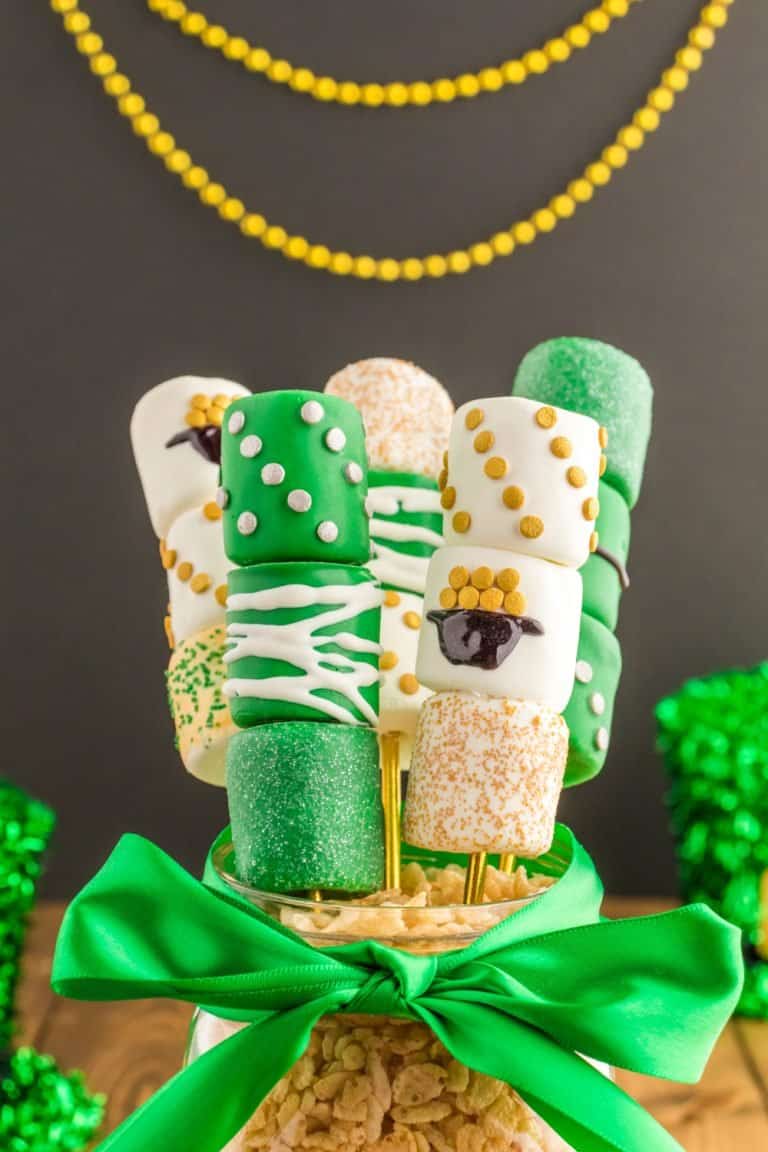 I'm just a smidge Irish but I sure do love St. Patrick's Day. All the bright green colors, shamrocks and cheery celebrations. . . and an excuse to make something extra special for dessert.
These white chocolate dipped marshmallows are so easy to decorate for different holidays, too. Today, we added plenty of green and glittery gold sprinkles to kick off the St. Patty's day festivities. Since every food is better when you can eat it on a stick, I served them on lollipop sticks.
How cute are these St. Patrick's Day Marshmallow Pops?! You can make all kinds of fantastic designs to make them your own!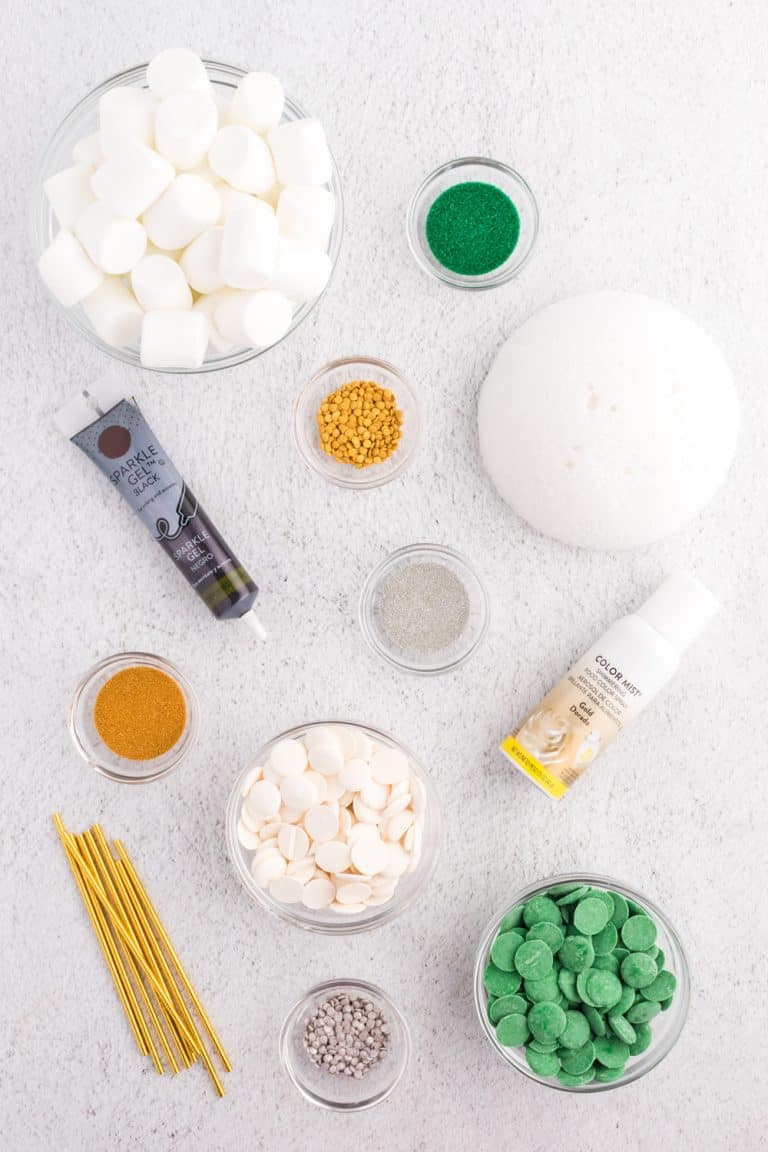 What do I need to make these St. Patrick's Day Marshmallows?
I used these ingredients to make this marshmallow dessert:
White and green candy melts
Marshmallows
Sanding sugar – I used a combination of gold, green and silver.
Confetti sprinkles – I used gold and silver.
Gold food color spray
Black food sparkle gel
Several of these ingredients may be difficult to find in a regular grocery store. You can find them all at most craft and hobby stores or online.
You will also need long wooden lollipop sticks to make the chocolate dipped marshmallows into pops. I used these pretty gold ones for even more sparkle!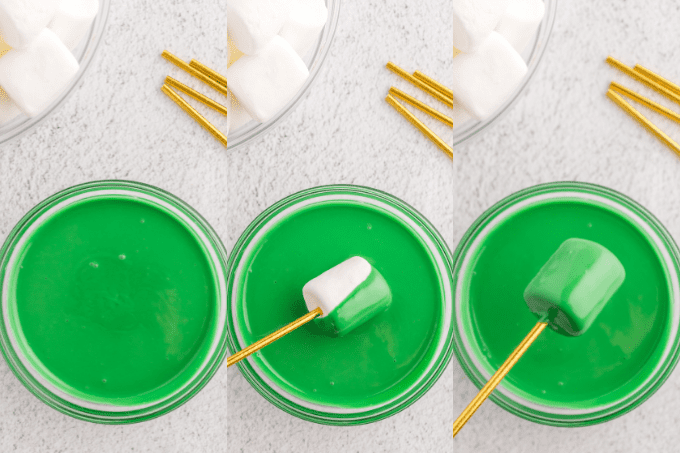 How to Make Marshmallow Pops
Melt the candy melts.
Melt each color in separate bowls, according to package directions.
2. Dip the marshmallows.
Slide a marshmallow onto a lollipop stick. Dip it into one color of the candy melts and twist to coat it in the melted chocolate.
3. Decorate
Before the white chocolate sets, add the sanding sugar and sprinkles! Black food gel and additional drizzles of melted chocolate can be added after the first layer of chocolate dries.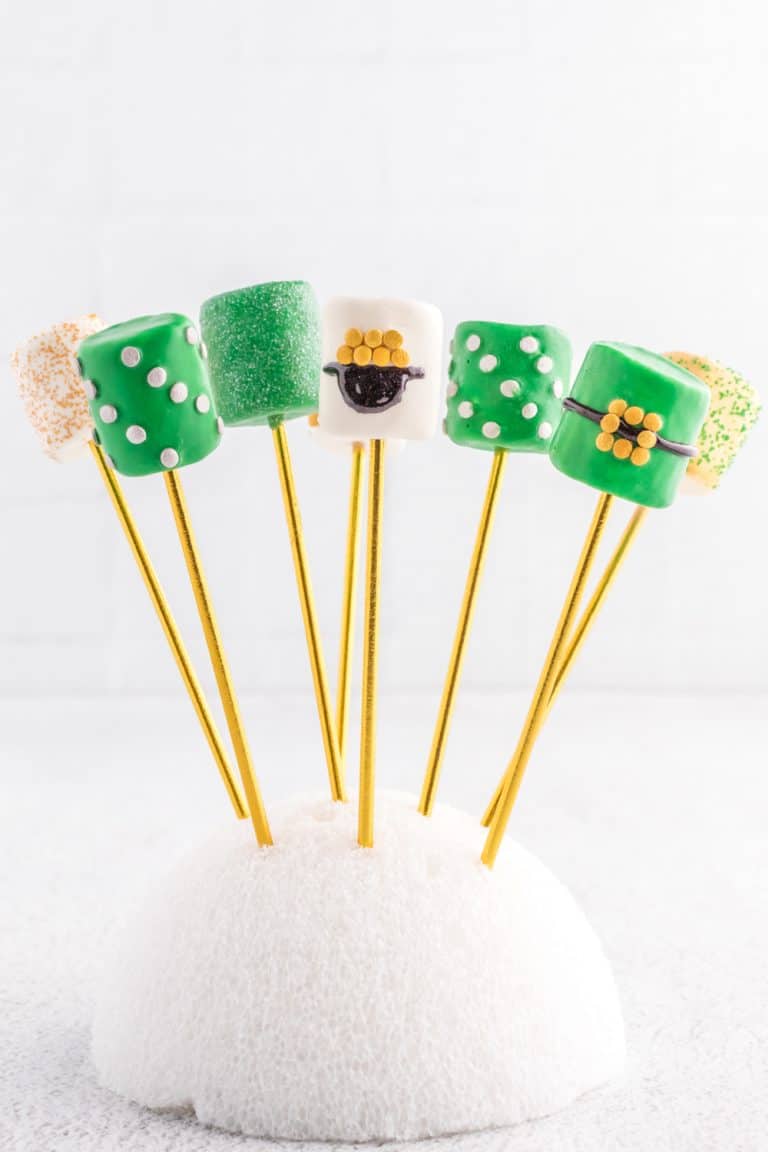 Tips and Tricks
It's best to work with one color of candy melt at a time to ensure the candy doesn't harden before you can dip all the marshmallows.
Dip and decorate one marshmallow at a time, unless you're creating a design where the candy needs to harden first.
Stick the marshmallow pops in a styrofoam block while they set to keep the chocolate smooth.
The sticks you use to dip the marshmallows will get messy! For a prettier presentation, remove the original sticks from the marshmallows once they've set and serve the marshmallows on clean sticks. I put 3 on each long serving stick.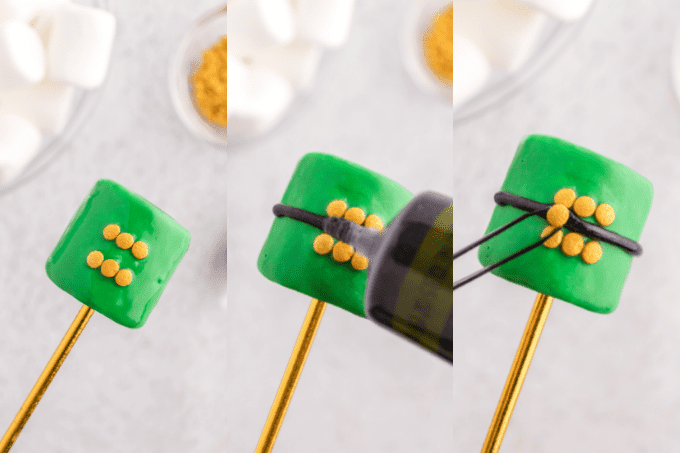 Can I use chocolate chips instead?
You can use melted white chocolate chips instead of candy melts, but they will not look the same as mine. Candy melts stay melted longer and are easier to work with. They also harden with a smoother finish than melted chocolate chips.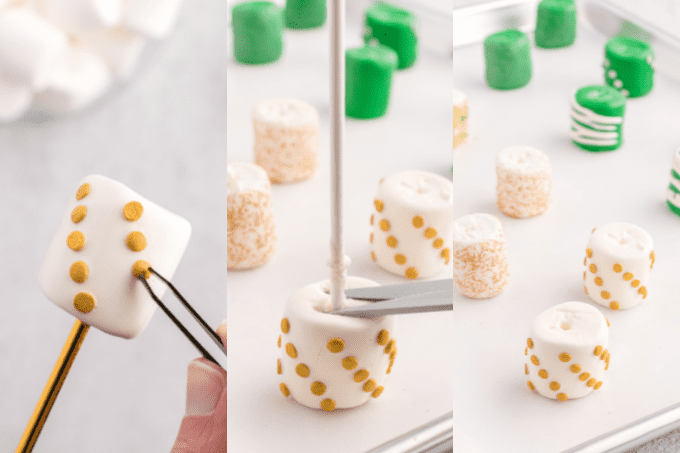 How do I store these marshmallow pops?
Store the St. Patrick's Day Marshmallows in an airtight container at room temperature. Enjoy within 1 week for best taste.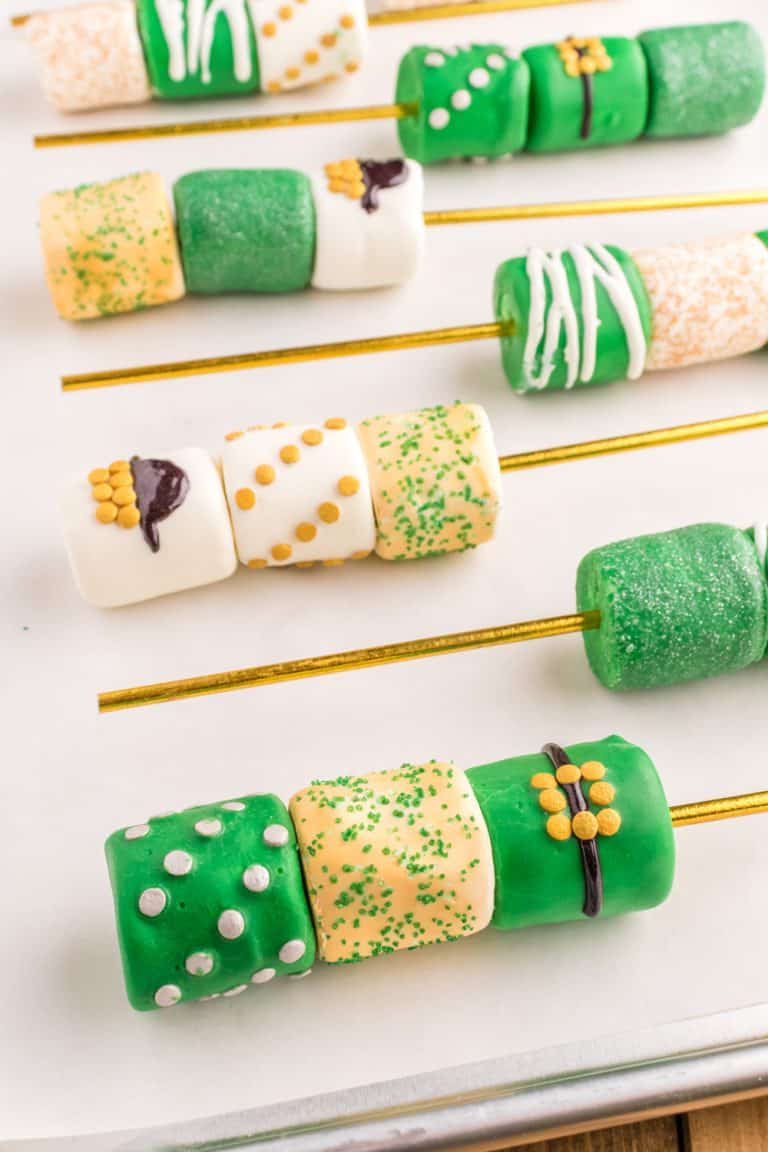 How do you create designs with sprinkles?
Tweezers are perfect for arranging sprinkles on the dipped marshmallows. It takes a little time to do it one by one but the results are worth it.
These adorable St. Patrick's Day Marshmallow desserts are better than finding gold at the end of the rainbow!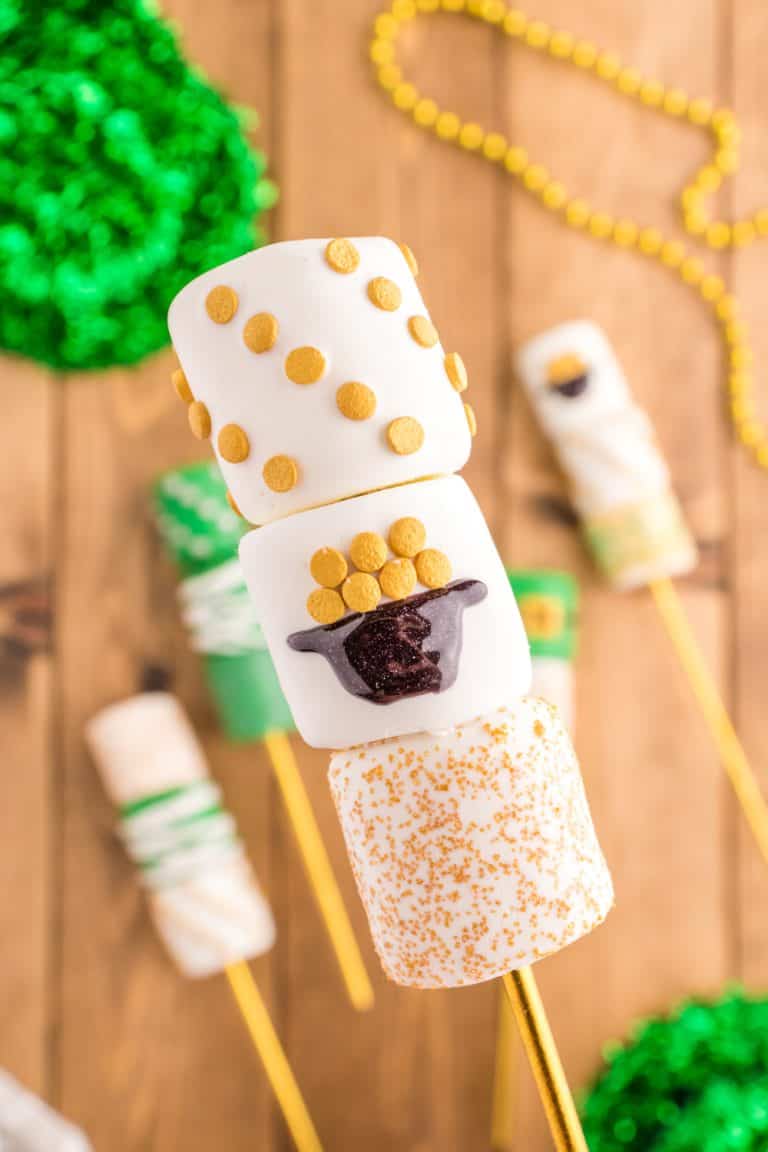 Marshmallow Recipes
Marshmallows see a lot of action in my recipes! From Rice Krispie Treats to Fluffernutters, I've never met a marshmallow treat I didn't like.
Chocolate Peanut Butter Cornflake Cookies are no-bake cookies made with mini marshmallows and cereal. These No Bake Peanut Butter S'Mores Cookies are another quick treat with the marshmallow flavor front and center.
If you love chocolate and peanut butter with your marshmallows, my Reese's Peanut Butter Rice Krispies Treats are right up your alley too.
Pick up an extra bag or two of marshmallows and try more of my favorite desserts with marshmallows.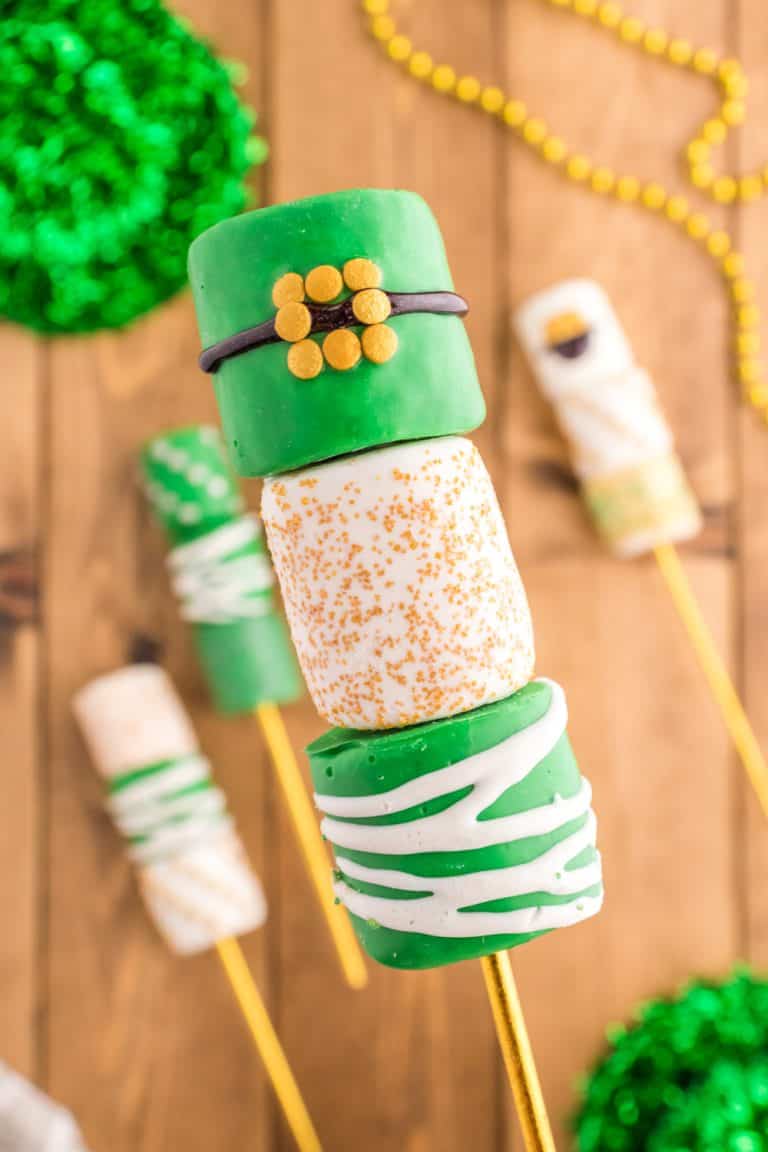 St. Patrick's Day Recipes
Irish or not, March 17th gives you the perfect excuse to get creative in the kitchen.
The kids are going to love this recipe for Rainbow Candy -Pot of Gold! Made with white chocolate, marshmallows, gold coin sprinkles and rainbow candy, they're sure to bring smiles to all the little leprechauns in your life.
We recently made this Lucky Charms Bark which is so much fun to break up and share with a friend.
Why not raise a glass of Homemade Bailey's Irish Cream and whip up a batch of Irish Cream Dream Bars this month? These Chocolate Mint Dream Bars would make a delicious St. Patrick's Day dessert too.
For even more inspiration, I put together a full round of up of 25+ St. Patrick's Day Desserts all but guaranteed to put a little Irish jig in your step!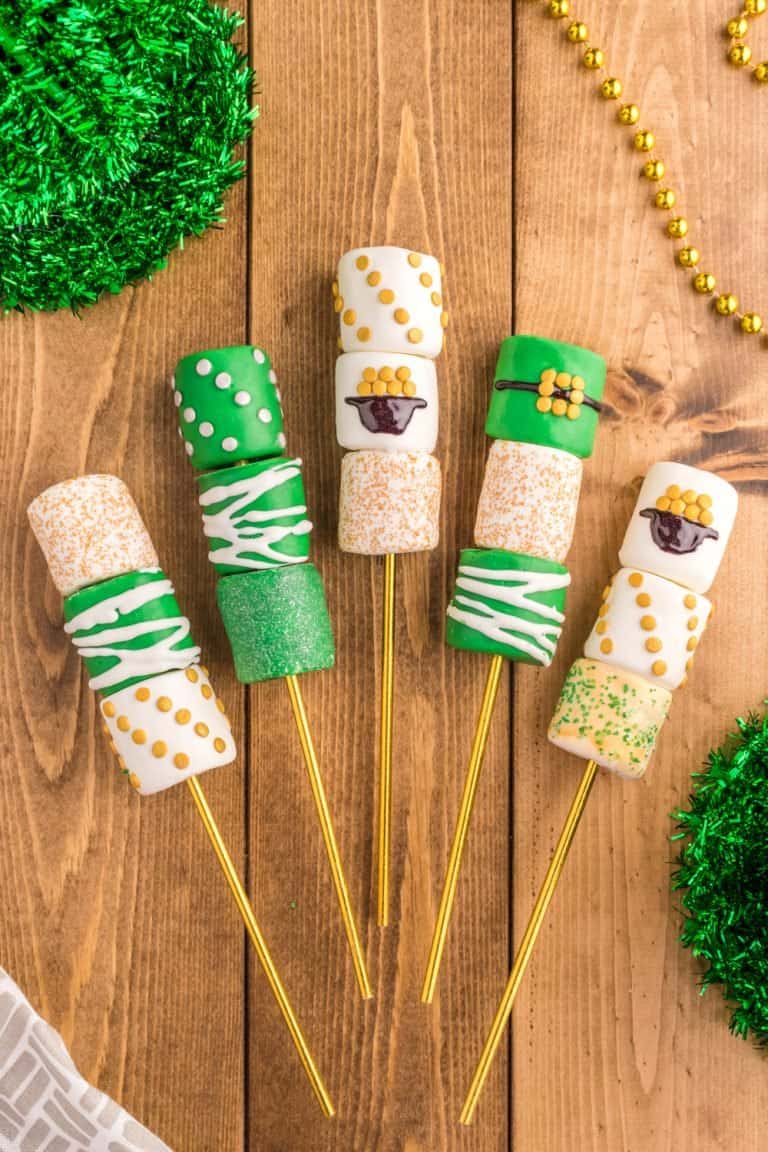 Add these fun and festive St. Patrick's Day Marshmallows to your Irish celebration!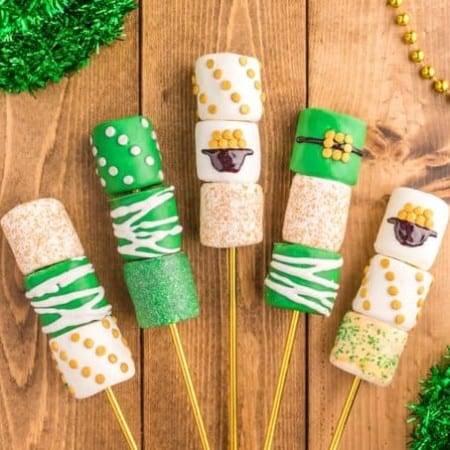 St. Patrick's Day Marshmallows
St. Patrick's Day Marshmallow Pops are whimsical, festive and fun to eat! Bring a little good luck to your celebrations with these dipped marshmallow treats.
Equipment
8 long wooden/lollipop sticks I used gold colored sticks for the final products, and some white sticks to help with dipping.

1 styrafoam block / half sphere

Baking Sheet

parchment paper
Ingredients
24 regular sized marshmallows
12 ounces green candy melts I used Wilton
12 ounces white candy melts I used Wilton
Gold and silver confetti sprinkles
Gold, silver & green sanding sugar
Gold food color spray
Black food sparkle gel
Instructions
Line a baking sheet with parchment paper. Set aside.

In a small, microwaveable bowl, melt 1 – 1 ½  cups of one color candy melts according to package instructions. Do not overheat. Once candy is smooth, put one marshmallow on a stick (stick can be poked all the way through except for the marshmallow you plan to be on top).

Dip the marshmallow into the candy melts at a 45° angle, twisting the stick until the marshmallow is fully covered. Gently tap the stick on the edge of the bowl to get rid of excess candy. (If adding sprinkles or sanding sugar, add while the candy melts are still wet. This will make them stick once the candy dries. For gel or drizzling, add once candy is dry.)

Once a marshmallow is ready to dry, carefully remove it from the stick (using scissors works great) and set it on the parchment paper, the side with the hole facing upwards.

If you'd like the marshmallow to have a smooth top, put the stick into the styrofoam for the marshmallow to dry.

Repeat all steps again with the other color of candy melts.

Once all marshmallows are completely dried and decorated, assemble 3 on each stick and eat!
Notes
Remember: If adding sprinkles or sanding sugar, add while the candy melts are still wet. This will make them stick once the candy dries. When adding the gel or drizzling, add once candy is completely dry.
Nutrition
Serving: 1person | Calories: 254kcal | Carbohydrates: 40g | Protein: 1g | Fat: 10g | Saturated Fat: 9g | Polyunsaturated Fat: 1g | Monounsaturated Fat: 1g | Sodium: 55mg | Potassium: 1mg | Fiber: 1g | Sugar: 35g | Calcium: 1mg | Iron: 1mg
Did you make this recipe?
Share it with me on Instagram and make sure to follow me on Pinterest for more recipes.
Reader Interactions