It's Sunday, so that means a family breakfast, especially since our eldest drove home for the weekend.
Most of the time on the weekends I'll make breakfast but there are other times I'll have my offspring and hubby fending for themselves.
Adapted from Foodie With Family.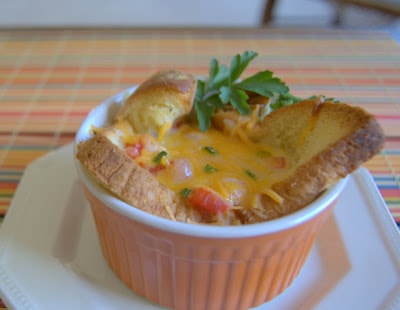 Baked Eggs in Toast Cups – serves 4
4 slices of bread (I used potato)
3 tablespoons butter, melted
4 eggs (you can use 2 for each person, but I chose 1)
2 teaspoon onion, chopped
1 small tomato, diced
1/3 cup shredded mild cheddar/jack cheese
salt
freshly ground pepper
diced jalapeno, bacon, ham are optional
Preheat oven to 375 degrees F. Prepare 4 6oz. ramekins by spraying them with cooking spray.
Brush one side of each piece of bread with the melted butter.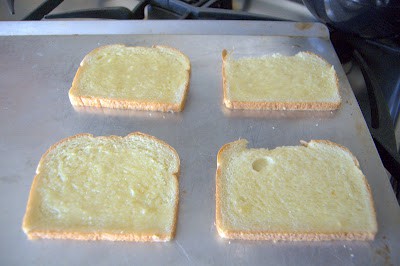 Place the bread into the ramekins, gently pushing down so that the bread is against the sides and there is a good size opening for the egg. The bread may tear, but that's ok, it will be in your belly in no time.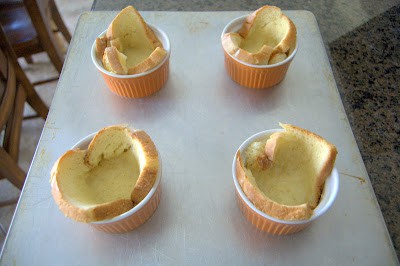 Crack the egg and place into the middle of the bread.
Evenly divide the onion, tomato and other optional ingredients among the ramekins.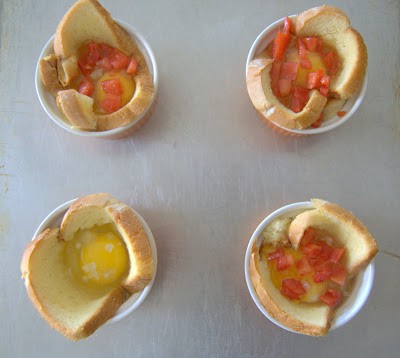 Sprinkle each with salt and freshly ground pepper.
Divide the cheese evenly over the top of each.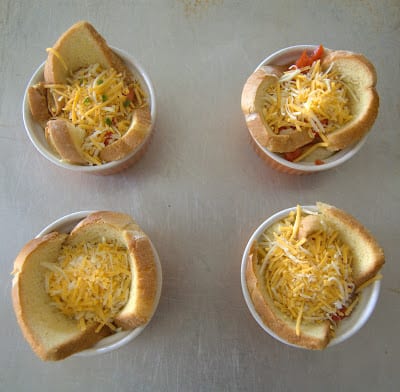 Place ramekins on a baking sheet and bake:
15 minutes for a runny yolk, 20 minutes for medium, and 25 minutes for a hard yolk.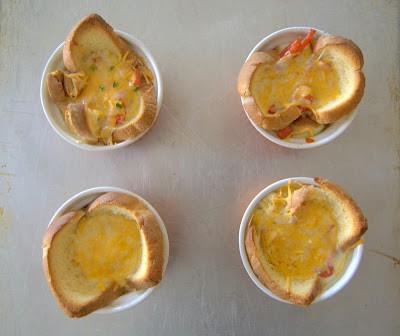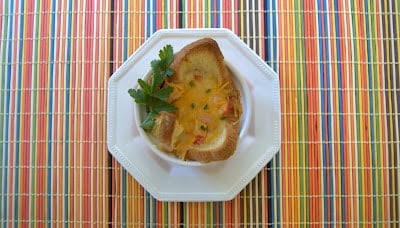 This one that is pictured has some jalapeno pepper in it for Mr. 365. He wanted some spiciness added to his.
I rate everything I bake on a scale of 1-4 and the family (sans mom) unanimously decided that these should be given 3 1/2 rolling pins.
Yes, there were only 4 ramekins, so mom went without this morning. The sacrifices we make, eh?
I didn't taste it, nor did I honestly have a desire to because my family likes their egg yolks runny and that just grosses me out to be honest. *shudders*
So, out of the 347 recipes that I've made so far, this is the FIRST that hasn't earned my rolling pin rating, but I trust my critics. For the most part throughout all of this, the family has been in agreement on the ratings, so I figured if I actually liked runny yolks or had a 5th ramekin, I would have concurred. (Ooh, BIG word. 😉 )
I have to say that the 365 Facebook page is growing by leaps and bounds, and the pictures you are all pinning from 365 on Pinterest are awesome!!
We have SO many new people who have come by to join us and I'd like to say WELCOME to each and every one of you! I am SO thrilled and honored that you're here! And I'd like to send out a BIG thank you to my fellow bloggers who have been so kind as to share us with your readers!
~ I love you all! ~
No, really, really LOVE you!!