Enjoy some oven baked eggs with sliced ham as its sidekick. An easy, quick breakfast to start your day off right.

Try a new kind of way to make a healthy egg breakfast.
I have to admit that I was hesitant to taste this finished product only because I had no desire to eat anything.
And the thought of eggs was anything but appealing. I like eggs. Most of the time it's those fluffy scrambled eggs, or the hard-boiled eggs in the oven. But, I just wasn't hungry. Sometimes I have those days, and maybe that's a good thing.
I gave one to my son to try even though he kind of turned his nose up. "Mom, you are the best cook! This is really good! It tastes like stuffing!" Stuffing, really? You are a strange little man. You taste sage and anything associated with it reminds you of stuffing. Ok. "Really?" Ok, I guess I have to try it then. Of course, I have to try it, duh, I have to rate it. Silly me. I'm telling you that this is one of those dishes that pleasantly surprised me.
I know, Green Eggs and Ham and the theme of don't knock it 'till you try it. Probably should have realized that when I first started doing this baking thing. Well, now I know. Even if the pictures don't look visually appealing or, like today when I wasn't hungry, I need to tell you all to make your kitchen lives easier.
SAVE THESE OVEN BAKED EGGS TO YOUR FAVORITE PINTEREST BOARD!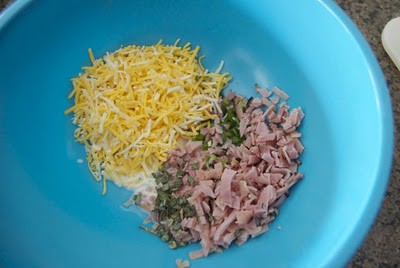 I will definitely be adding this to my regular repertoire of breakfast recipes. WHY haven't I ever made this before? It just never occurred to me to bake eggs. How ingenious!!
Try this Mexican corn chowder from dashofsanity. We all know New England clam chowder, and this one is on that same level of awesomeness. We all eat waffles. Usually, it's for breakfast, but those big fans eat 'em at dinner too. This cornbread waffles recipe by barefeetinthekitchen is one of a kind!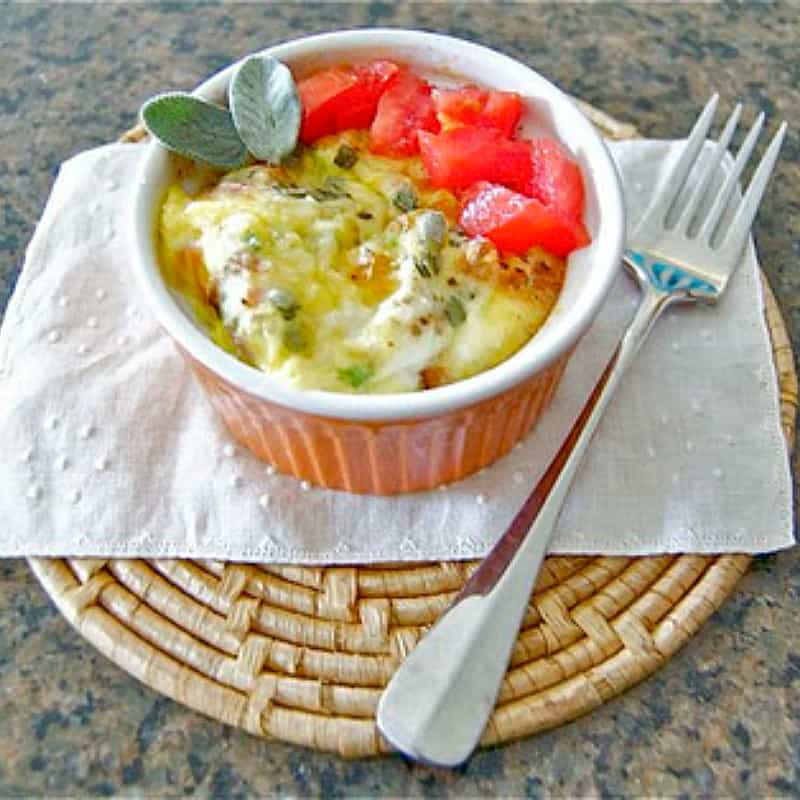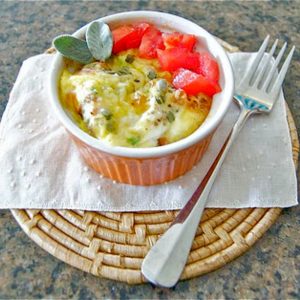 Ingredients
2 eggs
1 tablespoon milk
2 thin slices of baked ham, diced
¼ cup shredded Mexican cheese
1 tablespoon fresh sage, chopped and divided
2 teaspoons milk
2 teaspoons green onion, chopped
1 teaspoon grated parmesan cheese, divided
Salt
fresh ground pepper
1 tomato, diced for garnish
Instructions
Preheat oven to 400 degrees and prepare two 6oz. ramekins by spraying them with cooking spray.

Into a medium bowl, break both eggs, whisk together with the tablespoon of milk.

In a separate medium bowl, combine ham, cheese, 2 teaspoons milk, green onion, and 3/4 tablespoon of the sage.

Mix together and evenly divide into the two ramekins, pouring them on top of the ham mixture.

Sprinkle each ramekin with the grated parmesan cheese. Sprinkle with salt, freshly ground pepper, and remaining chopped sage.

Bake for 15-20 minutes. After, if desired, garnish with chopped tomatoes.
Nutrition
Calories: 176kcal | Carbohydrates: 1g | Protein: 12g | Fat: 13g | Saturated Fat: 6g | Cholesterol: 193mg | Sodium: 273mg | Potassium: 85mg | Sugar: 1g | Vitamin A: 435IU | Calcium: 234mg | Iron: 1mg
Did you make this recipe?
Share it with me on Instagram and make sure to follow me on Pinterest for more recipes.
This recipe was adapted from Baking Bites.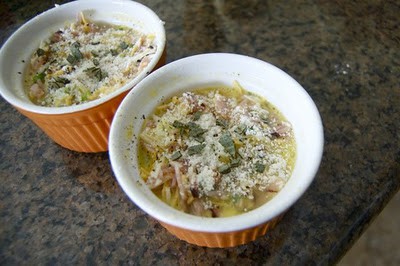 We all need a breakfast that's worthy of the weekend. And, we need bacon. My bake bacon recipe is ALL you need for a side, or if you need it in the recipe you're making.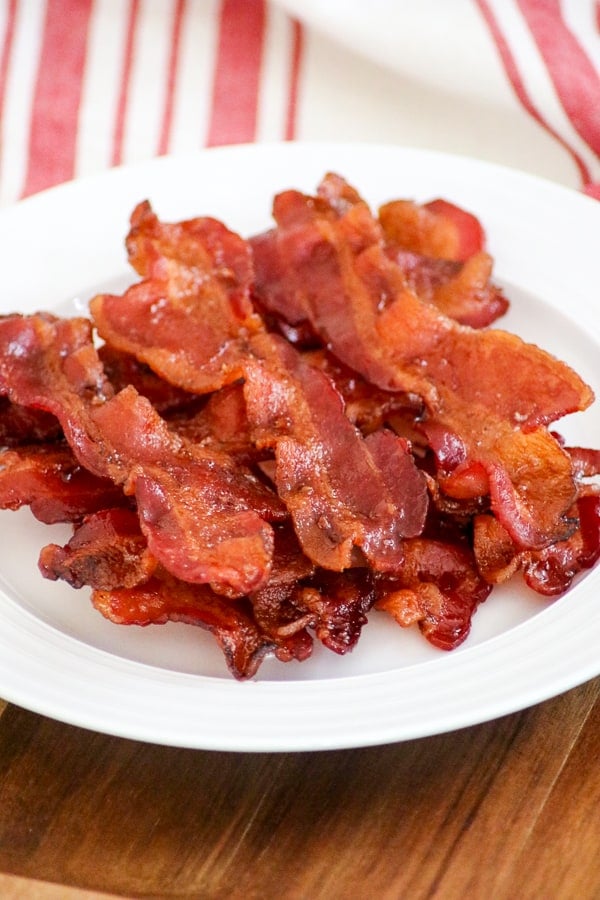 Don't forget that coffee to wake you up. This homemade french vanilla coffee creamer is made for those relaxing weekends.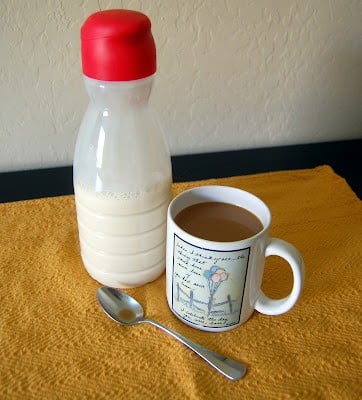 Even with it being only a small dish, it gives you a lot of flavors. And, if you are an egg person, then I'm sure you'll be excited to try this different egg recipe.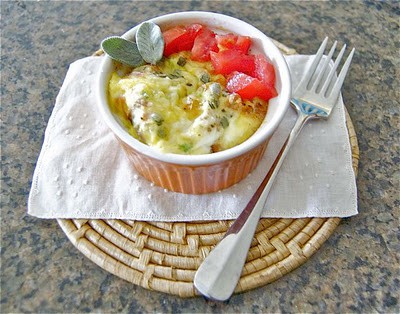 I rate everything I bake on a scale of 1-4 with 4 being the best and these Sage and Ham Baked Eggs earned 3 1/2 rolling pins. We were all hesitant to try it actually. It was around lunchtime, but none of us were really hungry and we certainly weren't in the mood for eggs.
Reader Interactions