I'm so excited to share a round-up of some of my favorite homemade dog treats. These recipes have been known to make more than a few tails wag! When baking for friends and loved ones this holiday season, why not include something special for their furry best friend as well?
Do you bake for your dog? I like to show love by baking for people so, naturally, I like to make treats for my pups as well.
If you've been reading here a while you know that we love spoiling our golden retriever, Logan. On Furry Friend Fridays, I like to give updates on all the four-legged members of our family.
I've been a life-long dog lover and I'm always amazed by how quickly dogs grow to be a part of our family. Logan never fails to cheer us up or make us smile, even on the hardest days.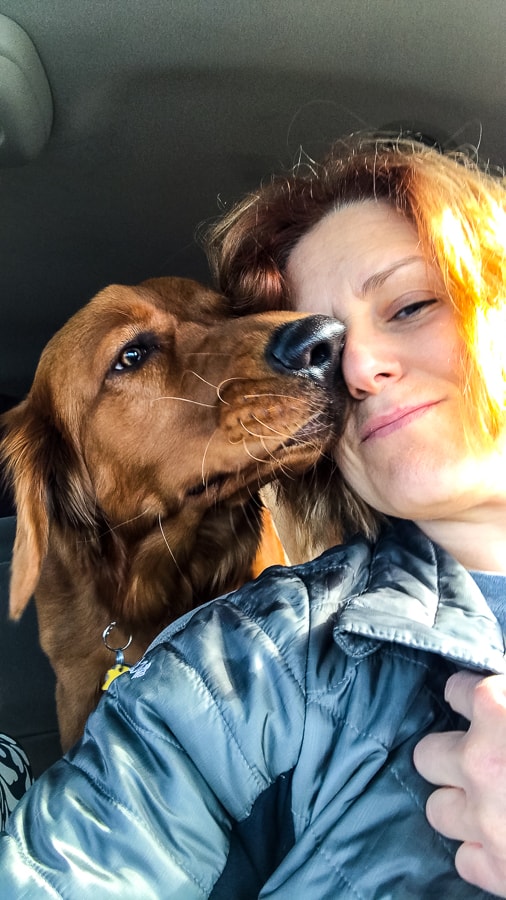 SAVE THIS HOMEMADE DOG TREATS ROUND-UP TO YOUR FAVORITE PINTEREST BOARD!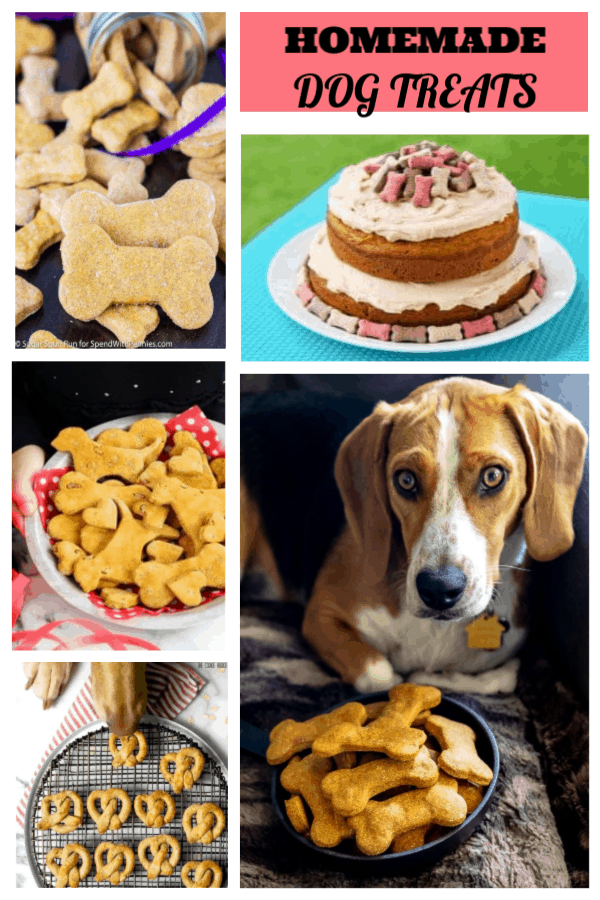 I mean, just look at him!! How can anyone be sad with this boy around?
You can check in here on Fridays for updates on Logan's adventures and be sure to follow him on his very own Instagram!
We've been lucky enough to have had a few other dogs over the years who were just as wonderful as Logan. Like almost all canine friends, they couldn't get enough of their dog treats.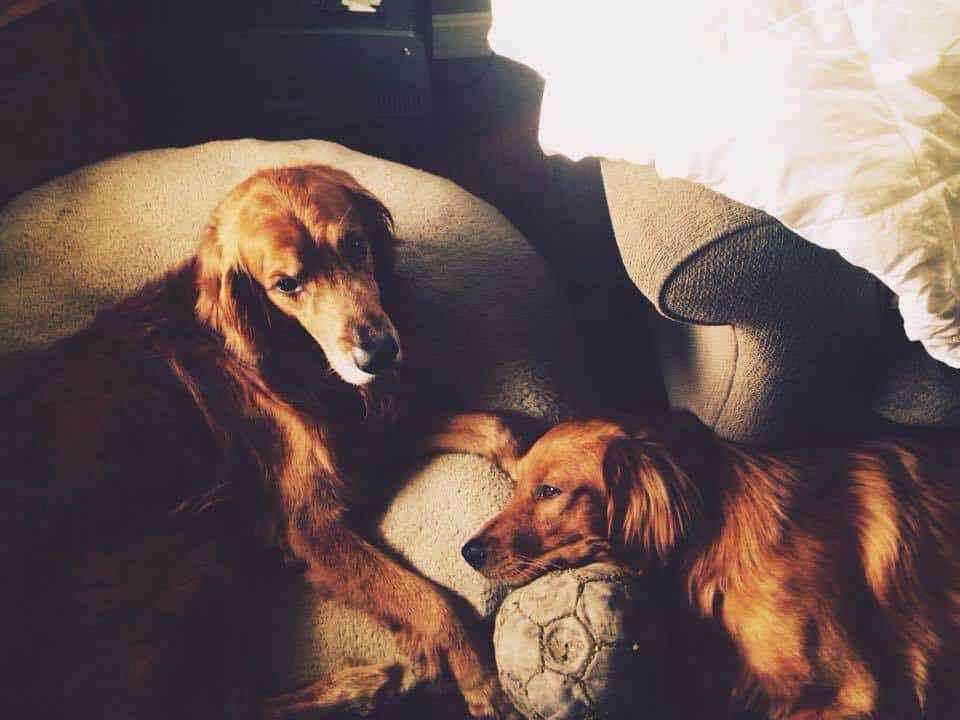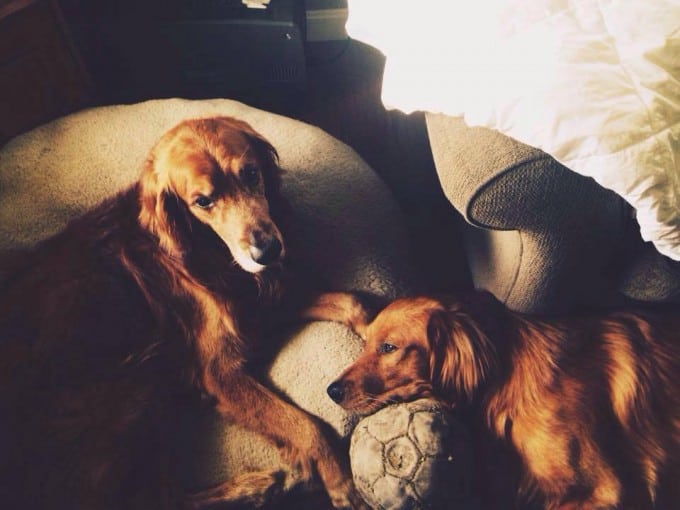 Giving treats is the best way to reinforce positive behaviors and show love to your doggy, but store bought treats get expensive. And if you have a dog you know how the costs of taking care of our furry friends can add up quickly.
Vet bills, food, boarding . . .it's all worth it for the health and happiness of our best friends but, boy, does my wallet hurt for it sometimes.
Let's not even talk about the weird ingredients lists on some of those dog treats! I love baking special goodies for my dogs and knowing exactly what goes into each and every one.
DIY Dog Treats
Here are some of my very favorite homemade dog treats for you to try! Each and every one has been a hit with my dogs and I hope yours will enjoy them just as much.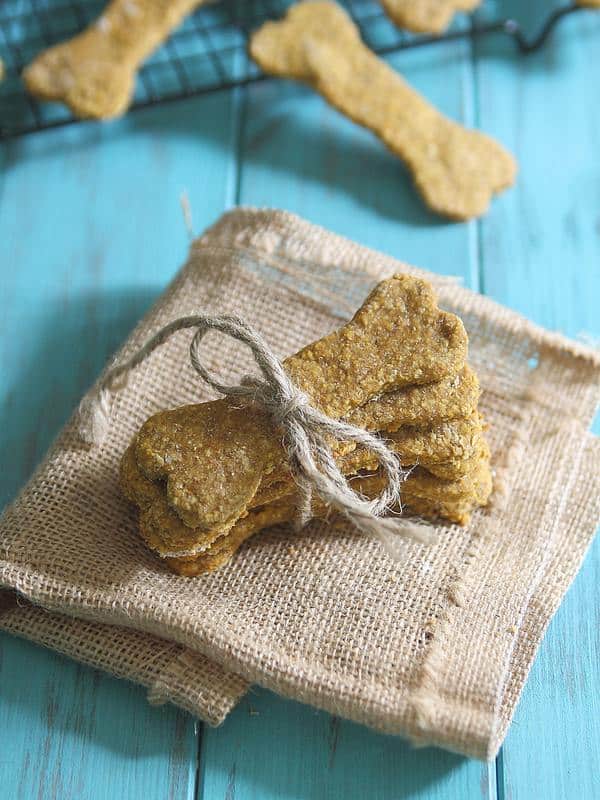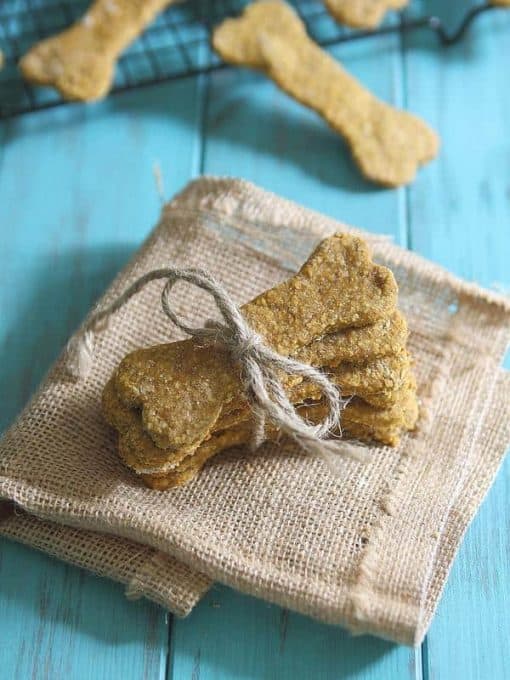 Peanut Butter Pumpkin Dog Treats by Running to the Kitchen are perfect for fall! With real pumpkin, banana, oats and peanut butter, you might find yourself enjoying these homemade dog treats as much as your pooch. They smell incredible while baking, too!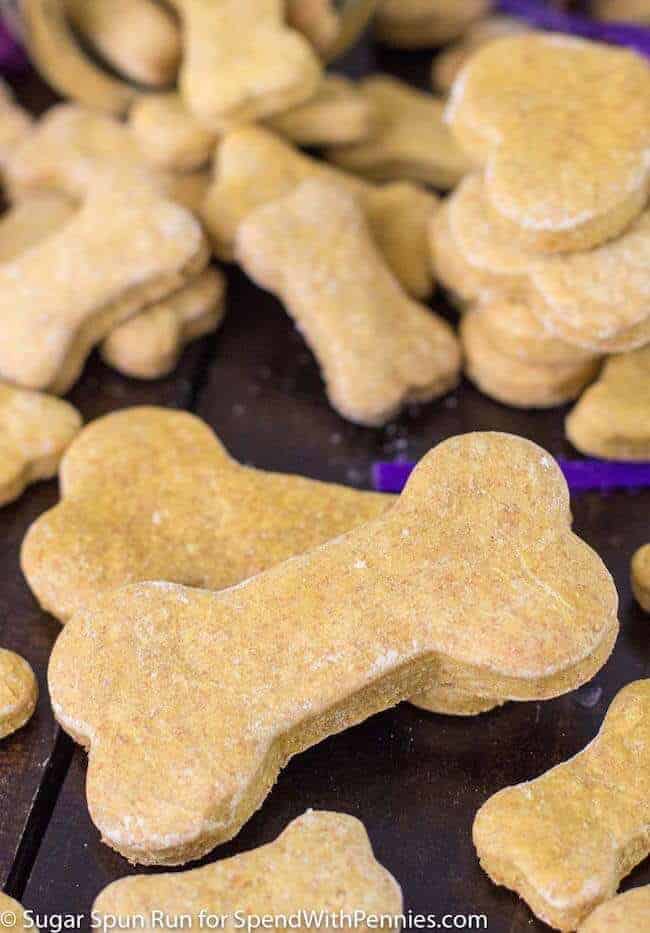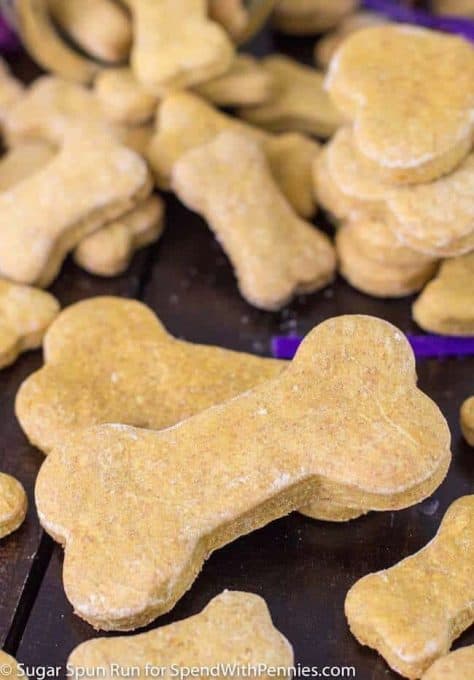 If your dog can't get enough peanut butter and pumpkin treats, check out these Pumpkin Dog Cookies from Spend With Pennies and these DIY Dog Treats with peanut butter and pumpkin from Bella Alimento, too.
All the dogs we've had over the years have LOVED these easy Peanut Butter Oatmeal Dog Biscuits. I got the original recipe from Melissa's Cuisine several years ago and they've become a favorite of my dogs', along with these Peanut Butter Banana Dog Treats.

Another DIY dog treat with pumpkin, these easy homemade dog treats by A Farm Girl's Dabbles have BACON in them, too. Have you ever known a dog to turn down bacon? If mine turned their nose up at a dog treat with real bacon, they'd be on their way to the vets so fast.

Yes, I've been known to celebrate my dog's birthdays. No I will not apologize.
Do you need a dog safe birthday cake? How about a "just because" cake? This cake from Love From the Oven is the dog treat for you. You might say "spoiled" but I say "well loved."
We all love our four legged friends but we have to admit that their breath can sometimes leave a little . . . something to be desired. These DIY dog treats from Cook Eat Go combine parsley, mint and oats in a little biscuit that will make your nose as happy as your dog.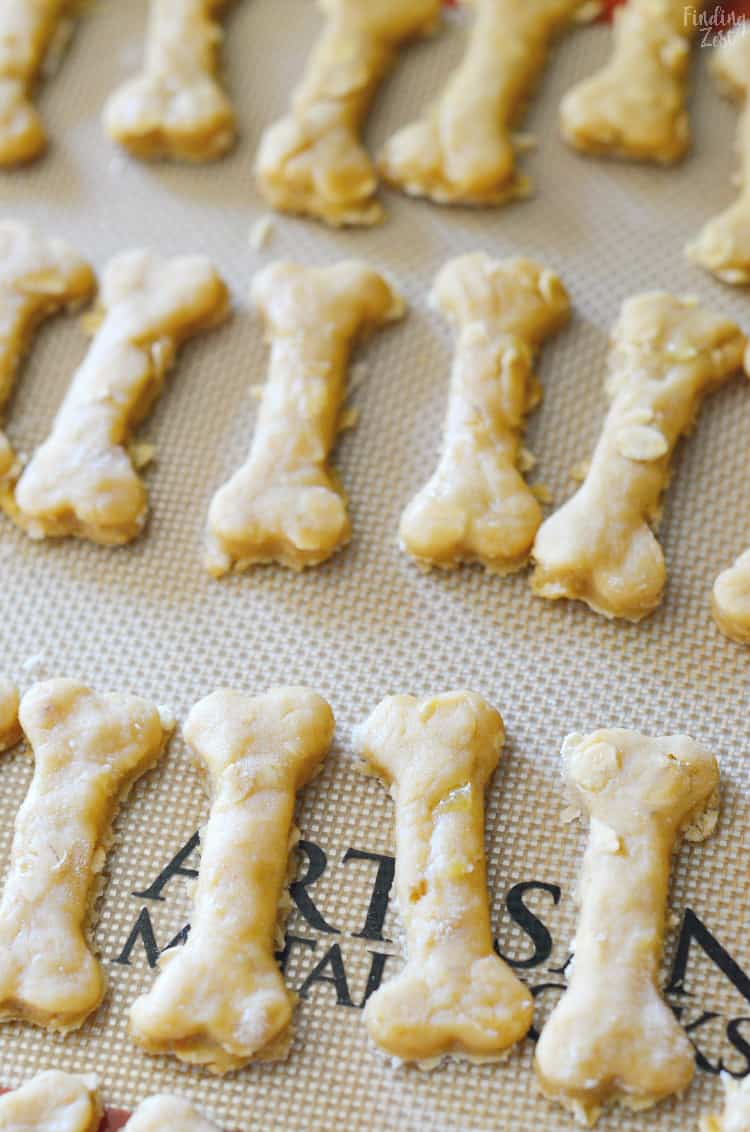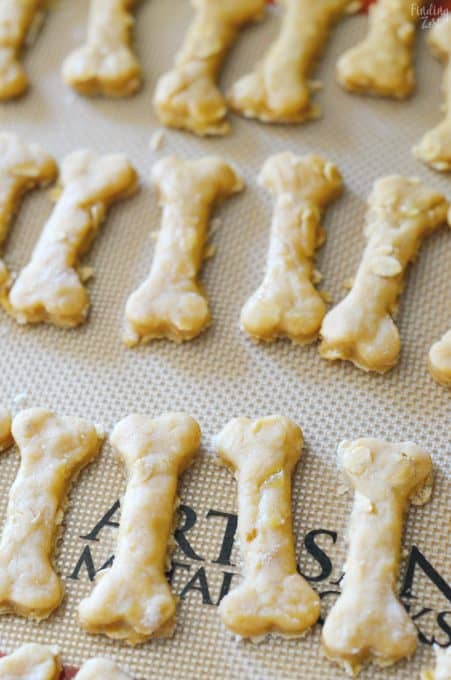 Finding Zest created this homemade dog treat biscuits inspired by the main character from the Biscuit books her kids love. With just a few ingredients, these couldn't be any simpler and their classic biscuit shape makes them extra adorable!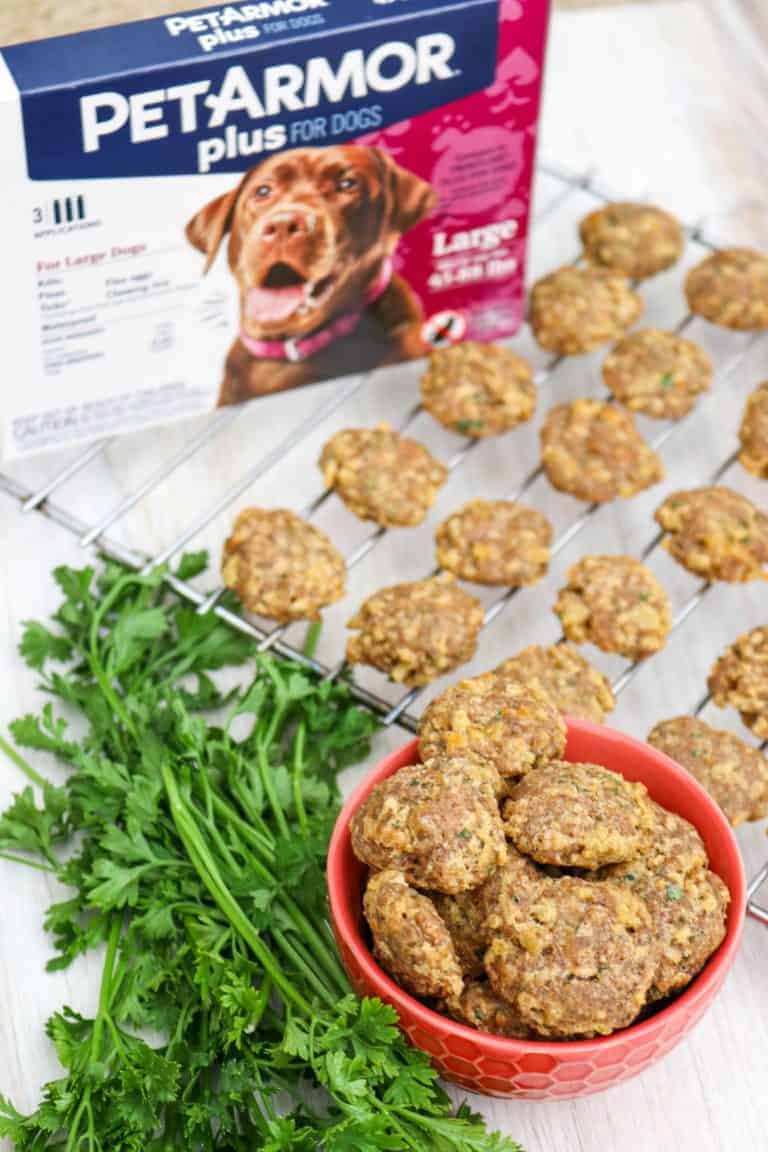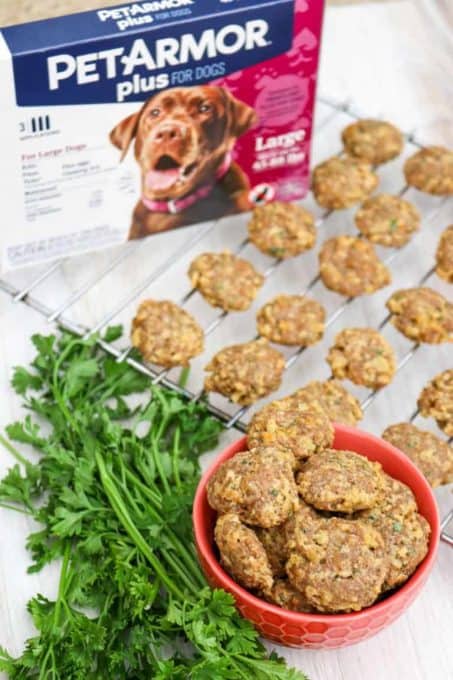 I made these Chicken and Cheese Dog Treats for our dog Logan, a couple of months ago and he went nuts for them. With real cheese, ground chicken and flaxseed, these dog treats spoil your dog by giving them something you can be confident is good for them, too.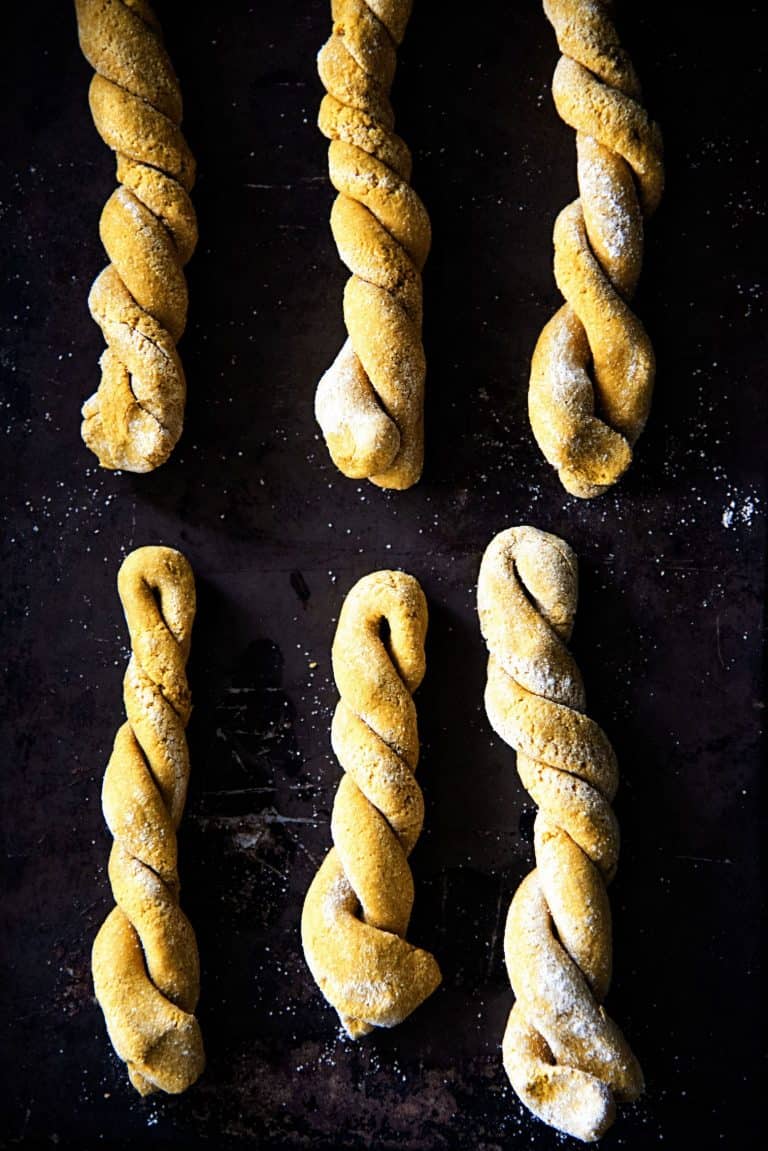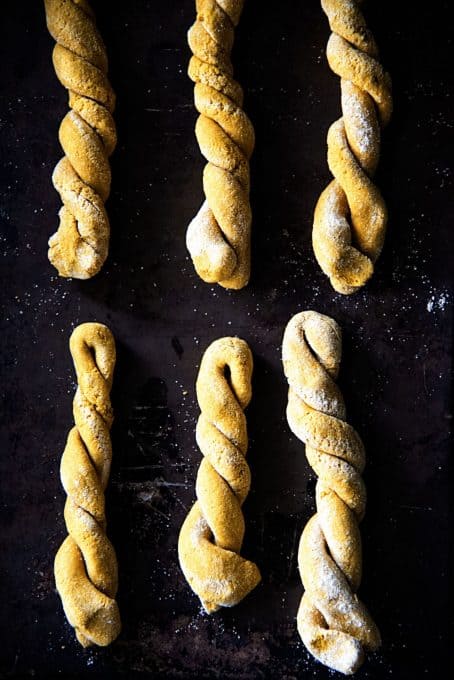 These twisted dog treats from Sweet Recipeas are grain free and a little softer than your traditional crunchy dog biscuit. That makes these DIY dog treats excellent for older dogs or dogs with dental issues.
I loved the twisted shape of those treats and the traditional pretzel shape of these Oat and Apple Pretzel Dog Treats by the Cookie Rookie, too. Both of those homemade dog treats would be perfect to give as gifts to your favorite pet parents, too.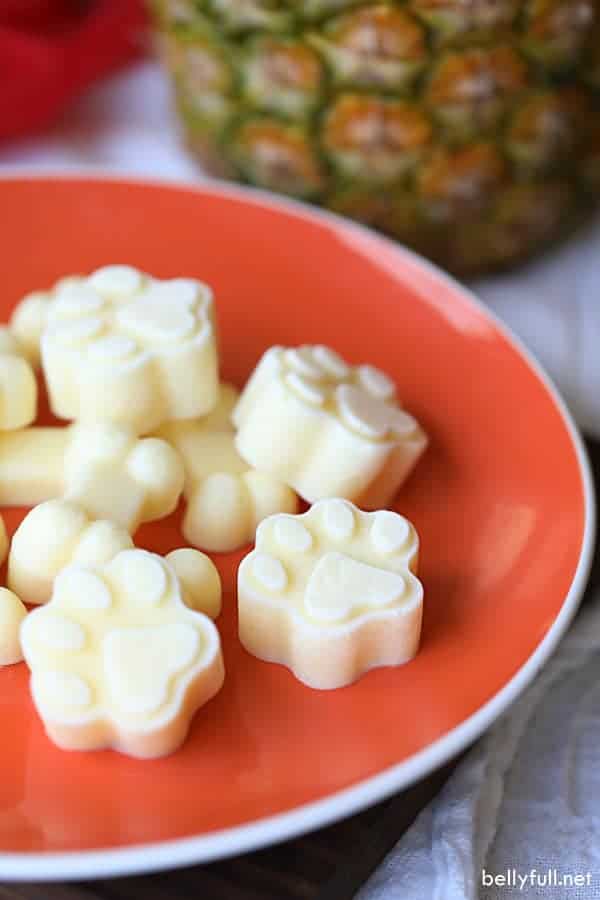 Dogs love a cool treat in the summertime as much as humans. These Pineapple pupsicle dog treats made by Belly Full are a fresh, fruity, healthy way for both you and your dog to cool off during a summer heat wave.

Do DIY pill pockets count as "dog treats"? My dogs certainly seem to think so! Pill pockets take away the struggle of getting your pooches to take their medications. They were a life saver back when we had a dog who needed regular medicine!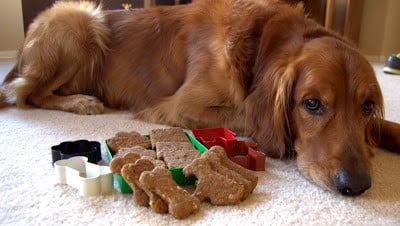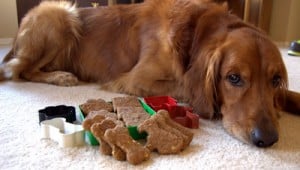 Homemade Dog Treats
There are so many awesome homemade dog treat recipes out there! This list should give you more than enough ideas to get you started baking for your dogs.
As much as your dog likes the store-bought treats, they're sure to love a DIY dog treat even more because it was made by their favorite thing–YOU!
Dogs bring so much joy to our lives. Baking treats for these furry family members is one of the best ways to show them how much we care for and appreciate them!
Which one of these homemade dog treats was your dog's favorite?