Give your pup the medication he/she needs with your own Homemade Dog Pill Pockets. They're made with three ingredients, are dairy and flour free, AND you'll be saving money!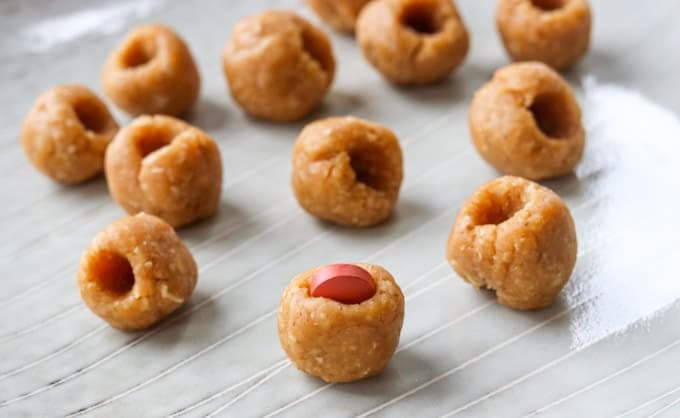 Your pup will see these DIY Pill Pockets as a treat and you'll have peace of mind that he's taking his meds!
PLEASE make sure you're using a peanut butter that DOES NOT contain Xylitol as it can be fatal.
As we've never had an issue feeding these Homemade Pill Pockets to our pups, I encourage you to do your own research and make your own call.
A few years ago, I worked as an office manager in a busy vet clinic and I was amazed, to say the very least that so many animals were on medications. I had absolutely NO idea that cats and dogs could have just as many health issues as humans.
I really think that sometimes I live under a rock or maybe I'm just too naive. Or both.
Though our current dog, Logan doesn't take any medications, he was the perfect model for the picture below.
I removed the pill and he enjoyed the empty pocket as a treat.
SAVE THIS DIY PILL POCKET RECIPE TO YOUR FAVORITE PINTEREST BOARD!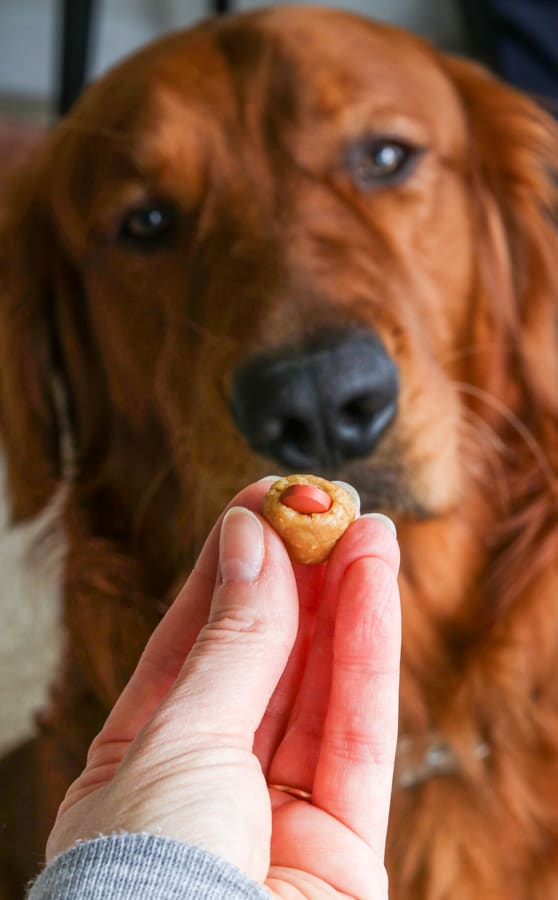 *NOTE:
I previously made this recipe with milk and flour, but have changed it so that these "treats" are better for them.

There have been concerns about the ingestion of raw flour for humans as well as dogs, so I have removed that ingredient and replaced it with ground quick oats.
Also, your furry friend may have an aversion to dairy. I've replaced the milk with water.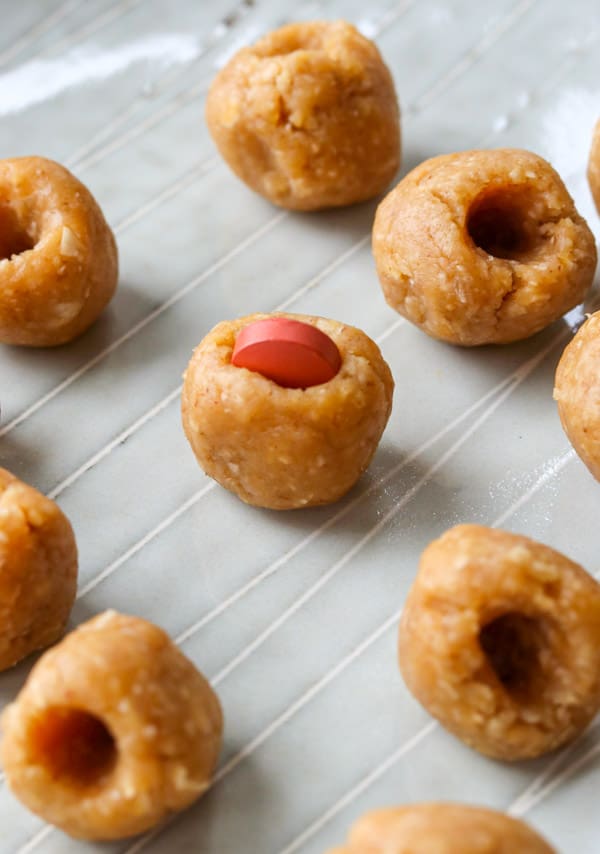 Below were our first babies, Brady and Keiser.
They really were the best of friends and had such a great time together.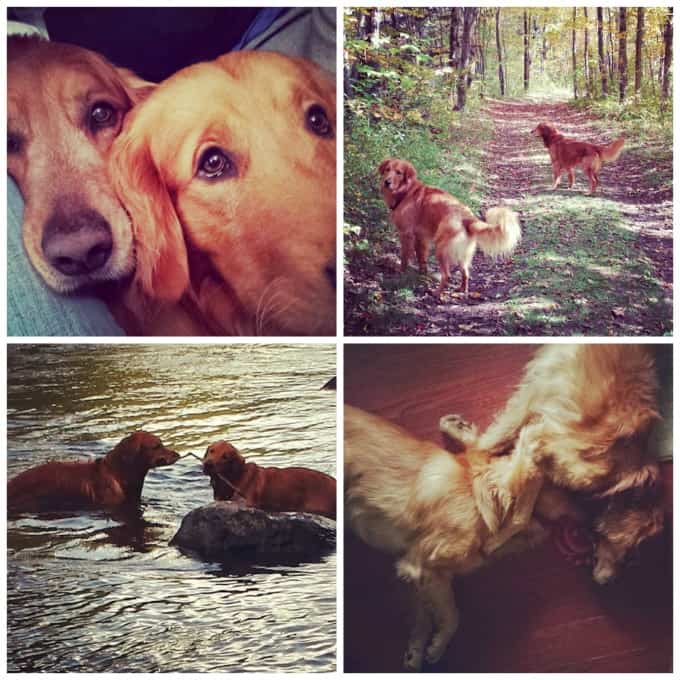 We taught Brady, the older one, a lot of tricks and he was extremely obedient.
He was so obedient that one night after the family was outside with neighbors, we came into the house when I later realized he was nowhere to be found.
I opened the front door to call for him and there he was, just sitting there wagging his tail waiting to be let it.
The younger one, Keiser, belonged to our daughter and lived with us while she was away at college.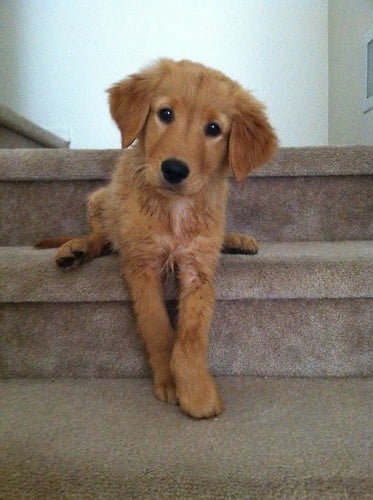 He looks innocent and wide-eyed, but he was the mischievous one.
Once he even wrestled with a porcupine. He lost that bout.
We pulled 169 quills out of him that night.
Other times, he's an absolute goofball, reminding me of Willoughby the dog who says, "Which way did he go, George? Which way did he go?" If he could talk, I'm certain that's what he would sound like.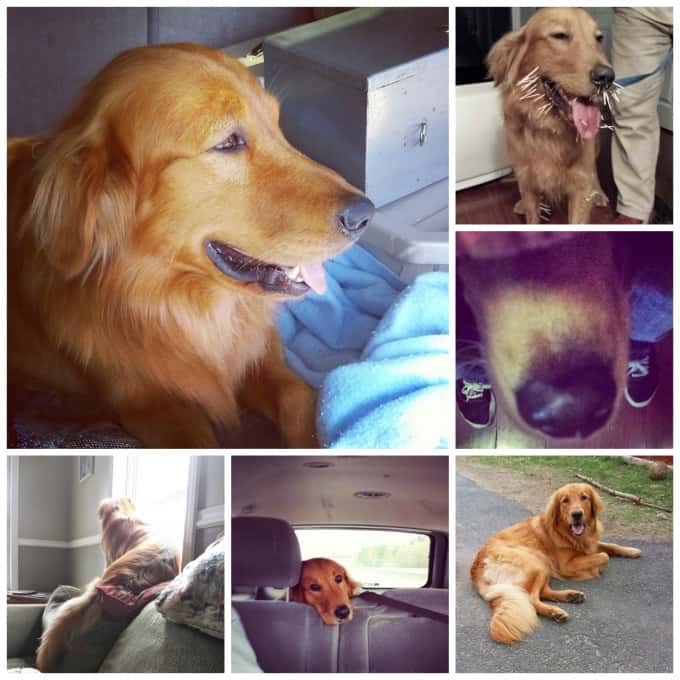 This guy pictured above was on meds. He needed a pill three times a day, every day for seizures he was having.
DIY Pill Pockets
When I first purchased pill pockets, I thought they were one of the greatest things invented. The dog needs a pill? Hide it in the pocket, smush the thing shut and voila!
Dog eats pill, but thinks he's getting a treat! Score! It seemed like a win for all of us. My dog was happy and I was content knowing he was getting the medicine he needs to stay healthy.
Then reality set in.
As if spending money on medication for dogs isn't enough, you need to purchase something to disguise the pill because they most certainly aren't going to swallow the thing on it's own as we humans do.
You know what that means?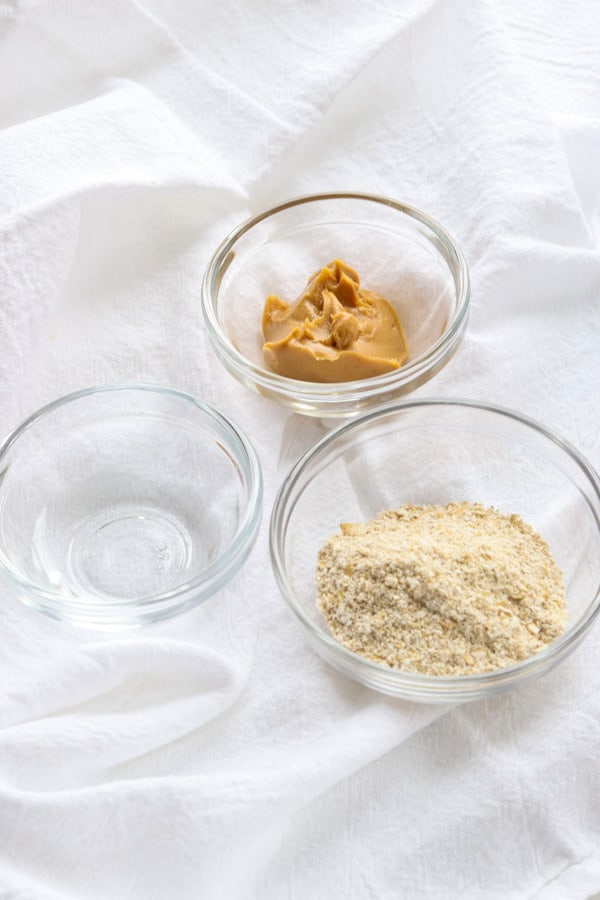 $$$$$
This medication for dogs thing can take a toll on your pocketbook.
As much as we all love our pets and would most likely do anything for them, they can be pricey.
Some people have success just wrapping a pill in a piece of bread or other food, but Keiser had grown used to these pill pockets! I wanted him to keep having the treats he enjoyed so much.
I've made my fair share of homemade dog treats before, like these popular Peanut Butter & Oatmeal Dog Biscuits and Pupcakes.
I found out that it's actually super duper simple to make your own dog pill pockets to keep my bank account as happy as my pup.
Now I've discovered that I can make these wonderful things at home and the great thing is that they work just as well. You won't believe how stinkin' easy it is either!
What ingredients do I need to make my own copycat pill pockets?
water
creamy peanut butter –
MAKE SURE that there is NO Xylitol included in the ingredients!! It can be fatal to your pup!
quick oats
THAT'S IT!
Pretty cool, hunh?
How do I make these at home?
Place the oats into a blender or food processor to grind them up.
In a small bowl, combine the water, oats, and peanut butter and mix well. use your hands towards the end to bring it all completely together.
Divide the dough into 12 small balls.
Using the end of a meat thermometer or toothpick, poke a hole into a ball and wriggle it around making the hole big enough to conceal the pill.
Place the pill into the dough and give your pup their treat!
Store them in an air-tight plastic container.
If you have larger capsules, then only divide the dough into 6 balls. You just want to make sure you have enough dough around each pill to conceal it.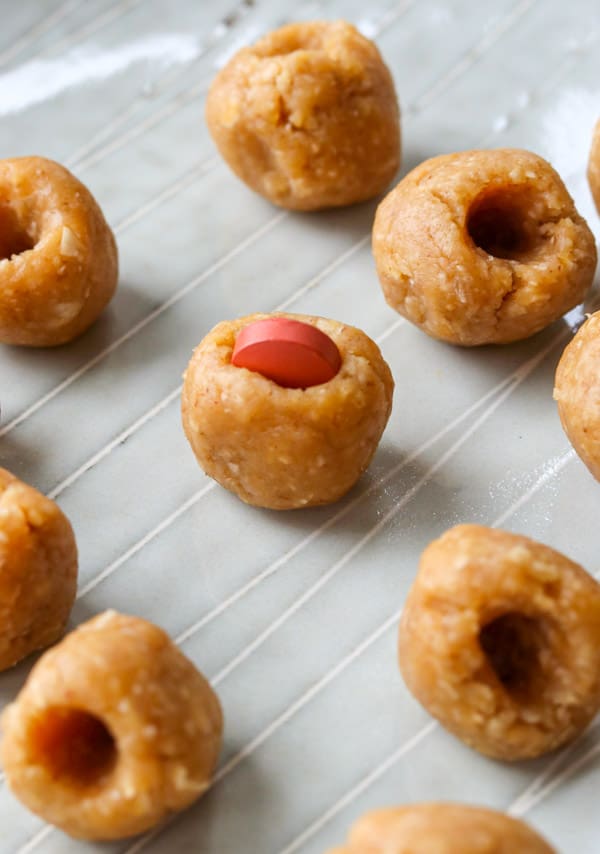 SIGN UP FOR THE WEEKLY
365 DAYS OF BAKING & MORE
NEWSLETTER BELOW!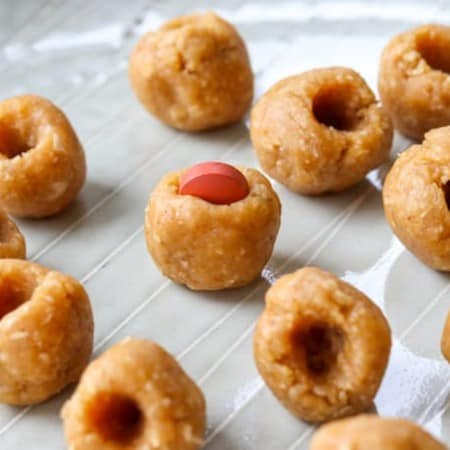 Homemade Dog Pill Pockets
Give your pup the medication he/she needs with your own Homemade Dog Pill Pockets. They're made with three ingredients, are dairy and flour free, AND you'll be saving money!
Ingredients
1 tablespoon water
1 tablespoon creamy peanut butter
2 tablespoons quick oats
Instructions
Place the oats into a blender or food processor to grind them up fine.

In a small bowl, combine the water, peanut butter and ground oats.

Mix with a rubber spatula until completely combined. Towards the end of the mixing, I found it best to bring everything together by using my hands.

Divide the dough into 12 small balls.

Using the tip of a meat thermometer, or a toothpick, make a hole and wriggle the utensil around to enlarge the opening.

Store in a plastic bag.
Nutrition
Serving: 1g | Calories: 12kcal | Carbohydrates: 1g | Protein: 1g | Fat: 1g | Saturated Fat: 1g | Sodium: 6mg | Potassium: 12mg | Fiber: 1g | Sugar: 1g | Iron: 1mg
Did you make this recipe?
Share it with me on Instagram and make sure to follow me on Pinterest for more recipes.
More Homemade Dog Treats
If you like these homemade pill pockets for your dogs, then you'll love these Peanut Butter Banana Treats. I love baking for my doggies just as much as I love baking for people in my life.
I've never met a dog who doesn't start wagging their tail like wild when their favorite person is holding a Dog Cake. These Chicken and Cheese Dog Treats are yet another hit with the canines in our house.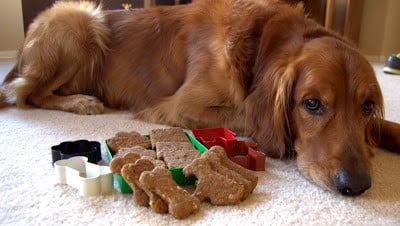 Reader Interactions