It's Furry Friend Friday – Low Key week! Each Friday I share pictures and updates on Logan, our Golden Retriever puppy. If you love Golden Retrievers, puppies or dogs in general then you're going to enjoy following his antics each week.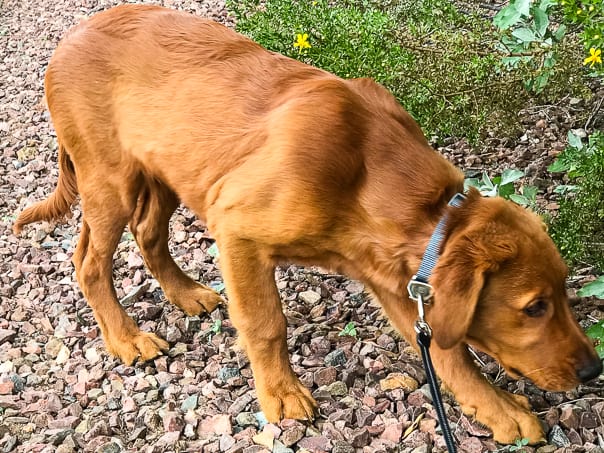 Low key.
Honestly though, when you have a puppy IS life really low key?
I'm using that phrase because believe it or not, this week with Logan was rather, how shall we put it, uneventful?
Besides doing his daily "zoomies" (those circles around the living room furniture and in the backyard at Mach 1), he really didn't do much to write about.
I'm rather surprised.
And so much so that I was totally confused yesterday as to what day it was and then when I thought about it I was like, oh my gosh, tomorrow's Friday and I need to put a Logan post up! YIKES!
This week totally flew, but I have no idea why.
SAVE THIS FURRY FRIEND FRIDAY – LOW KEY TO YOUR FAVORITE PINTEREST BOARD!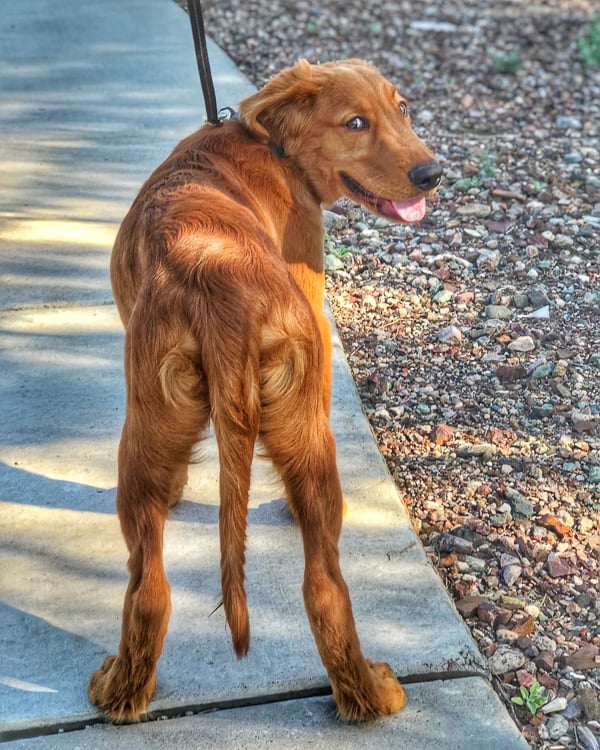 Every week we usually go for a Saturday hike. It's something Kurt and I started when we were training for our hike in the Grand Canyon…that I just realized I never posted about. Hm.
Anyway, we enjoyed hiking new trails and taking in the beautiful new scenery while increasing our mileage. Once we brought Logan home it was something we looked forward to doing with him as well. Our other Goldens, Brady and Keiser loved going on hikes with us, too.
Because Logan is just four months, the hikes have been relatively short of course and we're still working on (and probably will be for a while) hiking while off leash.
Oh, and not eating POOP, too!
On Sunday, I took him for a walk around the neighborhood and one of the local boy scout troops had so nicely decorated the community with small flags.
He politely posed for a quick 10 seconds, I think so I could take a picture.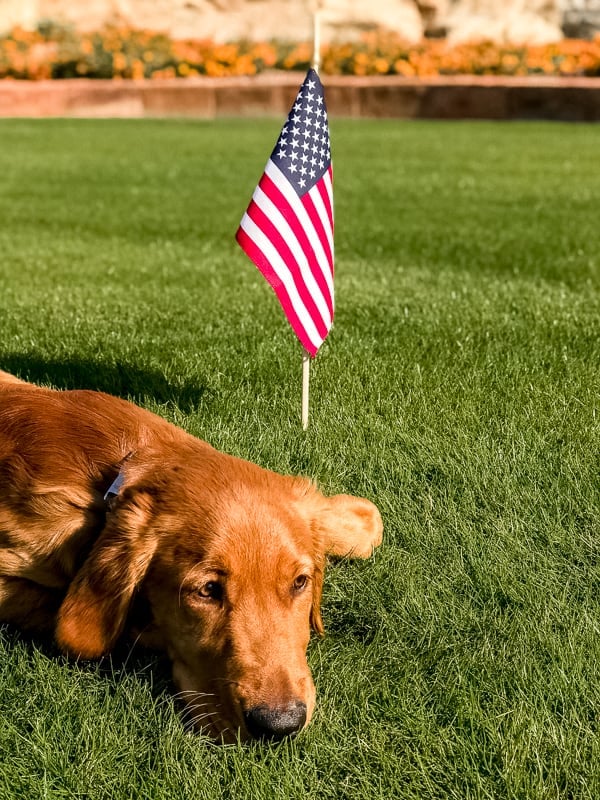 We've been snuggling in the mornings before I go to exercise and Kurt takes him for his walk.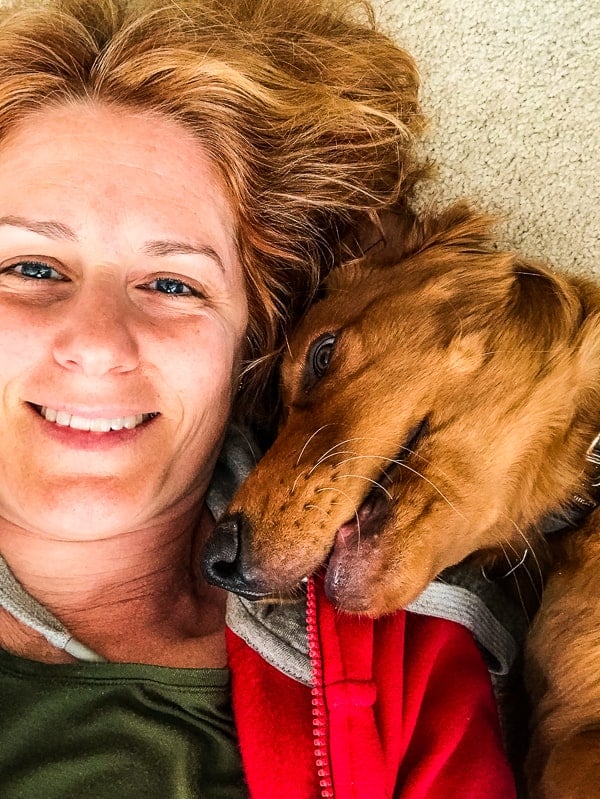 I must admit Logan's been better this week with the poop. Kurt actually went on the path near our house where he walks him in the morning and picked quite a bit of it up. He's a keeper!
So now there's less temptation.
On my walk with him today, we really worked on "leave it" whenever we'd come across some and I'd give him a treat for doing so. It's just a matter of being consistent with him and having the patience to do it.
Much like when we're raising our own kids, am I right?
It's not always fun and can sometimes be EXTREMELY tiring both mentally and physically, but with persistence, it works out in the long run.
But WHY does it take so long to get to the long run???
I took him for a few walks in the park this week and one day they cut the grass. He was ALL. OVER. IT!!
Once he smelled it and saw all the grass clippings he just LOVED rolling in the stuff.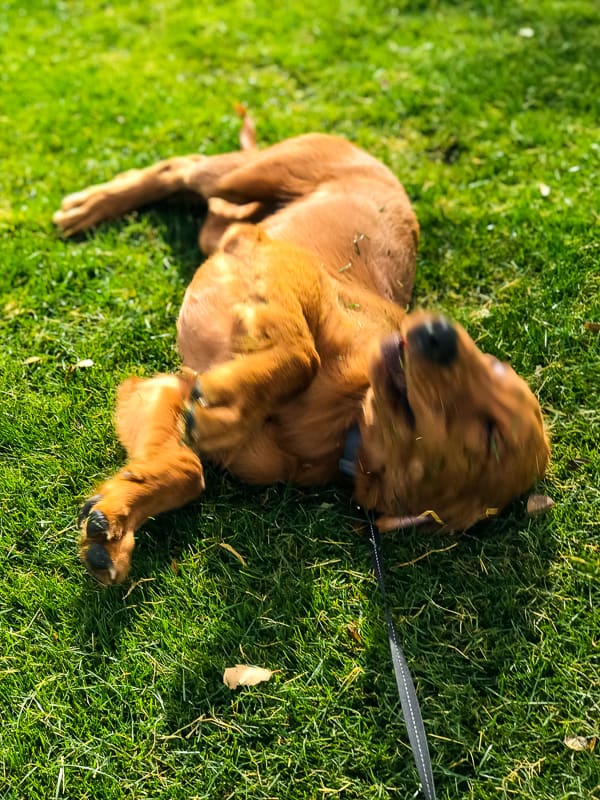 You can follow Logan the Golden Dog account on Instagram where you'll see almost daily pictures and adventures of our furry friend!
We're still working on playing catch. Needless to say, it's not an inherited skill.
I always thought it was with dogs.
Guess we'll be working on that.
Some nights he doesn't want to go into his crate so dad carries him in. I think Kurt needs some grandchildren, don't you?
He won't be able to carry him much longer. He's becoming awkward now to pick up and is getting heavier and heavier!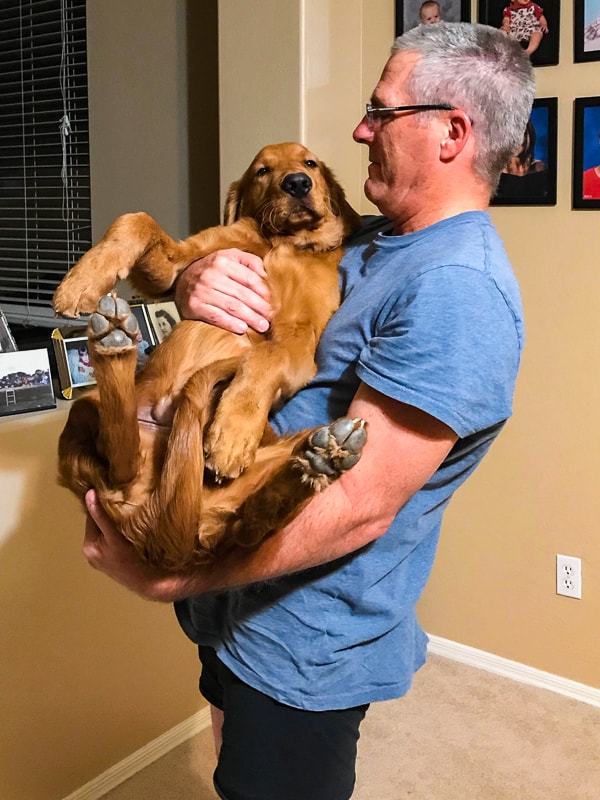 He's still going after the cat although they do have their moments when they're actually low key with each other. They'll just walk up to each other and sniff and then walk away and then there are other times.
I sit at the kitchen table when I'm on the computer and the love seat in the living room faces away from me. I could hear the cat making a low growling sound and knew Brady…whoops! I mean Logan! I do that quite a bit – calling him our first/last dog's name.
I knew Logan was doing something to bug her but didn't know what because I couldn't see him and he wasn't barking at her as he'll most often do.
This was what I found…
It seriously was like I'd caught them in the act of making out, but of course, they weren't really. Who knows what he was doing before I walked over there though!
I never even caught any of my kids in that awkward situation! LOL
You can follow all of Logan's antics here on my Instagram, too! You'll see what our Furry Friend Friday pup is up to each day.
The three of us – Kurt, Logan and I are off on an adventure next week.
With no kids at home, we figured we'd take to the road for Thanksgiving. You'll be able to read about it on the next installment of Furry Friend Friday and watch both of our Instagram stories for daily updates!
Thanks so much for reading this week's Low Key episode.
Tune in next week for another Furry Friend Friday!