Not as sweet as Pineapple Upside Down Cake, but just as delicious, this Pineapple Bread will be a great treat in the morning alongside your cup of coffee. The toasted coconut on the top helps you feel like you're in the tropics, too!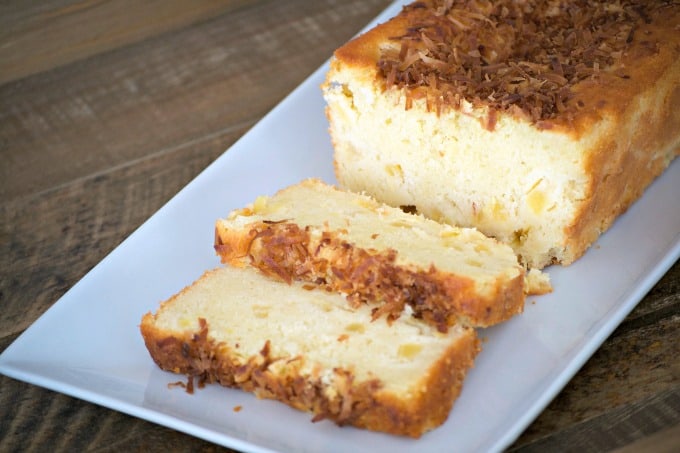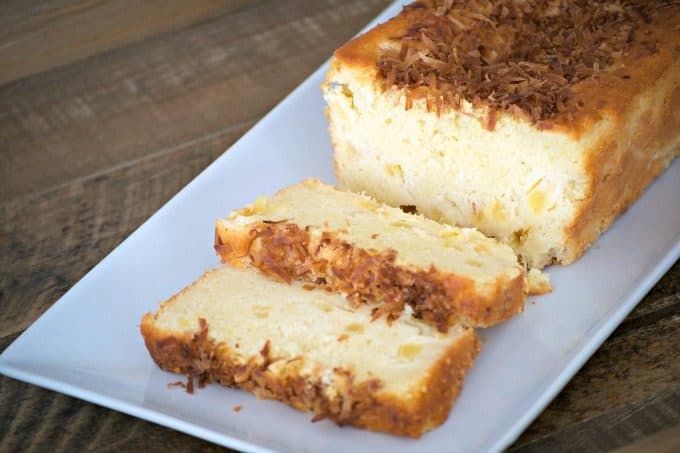 Have you ever had Pineapple Bread?
I hadn't either until I'd made this one. I fell in love with it, too.
I made this on day 259 of my original 365 Days of Baking, so I thought it was about time that I made it again and updated the pictures. And it was just as delicious as I'd remembered!
The text below is from the original post. Enjoy!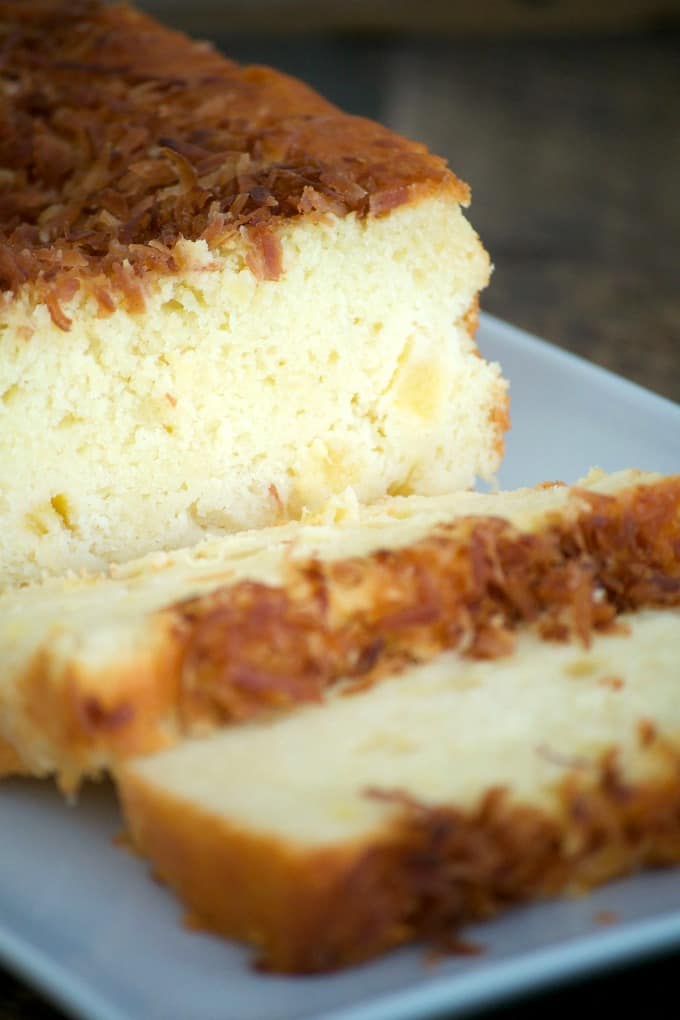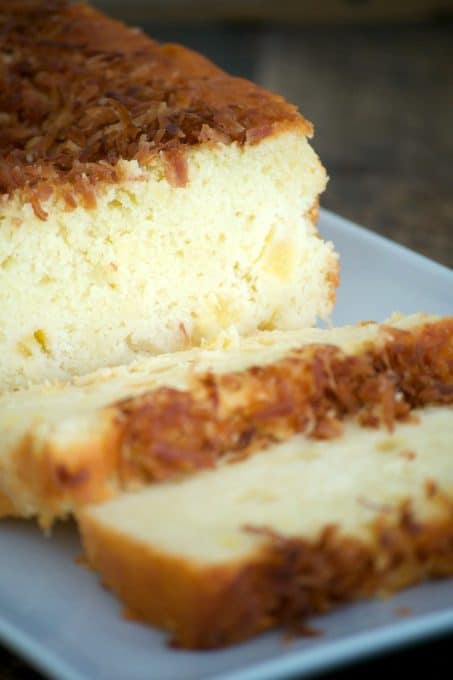 The other day when I made the Toasted Coconut Chicken Bites with Pineapple Salsa I thought to myself,"Self, you love pineapple.  The Pineapple Upside Down Cake was delicious and that's the only thing you've made with pineapple besides the chicken."
"LET'S MAKE BREAD!!"
"Bananas go in bread.  Lemons, carrots and zucchini go in bread, why not pineapple?!"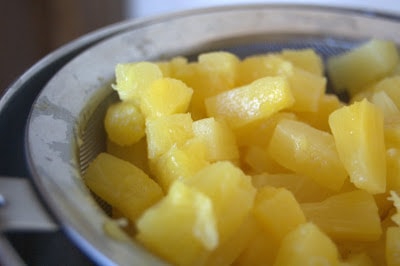 Of course, it'd already been done.
But that's ok, Christina's recipe at Sweet Pea's Kitchen sounded really good!
So I went with hers and made a couple of changes.

AND if you like pineapple in your drinks, be sure to check out one of my most popular recipes, Pina Colada Milkshakes!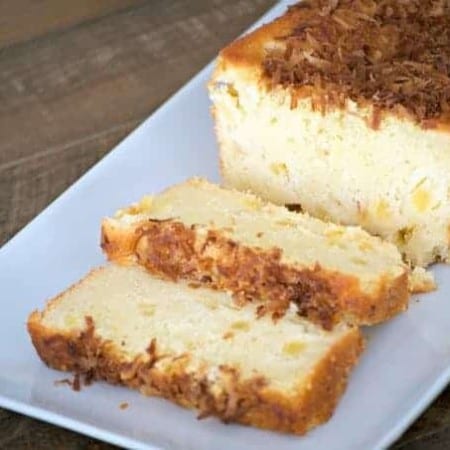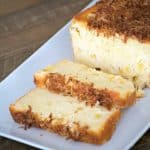 Pineapple Bread
This Pineapple Bread is a great treat in the morning with your cup of coffee and the toasted coconut on the top helps you feel like you're in the tropics!
Ingredients
1/2

cup

1 stick unsalted butter, room temperature

1

cup

sugar

1 1/2

cups

all-purpose flour

1/2

teaspoon

baking soda

1/2

teaspoon

salt

3

eggs

1

cup

Greek yogurt

1 20

oz.

can pineapple tidbits

1/2

cup

unsweetened coconut

toasted
Instructions
To Toast the Coconut
Preheat oven to 300 degrees F. Spread coconut in a single layer onto a rimmed baking sheet lined with parchment paper. Bake for approximately 5-10 minutes, checking and stirring after 5 minutes. Coconut will be finished when it is golden in color, but be careful not to burn.
Bread
Increase oven temperature to 350 degrees F.

Pour pineapple into a fine mesh sieve placed over a medium bowl. Allow pineapple to drain as completely as possible, about 10 minutes.

Generously butter and flour a 9 X 5 loaf pan.

In a small bowl, combine flour, baking soda, and salt; set aside.

In a mixing bowl fitted with a paddle attachment, cream butter and sugar until light and fluffy. This should take about 5-7 minutes.

Add eggs, one at a time, incorporating each completely before adding the next.

Alternately add the flour and the Greek yogurt, beginning and ending with the flour.

Mix the final bit of flour in until just combined.

Fold pineapple into batter.

Pour into prepared loaf pan.

With a rubber spatula, smooth the top and sprinkle toasted coconut on top.

Bake for 30 minutes, cover bread with foil, and bake for another 30-40 minutes for a total baking time of 60-70 minutes.

Cool bread in pan for 20 minutes and remove from pan.
The picture below is from the original post and is what happens when you try to take your bread out of the pan too soon and the pan hasn't been prepared well enough ahead of time. Oh well, you live and learn, right?

Whoops!
Obviously, I didn't have good luck removing the bread from the pan,  I used my stoneware loaf pan and I've never had a problem removing anything, so I didn't think twice about greasing or flouring it.
That is, of course, until today.
I'll put a picture up of the cut slices tomorrow.
I rate everything I bake on a scale of 1-4 with 4 being the best and this Pineapple Bread earned 3 rolling pins.
I liked the taste of the batter before I even added the pineapple, so I knew this stuff was going to be good.
It was so moist because of the yogurt and the pineapple in it definitely reminded me of that
Pineapple Upside Down Cake
.
YUM!!!
I'm very glad I made this and I'm even happier that it turned out so well!Time to call it a night!
Tomorrow, an inspiration that came to me after being so
completely
unmotivated this morning.
See, you just can't give up. Even when you don't think anything will come to you and you think you're tapped out,
VOILA
!
Stand in the shower long enough with the hot water relaxing you, something's bound to come into your brain.
Take a look at these great videos for more ideas with pineapple!

I give you BIG baking hugs and muffins!!