This Pineapple Bread will be a great treat in the morning alongside your cup of coffee. The toasted coconut on the top helps you feel like you're in the tropics, too! Pineapple and coconut together are a match made in quick bread heaven.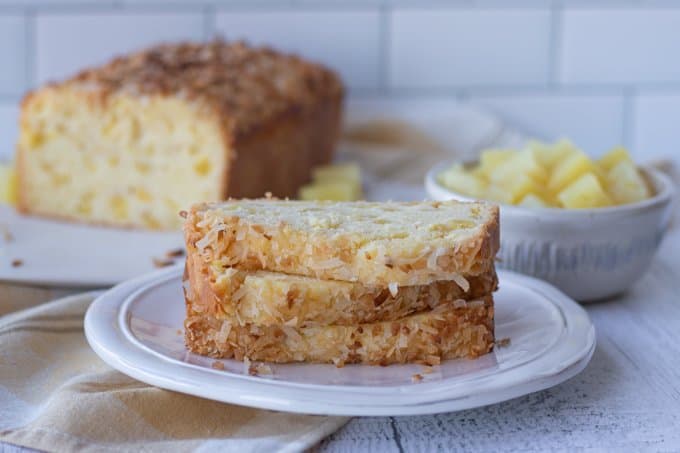 Have you ever had Pineapple Bread?
It's not as sweet as desserts Pineapple Upside Down Cake but with the same juicy pineapple flavor.
SAVE THIS EASY PINEAPPLE QUICK BREAD TO YOUR FAVORITE PINTEREST BOARD!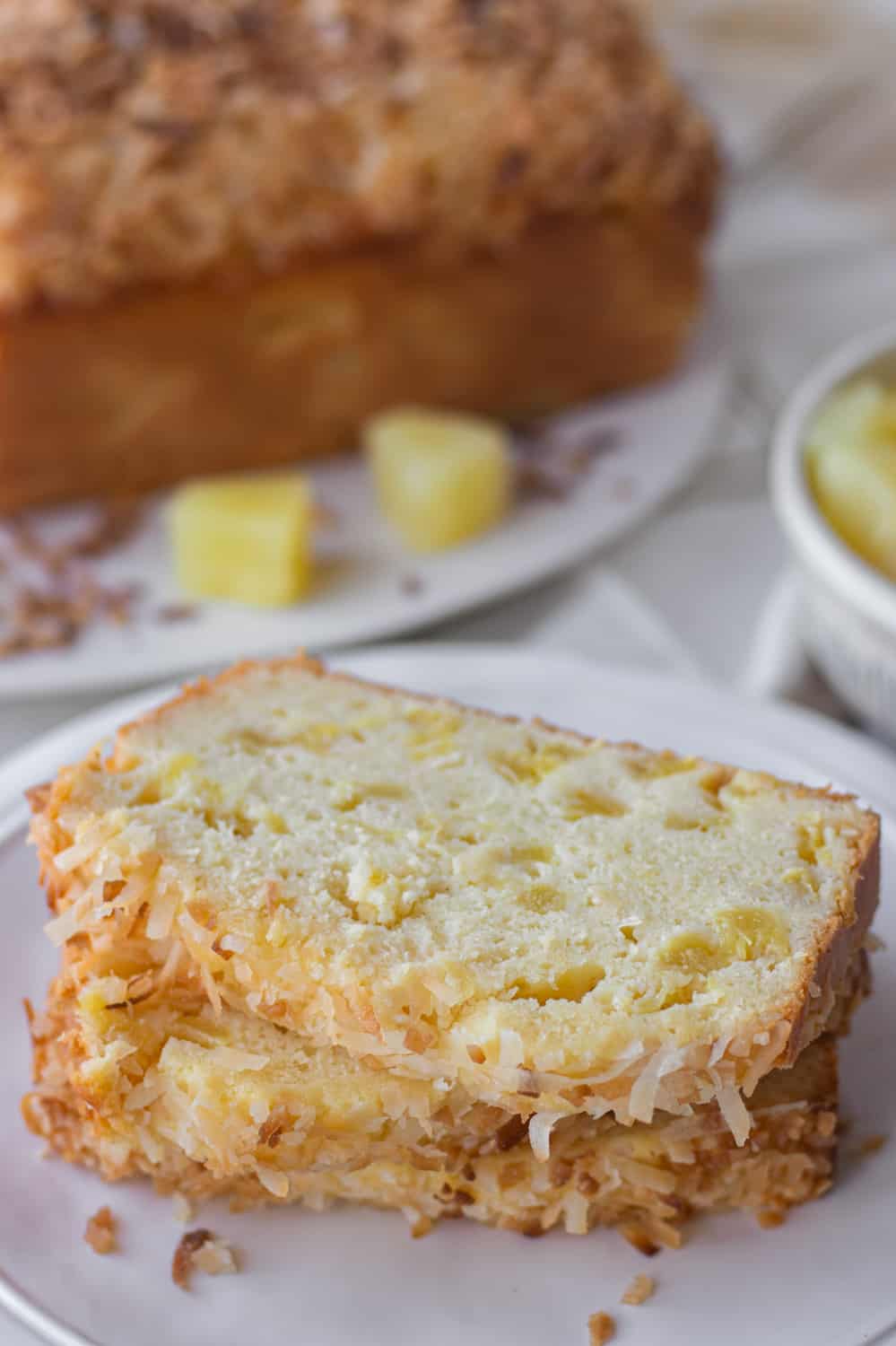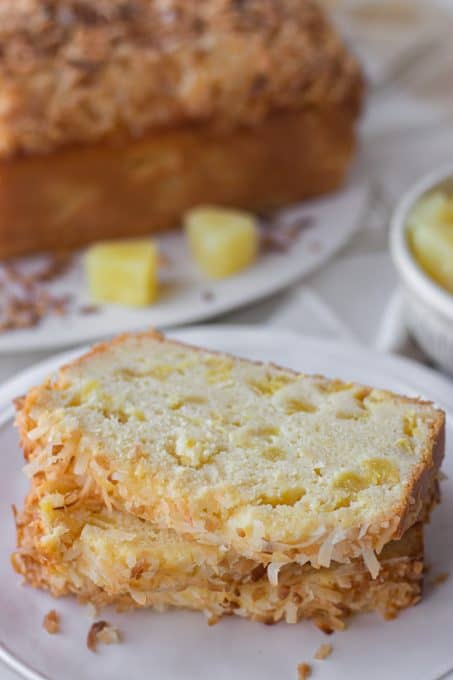 Most of us have tasted quick breads made with fruit.
Banana Bread tends to get the most attention, but I recommend thinking beyond the banana when it comes to quick breads. If you find yourself making the same recipes over and over, Pineapple Bread is the perfect way to shake up your baking routine!
I first made this Pineapple Bread recipe years ago, when I was new to blogging. It only took one bite to turn pineapple coconut bread into a new favorite! I've made it countless times since then and it never fails to blow me away.
The easy bread recipe is freezer friendly and produces a perfectly moist loaf bursting with sweet pineapple flavor. A crispy coconut layer on the crust makes it even more irresistible!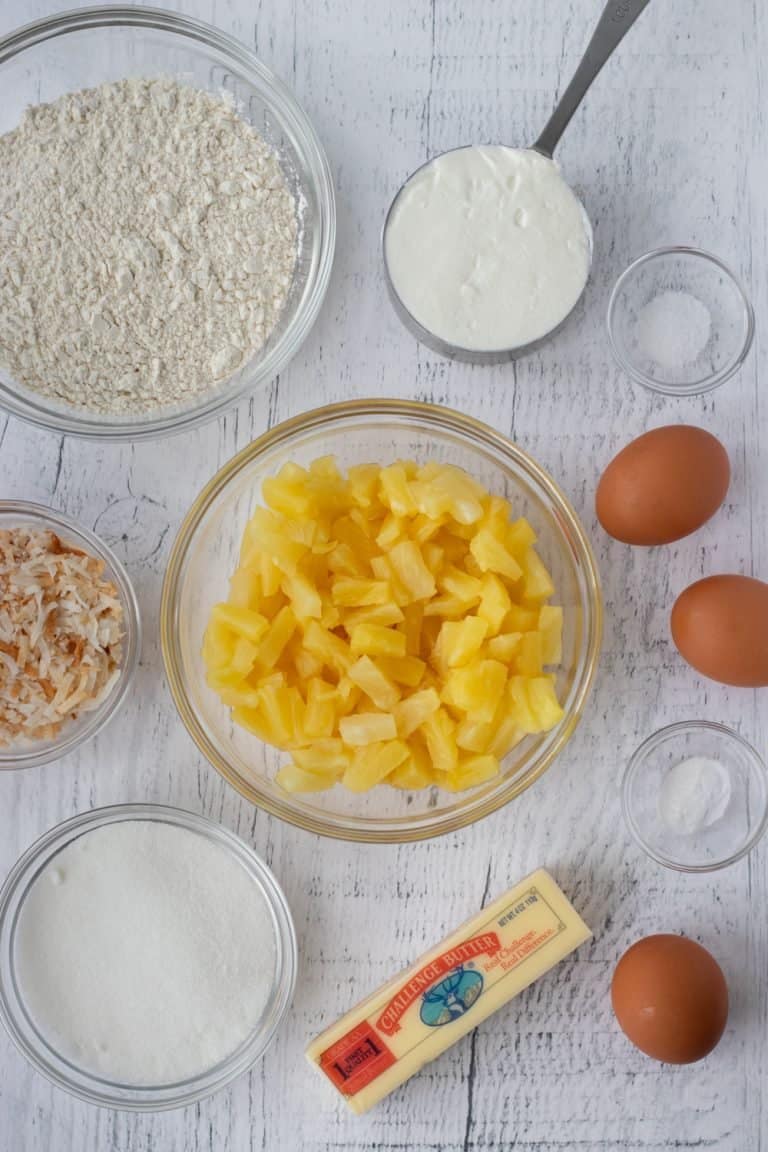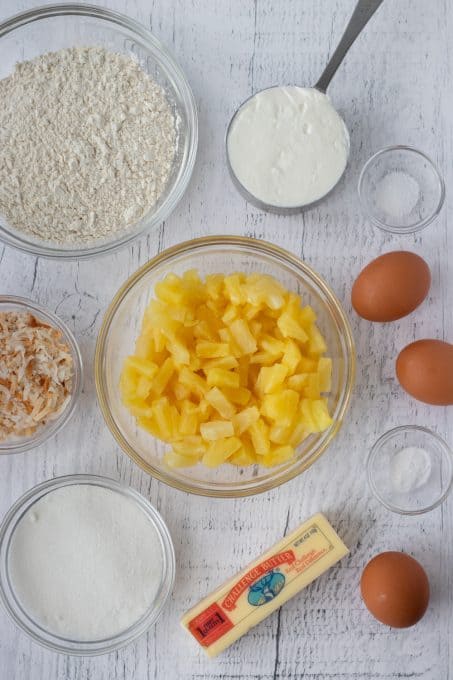 What do I need?
Here's what you need to make this recipe for pineapple bread.
Butter
Sugar
Flour
Baking soda
Salt
Eggs
Greek yogurt
Pineapple tidbits – We used canned.
Toasted coconut flakes.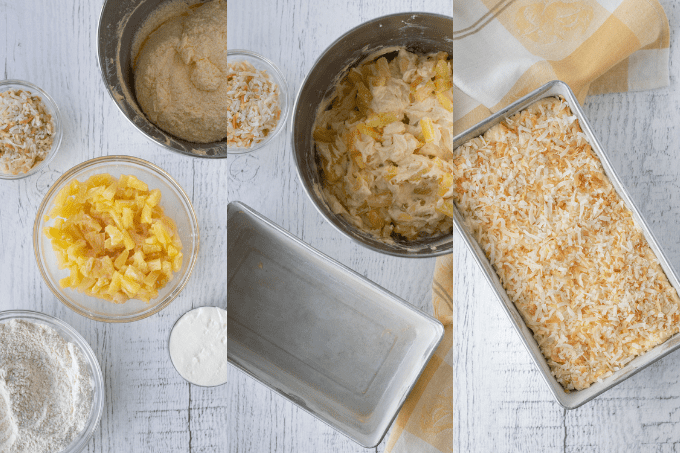 How to make Pineapple Coconut Bread
A quick bread batter made from butter, eggs, sugar and flour is made even more moist and flavorful with the addition of Greek yogurt. After straining the canned pineapple for a few minutes, you will fold the fruit pieces into the batter and pour the whole thing into a loaf pan.
A sprinkle of freshly toasted coconut on top adds the finishing touch before the loaf goes into the oven. You'll love tropical aroma this bread releases into your kitchen as it bakes!
Can I freeze this quick bread?
YES! Pineapple Coconut Bread keeps well in the freezer. I often double the recipe so we have one loaf to eat right away and another to freeze for later.
To freeze pineapple bread, let it cool completely. Then wrap it in foil and place it in a freezer bag. Let it thaw on the counter or in the refrigerator before serving.
You can even slice it before storing so you can thaw one serving at a time. A perfect option if you find it difficult to resist gobbling up all the delicious pineapple quick bread at once!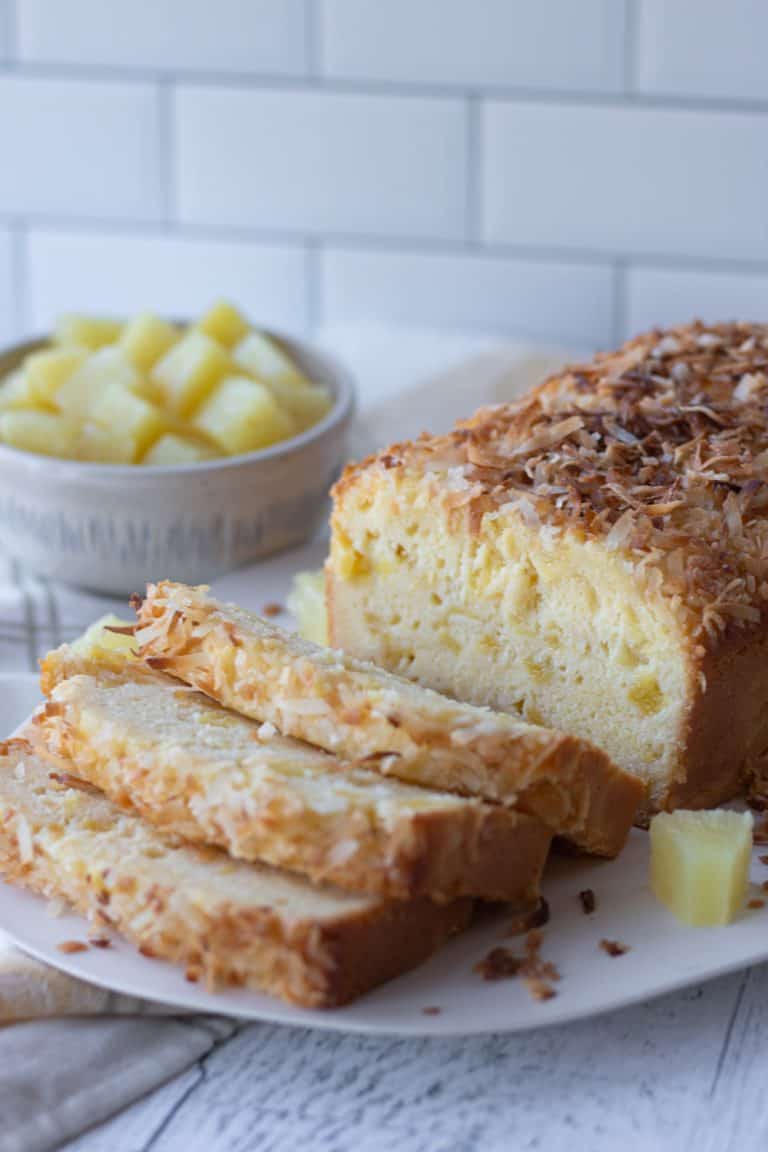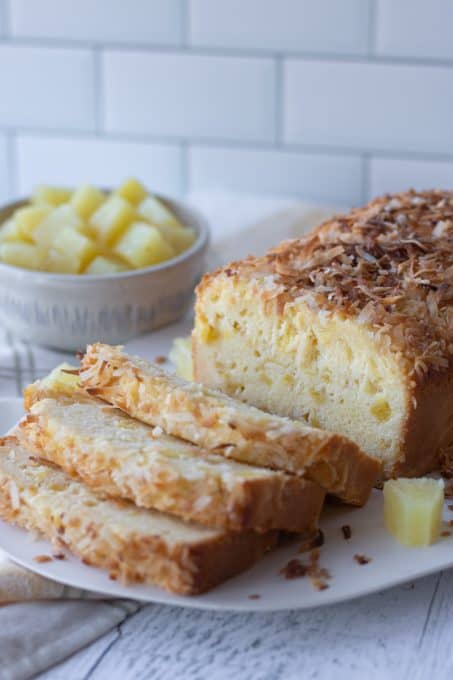 Can I make quick bread with fresh pineapple?
I have never tried this recipe with fresh pineapple. It may work but wouldn't be quite as moist since the canned pineapple tidbits are stored in juice which adds a little extra liquid to the bread.
Pineapple Recipes
Fun fact: hundreds of years ago wealthy Europeans sometimes carried pineapples around as an accessory. I don't know about you, but I think pineapple is better enjoyed in recipes like this Grilled Pineapple and Pineapple Rum Cake.
Pineapple isn't just for dessert! You'll love the way caramelized pineapple enhances the flavor of this Brown Sugar Honey Salmon. It's also amazing in drinks ranging from cocktails to refreshing Pineapple Mango Smoothies.
If you like the pairing of pineapple and coconut in today's bread recipe, give this good-for you Pineapple Coconut Smoothie a try. Or for a treat that's not quite as good for you but totally worth the indulgence, there's nothing quite like Pineapple Soak Cake!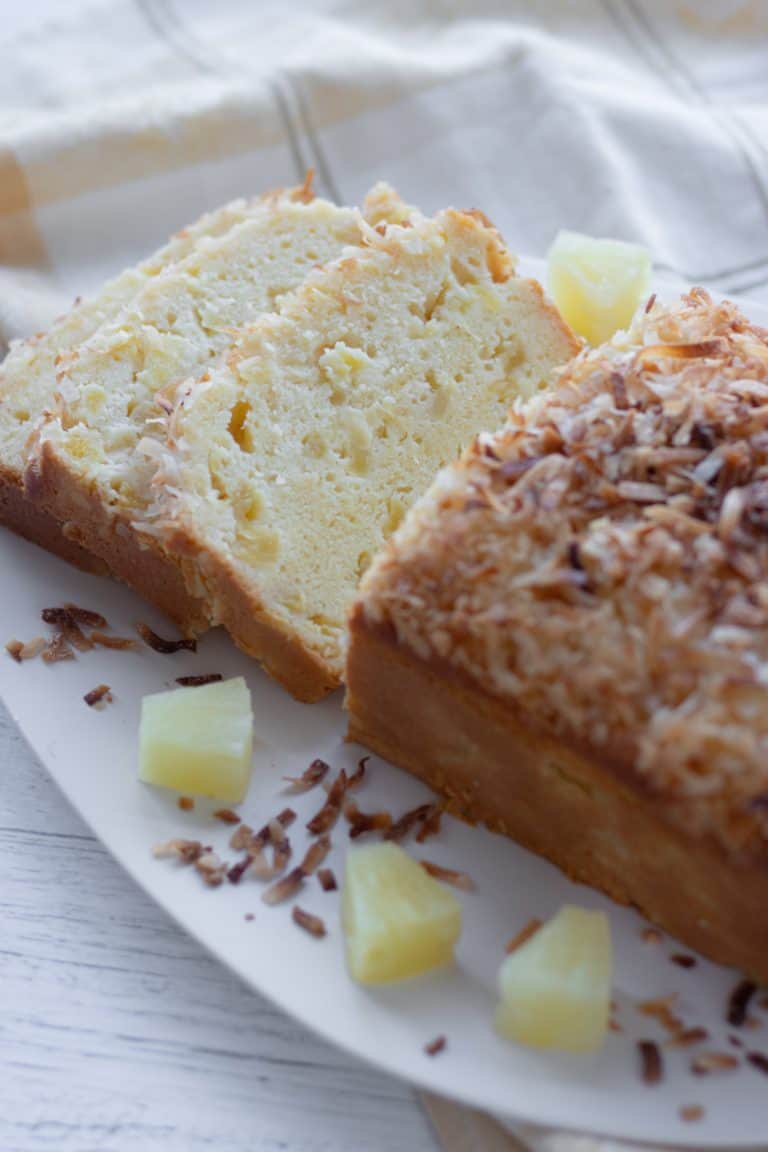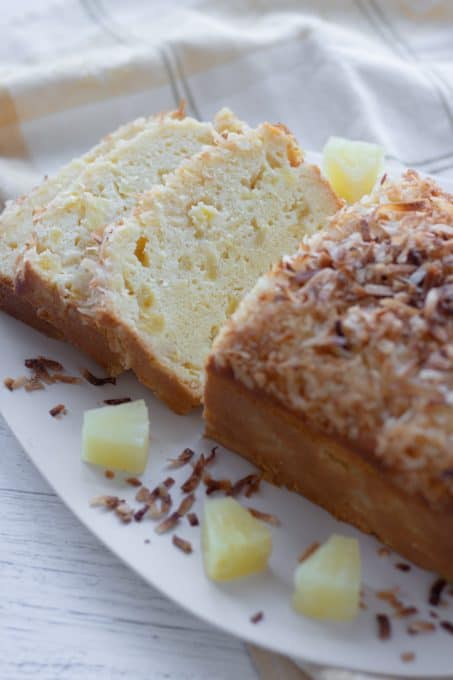 Bread Recipes
Bread makes everyone happy. From the ecstatic experience of taking a bite of warm bread fresh from the oven, to the fun of playing with different ingredients and add-ins, there's nothing better than homemade bread.
I have tons of favorite quick bread recipes. I love a slice of Blueberry Banana Bread or Blueberry Lemon Bread with a steaming hot cup of coffee first thing in the morning!
And quick breads like Brown Butter Rum Banana Bread and Peanut Butter Chocolate Chip Banana Bread are sweet enough to serve as a dessert with a scoop of vanilla ice cream.
We have tons of delicious bread recipes on this site that are ideal for any skill level, whether you're new to baking or a seasoned pro. Which one will you try next?
SIGN UP FOR THE
WEEKLY 365 DAYS OF BAKING & MORE
WEEKLY NEWSLETTER BELOW!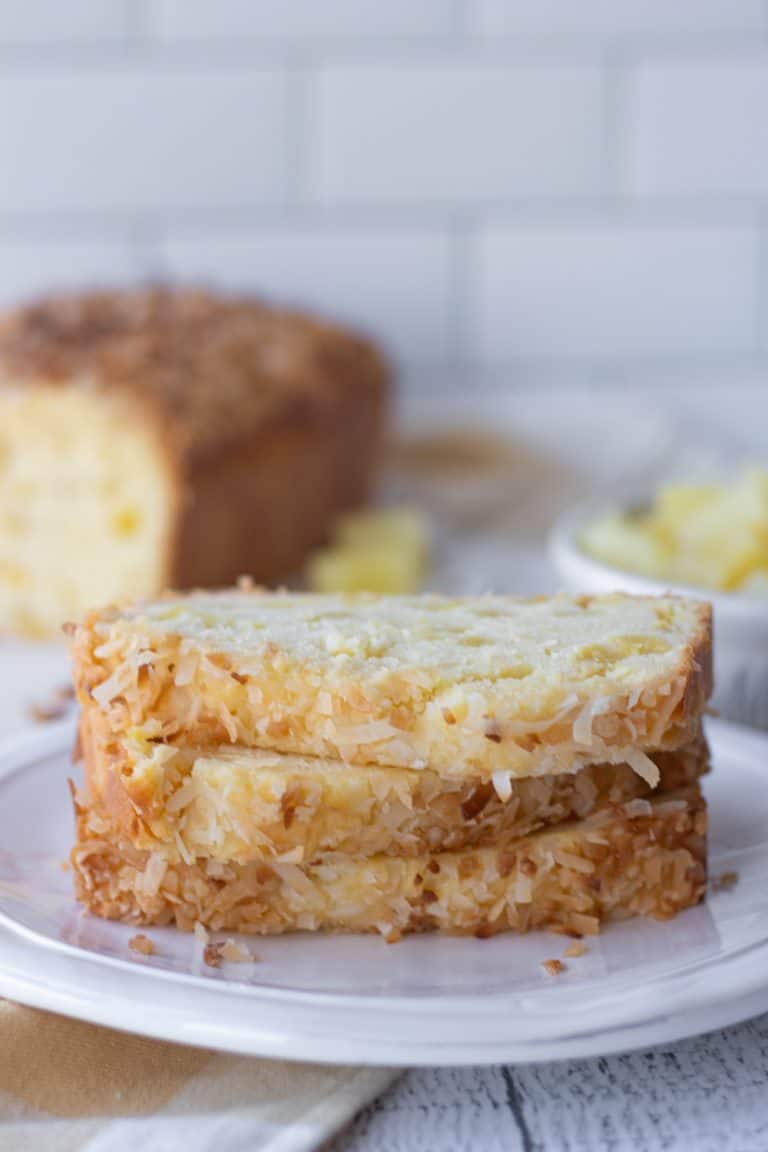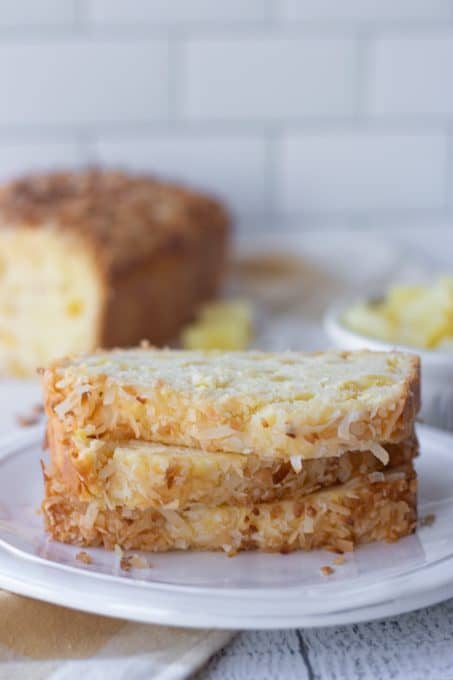 One bite of this Pineapple Bread topped with toasted coconut and you'll feel the need to escape to the tropics.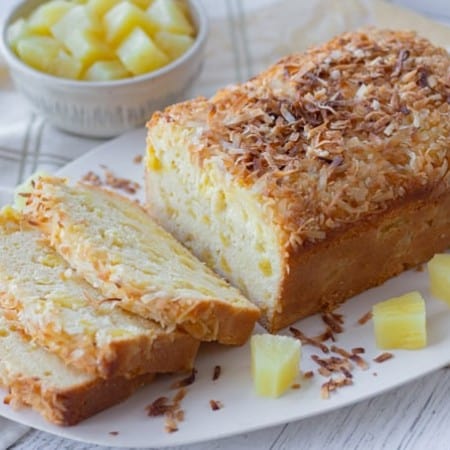 This Pineapple Bread is a great treat in the morning with your cup of coffee and the toasted coconut on the top helps you feel like you're in the tropics!
Equipment
Baking Sheet

parchment paper

fine mesh sieve
Ingredients
½ cup unsalted butter room temperature
1 cup granulatedsugar
1 ½ cups all-purpose flour
½ teaspoon baking soda
½ teaspoon salt
3 large eggs
1 cup Greek yogurt
20 oz. can pineapple tidbits
½ cup unsweetened coconut toasted
Instructions
To Toast the Coconut
Preheat oven to 300° F. Spread coconut in a single layer onto a rimmed baking sheet lined with parchment paper. Bake for approximately 5-10 minutes, checking and stirring after 5 minutes. Coconut will be finished when it is golden in color, but be careful not to burn.
Bread
Increase oven temperature to 350° F.

Pour pineapple into a fine mesh sieve placed over a medium bowl. Allow pineapple to drain as completely as possible, about 10 minutes.

Generously butter and flour a 9 X 5 loaf pan.

In a small bowl, combine flour, baking soda, and salt; set aside.

In a mixing bowl fitted with a paddle attachment, cream butter and sugar until light and fluffy. This should take about 5-7 minutes.

Add eggs, one at a time, incorporating each completely before adding the next.

Alternately add the flour and the Greek yogurt, beginning and ending with the flour.

Mix the final bit of flour in until just combined.

Fold pineapple into batter.

Pour into prepared loaf pan.

With a rubber spatula, smooth the top and sprinkle toasted coconut on top.

Bake for 30 minutes, cover bread with foil, and bake for another 30-40 minutes for a total baking time of 60-70 minutes.

Cool bread in pan for 20 minutes and remove from pan.
Nutrition
Serving: 1slice | Calories: 266kcal | Carbohydrates: 37g | Protein: 5g | Fat: 11g | Saturated Fat: 7g | Polyunsaturated Fat: 1g | Monounsaturated Fat: 3g | Trans Fat: 1g | Cholesterol: 62mg | Sodium: 167mg | Potassium: 136mg | Fiber: 2g | Sugar: 24g | Vitamin A: 320IU | Vitamin C: 4mg | Calcium: 38mg | Iron: 1mg
Did you make this recipe?
Share it with me on Instagram and make sure to follow me on Pinterest for more recipes.
This post was originally published on 3/27/2017. It has been updated in format and with new pics on 4/8/22.

Just in case you thought I nailed every recipe perfectly the first time, here's a peek inside the process.
The picture below is from the original post, the first time I made pineapple bread. The loaf smelled so good I got a little too eager to remove it from the pan and slice it.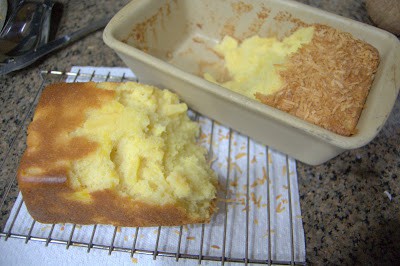 Whoops!
This is what happens when you try to take your bread out of the pan too soon, and the pan hasn't been prepared well enough ahead of time. Oh well, you live and learn, right?
Obviously, I didn't have good luck removing the bread from the pan. I used my stoneware loaf pan and I've never had a problem removing anything, so I didn't think twice about greasing or flouring it.
Even with this slip-up the pineapple bread tasted delicious. I used to rate everything I baked on a scale of 1-4 with 4 being the best and this Pineapple Bread earned 3 rolling pins.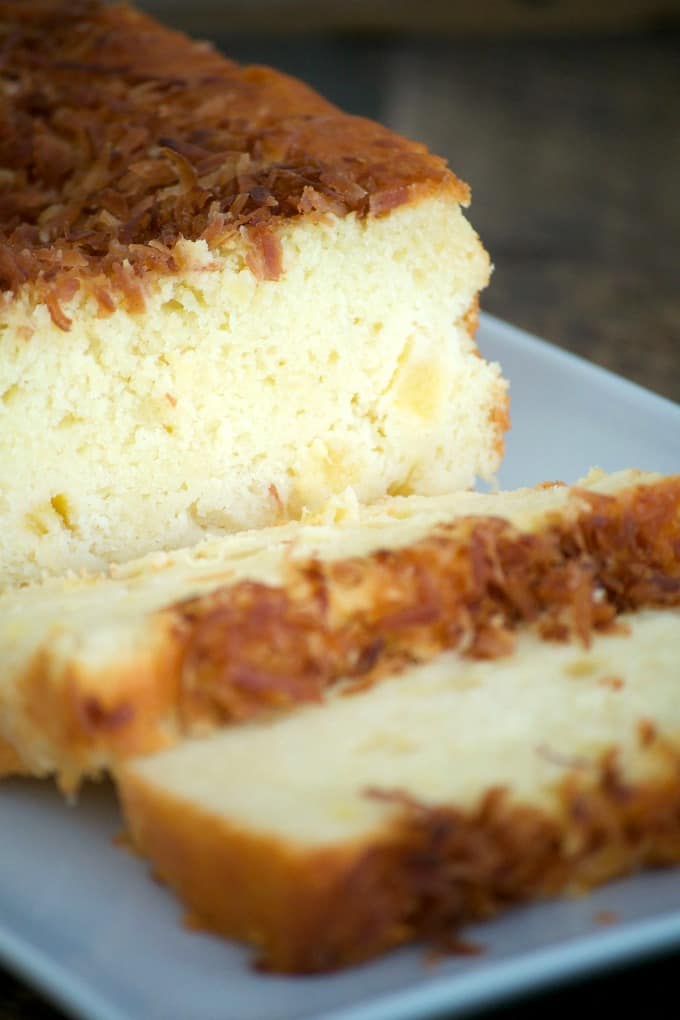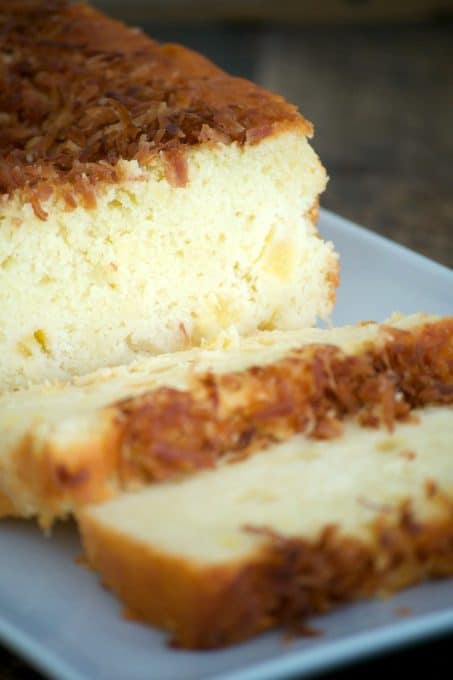 Reader Interactions