I witnessed something truly beautiful today.
I was on the StairMaster at the gym this afternoon. I looked over to my left and saw an elderly woman with a cane taking great care to place one foot in front of the other. With her right arm so close to her body, I was thinking she must have suffered a stroke.
It took her about 7-10 minutes to walk 5 feet from me.
Her husband in the meantime had been preparing the stationary bike to my right, adjusting the seat and making the foot straps "just so". So diligent in the task at hand, he didn't go over to assist her or see if she was doing ok. He just let her be, probably knowing it was something she needed to do for herself.
She had just steps left to get to the bike when her husband began making motions and cheering her on to take those last few steps. He was SO excited that she had made it. He didn't speak, nor did she. It appeared that one if not both of them were deaf.
As she saw him smile and become excited that she was nearing her goal, the biggest, most beautiful smile lit up her face.
And it wasn't just any smile.
It was a smile that portrayed years of marriage blessed both with struggle and happiness and yet at the same time, it was the smile of a teenager newly in love. It was so warm and tender, and truly, truly genuine. These two were in their late 80's, if not 90's and the love and affection between them was still so apparent. And their non-verbal communication made it all the more touching.
It made my heart melt.
I don't know, I could be reading into things about her health and their relationship that aren't really there.
But watching them, I was able to see a glimpse of the future – that of mine with my husband.
Mr. 365 and I in our 90's. Him cheering me on, always being upbeat and goofy, and me looking at him with a love so deeply rooted that it goes beyond words. And smiling, sweetly, sweetly smiling with a sparkle in my eyes only for him.
I've had the urge to make some breads lately. I think it's because I haven't done it in a while and am needing that tactile sensation – to really get in there and be "one" with the dough. This one was perfect because of the kneading involved. For some reason, I was really hesitant to get my hands all messy today and stood there for a few minutes just looking at the dough, waiting.
But once I was in, there was no turning back!
Coca Bread – make 2 loaves
(but you might not want to share it, it's just THAT good!)
2 ¼ ounce packages (1 tablespoon plus 1 teaspoon) active dry yeast
1/3 cup warm water (110ºF)
1¼ cups sugar
5 – 6 cups all-purpose flour
1 teaspoon salt
1 cup milk, room temperature
4 large eggs
½ cup (1 stick) unsalted butter, melted, plus more for bowl and pans
¼ cup honey, for drizzling
In a small bowl, combine yeast and warm water;
let stand until foamy, about 10 minutes.
In a bowl, combine 1 cup of the sugar, 4 cups of flour, and salt.
With a wooden spoon, stir in yeast mixture, milk, 3 eggs, and ½ cup of melted butter until combined.
Using hands, work remaining flour into dough ¼ cup at a time, until the dough is no longer sticky.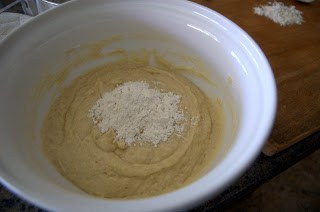 On a lightly floured surface, knead the dough until it develops a smooth satiny texture and springs back when you poke it with your finger, about 5 minutes.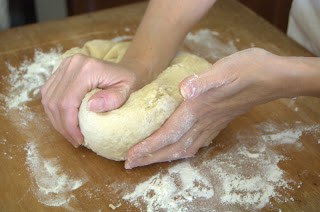 Form the dough into a ball, and place in a lightly buttered bowl, rotating the dough in the bowl to coat it with butter.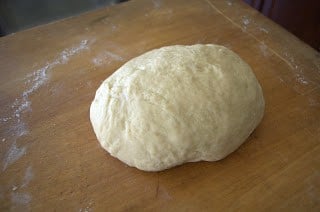 Cover with plastic wrap, and let rise in a warm place for about an hour until it is doubled in size.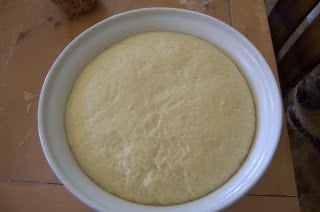 So this was after two hours of rising, not one. I'd gone to the gym and stopped at the market.
Preheat the oven to 400ºF.
Generously grease two baking sheets with some of the melted butter.
Turn the dough out onto a clean work surface, and cut in half.
Honestly, I didn't shape them this way. When I cut the dough in two it just looked like a heart.
Appropriate with today's post, I think. Funny how things like this happen.
Place half of the dough on each prepared baking sheet, and press into two 8 X 17-inch rectangles.
Allow the dough to sit and rise (proof) for 15 minutes.
In a small bowl, whisk together the remaining egg and 1 tablespoon of water. Brush all over each loaf.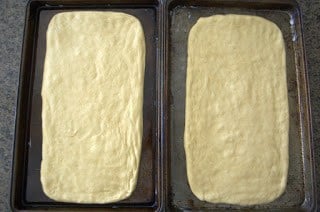 Generously sprinkle the dough with the remaining ¼ cup sugar, and drizzle with the honey.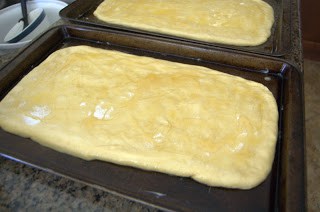 Bake until golden and crispy, about 18 minutes.
Transfer the breads to wire racks to cool.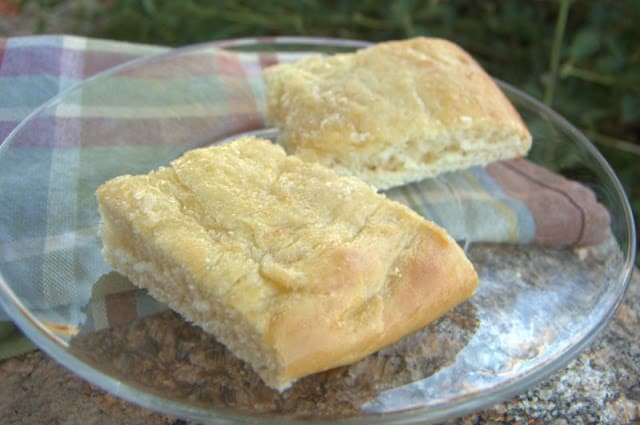 OH. MY. GOODNESS!!!!!
This is DEFINITELY being added to my list of keepers!!
I love honey on bread or on rolls, so I knew when I read HONEY in the ingredients that this bread must be something special.
It was so sweet and yummy, and the bread was soft. After 18 minutes it didn't get crispy, at least not in my oven, and I had to leave the second loaf in because it wasn't finished.
Wouldn't you know it, I left it in a few minutes too long and the edges started to become a wee bit too brown (nearly burnt – grrrrr). I was really wishing I had taken it out sooner. It was still good though – the middle part!
The honey soaked into the bread, the sugar melted, and with the two of them combined…oh, it was just HEAVEN, especially when it was warm right out of the oven!!!!
There are these days when I make something and I don't have any idea what it is I'm making, and I become a little nervous about the outcome. But today was absolutely glorious!
I HIGHLY recommend that you give this a try. I'm sure you, your family, and friends will absolutely love it! That is of course, if you choose to share it!
Happy baking!