When I was little I used to spend a lot of time at my grandparent's house, my mother's parents.
Grandma was not only a good cook, but she was a great baker as well.
She used to make cream cheese cookies, snickerdoodles, and my absolute favorite, her jam-filled sugar cookies which I unfortunately couldn't duplicate my first try. I will attempt it again!
She made cinnamon rolls far better than I ever could and her O'Henry Bars were always SO delicious.
She also made a mean chicken cacciatore which I won't be able to post until the 365 is over because it's not baked, and Manhattan clam chowder (the kind made with tomatoes) among many other dishes.
One thing that just made me melt when I would visit was her Italian Bread.
It was SOOOOOO delicious!!
The best part was when it was fresh out of the oven, the butter would just melt into it and…oh, man….
That's why I just had to recreate it.
Fortunately, when my mother passed away Grandma's Italian Bread recipe was in her recipe box.
There was only one problem…
The front of the recipe card.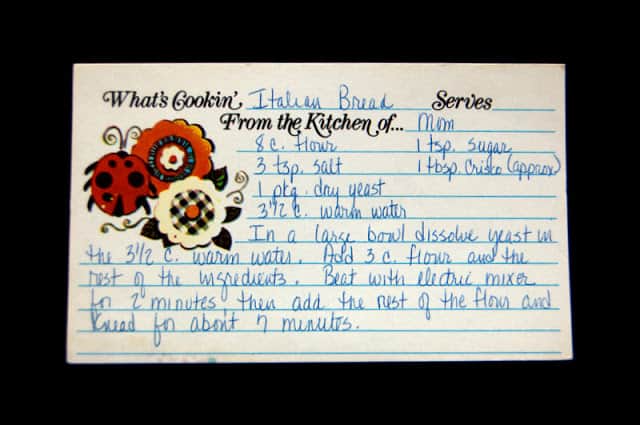 The back of the recipe card.
You're kidding me, right?
Ok, maybe it's me, but I think something's missing here.
Look at the front of the card carefully, do you see it, or rather, not see it?
How long am I supposed to bake these puppies for, rising time, you know, some of the most important steps in the recipe?
How can someone just put half a recipe down and leave the rest to chance? Isn't there a kitchen etiquette rule about that or something? And how the heck when my mother was writing this down ('cause it is her writing) did she not bring it up with Grandma?
C'mon!! These were two extremely intelligent women!
Grandma?
Mom?
HELLO????!!!!
Of course they're not going to respond. They're no longer with us.
But you can bet I was trying to hear from them today!
So as I was making this and using the KitchenAid mixer which used to belong to my grandmother, I was hoping that the mixer would guide me and some sort of sign would come through to help me to know how long and at what temp. I was supposed to bake these for.
No. Such. Luck.
Grrrr…
I remember her making this bread. I remember the green porcelain bowl she'd put the dough in to rise covered with a kitchen towel. I remember how she would divide it so that we'd be fortunate enough to have not one, but two loaves of this divine baked good.
I don't remember how long she allowed it to rise, what the oven was set at or how long she baked it for.
Maybe it was all just magic.
Well, there tweren't no magic happnin' here today, I'll tell you that right now.
I followed the recipe (ok, I kind of screwed that up on my own, but that's a story for after the recipe), and then did some searching on the internet about baking Italian Bread.
I think everything came together adequately enough.
You can see the original recipe verbatim up above. Down below is what I did.
Grandma's Italian Bread – 2 loaves
1 package dry yeast
3 1/2 cups warm water, between 120F and 130F
8 cups of all-purpose flour, divided
3 teaspoons salt
1 teaspoon sugar
1 tablespoon shortening
In a large mixing bowl, dissolve yeast in the 3 1/2 cups of warm water.
With the paddle attachment of the mixer, add 3 cups of the flour and the salt, sugar, and shortening.
Beat on medium for 2 minutes and then slowly add the rest of the flour using the dough hook.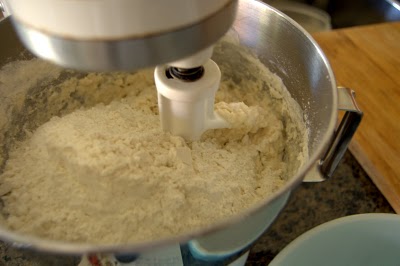 Knead for about 4 minutes.
Turn dough out onto a generously floured surface and knead for 3-4 more minutes, adding as little flour as possible so that the dough is no longer sticky.
Place dough in a large bowl generously greased with olive oil.
Spin the dough so that it is well coated and cover with a clean towel.
Place in a warm, draft free spot and allow the dough to rise for 2 hours.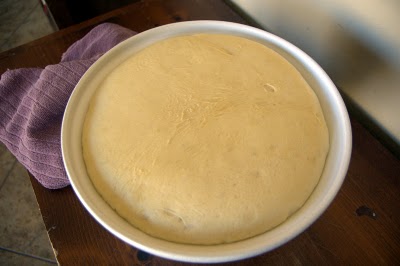 Punch the dough down in the bowl, and pour out onto a floured surface.
Divide the dough equally in half and place both on a greased cookie sheet sprinkled with cornmeal.
Cover the loaves again with a towel and return to the warm, draft free spot to rest for 1 hour.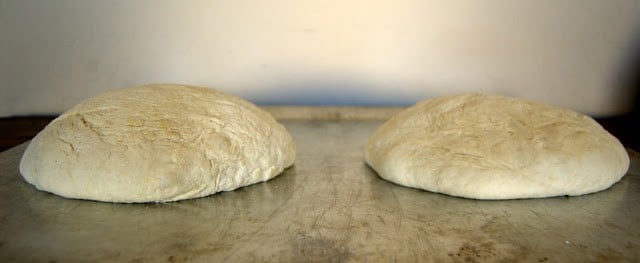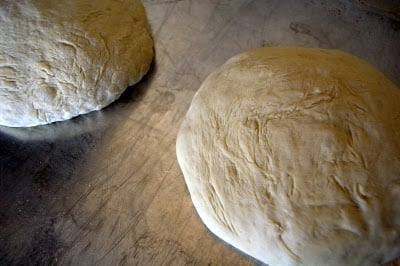 Preheat the oven to 425F.
With a very sharp knife, cut 1/4 -inch slices lengthwise in both directions across the tops of the loaves.
Sprinkle the tops with water, not too much, and bake for 45 minutes.
Bread should sound hollow upon the completion of baking and will be golden.
Slap some butter on a warm piece and watch it MELT.
EAT THAT WONDERFUL GOODNESS!!!
I completely forgot to take a picture of the finished product and will have to do that tomorrow.
It wasn't exactly like Grandma's and definitely didn't rise to be as puffy as hers, but it still tasted really good!
I think it might have been that I slammed it down on the board a few too many times. I don't know if you should even do that. I read on various sites that it helps to encourage the gluten production which will make it lighter and airier. I don't remember Grandma doing that, but I did it anyway. Next time, I won't.
Although I do have to admit that it was fun slapping that dough around. It's a therapeutic way to take out some aggression. I did it during the kneading a couple of times and then when I separated the dough into individual loaves. I think the second time may have been what killed it. Not killed it, but flattened it.
I was concerned about how it would taste, but as I said it was really yummy.
The crust was a little crispy (because of the sprinkled water) and this was something I do remember Gram doing – she used to have her trusty spray bottle of water for her bread.
The inside was soft and slightly moist.
It was not as airy as it could have been, a little more on the dense side, but the butter melted into it quite nicely.
I rate the things I bake everyday on a scale of 1-4 with 4 being the best and Grandma's Italian Bread earned 2 1/2 rolling pins.
I will be making this again, but will spare the excessive beating to see if that makes a difference in the loaves.
Oh yeah, I almost forgot. I didn't follow the recipe exactly as directed because I added the 3 cups of flour and then the rest of the ingredients along with all of the rest of the flour at once.
Duh!
From what I can tell on the recipe card, you are supposed to add the 3 cups, then the salt, sugar, and shortening, then gradually add the remaining 5 cups of flour.
That's what I told you to do in the recipe anyway.
Oh, and when you're counting out the cups of flour, don't answer the phone or go into the refrigerator for a drink because you'll get distracted and have to count it out all over again.
Not that that happened to me or anything. Just giving you the heads up. 😉
BIG baking hugs and muffins!