I saw this recipe and kind of said, "eew" when I saw it. Then looking at the 2 cups of shredded carrots and ½ cup of raisins it called for I thought, "hm, this might be pretty healthy" (well, as far as the baked goods thing goes anyway). It is from The New Doubleday Cookbook, p. 667; authors, Jean Anderson and Elaine Hanna; publisher Doubleday, a division of Random House, Inc.; ISBN 0-385-19577-X.
As a side note, until I started this baking project, I didn't realize that there was a difference between 1 cup sifted flour, 1 cup flour, and 1 cup flour, sifted. Am I alone or are there other people that need to know this? (Here's where I need that book, "Baking for Dummies".) I guess I was always in too much of a hurry to pay atttention, mom and grandma never showed me, and I don't remember Mrs. Rathbun ever teaching us that in 8th grade Home Ec. (I can't believe I actually remembered her name – that was ages, well, nevermind). 1 cup sifted flour is sifting the flour and then putting it into a measuring cup and leveling it with a knife. For 1 cup of flour, I just scoop the measuring cup into the flour canister and then level it with a knife. For the 1 cup of flour, sifted, I scoop the measuring cup into the canister, level it, then sift it into the bowl. So, to make it easy: Sift before measure; just plain old measure; sift after measuring. Have I confused you? Because I think in trying to simplify it, I've taken it too far and overexplained it. I kind of confused myself. And I'm fading here. Just post if you have a comment or question!
I actually learned this from the Martha Stewart Baking Book the other day. I had never done it before and I admit, I was very surprised the difference it makes when you sift the flour before you measure it. I wonder how many things I 've made over the years that may have tasted differently had I really paid attention.
Carrot and Raisin Bread
2½ cups sifted unbleached flour
1 tablespoon baking powder
½ teaspoon salt
1 cup firmly packed light brown sugar
2 eggs, lightly beaten
½ cup melted butter or margarine or cooking oil (I used butter)
½ cup milk
1 tablespoon finely grated orange rind (optional) (I didn't use)
½ cup seedless raisins (I used golden raisins)
2 cups finely grated peeled carrots
Preheat oven to 350ºF.
Sift flour, baking powder, and salt into a mixing bowl. Add sugar and rub well between your fingers, breaking up any lumps of sugar. Add all remaining ingredients and mix well.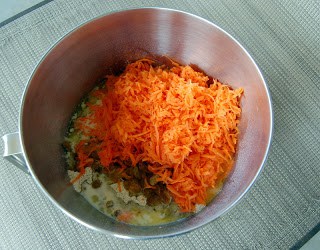 Spoon into a well-greased 9″ X 5″ X 3″ loaf pan and bake about 50 minutes until loaf shrinks slightly from sides of pan and is springy to the touch.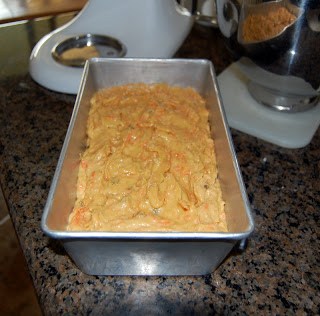 (Note: Do not underbake; test by inserting a toothpick or cake tester in center of loaf; it should come out clean.) Cool bread upright in pan on wire rack for 20 minutes, then turn out. Cool completely before cutting.
This loaf will cut more easily if you wrap it airtight and store it overnight.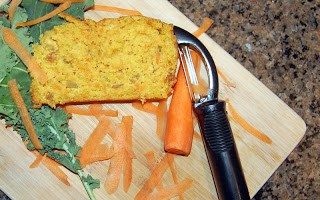 I have to say that I was pleasantly surprised at the outcome of this bread. It tasted a lot better than I thought it would. It was perfectly sweetened, extremely moist, and delicious. I thought it was going to taste very similar to carrot cake, but it didn't. My husband and my son both really liked it. My husband thought it was one of the best recipes I've made so far. Wow. I liked it, but didn't like it enough to give it a 4, so I'll give it 3½ rolling pins. My rating system is based on a scale of 1-4 with 1 being a "save yourself the time, money and effort" and 4 "this really takes the cake" (sorry, no pun intended. Ok, I lie. I did it on purpose. After all, it IS a baking blog).
If you learn one thing from this post, please, please wrap it up airtight and let it sit overnight before you slice it. I had the perfect slice cut for the purpose of taking a picture and it was sitting alone on the cutting board when my husband says, "Oh, is this my piece?"
"NO!" I yelled.
"Oops, too late."
Son of a …
What the heck do I have to do, put yellow tape around it, a big orange cone that's labeled "DON'T TOUCH"??!! Do I have to start hiding the stuff now, too? Oy vey!
I then went through half the loaf, hacking off various pieces (and not intentionally) in order to obtain another perfect slice. Again. The one pictured above is the best I could do before I went throught the whole loaf. There had to be a point where I stopped before it was completely massacred. I'm really interested to see how it cuts tomorrow.
Remember: To sift, or not to sift? And when?
Happy baking!