Today was an absolutely wonderful day! We were blessed with a new addition to our extended family; a new nephew/cousin. I'm very excited! We are waiting on pictures, but I'm sure he is just as beautiful as his older brother. A HUGE congratulations to the new mommy and daddy!! Babies are always so exciting, and sometimes I wouldn't mind being pregnant again. I do miss those days. But, that phase of my life is over. I don't know if I could tolerate waking in the middle of the night every few hours anyway.
I also received a most wonderful phone call from my very dear friend, Mary. I shared her Spanikopita recipe on Day 48. And just as I thought it would be, we picked up right where we'd left off. It's been a couple years since we've spoken on the phone, but it was as if no time had passed. And we talked for 2 hours; I'm sure we could have stayed on longer. It was great to catch up, but it was even better to hear her voice, and especially her laugh. Mary will always have a very special place in my heart.
If you have a friend like that or a friend who you haven't spoken with in a while, call or e-mail them. You never know what they might be going through and you may be contacting them at the perfect time. Why wait? I'm sure it would do you both good to reconnect.
~ Just so you know though, I can't take any responsibility if things don't go well for you. So don't call me, e-mail me or post a comment saying you're mad at me. Haha. I'm just saying it's good to "reach out and touch someone".

A dinner recipe was calling tonight. I have those moments when I just can't bake a dessert or something sweet on certain days, and today was one of those days. I was in our grocery store and saw that King Arthur Flour makes a gluten free flour. I was pretty excited, so picked up a box to try it and used that in the recipe. I made their gluten free pie crust, but if you're going to make these pocket pies and don't need to be gluten free, you can just make a regular pie crust or could probably even use a pizza dough.
I saw the idea for the pies in The Gluten-Free Kitchen, p. 54; author, Roben Ryberg; publisher, Three Rivers Press, a division of Random House; ISBN 0-7615-2272-7.
Ham and Cheese Pocket Pies – serves four
Filling:
½ cup finely grated cheddar cheese
½ cup finely chopped cooked ham
½ cup finely chopped broccoli or onion (I didn't use either.)
Gluten Free Pie Crust
1¼ cups King Arthur Gluten-Free Multipurpose Flour
1 tablespoon sugar
½ teaspoon xanthan gum
½ teaspoon salt
6 tablespoons cold butter
1 large egg
2 teaspoons vinegar
Whisk together the flour, sugar, xanthan gum, and salt.
Cut the butter into small pieces and work into the flour mixture until it's crumbly, with some larger, pea-sized pieces remaining.
Whisk the egg and vinegar together till very foamy.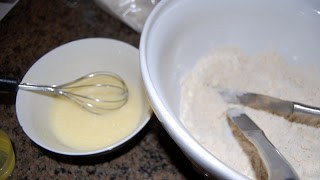 Mix into the dry ingredients. Stir until the mixture holds together, adding 1 to 3 additional tablespoons cold water if necessary.
Shape into a ball and chill for an hour, or up to overnight.
Preheat oven to 375ºF.
Line a baking sheet with parchment paper.
Allow the dough to rest at room temperature for 10-15 minutes before rolling.
Combine ham, cheese, and broccoli or onion in a bowl. Set aside.
Cut dough in half. Sandwich one half between two pieces of waxed paper and roll into a circle about ¼ inch thick. Cut the circle in half.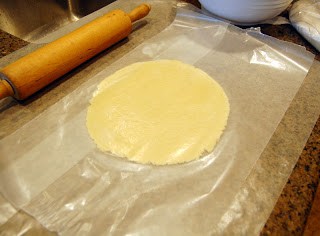 On one half of the semi-circle, put ¼ of the ham/cheese mixture.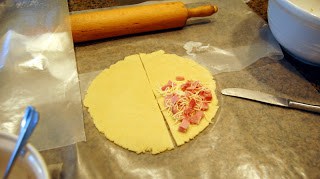 Fold dough in half over filling.
Seal edges with a fork and prick hole in top for vents. Place on prepared baking sheet.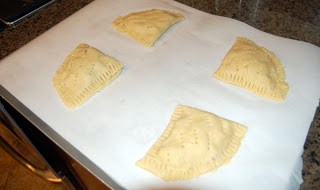 Repeat with remaining semi-circle.
Repeat process with remaining half of dough.
Bake pies for 20-25 minutes or until cheese is melted and tops are lightly browned.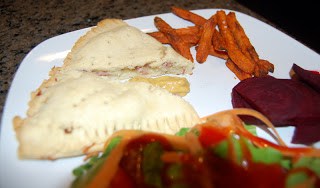 Because of time constraints I needed to skip any chilling of the dough and I just let it rest on the counter for 10-15 minutes. I'm not sure how much of a difference that made, but these didn't go over too well for dinner. My family ate them, but they don't want me to make them again. As my son said after swallowing his first bite, "Mom, you just got Chopped." Thanks, kid.
I rate my dishes on a scale of 1 – 4 with 4 being the best. These didn't cut it, so they were given a rating of 1 rolling pin. My daughter was a little more generous even though she's "not a fan of ham" as I discovered tonight, and gave them a 2. The dough we thought was dry and very flaky. After all, it was a pie crust, duh! It probably would taste very good under some kind of fruit filling. They fell apart very easily which drove them all nuts and they had to use forks instead of picking them up with their hands. We couldn't really taste the cheese and I'm sure adding the broccoli or onion would give it that extra something that was missing. I think these would be better as calzones with a pizza dough.
Happy baking!