As I write this, my son is talking to himself in the shower. He doesn't sing, he talks. He's having this whole conversation with himself tonight because his undefeated baseball team lost to a team that was 3-3. He didn't hit so well, but he played ok defensively. They had been losing 7-1 and then came back to go ahead 8-7. The other team had the last ups because we were playing at their field. In the bottom of the last inning, combined with pent up frustration, he was involved in a collision at second when he was catching the ball and was slightly injured. It's one of those things where he was legitimately hurt, but I think the frustration of the team not playing well and his not hitting increased the pain all the more. Know what I mean?
So, he does this. He talks to himself, works it all out in his head and is then ok. I really do love to listen to him. He'll do it when he's in bed, too, and then is beyond embarrassed if he sees my shadow in the hall. I can't help it. I'm his mother, and I know my enjoying moments like these are limited. So, I'm going to listen.
When we were living in Rhode Island, our friends, Mary and Eddy, would travel back to New York where they were originally from and bring back Italian goodies. One time they came back with a PINK BOX! Remember how I not only LOVE those pink boxes, but especially the things that are inside them? Inside this box were some Pignoli cookies. It was definitely one of my Oh My Goodness moments. They were SO completely delicious – chewy on the outside and so soft and tender on the inside. And then they melted in my mouth. They were oh so good that I would ask, or rather beg Mary to bring some back whenever they went to New York. They were one of those creations that was so good I was afraid to make it because I really and truly believed I wouldn't be able to duplicate it. Yes, I was intimidated by a cookie. Over 12 years I've put it off. Today, I baked a cookie so close that I think even I could put it into a pink box! So darned exciting!
We can thank Martha Stewart for this one. I found it in her Baking Handbook, p.93; author, Martha Stewart; publisher, Clarkson Potter/Publishers, a division of Random House, Inc.; ISBN 0-307-23672-2.
Pignoli Cookies

7 ounces almond paste
½ cup granulated sugar
½ cup confectioners' sugar, plus more for dusting
2 large egg whites
½ teaspoon vanilla extract
3 tablespoons all-purpose flour
1/8 teaspoon salt
3/4 cup pine nuts
Preheat oven to 350ºF, with racks in the center and lower third. Line two large baking sheets with parchment paper; set aside.
In the bowl of an electric mixer fitted with the paddle attachment, beat almond paste and both sugars on medium speed until mixture resembles coarse crumbs, about 2 minutes.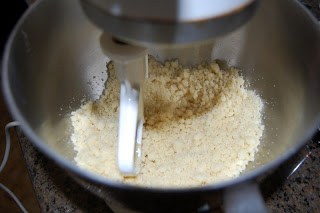 Add egg whites and vanilla, and beat on medium-high speed until a smooth paste forms, 3 to 4 minutes.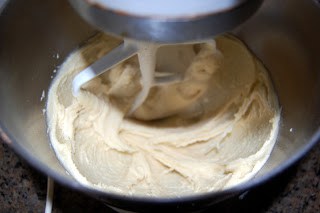 Add flour and salt; beat until combined, about 1 minute. Dough will be very soft and tacky.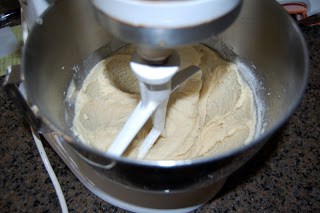 Place pine nuts in a small bowl. Scoop out a tablespoon of dough; using dampened fingers, drop dough into pine nuts, coating one side. Transfer rounds, coated side up, to prepared baking sheet, about 2 inches apart. Repeat with remaining dough. Fill in any bare spots on rounds with remaining pine nuts.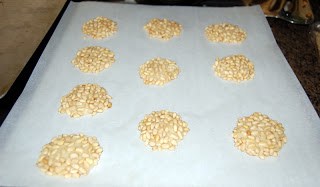 Bake, rotating sheets halfway through, until edges of cookies and pine nuts have turned golden brown, 13 to 15 minutes. Transfer cookies on parchment to a wire rack to cool completely. Using an offset spatula, carefully loosen from parchment paper. Using a fine sieve, dust cookies with confectioners' sugar. Cookies can be kept, stacked between layers of waxed or parchment paper, in an airtight container at room temperature for up to 4 days.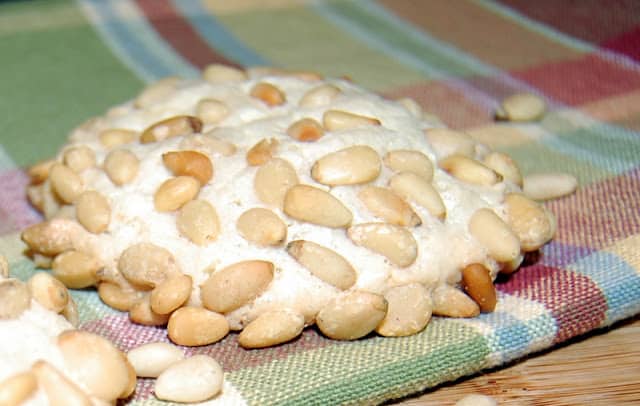 Yes, I forgot to dust with confectioners' sugar. But they Didn't. Even. Need. It. They were just so yummy delicious. Yes, they were Oh. My. Goodness. My husband was amazed at how good they were. He says, to date, that they are the best thing I have made.
I asked, "better then the créme brulée?".
He thought and then replied, "yeah, even better than the créme brulée".
Now that's saying something 'cause he even said that was pretty darned good. (I think I may be spoiling him.)
Instead of dropping them into the pine nuts by tablespoonfuls (I also used a knife to scrape it out), next time I'll probably use a teaspoon and lessen the baking time. I just think the final cookie was too big. Also, the dough was so sticky that instead of taking them out of the pine nuts with my fingers, I used a larger table spoon. Granted I grabbed a few extra pine nuts in the process, but they were transferring to the parchment a lot easier and they were more rounded as opposed to mishapen. Then I just removed the extra pine nuts by hand. Personally I would prefer to have two cookies to every larger one that I made. In the end, I made about 23 and it says you'll finish with about 18.
My rating system is based on a scale of 1-4 with 4 being the absolute best. I'm pretty sure you already know what the rating is on these: 4 rolling pins! Yes, they were that good. I would highly recommend that you put your Italian apron on and make these puppies. I'm sure you won't regret it.
Happy baking!