Since we started my daughter on this gluten-free diet a week ago to see if it would help with her acne, she's really been wanting me to bake her something besides those chocolate chip cookies from the pre-made mix. So, I went to Barnes & Noble today and purchased The Gluten-Free Kitchen. There is quite a selection of books for those with special needs. I was just searching for one that was published by Random House so that I could copy the recipe for you. The recipe is on page 182-183; author, Roben Ryberg; publisher, Three Rivers Press, a division of Random House, Inc.; ISBN 0-7615-2272-7.
Double Chocolate Cookies makes 3½ – 4 dozen
¼ cup softened butter
3/4 cup dark brown sugar
2 egg yolks
1 teaspoon vanilla flavoring
1/3 cup water
¼ cup oil
½ cup potato starch
½ cup corn starch
¼ cup cocoa
¼ teaspoon baking soda
½ xanthan gum
½ teaspoon salt
1¼ cup semi-sweet chocolate chips
Preheat oven to 350ºF.
In a large bowl, cream together butter and brown sugar.
Add egg yolks, vanilla flavoring, water, and oil. Mix well. Add remaining ingredients except for chocolate chips. Mix well, being sure to remove all lumps.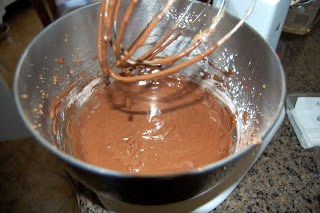 Fold in chocolate chips.
Drop by rounded teaspoonfuls onto greased baking sheet.
Bake 8-10 minutes.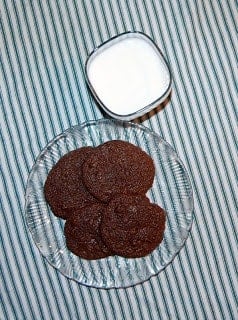 NOTE: These cookies will soften if stored in an airtight container. Freeze your extras, or give them a few minutes of air before serving.
My daughter liked them and based on my rating system of 1-4 with 4 being the best, she thought they deserved 3 rolling pins. I thought they were ok. They are definitely different then anything I've baked before – a lot flatter as you can somewhat see from the picture.
Happy baking!