I was on Facebook yesterday and one of my friends from high school posted this:
Ah, life. Beautifully complicated. Embrace it. Whatever the complications may be. Wherever they may find you.
Rich was always a great friend and I had quite a few classes with him throughout those "formative years", and he was on the school's baseball team with my husband. He was quiet and unassuming, staying true to his character and I know he has remained this way. I admire him for that. He has become a great man and undoubtedly his working at World Neighbors is a testament of that character. He was also wise beyond his years which is another reason I love this "Rich Original". Sometimes we become so involved in the problems or challenges that we are facing that we have a tendency to not step back and see that even though it may be difficult, life is still beautiful and we do need to embrace it. Our individual struggles are beautiful. Be in the moment. Do not wish it away.
I can attest to the fact that the hardships I have endured throughout my years have definitely made me a stronger person. Life truly is "beautifully complicated". Thank you, Rich!


I found these brownies in my Fannie Farmer Cookbook, Thirteenth Edition, p. 629; author, Marion Cunningham; publisher, Alfred A. Knopf, Inc., a division of Random House; ISBN 0-394-56788-9.
Ok, I have to be honest, the making of these Butterscotch Brownies was anything but complicated. I just called them that because the words went so well with Rich's post. They really couldn't have been easier. And the really fun part was that I was able to use my mother's nut chopper. I loved that thing when I was little. It was always so much fun to put the peanuts or walnuts in at the top, turn the handle and watch those teeth grind them into little bits. Brought back some more memories.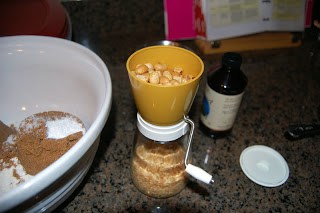 Butterscotch Brownies
½ cup melted butter
2 cups dark-brown sugar
2 eggs
½ teaspoon salt
1½ cups flour
2 teaspoons baking powder
1 teaspoon vanilla
1 cup chopped nuts
Preheat the oven to 350ºF.
Butter a 9 X 13-inch cake pan. Mix all the ingredients together, combining them well.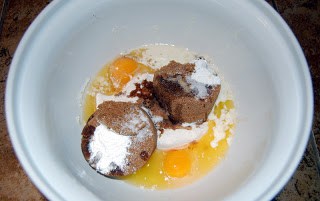 Spread in the pan and bake for 25-30 minutes, or until dry on top and almost firm to the touch.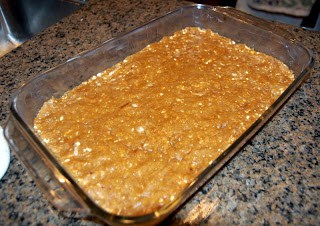 Let cool for 10-15 minutes, then cut into small squares.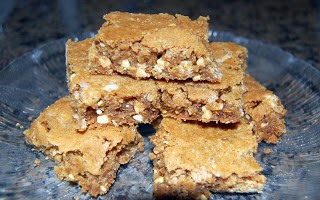 My son and husband loved them. I thought they were good, too. I'm going to give them 3 rolling pins even though there was disagreement over whether they should be awarded 3 or 3½. My rating system is based on a scale of 1-4 with 4 being the best. These will make a great treat to take to a friend's when you need to bring a dessert and don't have much time. Just be conscious of those people with peanut allergies!
Happy baking! Remember, life is beautifully complicated.