Today was a very full day of baseball. My son's school team was in a tournament and they played three games. Needless to say, baking wasn't done during the day and I started at 7:30. These muffins really didn't take too long to make, so they could easily be done the morning you plan to eat them. They taste better warm, too.
The Sticky Orange Muffins came from The Fannie Farmer Cookbook Thirteenth Edition, p. 543; author, Marion Cunningham; publisher, Alfred A. Knopf, a division of Random House, Inc.; ISBN 0-394-56788-9.
Sticky Orange Muffins
2 oranges
¼ cup honey
2 cups flour
½ cup uncooked oatmeal or oat bran (not instant)
1 tablespoon baking powder
1 teaspoon salt
½ cup sugar
2 eggs, lightly beaten
2/3 cup milk
5 tablespoons butter, melted (about 1/3 cup)
Preheat oven to 400ºF.
Grease muffin pans. Using the small side of a grater, grate the rind from the oranges, removing only the bright orange part; set aside. With a sharp knife remove all the remaining peel and, if necessary, trim the oranges all around so that the slices will fit in the bottom of your muffin cups.
Cut the oranges into slices about ¼ inch thick, remove any seeds, and set the slices aside. Put about 1 teaspoon of honey in the bottom of each muffin cup and place an orange slice on top.
In a mixing bowl, combine the flour, oatmeal or oat bran, baking powder, salt, and sugar, and stir to mix. Add the reserved orange rind, eggs, milk, and melted butter, and stir until just mixed.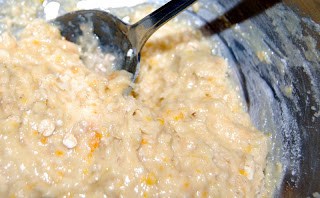 Spoon the batter over the orange slices, filling each cup about two-thirds full.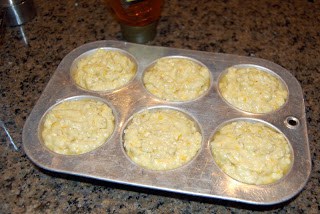 Bake for 15-20 minutes, or until a broomstraw (what the heck is a BROOMSTRAW?) or toothpick inserted in the center comes out clean. Serve warm.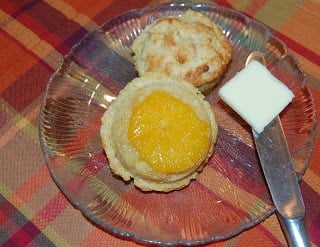 I halved the recipe and unlike yesterday didn't burn anything! Wait, except the butter when I melted it, but not the muffins. These were easy to make; the only difficulty I had was cutting the orange into small enough rounds to fit into the tins.
I rate the things I bake on a scale of 1-4 with 4 being the best. These Sticky Orange muffins earned 3½ rolling pins. They were moist on the inside and the taste of the honey combined with the orange was quite tasty.
Happy Baking!