Air Fryer Baby Potatoes are an easy recipe and the perfect side dish you can make in minutes. Crispy on the outside, soft on the inside, these tiny potatoes bring big flavor to any dinner table!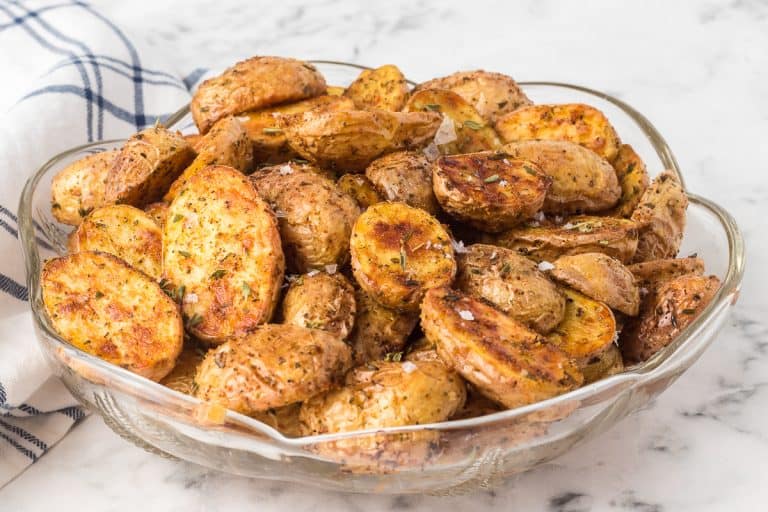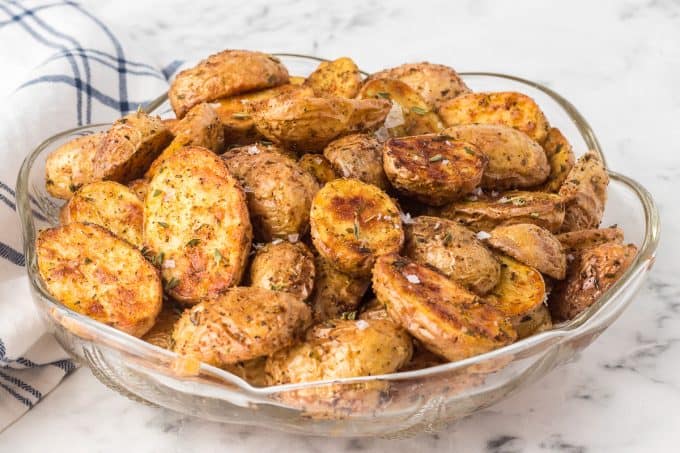 Don't you love when the easiest recipes are also the tastiest? Baby potatoes in the air fryer are even easier than Oven Roasted Potatoes and totally impossible to resist.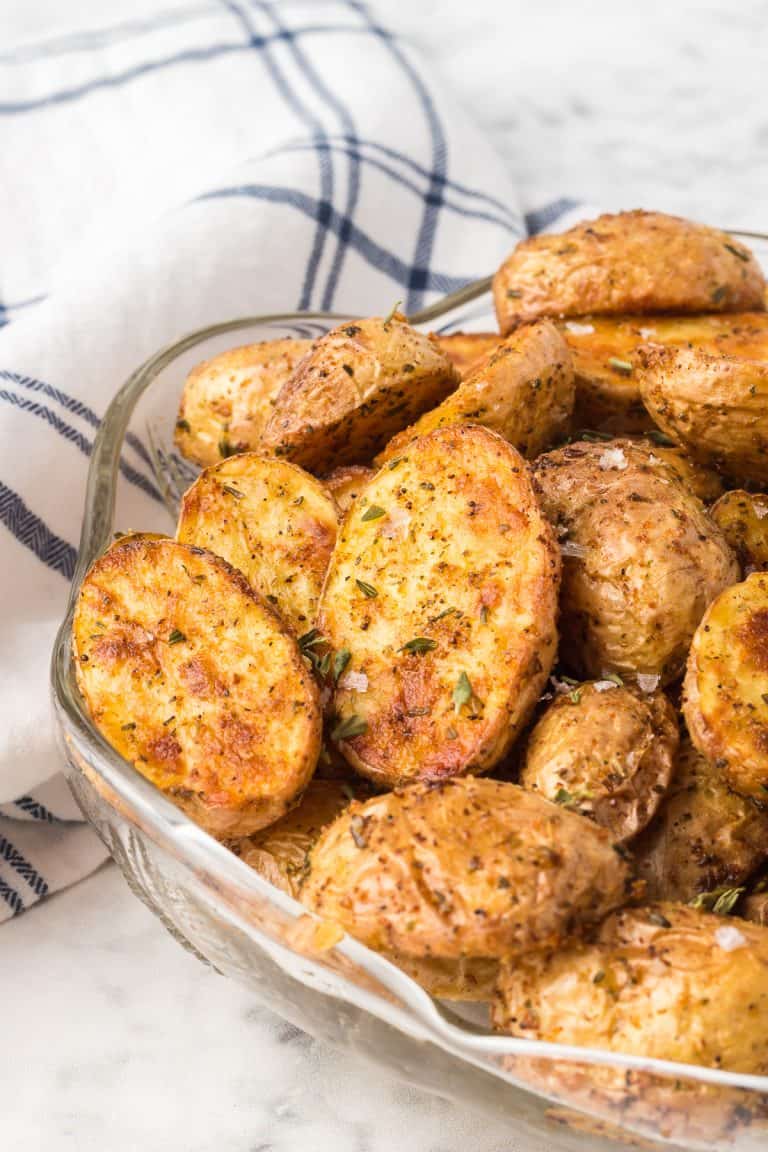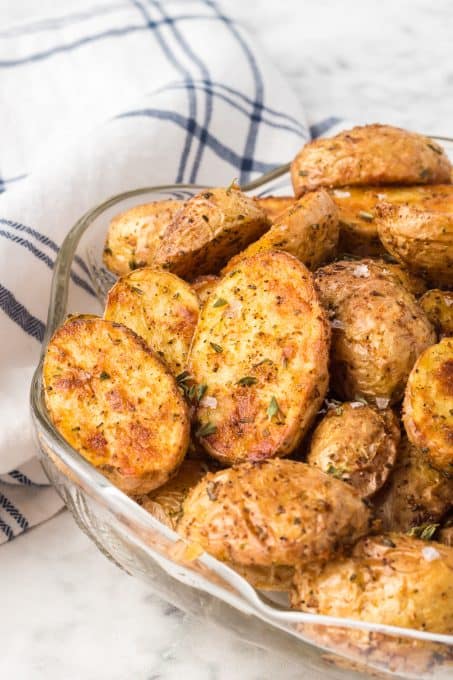 You already know that the crispiest potatoes are fried potatoes — usually in tons of oil. When you cook potatoes in the air fryer there's less oil, so you eliminate the need for all that extra grease. For this air fryer potato recipe, I used baby potatoes and a few staple seasonings to create a mouthwatering side dish that's ready in about 20 minutes.
I chose baby potatoes (a.k.a new potatoes) for a couple of reasons. First, they're in season right now and my grocery store had a bunch on sale. Baby potatoes also happen to be ideal for fast, easy cooking. You don't even have to peel them, so there's very little prep time. Just give them a quick scrub, cut them in half, season them, and toss 'em right into the air fryer. 
Since new potatoes are small, they also take a lot less time to cook, especially when you put your speedy air fryer to use. Once you find out how easy it is to make air fryer baby potatoes, you're going to find yourself making them ALL the time. I've made this recipe numerous times since I first tried it. In fact, I think I made three batches all in one week. That's how much we loved these crispy, garlicky air fried potatoes.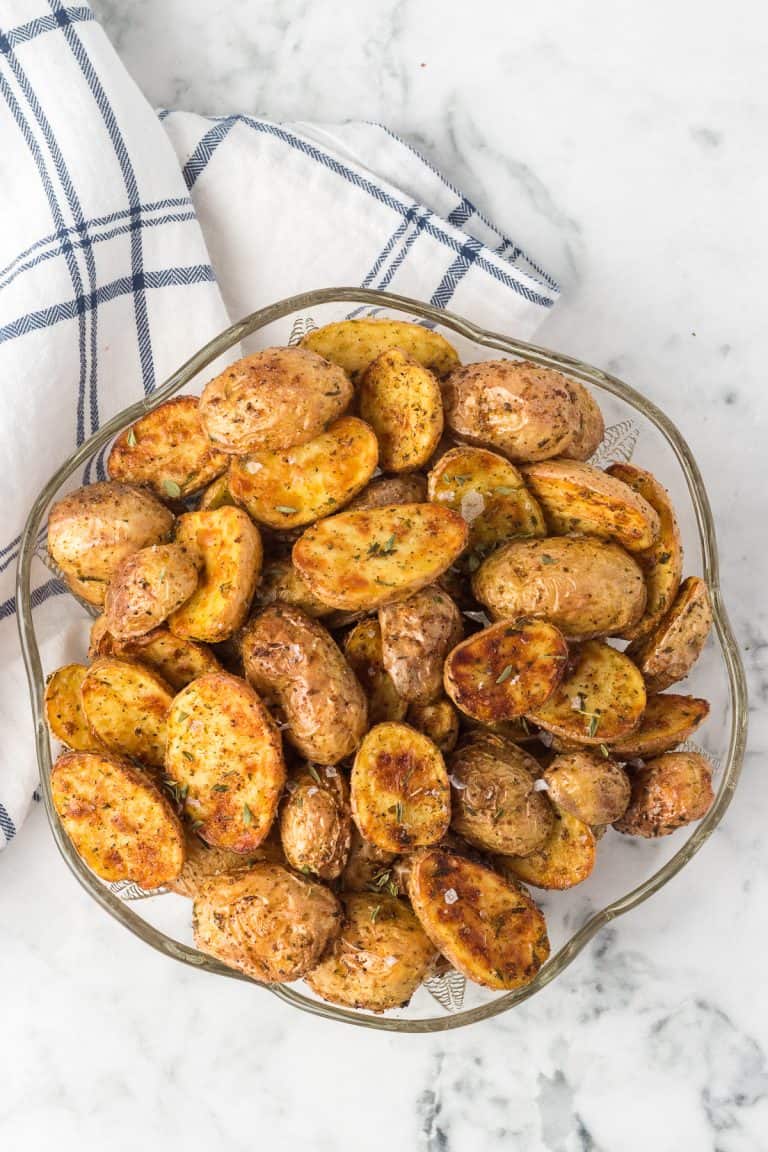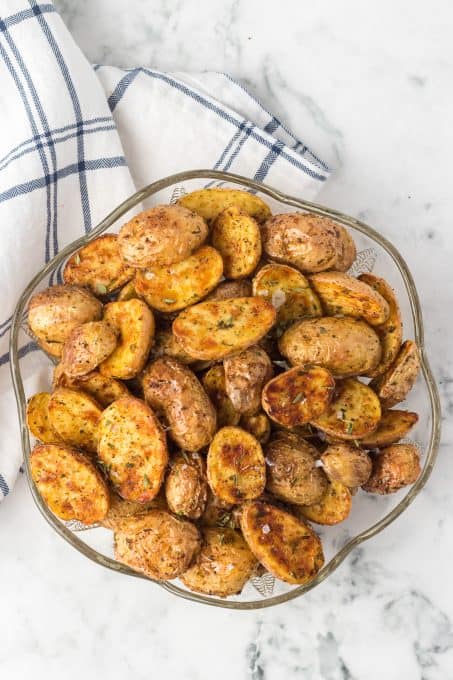 Best Potatoes for the Air Fryer
You can use yellow or red baby potatoes for this recipe. I used yellow ones for the batch in these photos. A combination of colors is a great choice, too!
Wondering if you can use other kinds of potatoes in this recipe? The answer is yes, but if they're larger potatoes than standard baby potatoes, you will need to chop them into smaller pieces. They also may not get as crispy. Every variety of potato has a slightly different ratio of starch to water content, which affects how they cook.
Once you have your potatoes, give them a good scrub with cold water. Pat them dry and chop them into halves. If your potatoes look a little larger than average, go ahead and chop them into quarters to ensure they cook evenly.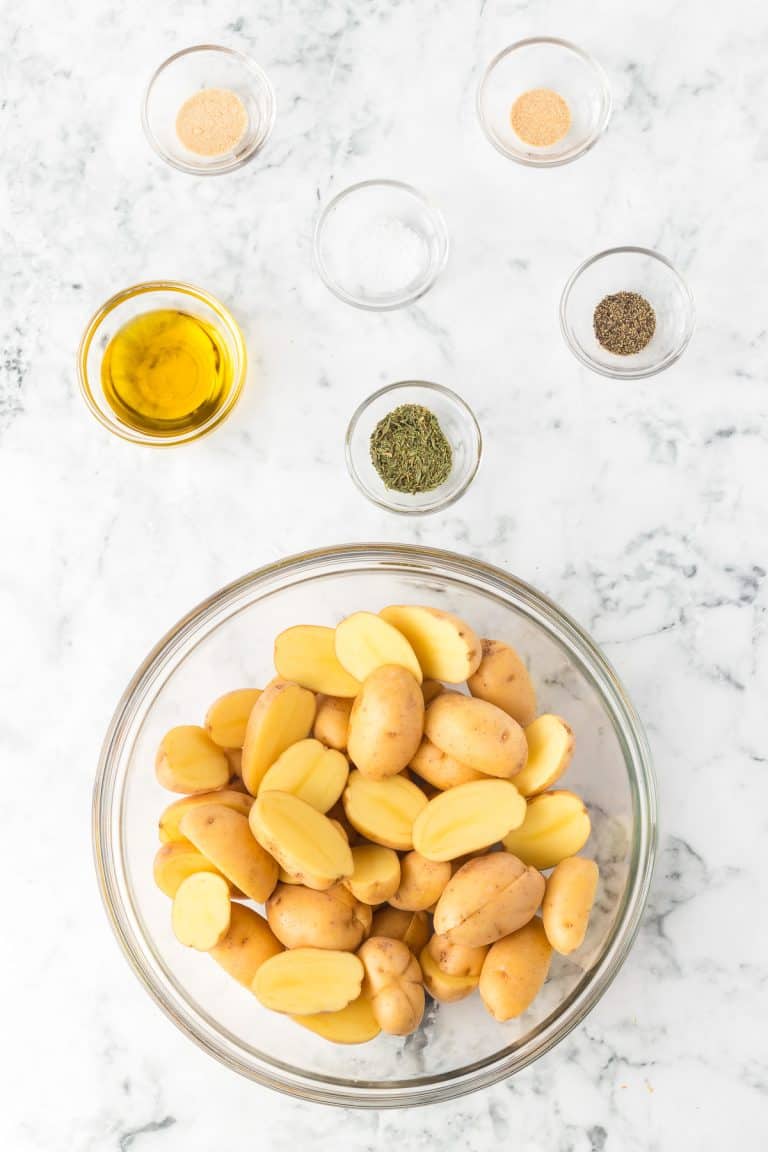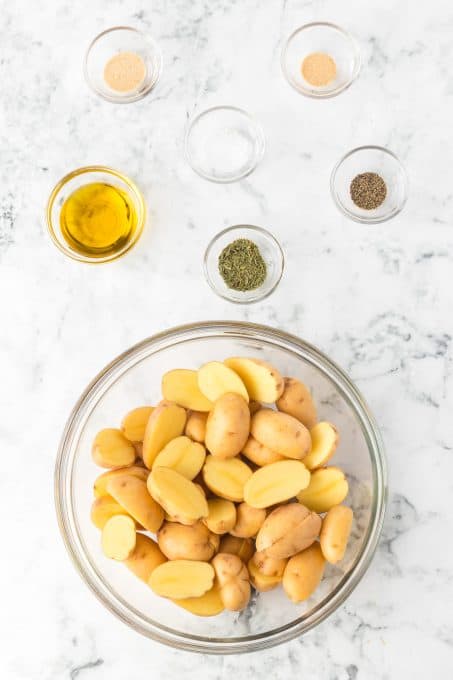 Simple Ingredients for Air Fryer Baby Potatoes Recipe
Before the potatoes go in the air fryer, they're coated with this seasoning blend for the most flavorful potatoes. Here's what I used:
Olive oil
Kosher Salt
Black Pepper
Garlic powder
Dried thyme
Onion powder
Put everything in a large bowl with the baby gold potatoes and toss to ensure every baby potato gets well coated. Meanwhile, preheat your air fryer.
If you're an adventurous cook, try some different seasonings and put your own spin on them, like a touch of cayenne pepper or cajun seasoning to give them a bit of a kick. You can also add some Parmesan cheese and Italian seasoning if you'd like.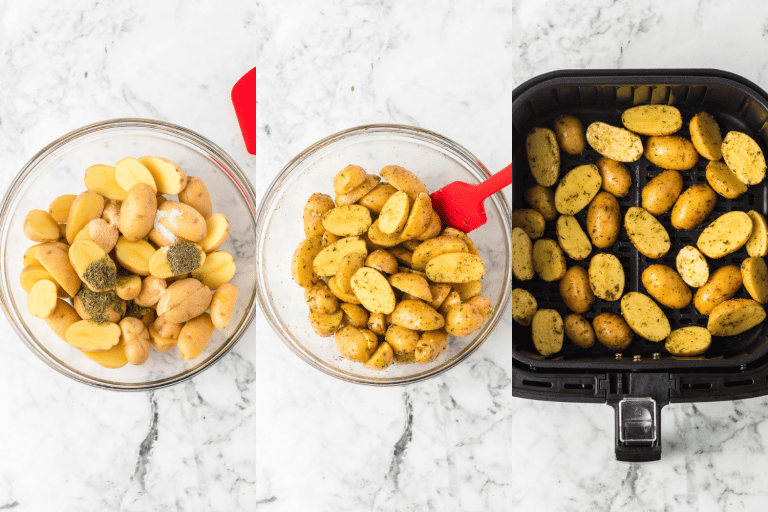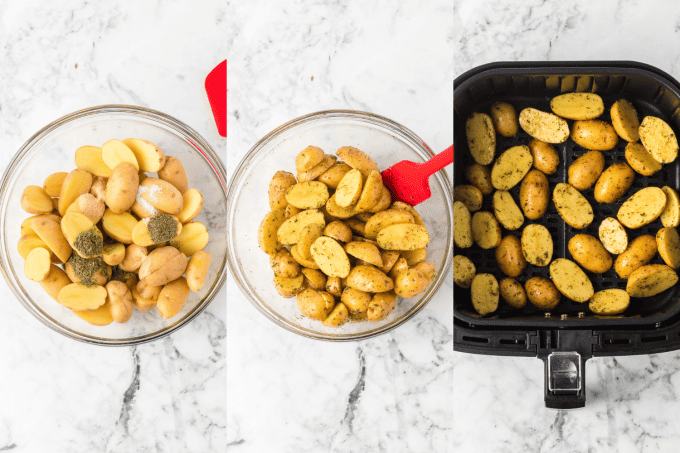 How Long to Cook Baby Potatoes in Air Fryer
A single batch of these seasoned baby potatoes takes about 12 minutes of cook time in an air fryer heated to 400 ° F.
Start by air frying the potatoes for 5 minutes. When the timer goes off, give the tray a shake and spray the potatoes with some olive oil spray. Air fry for an additional 3-5 minutes, then shake and spray one more time. Now put the potatoes back in the air fryer for an additional 2 minutes.
Note that the exact cooking time for air fryer baby potatoes can vary depending on what kind of air fryer you have and how many potatoes you're cooking at once! If your potatoes don't look like they've achieved crispy perfection after 12 minutes, let them air fry for another 1 -2 minutes at a time. 
Full instructions are in the recipe card below.
These potatoes pair beautifully with all your favorite entrees. Try them with Roasted Chicken and Vegetables or these Pork Tenderloin Medallions with Mushroom Wine Sauce for a gourmet meal at home!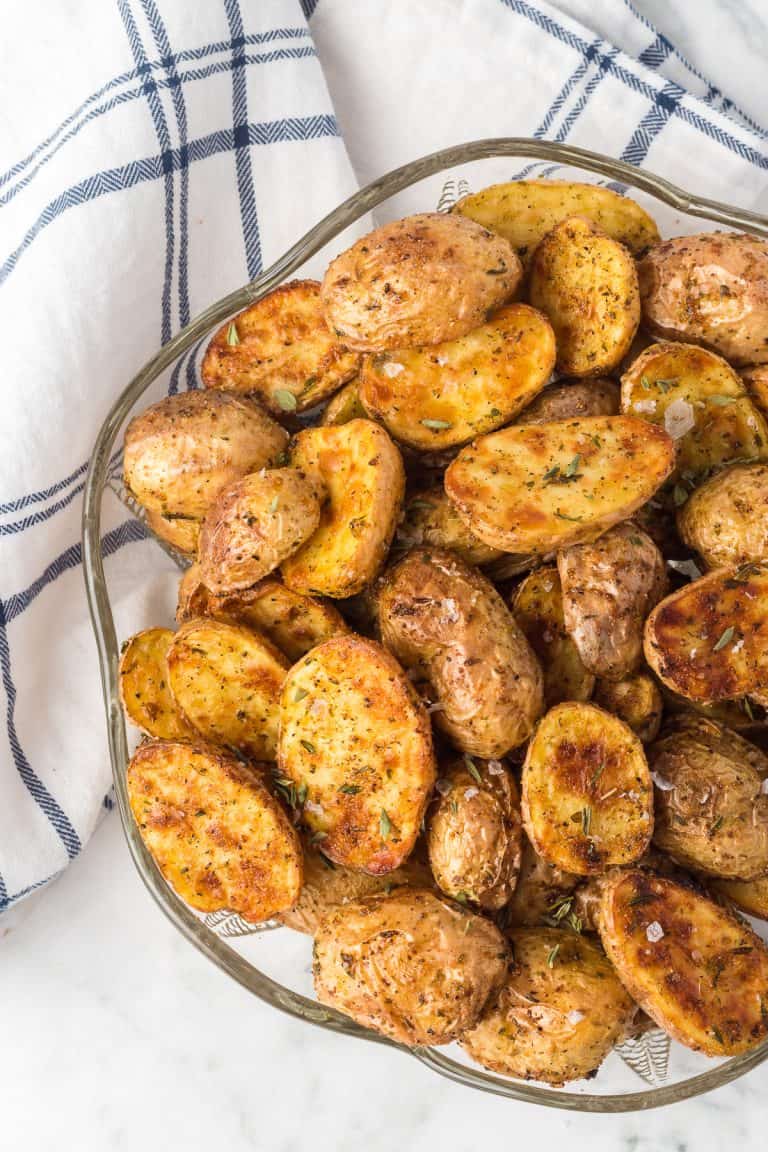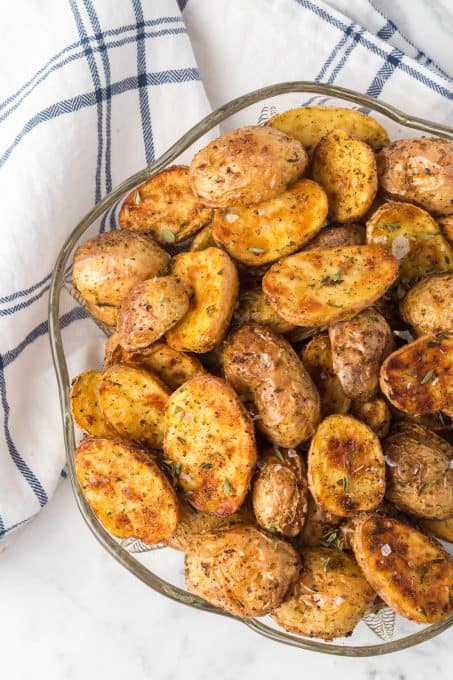 Tips for Best Air Fryer Potatoes
Don't overcrowd your air fryer basket! For best results, the potatoes should not touch and be in a single layer. This allows the hot air to circulate around them creating those ultra crispy edges. You may need to air fry the potatoes in batches, depending on the size of your air fryer.
Be liberal with the cooking spray! This keeps them from sticking to the air fryer and adds flavor.
Enjoy air fried baby potatoes right away. They're best served hot and fresh.
Store leftovers, if you have any, in an airtight container in the refrigerator. Reheat in the air fryer or oven until warmed through.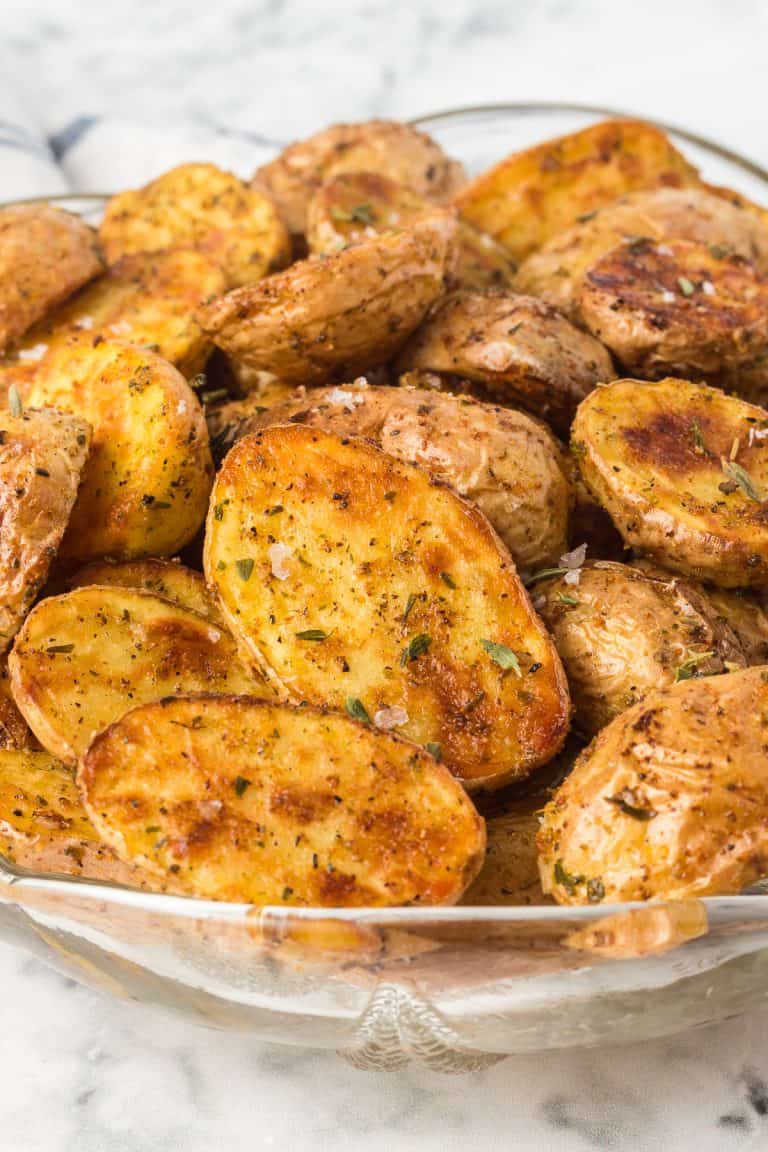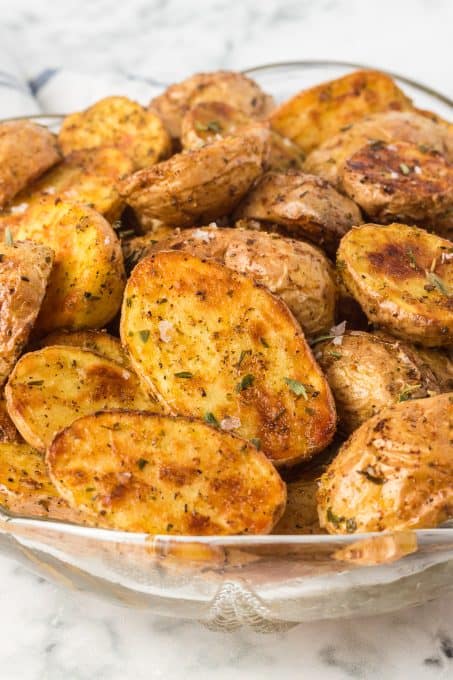 Can I use other spices or seasonings?
Sure thing! Once you know how to make air fryer mini potatoes, you can make them with all kinds of dried spices and herbs to suit your taste. You can also omit the extra seasonings and make them with just olive oil and a pinch of salt. This would be a good option if you want the potatoes to be used as a vehicle for dipping sauces or condiments.
Easy Side Dish Ideas
Everyone should be able to cook food that tastes great without spending hours in the kitchen every day. My recipes are designed with busy home cooks in mind.
Try my other easy favorites like Coconut Rice and these Cornmeal Breaded Zucchini Chips. This Roasted Parmesan Broccoli is one of those recipes that turns even picky eaters into broccoli lovers!
Looking for something different? My Peanut Butter Broccoli might surprise you. It sounds strange, but everyone who tries it can't get enough. And my Roasted Teriyaki Cauliflower takes just a few minutes to prepare and tastes delicious as a side dish or appetizer.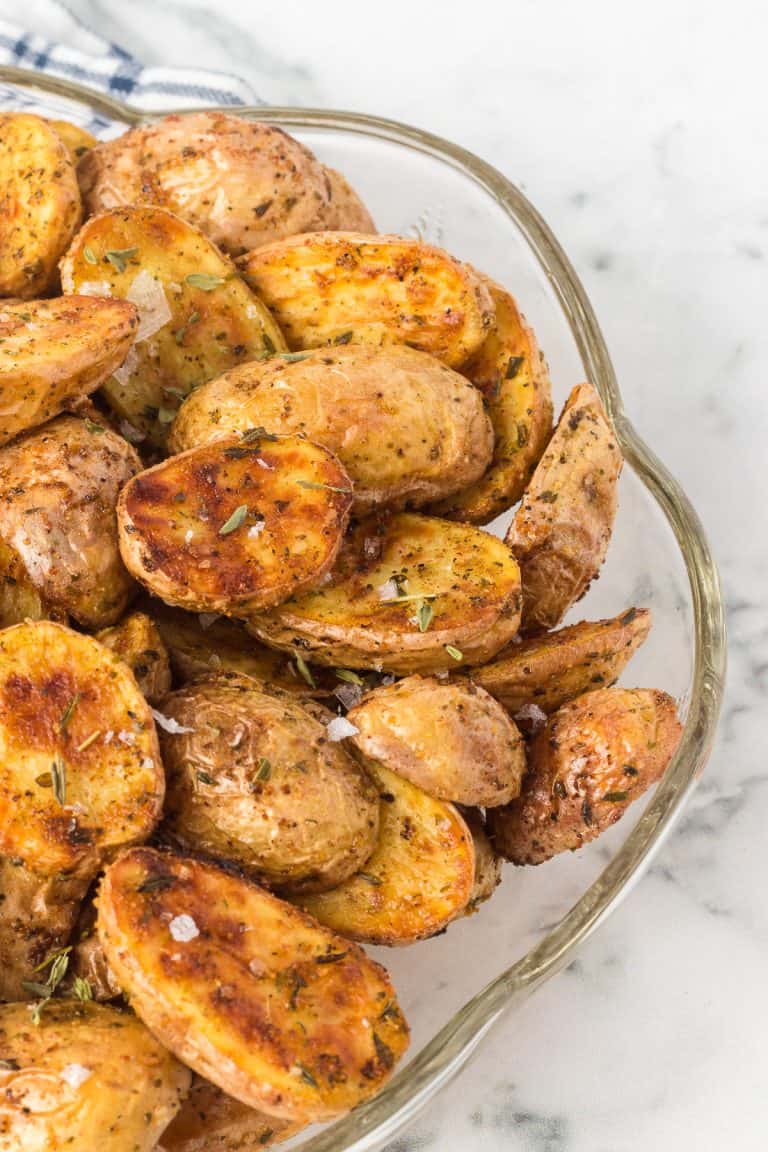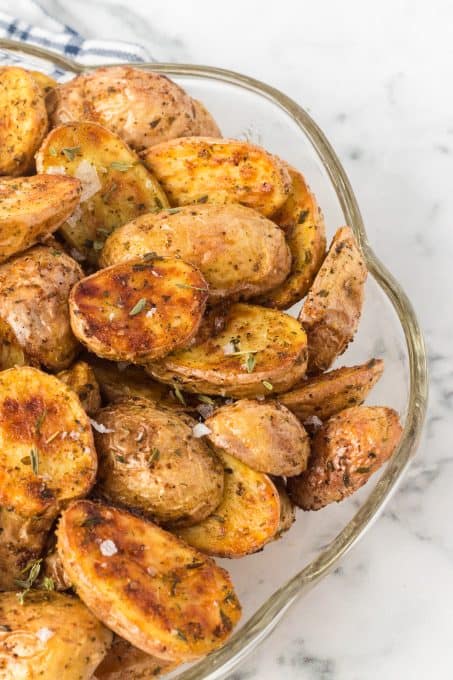 More Must-Try Potato Recipes
When you're not sure what to make: potatoes are the answer! Boiled, mashed, fried or baked, potatoes never fail to impress.
Today's air fryer potato recipe is totally dairy free. That said, I can't deny that potatoes and cheese are one of the greatest food pairings ever. What's better than a big helping of of Cheesy Mashed Potatoes or Roasted Smashed Cheesy Potatoes? These Twice Baked Potatoes could give any other potato a run for their money when they're topped with plenty of shredded cheddar and sour cream.
Looking for a fun twist on a familiar potato recipe? These Ranch Mashed Potatoes are creamy, zesty and just as easy as the traditional version. Or give my Maple Roasted Sweet Potatoes a try if you like a little sweetness on your dinner plate. They're definitely one of my favorite side dishes!
Chick fil A® Potato Salad was created with fans of the fast food chicken restaurant in mind. I used their signature sauce as a dressing to add extra flavor to a potato salad with eggs and celery. There's never even one bite leftover whenever I bring it to a potluck or get-together! 
Make sure to try all of my top rated potato recipes. . . .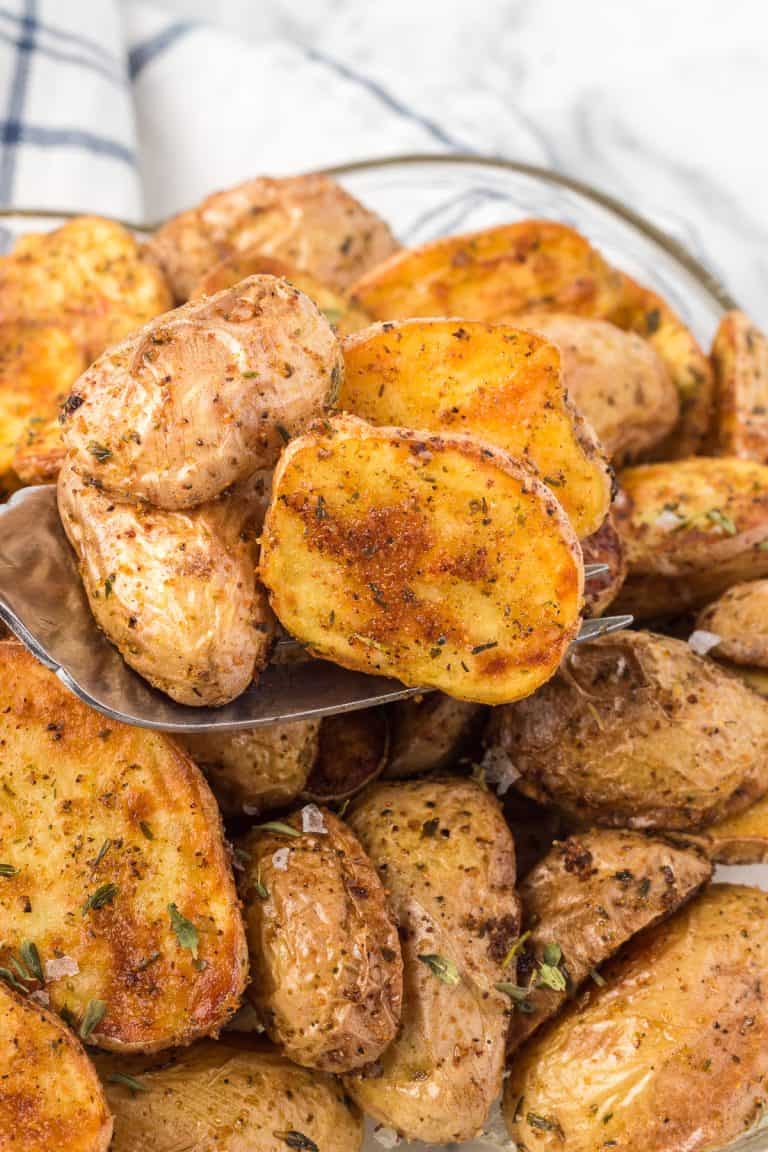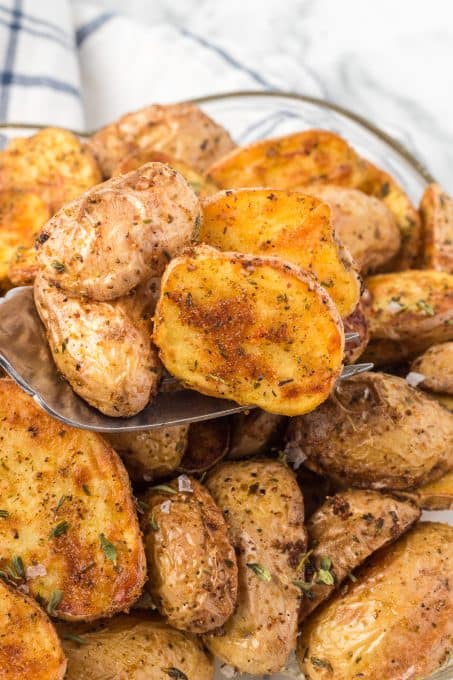 ~ FOLLOW ME ~
Keep an eye out for more of my easy recipes each week!
Fire up your air fryer and make the best crispy baby potatoes. These easy air fryer baby potatoes are an instant classic and a fantastic side dish the whole family will enjoy.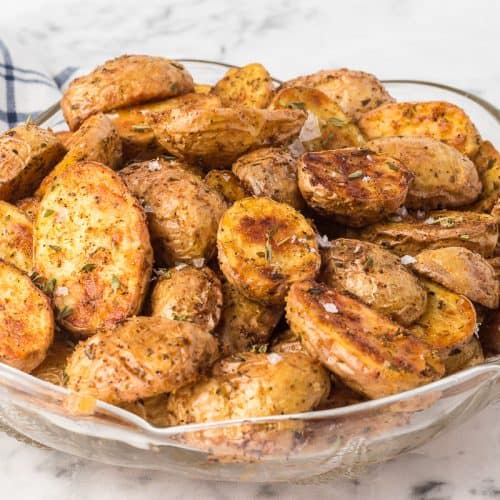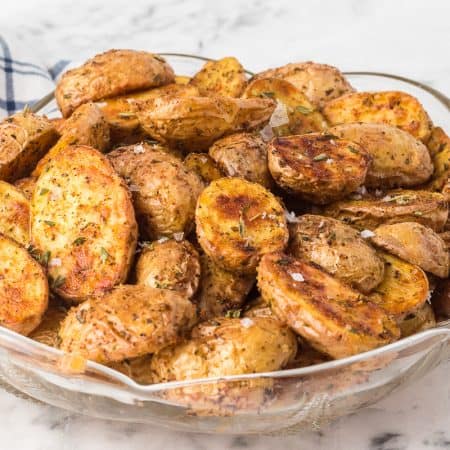 Air Fryer Baby Potatoes are an easy recipe and the perfect side dish you can make in minutes. Crispy on the outside, soft on the inside, these tiny potatoes bring big flavor to any dinner table!
Ingredients
24 ounces baby potatoes I used yellow. You can use red if you'd like.
1 ½ tablespoons olive oil
1 teaspoon kosher salt
1 teaspoon garlic powder
1 teaspoon thyme
¾ teaspoon onion powder
¼ teaspoon pepper
Instructions
Preheat air fryer to 400°F.

Wash the potatoes. Cut into halves and/or quarters depending on how big they are.

In a large bowl, combine the potatoes, olive oil, salt, garlic powder, thyme, onion powder and pepper. Toss to completely coat.

Place the potatoes in a single layer in the air fryer tray. You will probably have to do this twice depending on how many you have.

Bake 10 minutes. At the 5 minute mark, toss and spray with cooking spray.

At 10 minutes, shake and spray again and then cook for an additional 2 minutes.
Nutrition
Serving: 1serving | Calories: 182kcal | Carbohydrates: 31g | Protein: 4g | Fat: 5g | Saturated Fat: 1g | Polyunsaturated Fat: 1g | Monounsaturated Fat: 4g | Sodium: 592mg | Potassium: 734mg | Fiber: 4g | Sugar: 1g | Vitamin A: 28IU | Vitamin C: 34mg | Calcium: 25mg | Iron: 2mg
Did you make this recipe?
Share it with me on Instagram and make sure to follow me on Pinterest for more recipes.
Reader Interactions