Roasted broccoli drizzled with peanut sauce makes it easy to eat your veggies! This kid-friendly sauce recipe uses familiar and simple ingredients in unexpected and delicious ways. You have to try it!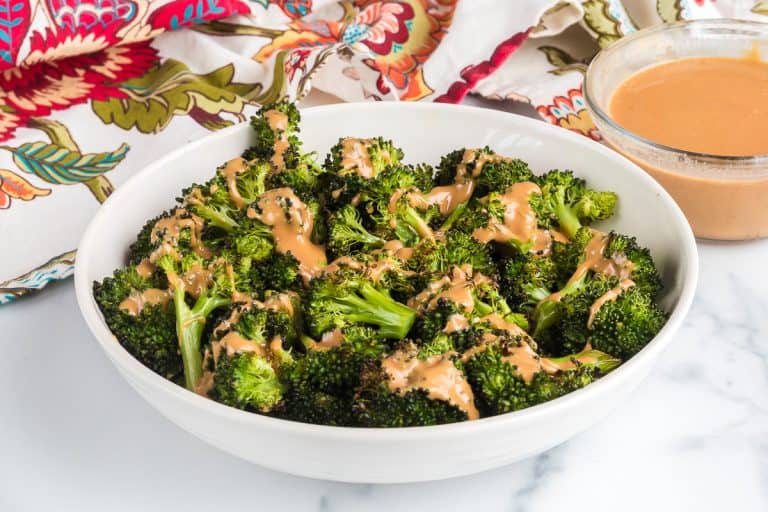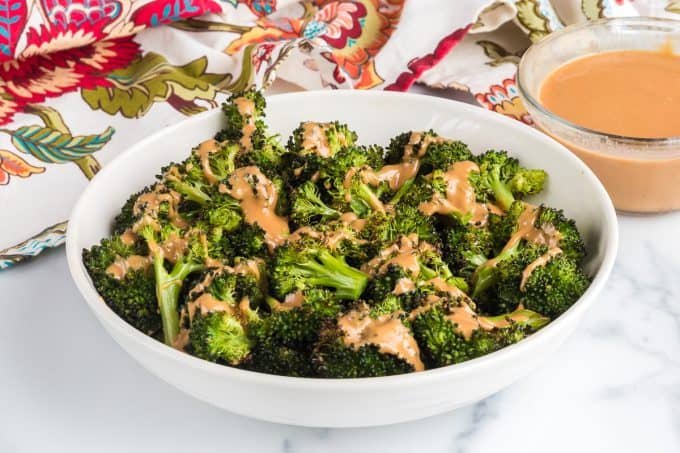 You know I'll put peanut butter in everything. From quick bread to cucumber sandwiches — is there anything peanut butter can't improve?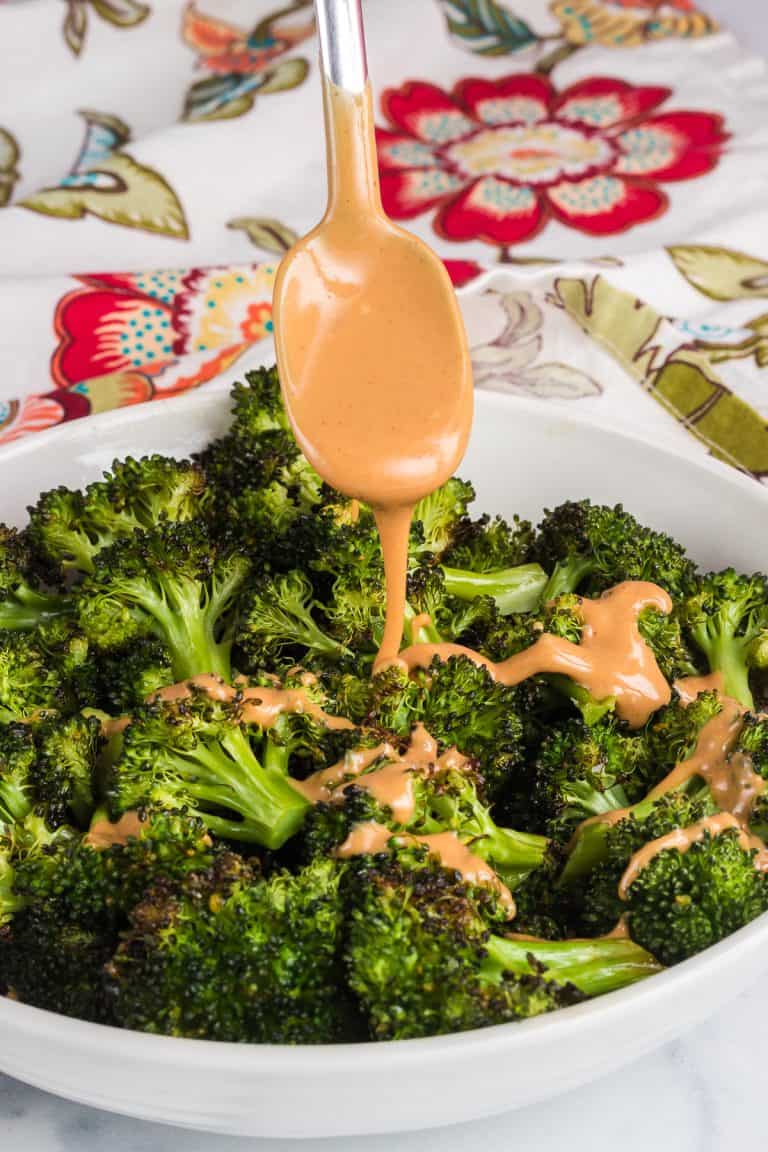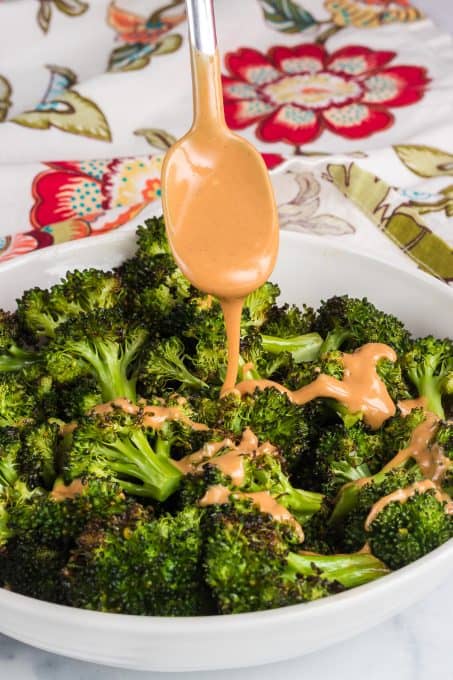 Broccoli is no exception. The robust nutty flavor in the peanut butter adds a whole other dimension of flavor to a simple pan of roasted broccoli.
You're probably familiar with Thai peanut sauce served with noodles, meats and veggies. All those salty, savory and ever-so-slightly sweet ingredients come together for a dish that tastes better than the sum of its parts.
Peanut Butter Broccoli uses the same concept, but I made it even easier than most peanut sauces! We let the peanut butter do most of the work in this recipe, blending it with just a little butter to achieve the perfect thickness and a rich, salty-sweet taste.
I can't wait for you to try this broccoli recipe. It's. . .
Quick and easy.
Made with 5 ingredients.
Good for body and soul.
A fun change from the norm.
Picky eater approved.
Perfect for any night of the week!
It even happens to be vegetarian and gluten free, to boot. How's that for crowd pleasing?!
Seriously, even broccoli skeptics LOVE my roasted broccoli with peanut sauce. I'm looking YOU, Mary from Barefeet in the Kitchen!! She was turning her nose up at it when I suggested it, but when I made this recipe at her home last month, she went back for more.
I mean, as long as the one you serve it to like peanut butter, they'll love it. You definitely have to like peanut butter to enjoy this vegetable dish. It's the star of the show.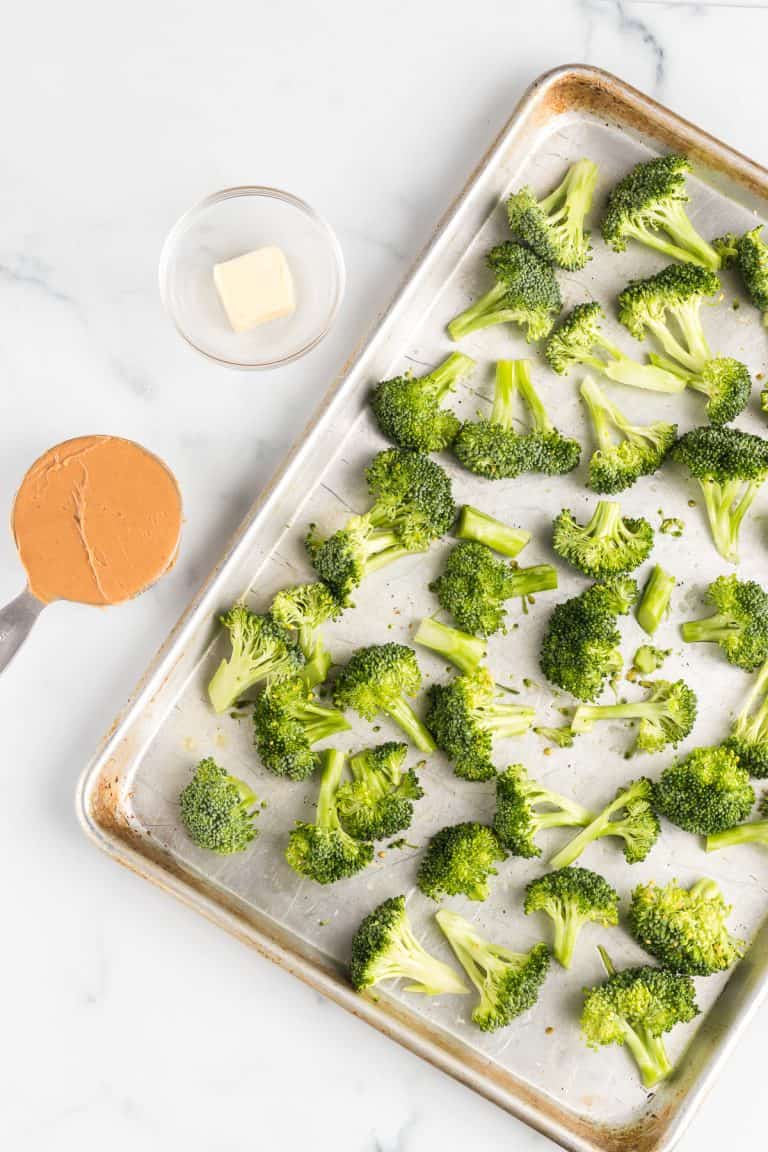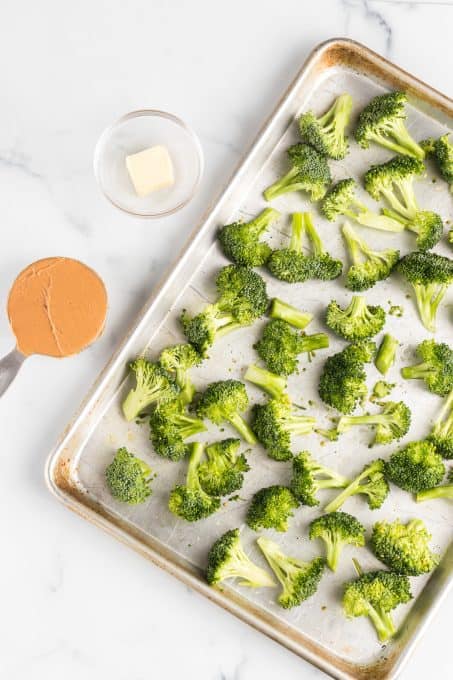 What do I need?
You probably already have all the ingredients you need for this recipe handy in your refrigerator.
Broccoli crowns – cut into smaller broccoli florets
Olive oil
Salt
Creamy peanut butter – I used Jif regular.
Butter
Sesame Seeds – for garnish if you'd like
That's it!
To make this a spicy peanut sauce, add some red pepper flakes or chili sauce.
You can also add a little soy sauce, fresh ginger, and a couple cloves garlic if you'd like for some more flavor.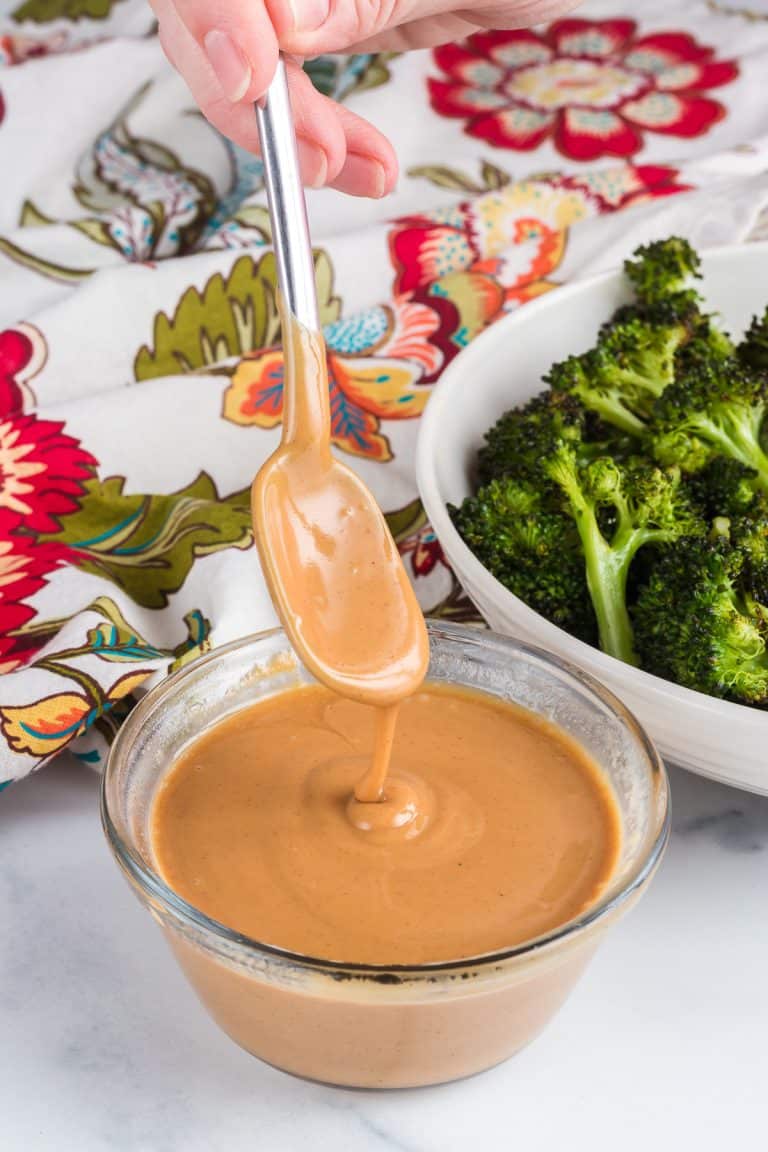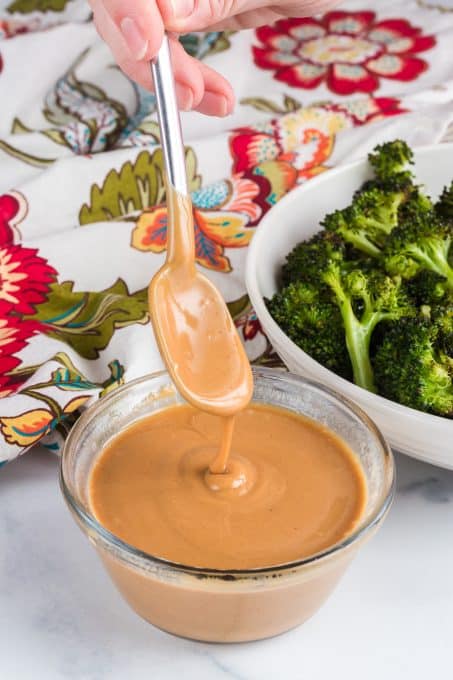 Natural or shelf stable peanut butter?
I used regular, shelf-stable peanut butter here, which is sweetened. The sugars balance the earthiness of the roasted broccoli beautifully for a perfect sweet and salty taste.
For a sauce with less sweetness and a more pronounced salty flavor, try the sauce with natural peanut butter. These varieties usually have just one main ingredient — peanuts — which means the sauce won't have any noticeable sweetness. If you need to watch your sugars or simply don't like sweetened peanut sauces, this is a great option.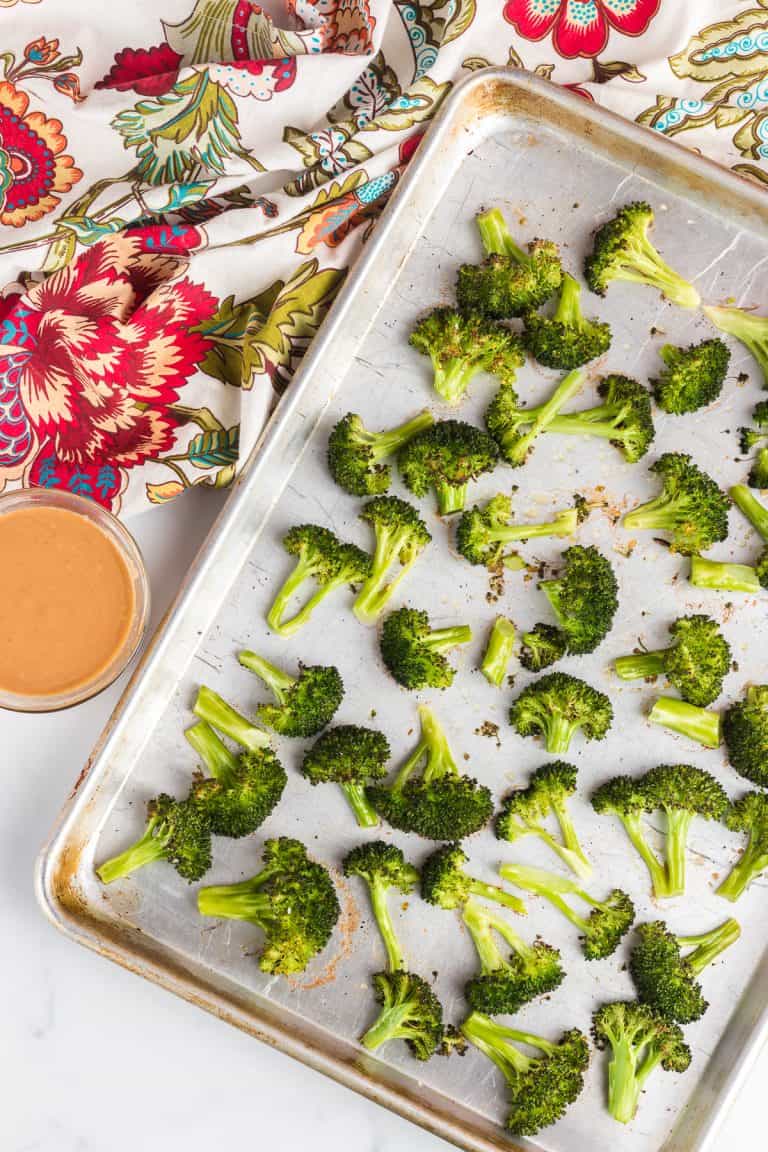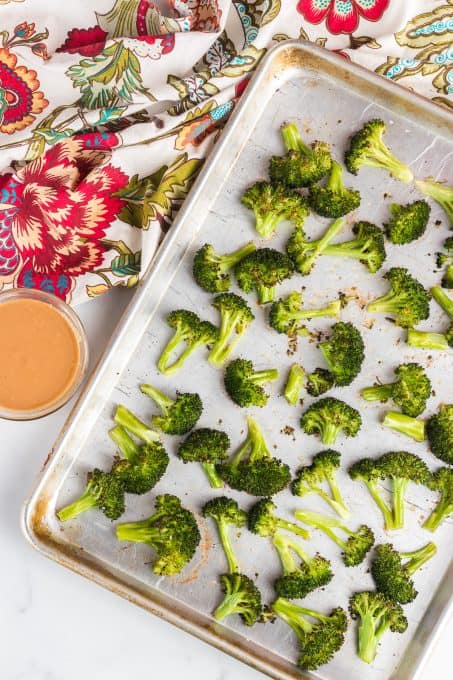 How to Make Broccoli with Peanut Butter Sauce
First, arrange your chopped broccoli crowns on a baking sheet. Drizzle with olive oil and add a sprinkle of coarse salt. Roast at 425 F until the edges look toasted, crisp and a bit darker than golden brown.
A few minutes before the broccoli is done cooking, prepare your peanut sauce. Scoop the peanut butter and butter into a small bowl. Microwave for 1 minute, then mix peanut butter and butter together until completely smooth.
Transfer roasted broccoli to plates and drizzle peanut butter sauce on top.
I have served it by mixing the broccoli completely with the sauce before serving, but it makes for a VERY unattractive presentation. So, if you are serving it to skeptics, I highly suggest the drizzle or serving it on the side for them to use the amount they want.
This recipe is also delicious over steamed broccoli and stir-fried broccoli.
Main Dish Serving Suggestions
I could gobble up a whole bowl of broccoli with peanut butter sauce and forget about a main course altogether. For a complete meal, serve peanut butter broccoli with grilled chicken or baked chicken thighs.
Try it as a side dish for steaks, burgers or Roast Pork Tenderloin to mix up meal time. It would also be delicious with tofu, noodles or a bed of Coconut Rice.
Wondering if this delicious peanut sauce tastes good on other veggies? You bet it does!
This peanut butter sauce isn't just for broccoli. Try it with roasted cauliflower, broccolini, green and red bell pepper, carrots, and even kale. Almost any sautéed, stir-fried or roasted vegetable would be delicious with a dollop of peanut butter sauce on top. You could even use it to turn this salad into an Asian Broccoli Salad!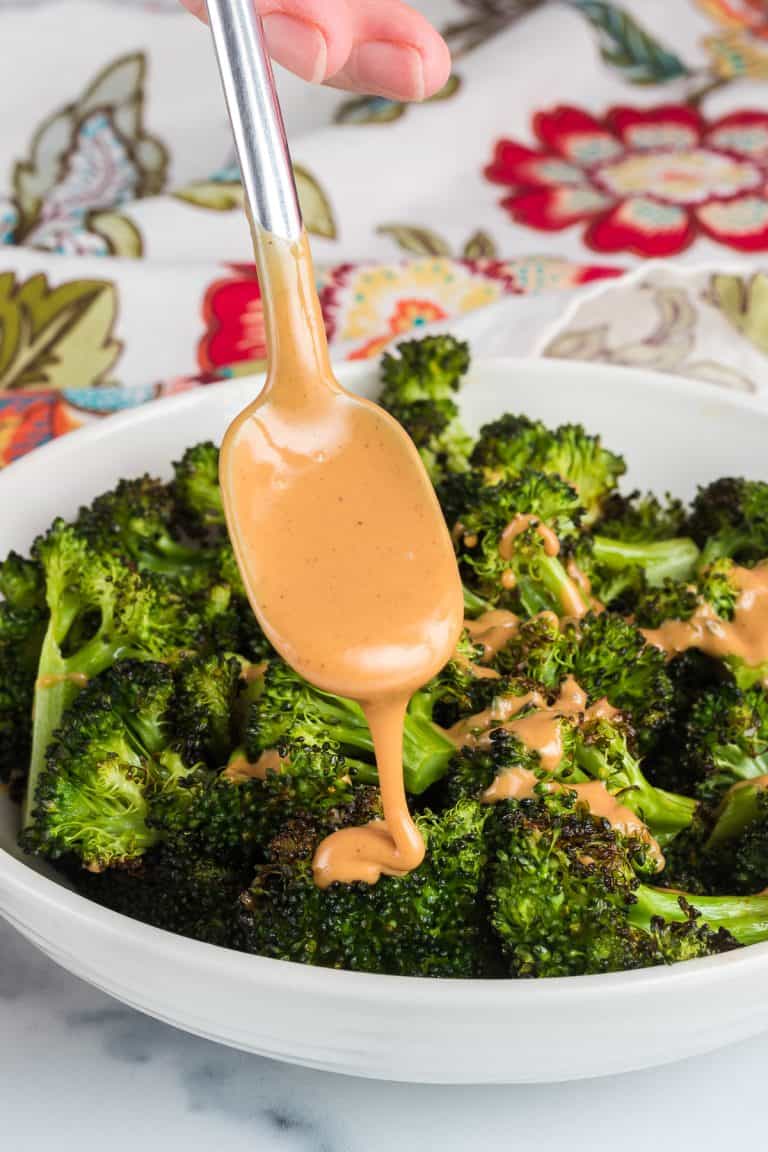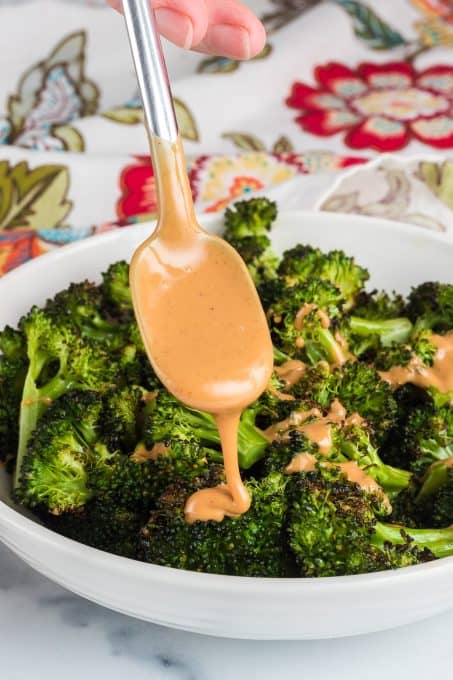 Vegetable Recipes
Recipes like peanut butter broccoli are the perfect antidote to menu ruts. We all find ourselves stuck in a routine, cooking and eating our veggies the same way week after week. Let's face it: it gets boring!
Get excited about vegetables again (or for the first time) with recipes like Roasted Brussels Sprouts served with an easy balsamic glaze. For the carnivores out there, I have a Maple Bacon Brussels Sprouts recipe too.
This Roasted Parmesan Broccoli is another variation on roasted broccoli that my family can't get enough of. Like the peanut butter in today's side dish recipe, Parmesan cheese just seems to improve any vegetable that it touches, including Baked Zucchini Sticks and tomatoes!
On the sweeter end of the spectrum, I love a hearty helping of Brown Sugar Glazed Carrots and Roasted Teriyaki Cauliflower to round out dinner.
Peanut Butter Recipes
When I said I LOVE baking and cooking with peanut butter, I wasn't kidding. I have more than 50 recipes with peanut butter here on the blog so far — with more coming all the time.
Grab a jar (or twelve) of peanut butter and get started with these reader favorites.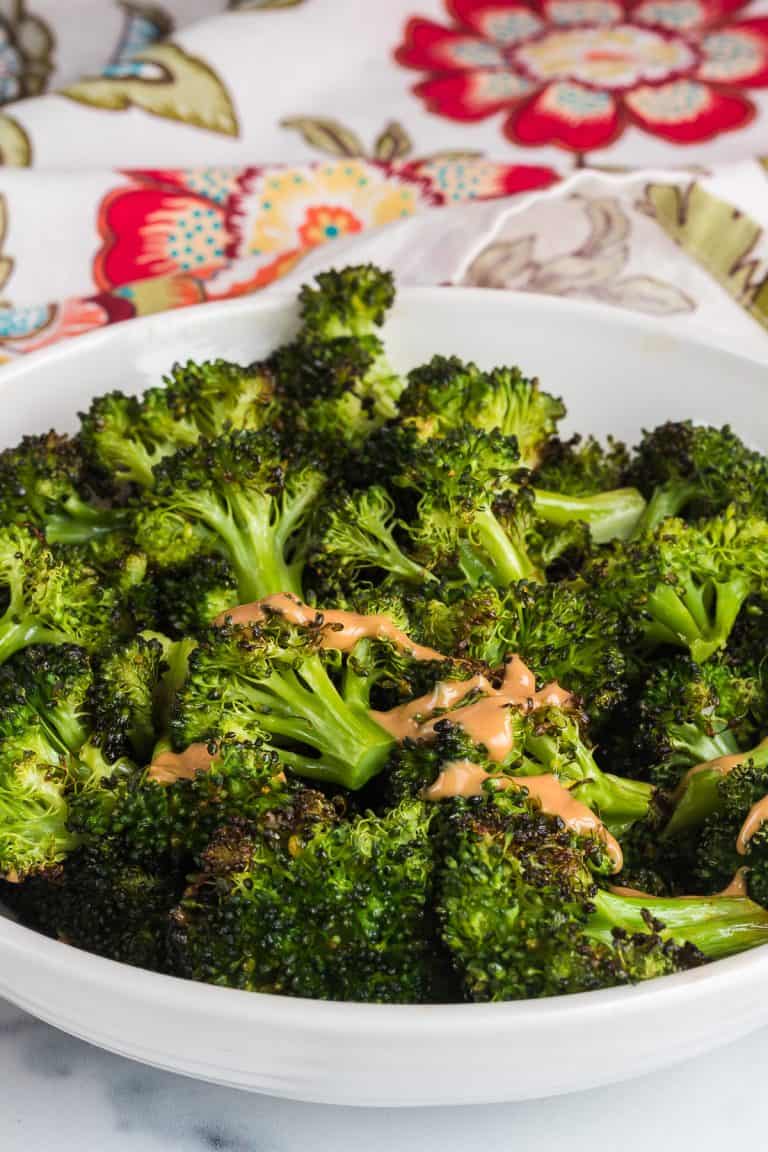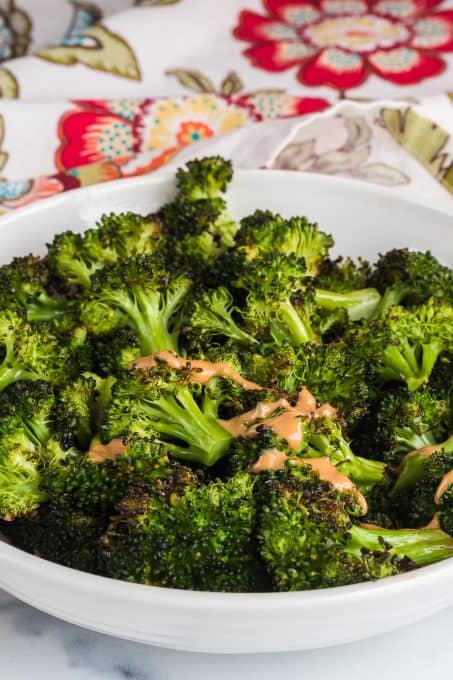 Peanut Butter Broccoli is the latest in the line-up and is now my favorite way to eat it. Add this mouthwatering broccoli recipe with peanut butter dressing to your dinner tonight.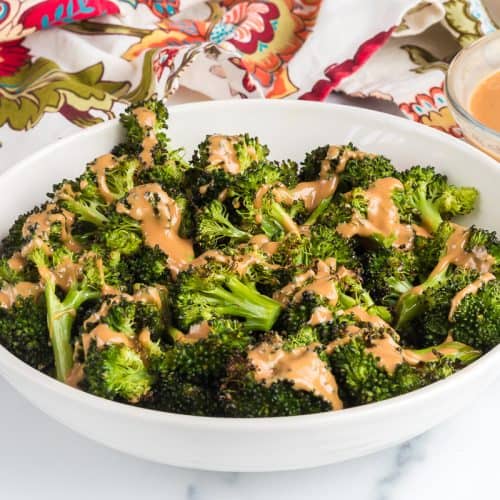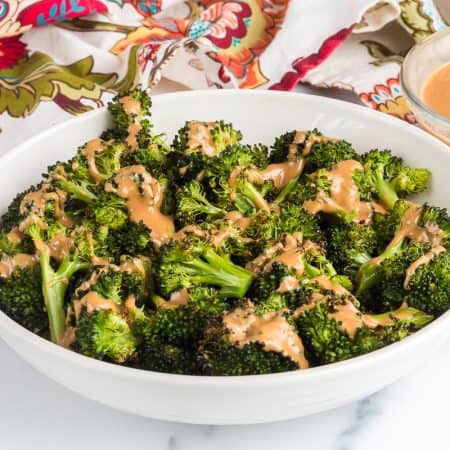 Roasted broccoli drizzled with peanut sauce makes it easy to eat your veggies! This kid-friendly sauce recipe uses familiar and simple ingredients in unexpected and delicious ways. You have to try it!
Ingredients
1 ½ pounds broccoli crowns about 2 heads
2 tablespoons olive oil
¼ teaspoon kosher salt
¼ cup creamy peanut butter
1 tablespoon butter
Instructions
Preheat oven to 425° F, and generously spray a cookie sheet with cooking spray. You can also use a sheet of parchment.

Cut the broccoli crowns into medium florets about the same size. Place the florets onto the prepared baking sheet. Drizzle with the olive oil, and sprinkle with salt. Toss gently to ensure they are evenly coated, and make sure they are in an even layer before placing into the oven.

Bake for 15-20 minutes, until edges have browned.

About 5 minutes before broccoli is done roasting, place the peanut butter and butter into a microwaveable safe bowl, and heat for 1 minute. Stir until smooth. If needed, heat the bowl again in 10 second increments, stirring after each until sauce is completely smooth and combined.

Drizzle peanut butter over broccoli or serve separately for dipping.
Nutrition
Serving: 1serving | Calories: 241kcal | Carbohydrates: 15g | Protein: 8g | Fat: 19g | Saturated Fat: 5g | Polyunsaturated Fat: 3g | Monounsaturated Fat: 10g | Trans Fat: 0.1g | Cholesterol: 8mg | Sodium: 293mg | Potassium: 629mg | Fiber: 5g | Sugar: 5g | Vitamin A: 1147IU | Vitamin C: 152mg | Calcium: 89mg | Iron: 2mg
Did you make this recipe?
Share it with me on Instagram and make sure to follow me on Pinterest for more recipes.
Reader Interactions