With only two simple ingredients, this Marshmallow Vodka is slightly sweet with a hint of marshmallow flavor. It's perfect to drink alone or for use in sweet mixed drinks. Whip up a batch in no time for your next cocktail party!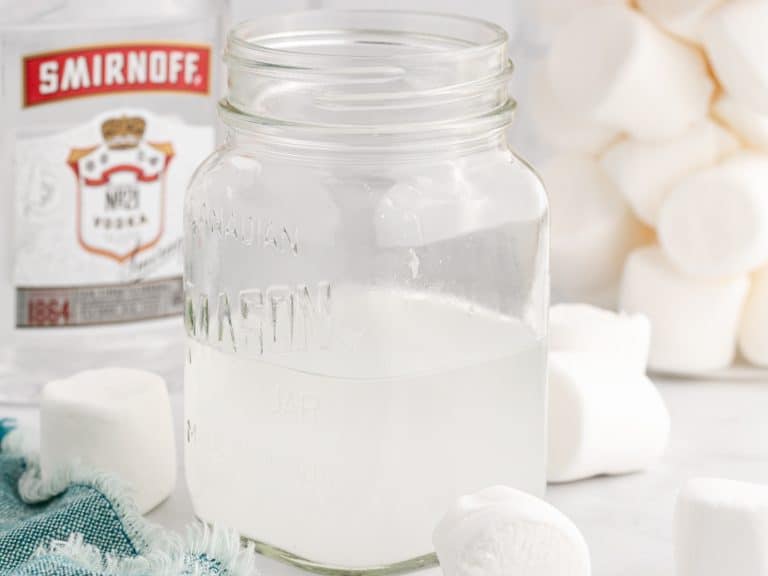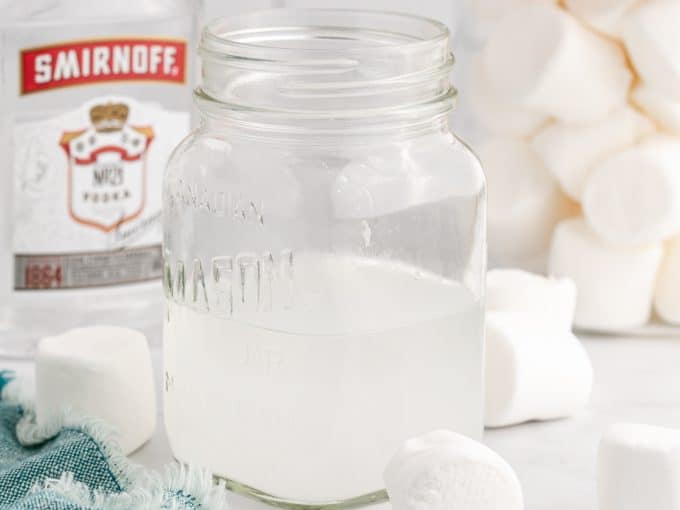 It's no secret that I have a sweet tooth. I mean, this is a baking blog, after all! When it comes to mixed drinks, I also like the sweet stuff, like this Blue Ocean cocktail, or a delicious Frozen Bahama Mama.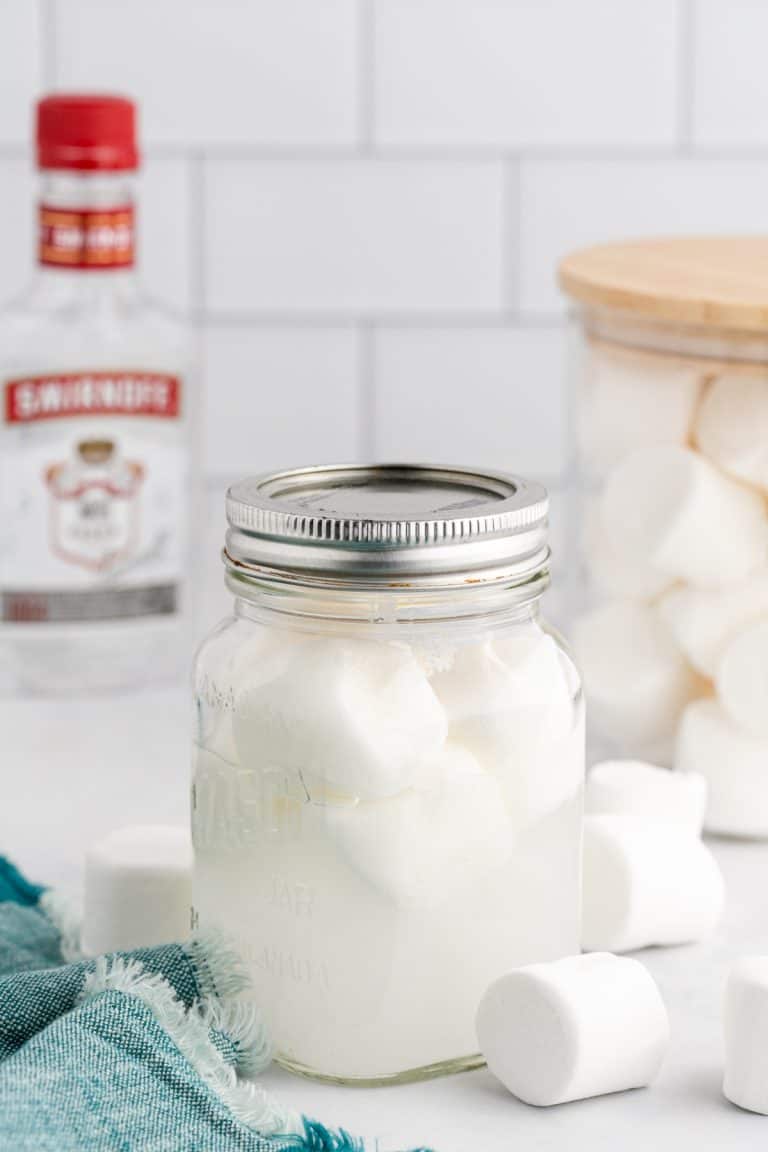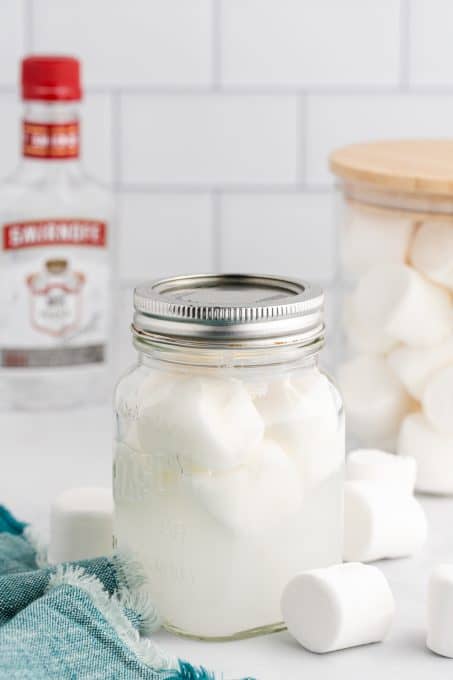 So, a marshmallow-flavored vodka is a perfect addition to my liquor cabinet. I've seen marshmallow vodka at the liquor store, but I figured it can't be too hard to make your own. You only need a bag of fluffy marshmallows, a bottle of vodka, and time for it to infuse.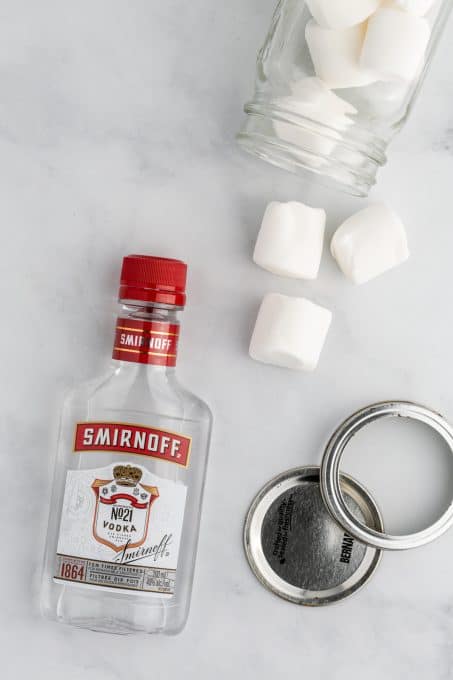 Marshmallow Vodka Ingredients
The best part of this marshmallow vodka is that it only takes two ingredients:
6 large marshmallows
1 cup vodka
Of course, you can double or triple this to make more, but small batches usually infuse better.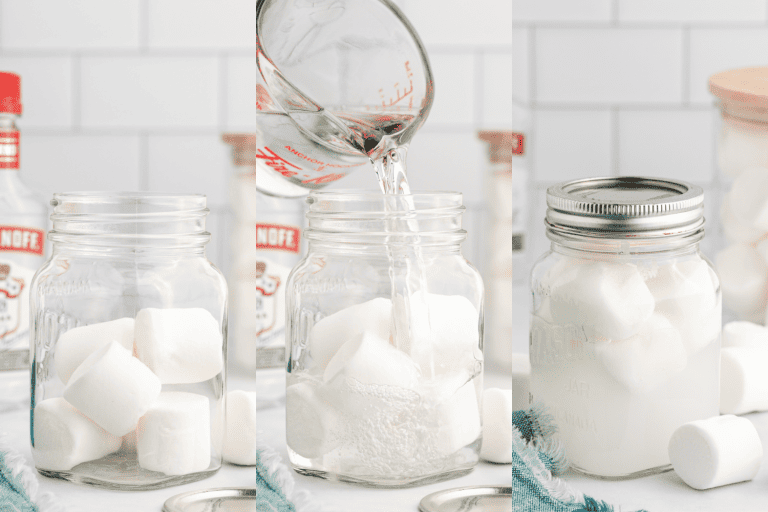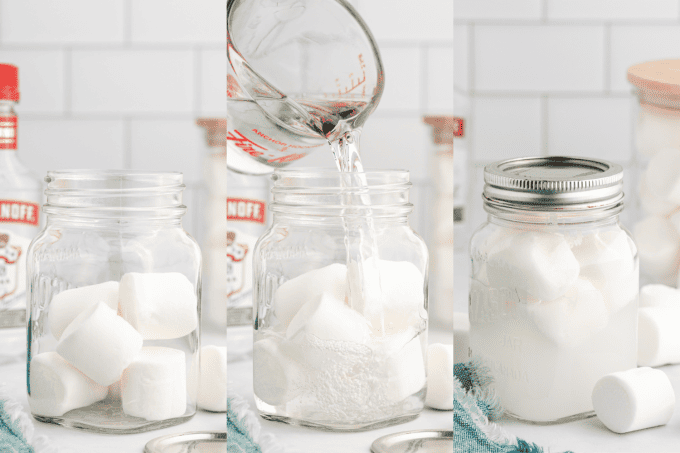 How to make Marshmallow Vodka
Place 6 large marshmallows into a quart-size mason jar.
Pour vodka over the marshmallows and start the 24-hour infusion. (Let it sit for at least 24 hours.)
Strain out any marshmallow pieces using a cheesecloth or fine-mesh sieve, and enjoy your homemade marshmallow vodka!
The finished product should be opaque (cloudy) with a pale yellowish-white coloring.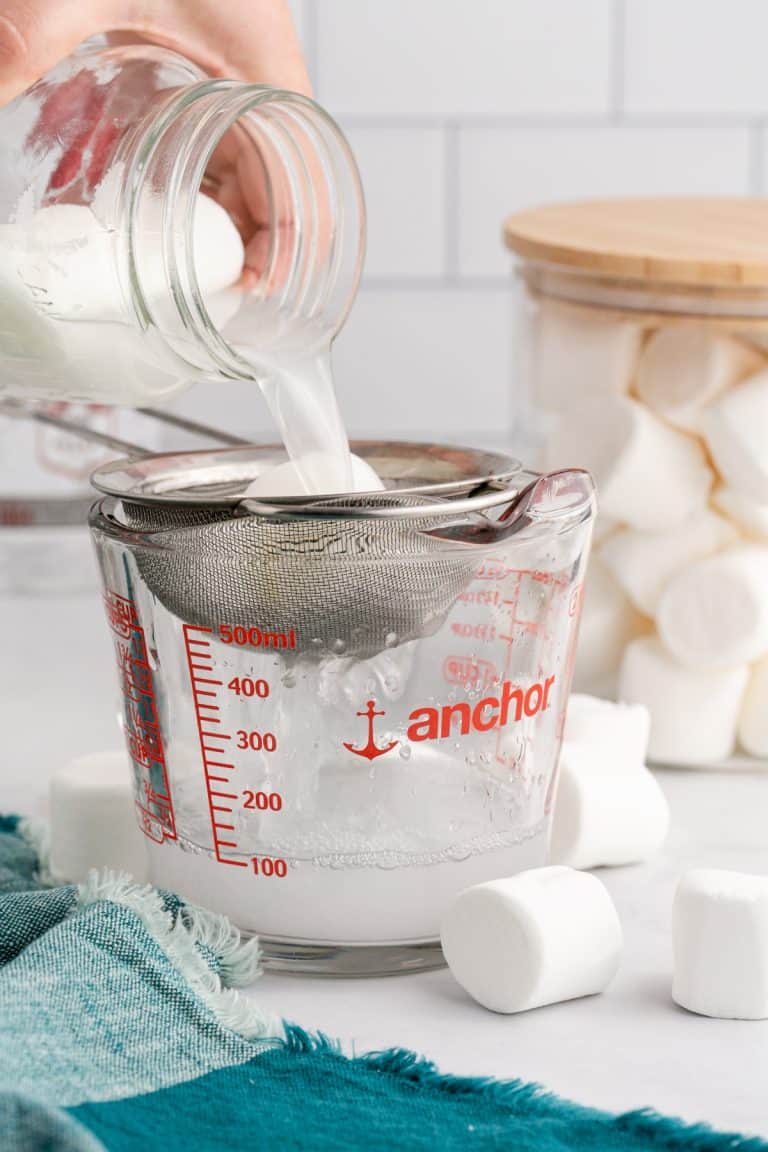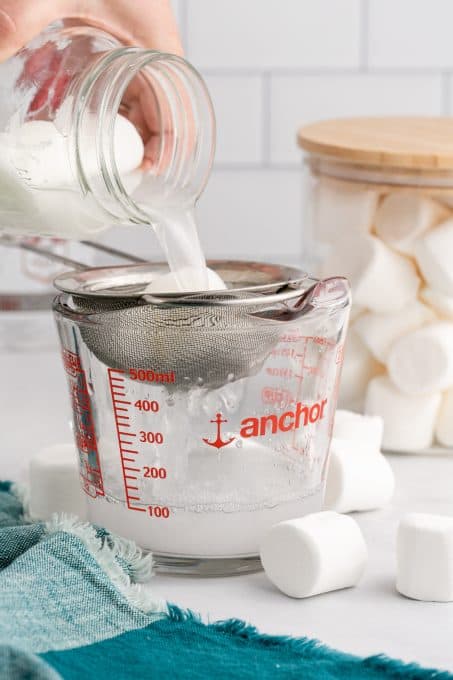 FAQs
What size marshmallows should I use?
This infused vodka recipe can be made with mini or regular size marshmallows. Some people prefer the smaller size as they break down more quickly, but this recipe was tested with large marshmallows and they worked perfectly!
For a toasted marshmallow vodka, lightly toast your marshmallows with a kitchen torch before infusing them. Just make sure to strain out any burnt bits after infusing.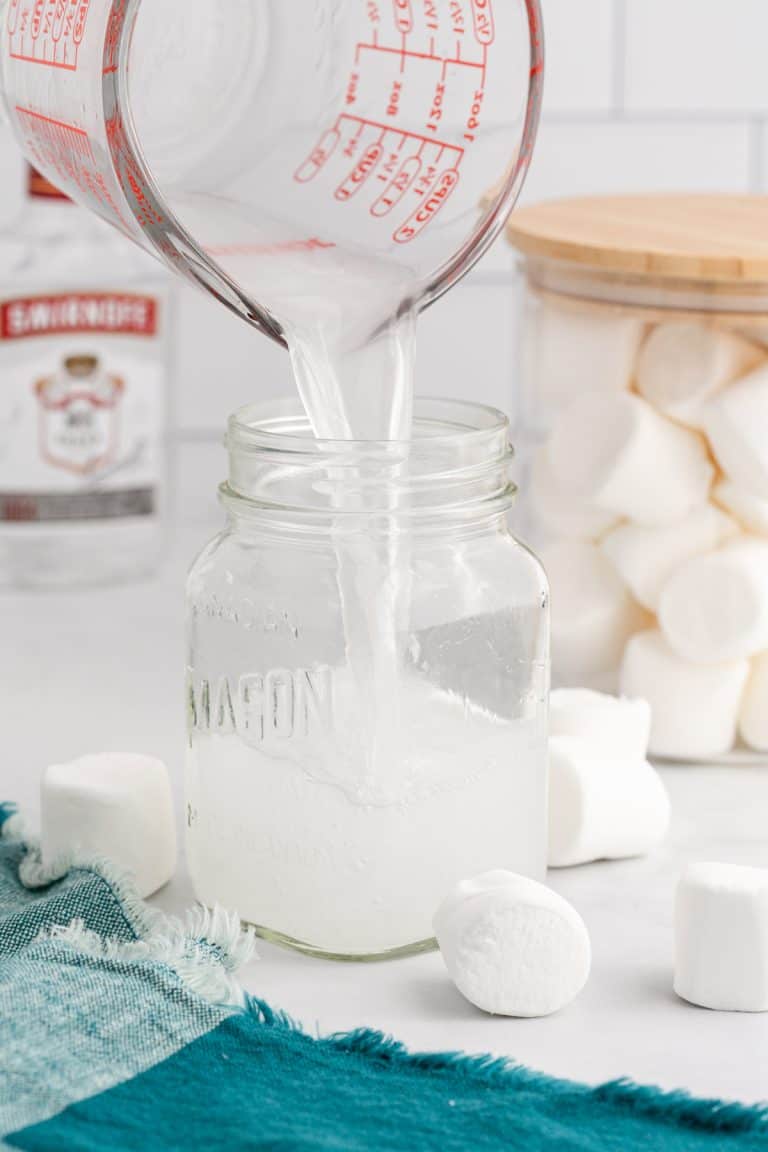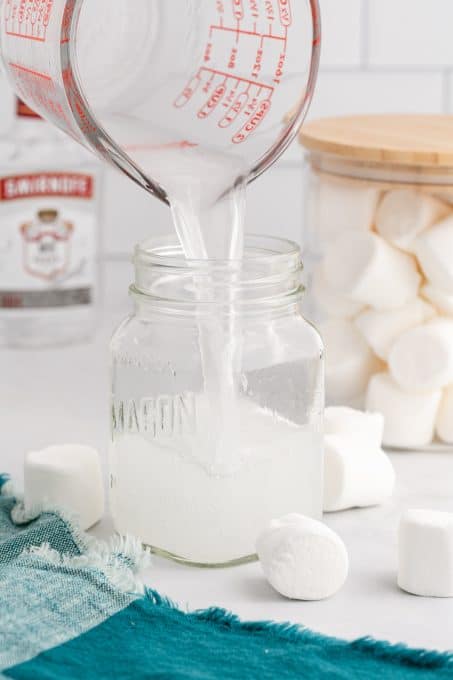 Can you use marshmallow fluff in this recipe?
Marshmallow fluff is made a bit differently than marshmallows, though the flavors are similar. I think you would be left with a syrupy liquid instead of a flavored vodka, but I haven't tried it. If you try it out, let me know your results!
What kind of vodka should I use?
Use a neutral-tasting plain vodka. You can actually go low-budget here since you'll be playing with the flavor profile. Most people who infuse vodka regularly recommend a mid-priced vodka so you get the smoothness you want. It doesn't really matter what proof vodka you use, either.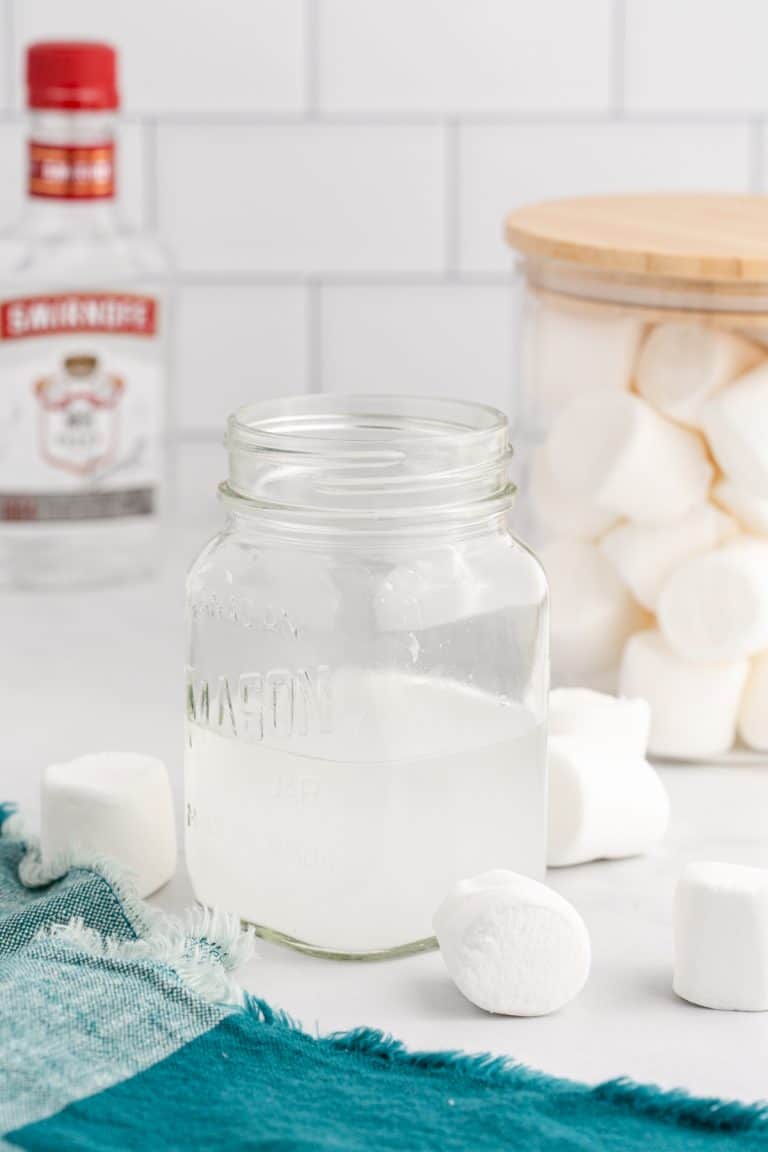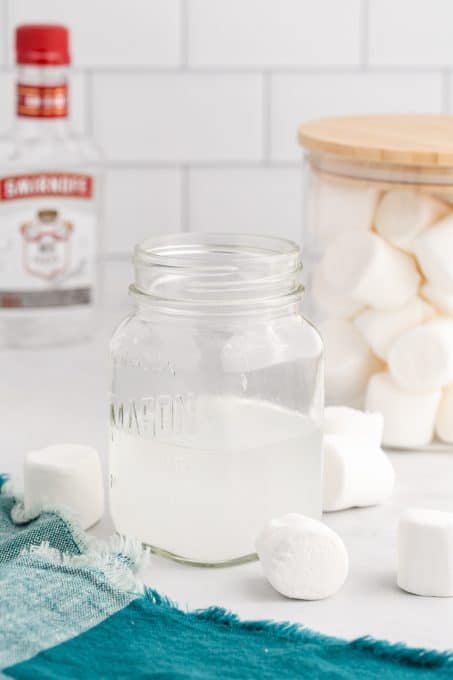 Do I have to refrigerate the vodka as it infuses?
You can keep this at room temperature while it infuses- just keep it in a cool, dry place.
Uses for Marshmallow Vodka
You can either drink this vodka straight or mixed with club soda or cream soda to let the flavor shine! Or, add it to a variety of cocktails like a White Russian, a Chocolate Martini, or my Frozen Marshmallow Mudslide to complement the flavors.
Warm up in winter weather by spiking your coffee or hot chocolate with a delicious kick of marshmallow vodka. Add it to some cranberry juice and ginger ale over ice cubes for a fun holiday drink.
This vodka will work in any recipe that calls for vanilla vodka since vanilla is one of the main ingredients of marshmallows.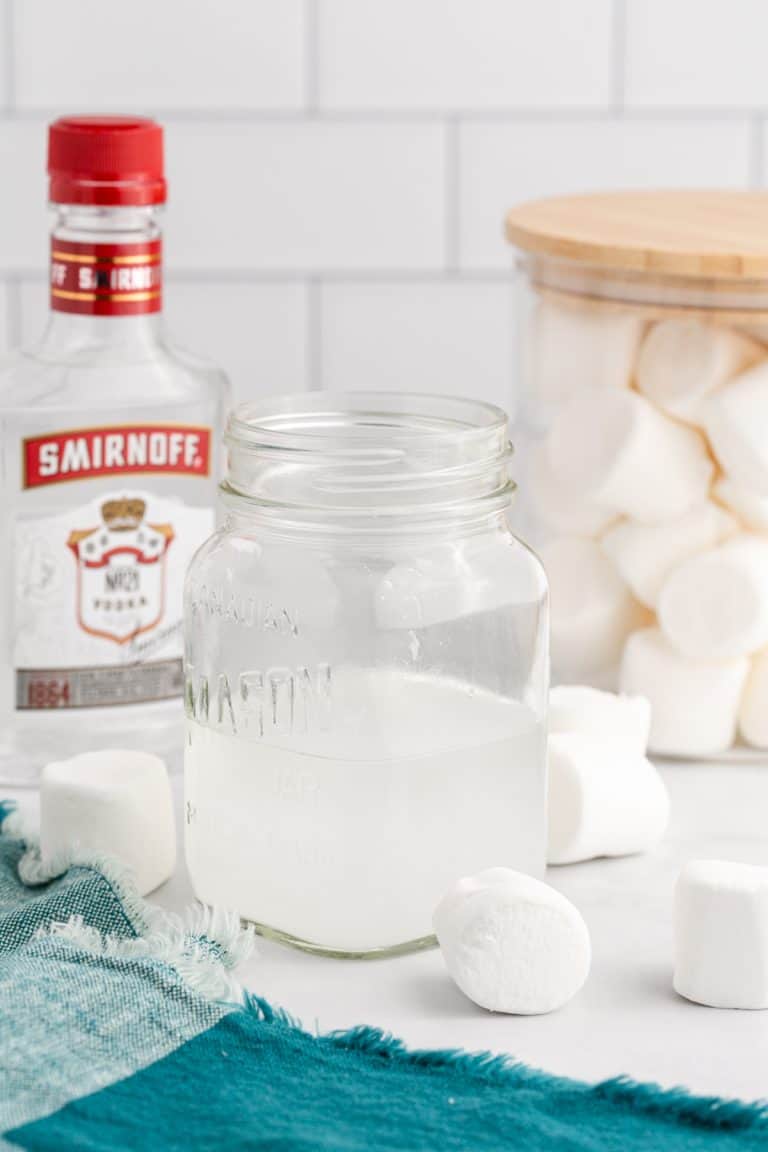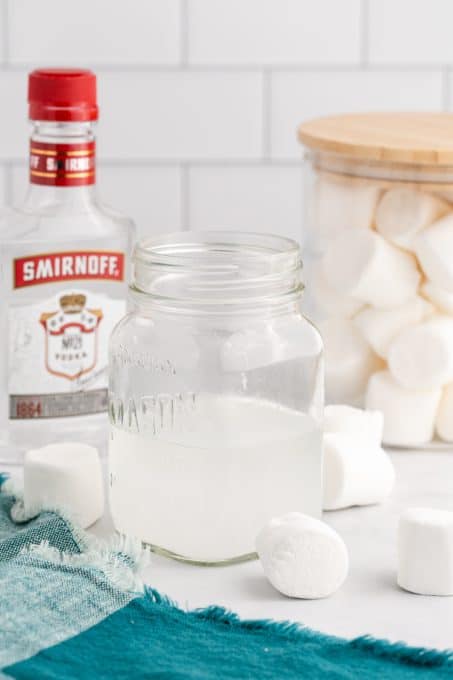 How to store infused vodka
Because marshmallows and vodka are both shelf-stable, you can store this infused vodka at room temperature. Store it in the smallest possible airtight container to keep air and heat out. Some sediment is normal over time, and the flavor will also change over time, but if it starts tasting "wrong", throw it out.
Infused vodka generally lasts about three months when stored properly.
Some people prefer their vodka chilled. You may want to try it both ways and see which way you prefer it!
Other DIY infusion ideas
There's a whole community of people who regularly create their own vodka recipes! There are a lot of great ideas out there for creating your own vodka flavors. Here are just a few of them:
Candy infusions (Gummy Bears, etc.)
Peppermint vodka/ DIY candy cane vodka
Candy corn vodka
Fresh fruit infusions
Lemon or lime juice and rinds (for a more sour mix)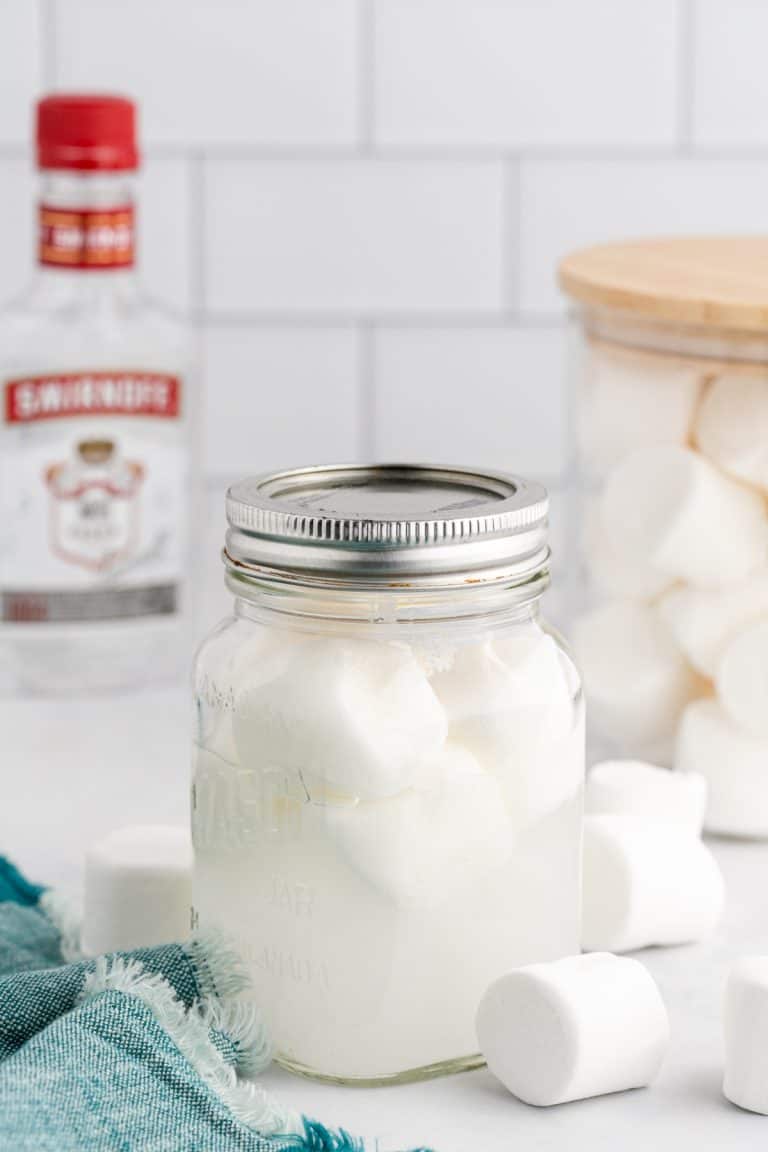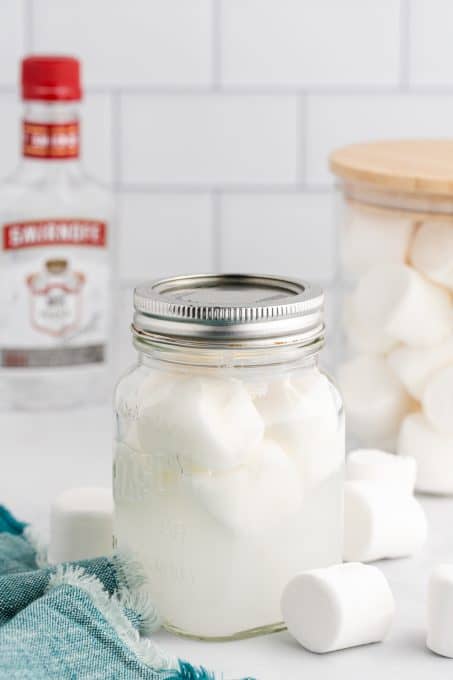 Alcohol-infused Recipes
If this Marshmallow Vodka inspires you to create more fun drinks, you might want to try one of these recipes:
Pina Colada Milkshakes with vanilla ice cream and crushed pineapple are a cold, refreshing taste of the tropics! Blend up a batch of these to beat the summer heat. Delicious with or without the rum! 
This Pineapple Coconut Rum Slush is the perfect summer cocktail! Made in minutes with just three ingredients, this easy fruity cocktail will be a big hit at pool parties or any gathering with a tropical vibe.
Homemade Bailey's Irish Cream is made with heavy cream, condensed milk, a touch of chocolate, some whiskey, and eggs. You'll be happy to serve this delicious beverage to family and friends.
​Keep the marshmallows, lose the alcohol!
These recipes feature marshmallows in all sorts of fun ways: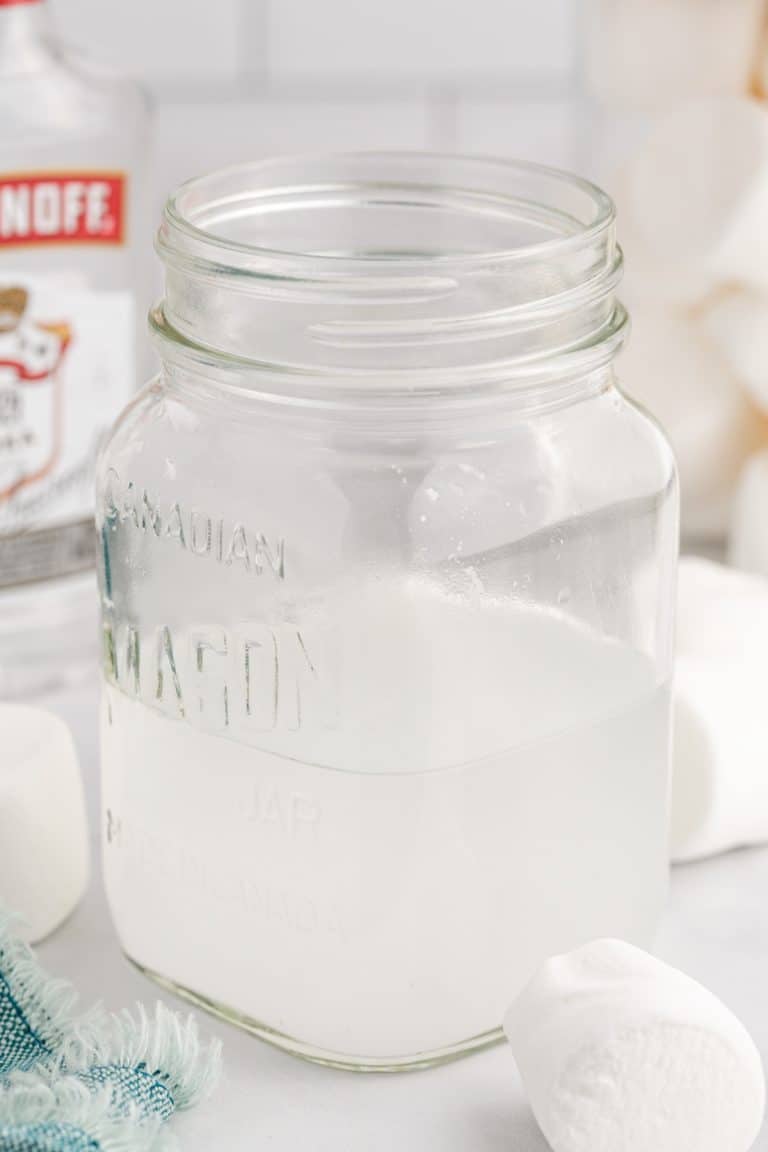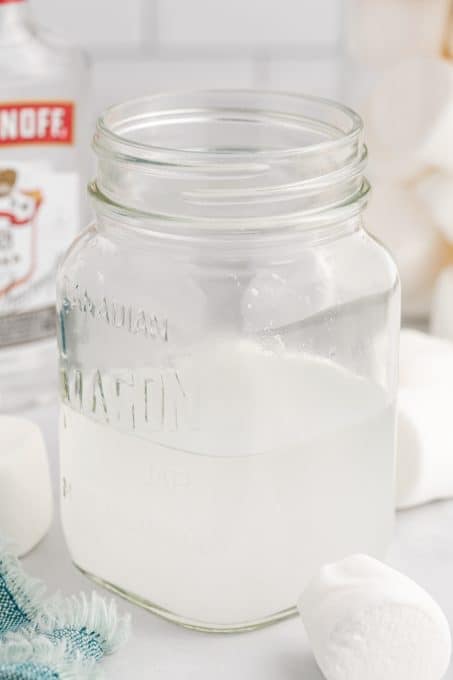 ~ FOLLOW ME ~
Keep an eye out for more of my easy recipes each week!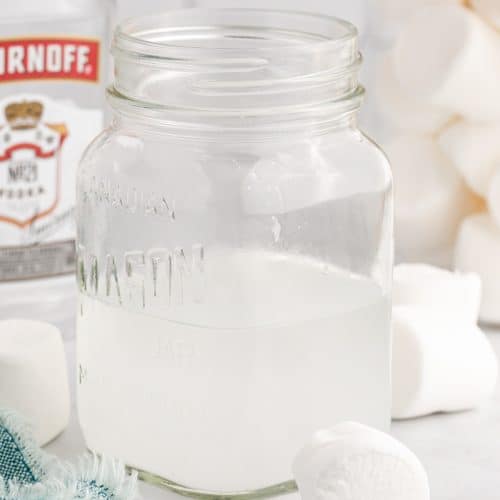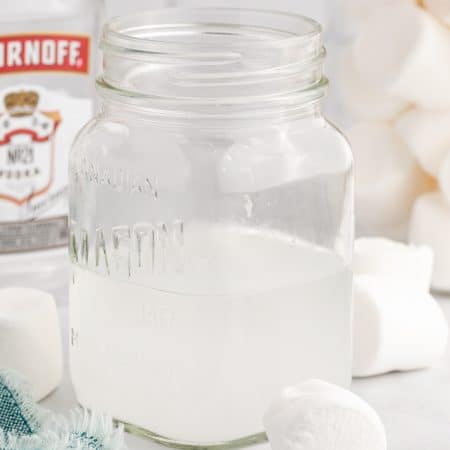 Homemade Marshmallow Vodka
With only two simple ingredients, this Marshmallow Vodka is slightly sweet with a hint of marshmallow flavor. It's perfect to drink alone or for use in sweet mixed drinks. Whip up a batch in no time for your next cocktail party!
Ingredients
6 large marshmallows
1 cup vodka
Instructions
Place 6 large marshmallows into a mason jar.

Pour in one cup of vodka. Allow to sit for at least 24 hours.

Strain out marshmallows and enjoy in your favorite cocktail or by itself.
Nutrition
Serving: 1serving | Calories: 86kcal | Carbohydrates: 4g | Protein: 0.1g | Fat: 0.01g | Saturated Fat: 0.003g | Polyunsaturated Fat: 0.003g | Monounsaturated Fat: 0.004g | Sodium: 5mg | Potassium: 1mg | Fiber: 0.01g | Sugar: 3g | Calcium: 0.2mg | Iron: 0.02mg
Did you make this recipe?
Share it with me on Instagram and make sure to follow me on Pinterest for more recipes.
Reader Interactions