Nothing gets a pool party started like pineapple and rum! This easy recipe for Piña Colada Jello Shots has all the pineapple, coconut and rum flavor of the classic tropical drink served as single serving shots!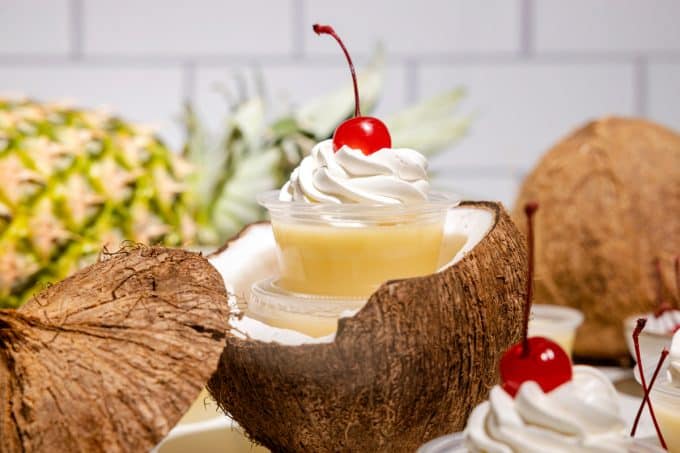 When I'm on vacation, you'll find me by the pool sipping something refreshing. I love all cocktails with pineapple flavors, especially piña coladas!
Pineapple drinks aren't just for vacation. I make Pina Colada Milkshakes and this Rum Slush with pineapple whenever I need a little taste of the tropics.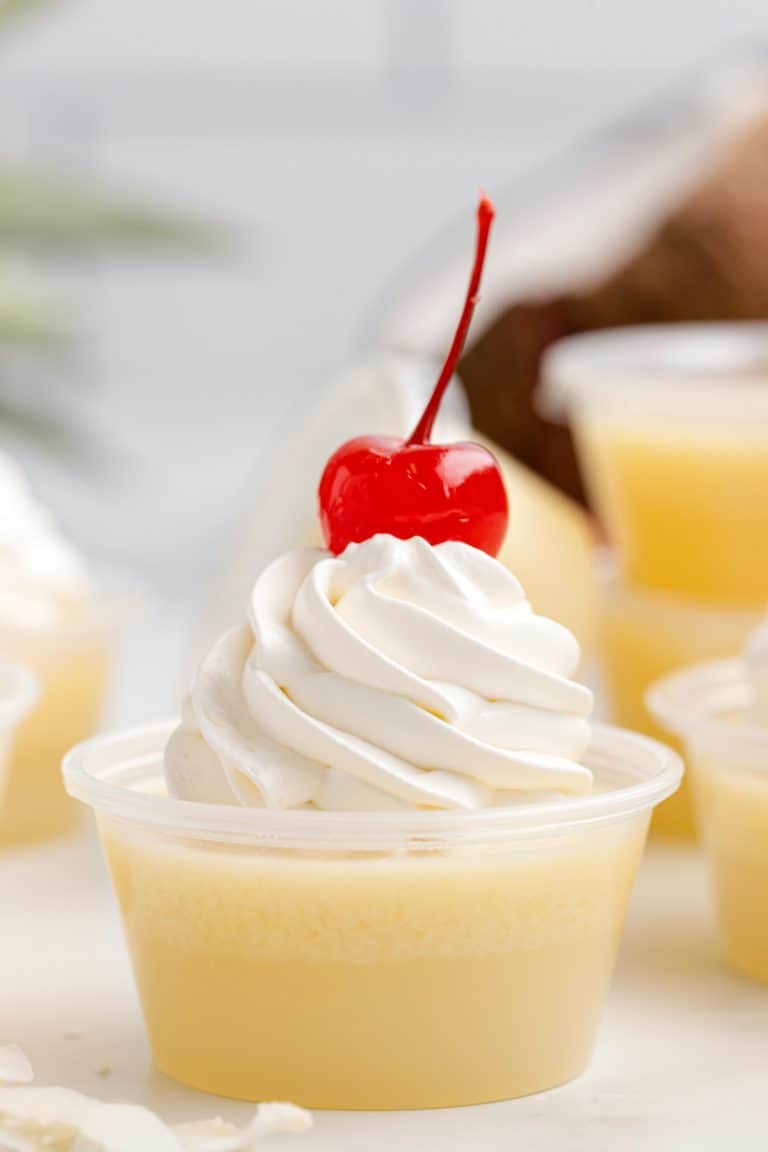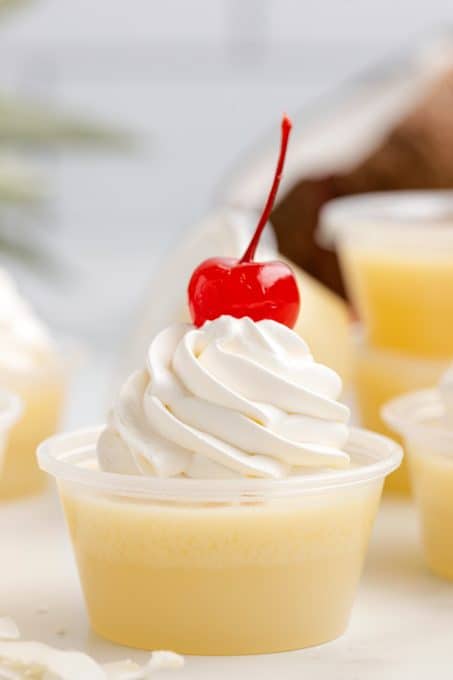 Most of the time, I'm not drinking pina coladas for the booze. It's more about the pineapple and coconut flavor. But today's recipe puts the booze front and center! These Pina Colada Jell-O shots are taking me right back to college, only they're so much better than anything I was tossing back at parties in my early 20s.
Why Make this Pina Colada Jello Shots Recipe?
Think Jell-O shots are just for big partiers? Think again!
This boozy jello shot recipe is a great way to add some fun and novelty to your party menu. Since you assemble them ahead of time, you don't have to stand at the bar mixing individual drinks for every guest. Just pass around a tray of piña colada jello shots at your next summer party and have a good time!
This unique jello shot taste divine, too! You get that kick of coconut rum balanced by sweet pineapple and a touch of coconut cream. It's just enough booze to get you feeling festive; even if you're not usually a big rum drinker, you'll enjoy these piña colada shots!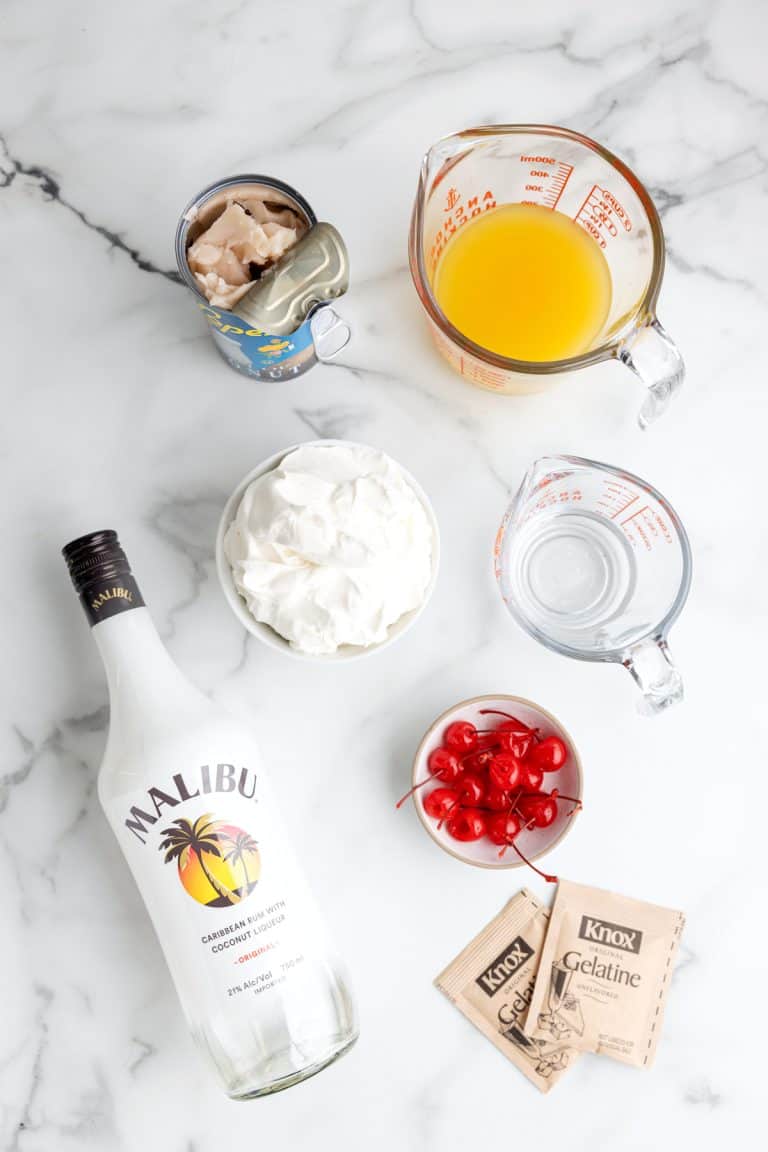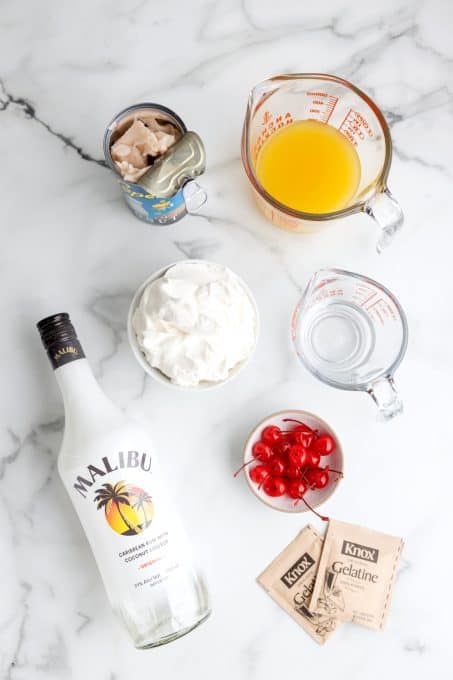 What do I need to make these pineapple coconut jello shots?
To make these easy pina colada shots, we used the following simple ingredients:
Gelatin packets – I used plain, unflavored powder. Try it with pineapple gelatin for even more fruitiness!
Hot Water – for dissolving the gelatin.
Real Pineapple juice
Cream of coconut – Also called crème de coconut. You can also use it for my Pina Colada Milkshake recipe.
Coconut rum – Malibu rum is perfect for Jell-O shots. If you don't like coconut rum, feel free to use an unflavored rum instead.
Whipped cream– optional for topping the finished shots.
Maraschino cherries – another optional addition that makes the shots look eye-catching.
Along with the ingredients, you'll also need a saucepan, a mixing bowl for combining everything, and small plastic cups. I use these inexpensive Jello shot cups with individual lids for easy measuring and serving.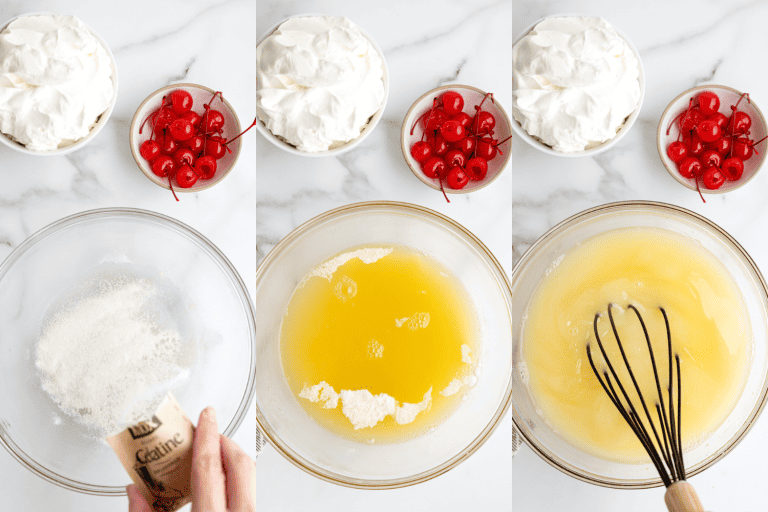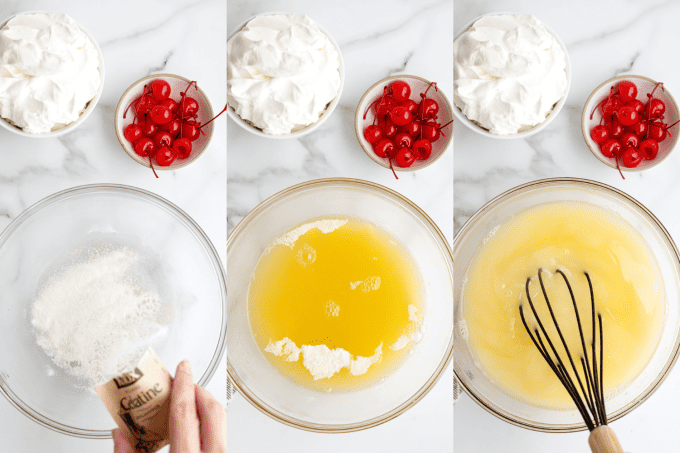 How to Make Pina Colada Shots
First, dissolve the gelatin in water in a medium mixing bowl. Let it sit for about 2 minutes until it thickens (or "blooms").
Then add your pineapple juice to the gelatin mixture and bring it to a boil on the stove. Whisk the juice into the gelatin mix and keep stirring until all the gelatin has dissolved.
Now, stir the rum and cream of coconut into your pineapple mixture. Pour the mixture into your plastic shot cups. Make sure each one is evenly filled and try to leave some space in the top of the cup.
Place the cups into the fridge on a baking sheet or in a muffin pan for 2-3 hours until the jello mixture is set. Before serving, put some fresh whipped cream and a maraschino cherry on top of the jello for the finishing touch! You can even add some fresh pineapple chunks, or shredded coconut, too if you'd like.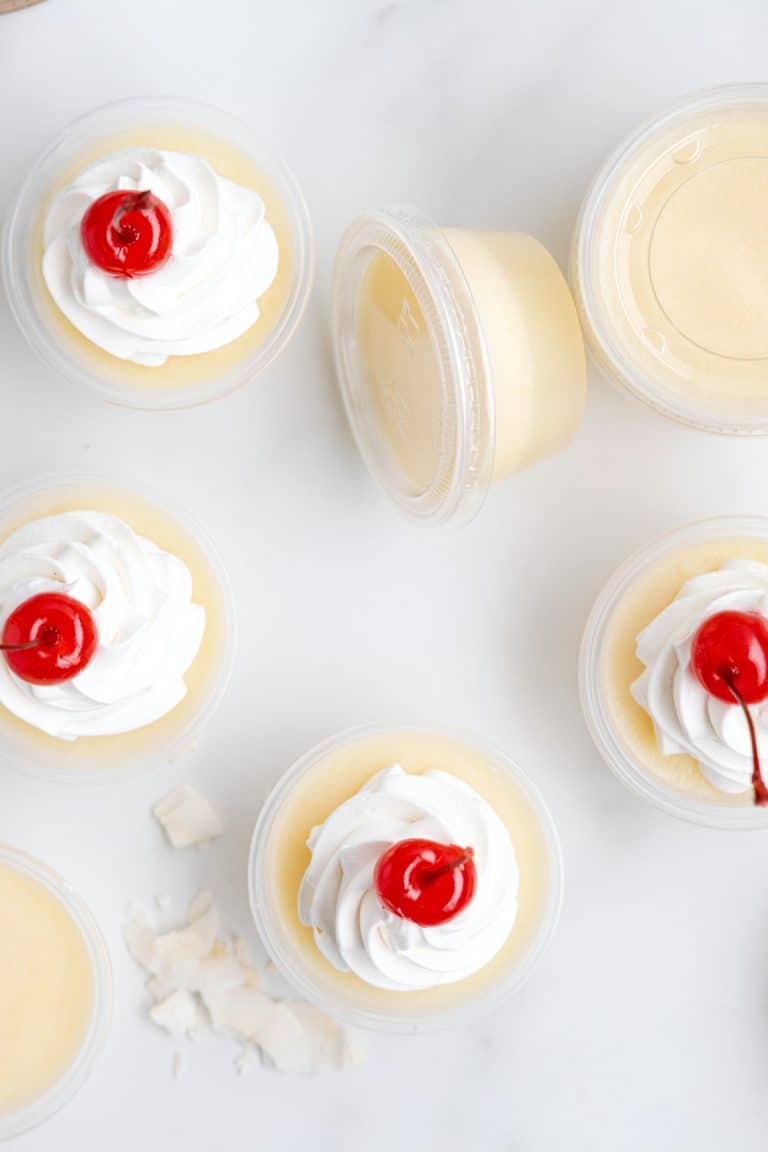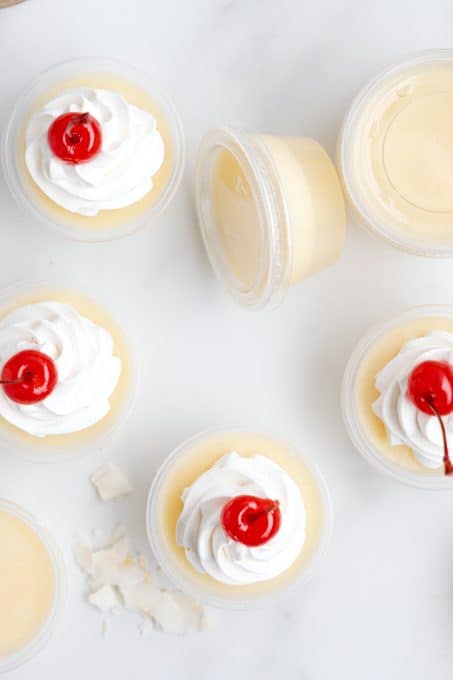 How to tell when jello shooters are set?
The easy answer: when they look like Jell-O! Seriously, though, you'll know your shot is ready when it's mostly firm to the touch. It will jiggle or give a little when touched, but should not be runny. If your Jell-O shots look watery, they need more time to chill.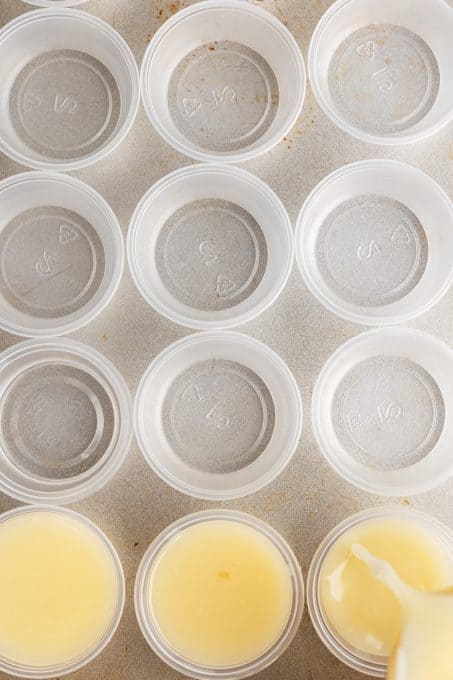 Can I use coconut milk instead of crème de coconut?
I don't recommend switching the two. Coconut milk is much thinner and not as sweet as cream of coconut, which is more similar to sweetened condensed milk. Coconut milk won't work the same in this recipe and may result in the Jell-o shots not setting up. 
You can find it in the drink mix section of your local grocery store or possibly in the Asian section of your grocery store.
Speaking of the crème de coconut: the contents of the can tend to separate. When you open the can, you'll notice a layer of solids on top, with more liquid at the bottom. Stir both of these separated components together before measuring for best results.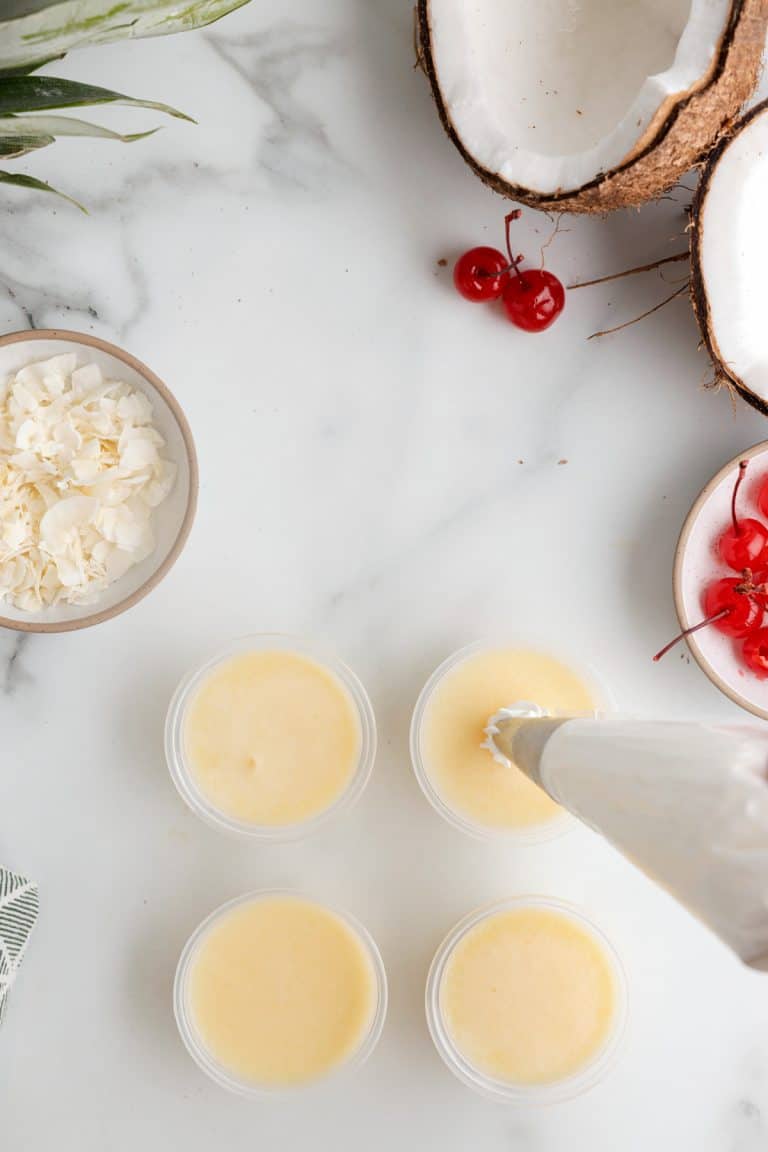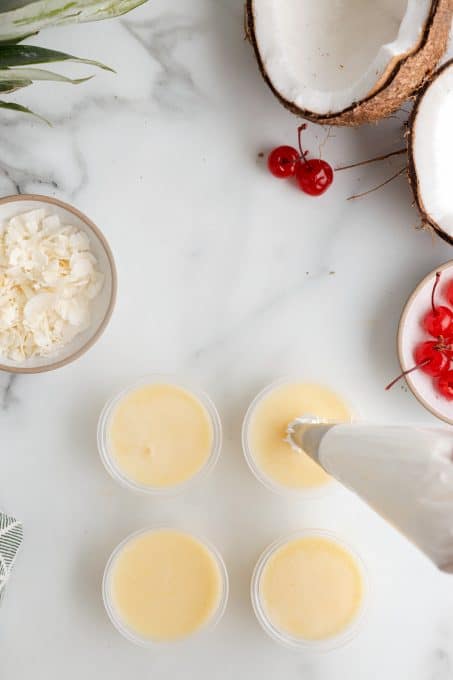 How long do Jello shots keep?
Most jello shot recipes, including these, keep well for about 1 week in the refrigerator. If you're making them more than a day or two ahead of time, I suggest getting the plastic cups with lids. Covering the shots helps keep them tasting their best.
Don't add the whipped cream and cherry to the shots until party time! You want these to look as good as they taste.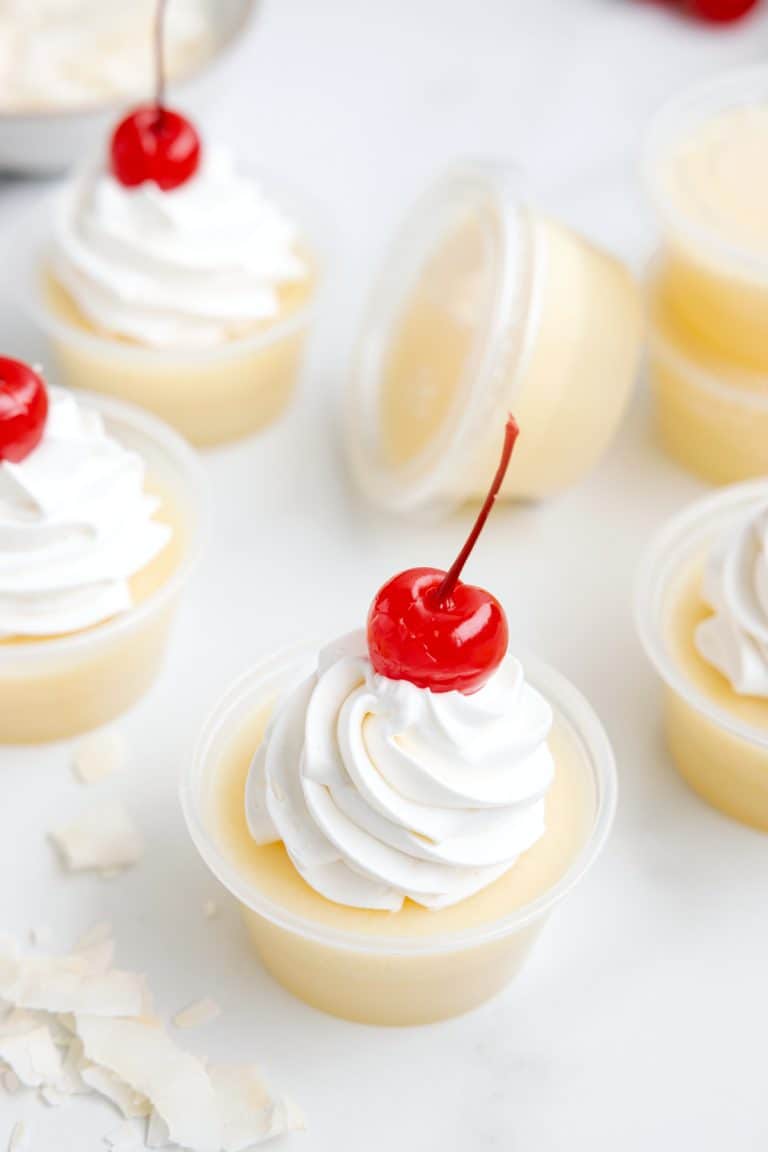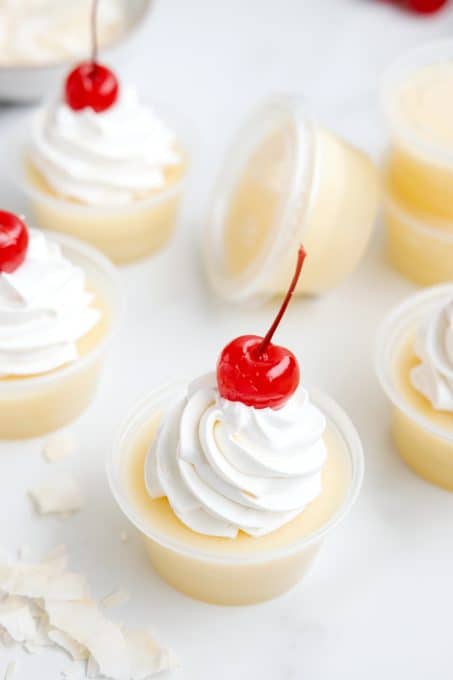 Pina Colada Recipes
These piña colada jello shots are made with rum for a boozy treat and will have you singing that Pina Colada song before the night is over. If you're looking for a pina colada drink without rum, try my Pina Colada Milkshakes instead! Those creamy shakes make for a refreshing summer delight, with or without the booze. For a lightened up option anytime of day, blend up a few of these dairy free Pineapple Coconut Silk Smoothies or a creamy Coconut Cooler.
I've also crafted a few desserts inspired by my love for this pineapple coconut cocktail. Pina Colada Cupcakes and Pina Colada Bread are flavored with rum extract so you get all the flavor with none of the alcohol.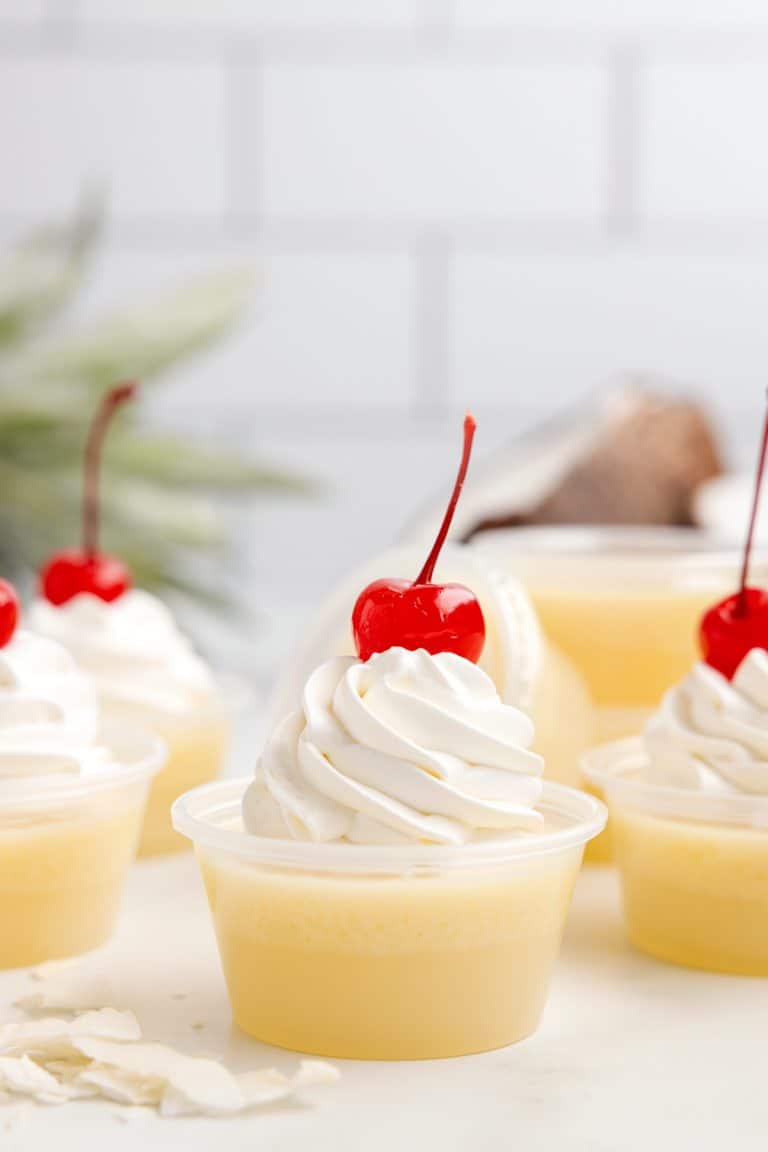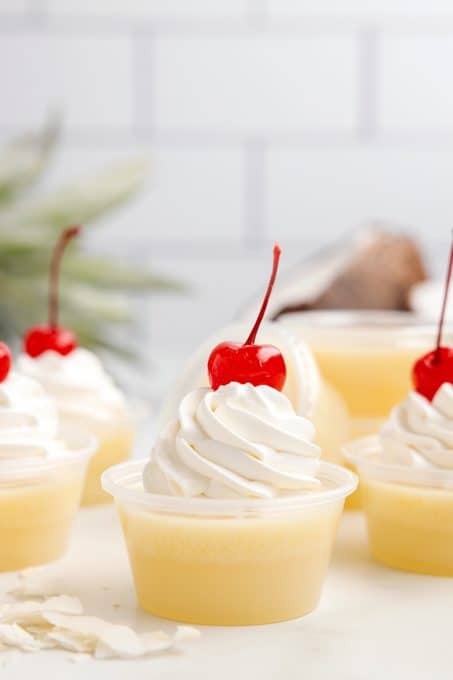 Party Drink Recipes
Get ready for happy hour with these easy drink recipes!
This Frozen Bahama Mama is based off of one of my favorite drinks to sip on a cruise. It's got the works: orange, pineapple, dark rum, coconut and lime. 
If you love watermelon and lemonade, you'll go nuts for this Frosted Watermelon Lemonade. I add a little vodka or white rum to the blender to turn it into a party-ready cocktail!
Football fans can't get enough of my Game Day Jelly Shots. I make them in different colors depending on the teams that are playing and they're always the first "drink" to disappear at my football watch parties.
Sometimes you want a fun drink for a party without worrying about the next day hangover. On those occasions, these Frozen Marshmallow Mudslides made with our own homemade Marshmallow Vodka are perfect. They taste great with or without the addition of alcohol, so everyone can enjoy them together! Or try my Homemade Strawberry Lemonade for a zero alcohol option that's brimming with fresh summertime flavor.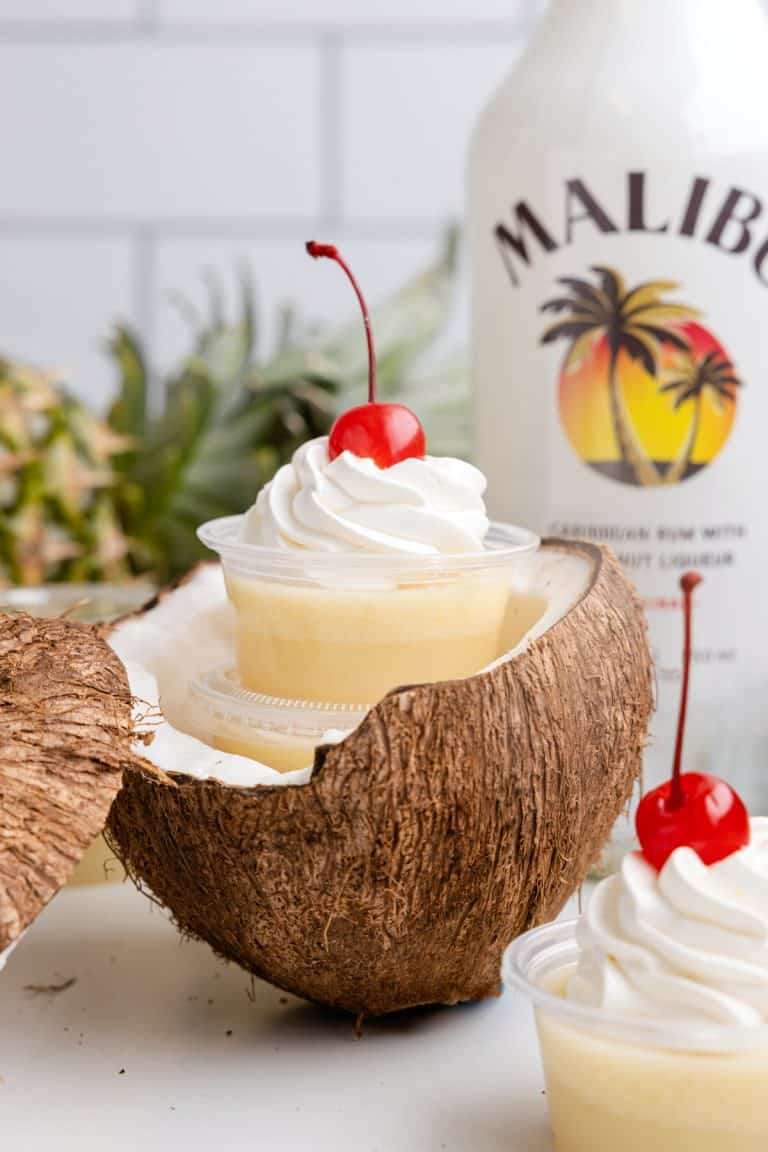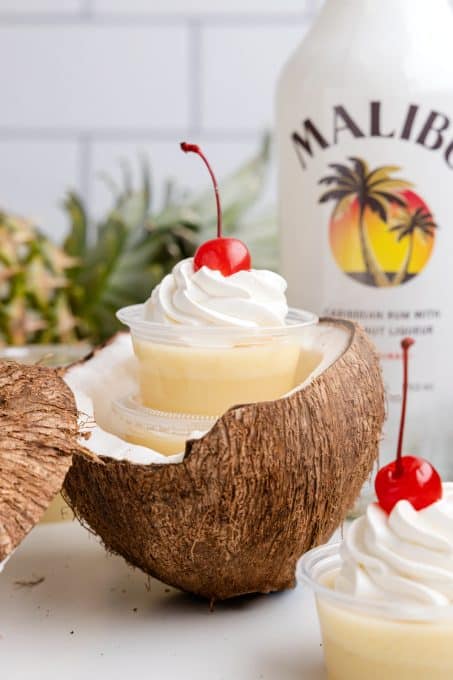 Get your next party started with a little cup of boozy fun! Piña Colada Jell-O shots are a tasty twist on a popular cocktail and a festive way to celebrate any summer occasion.
~ FOLLOW ME ~
Keep an eye out for more of my easy recipes each week!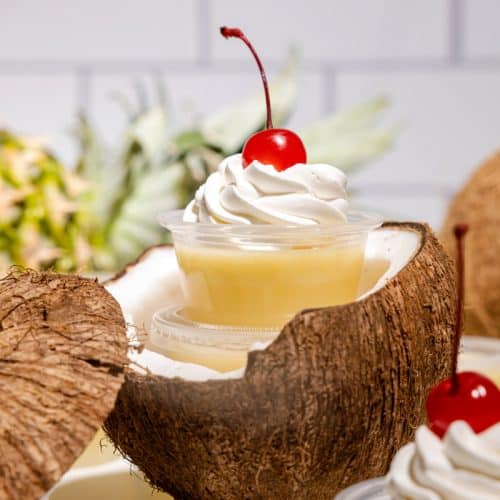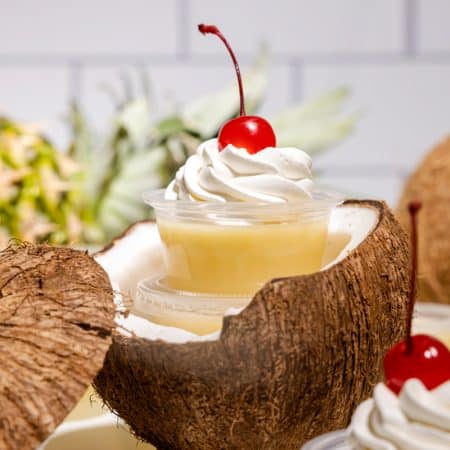 Nothing gets a pool party started like pineapple and rum! This easy recipe for Piña Colada Jello Shots has all the pineapple, coconut and rum flavor of the classic tropical drink served as single serving shots!
Equipment
13 2 ounce small plastic cups with lids
Ingredients
¼ cup water
2 gelatin packets
1 cup pineapple juice
¾ cup cream of coconut
8 ounces coconut rum
1 cup whipped cream optional
13 maraschino cherries optional
Instructions
Place your water into a medium mixing bowl. Sprinkle the gelatin over the top of the water and allow it to bloom for 2 minutes.

Add your pineapple juice to a small saucepan and bring it up to a boil. Whisk the juice into the gelatin, and keep stirring until all the gelatin has dissolved.

Stir in the crème de coconut and rum to the pineapple mixture.

Pour the mixture into small 2 ounce plastic cups. Place the lids on top of the cups.

Place the cups into the refrigerator for 2-3 hours until the jello shots have set.

Serve with a dollop of whipped cream and a cherry on top!
Nutrition
Serving: 1serving | Calories: 144kcal | Carbohydrates: 17g | Protein: 0.4g | Fat: 4g | Saturated Fat: 3g | Polyunsaturated Fat: 0.05g | Monounsaturated Fat: 0.3g | Cholesterol: 4mg | Sodium: 10mg | Potassium: 32mg | Fiber: 1g | Sugar: 16g | Vitamin A: 35IU | Vitamin C: 2mg | Calcium: 10mg | Iron: 0.1mg
Did you make this recipe?
Share it with me on Instagram and make sure to follow me on Pinterest for more recipes.
Reader Interactions