TWIX® Bites Brownies with Chocolate Caramel Buttercream Frosting – bite-sized brownies, each with a TWIX® Bite in the middle and covered with a Chocolate Caramel Buttercream Frosting. These are a great dessert for a special occasion or to surprise the kids as they celebrate their last day of school!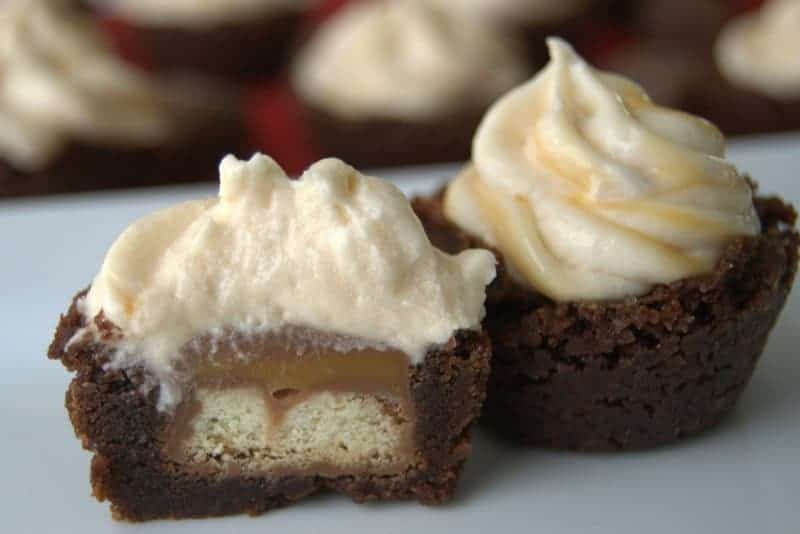 I remember when the TWIX® candy bar first came out.
I am a member of the Collective Bias® Social Fabric® Community. This shop has been compensated as part of a social shopper amplification for #CollectiveBias and its advertiser. #EatMoreBites
Circa 1979.
Yikes, I'm dating myself! (Don't be impressed that I remembered the year. I had to look it up.)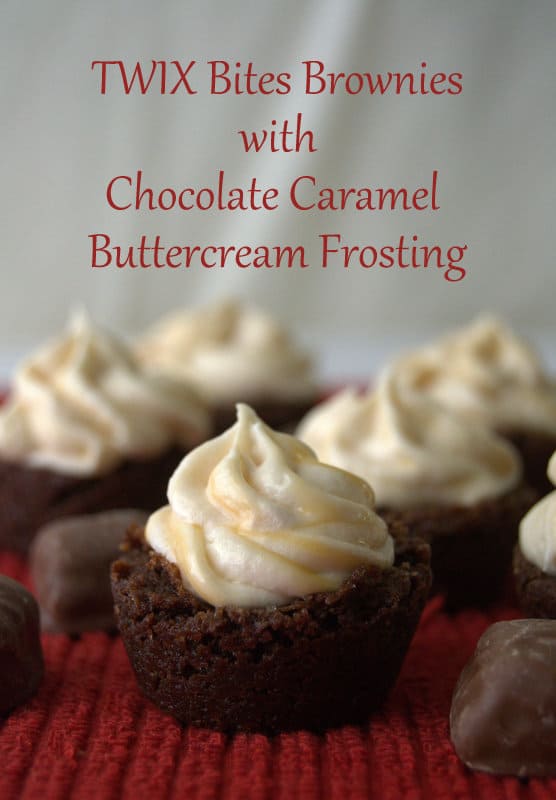 Anywho, I really, really fell in love with it when I was little – the crunchy cookie on the bottom, the caramel layer and all of it covered in chocolate.
*sigh*
So you can only imagine how incredibly excited I was when I heard that the TWIX® candy bar had BABIES!!!
Yes, that's right, now there are little TWIX®, TWIX® Bites to be exact! All of that wonderful goodness in a bite-sized snack. I was so happy when I was browsing the candy aisle at our local Walmart and happened to spot them.
Bingo!
SAVE THESE TWIX BROWNIE BITES TO YOUR FAVORITE PINTEREST BOARD!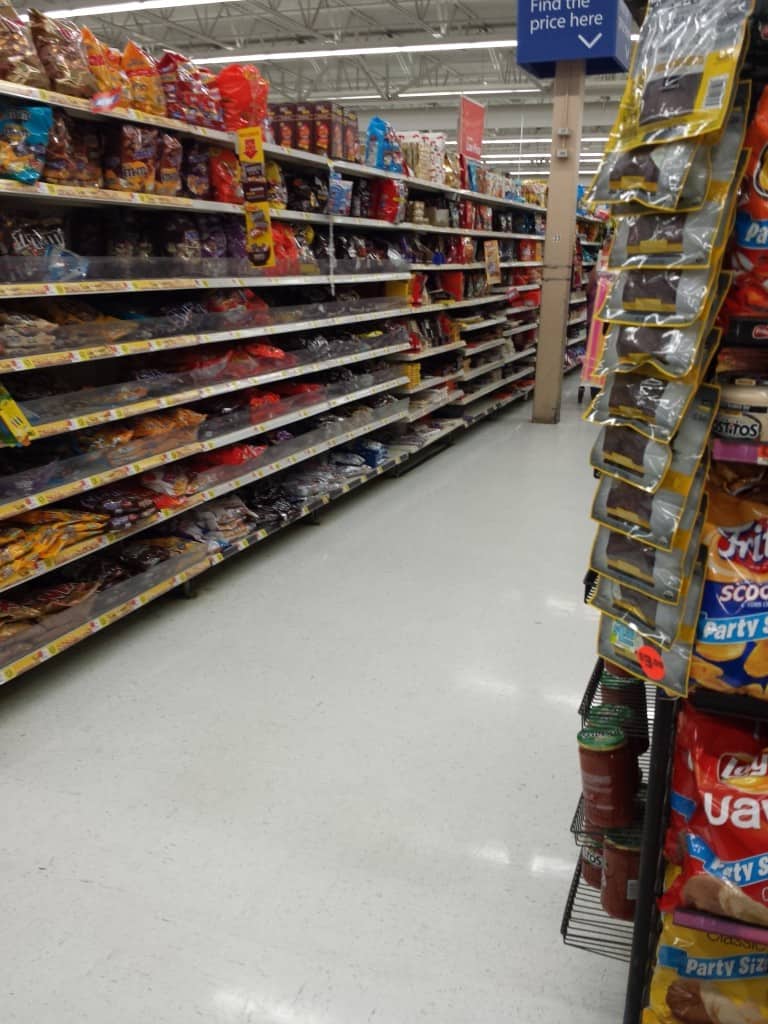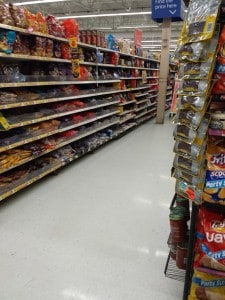 Now you can even save some money when you purchase them. #EatMoreBites #CollectiveBias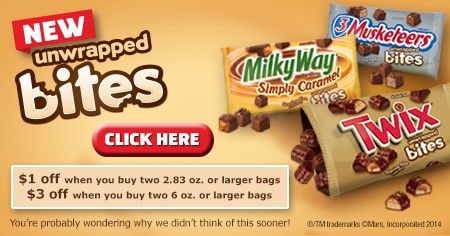 Receive $1.00 off when you buy two 2.83 oz. or larger bags
OR
$3.00 off when you buy two 6 oz. or larger bags.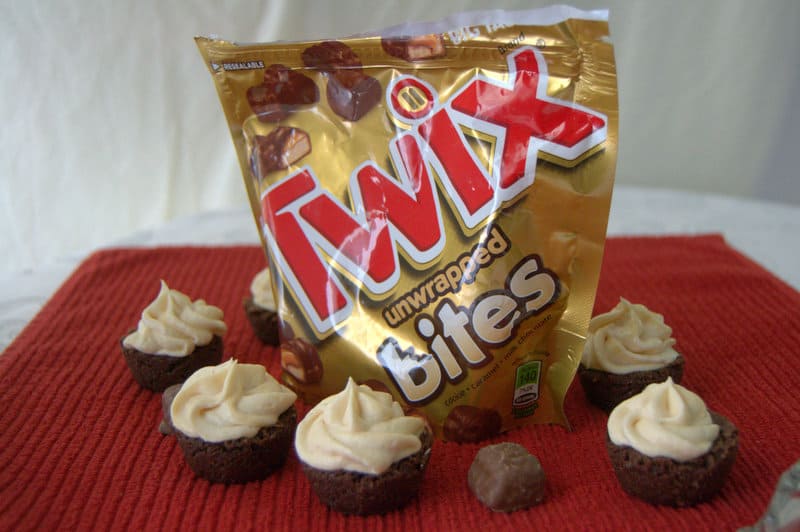 I adapted the brownie recipe from my Fannie Farmer Cookbook Thirteenth Edition, p. 628; author, Marion Cunningham; publisher, Alfred A. Knopf, Inc. a division of Random House, Inc.; ISBN 0-394-56788-9.
And the Chocolate Caramel Buttercream Frosting I adapted from Southern Living.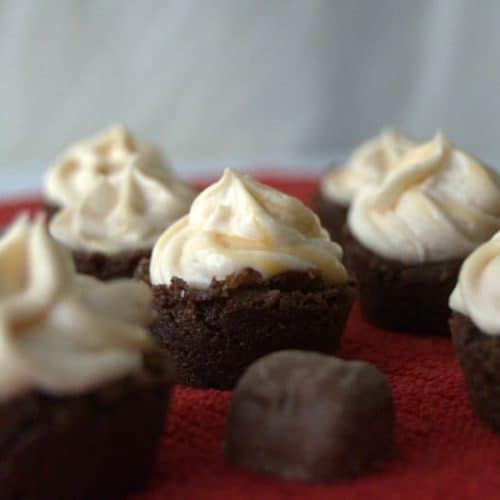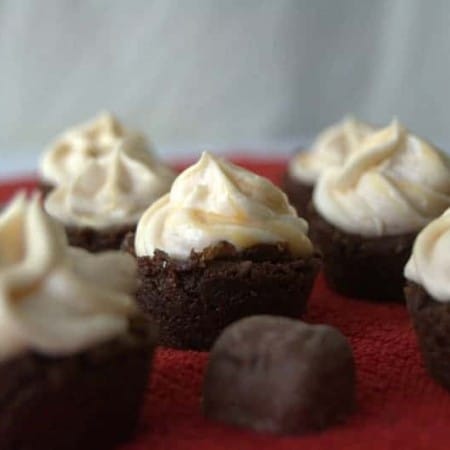 TWIX® Bites Brownies with Chocolate Caramel Buttercream Frosting
Ingredients
Brownies
2 ounces unsweetened chocolate
¼ cup unsalted butter
1 cup granulated sugar
1 egg beaten
⅛ teaspoon salt
½ cup flour
1 teaspoon vanilla
1 package TWIX® Bites
Chocolate Caramel Buttercream Frosting
6 tablespoons unsalted butter room temperature
2 ounces cream cheese room temperature
1 ½ teaspoons chocolate extract
⅛ teaspoon kosher salt
2 cups confectioners' sugar
2 tablespoons milk
8 caramels unwrapped
1 ¾ teaspoons milk
Instructions
Brownies
Preheat oven to 300 degrees F.

In a medium saucepan, melt the chocolate and butter together over low heat.

Remove from heat and with a rubber spatula, mix in sugar, egg, salt, flour and vanilla.

Fold batter over several times, making sure it is completely mixed, about 1-2 minutes

Let rest for 5 minutes.

Prepare a 12-cup mini muffin tin by spraying it with baking spray.

Using a teaspoon, put 2 teaspoons of batter into your hand and roll into a ball.

Place the ball into one of the muffin cups and press down slightly to fill.

Repeat until all of the cups are filled.

Bake for 20 minutes.

Upon removal from the oven, gently place one TWIX® Bite into the center of each brownie, pushing down so that the brownie comes up around it.

Allow to cool in the muffin pan for 5 minutes before removing to a wire rack to cool completely.

Repeat process, spraying muffin tray each time before filling with batter.
Frosting
In a stand mixer with the paddle attachment, cream together the butter, cream cheese until smooth.

Mix in the chocolate extract and salt. Blend well.

Gradually add 1 cup of the confectioners' sugar, followed by one tablespoon milk.

After thoroughly mixing, gradually add the second cup of confectioners' sugar followed by the remaining tablespoon of milk.

Beat until smooth.

If the consistency of the frosting is too dry, add a touch more milk. If too wet, add a touch more confectioners' sugar.

In a microwave-safe bowl, place the 8 caramel and 1 3/4 teaspoons milk. Microwave for 30 seconds. Remove and stir until caramels are completely melted and mixture is smooth.

Drizzle the melted caramel into the frosting, folding with a rubber spatula to blend.

Do not over mix, you want there to be caramel ribbons throughout.

Frost as desired.
Did you make this recipe?
Share it with me on Instagram and make sure to follow me on Pinterest for more recipes.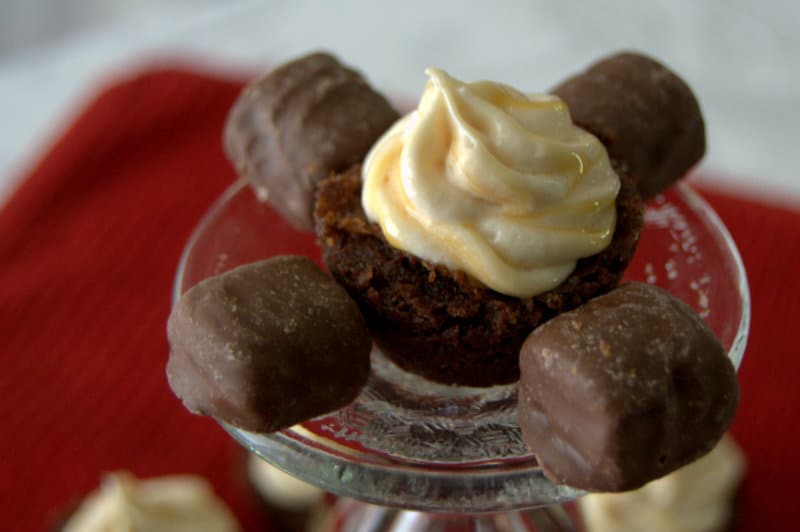 I rate everything I make on a scale of 1-4 with 4 being the best and these TWIX® Bites Brownies with Chocolate Caramel Buttercream Frosting earned…"wait for it"…
a WHOPPING 4 rolling pins!!!! WOO HOO!
We really, really, REALLY liked them. Ok, we LOVED them. The brownies were good – chocolatey and chewy.
The frosting was delicious, especially with the addition of the melted caramel. And those TWIX® Bites added some extra-special goodness to the whole incredibly yummy morsel. And besides, who doesn't like a brownie with a surprise inside and frosting on the top? Seriously.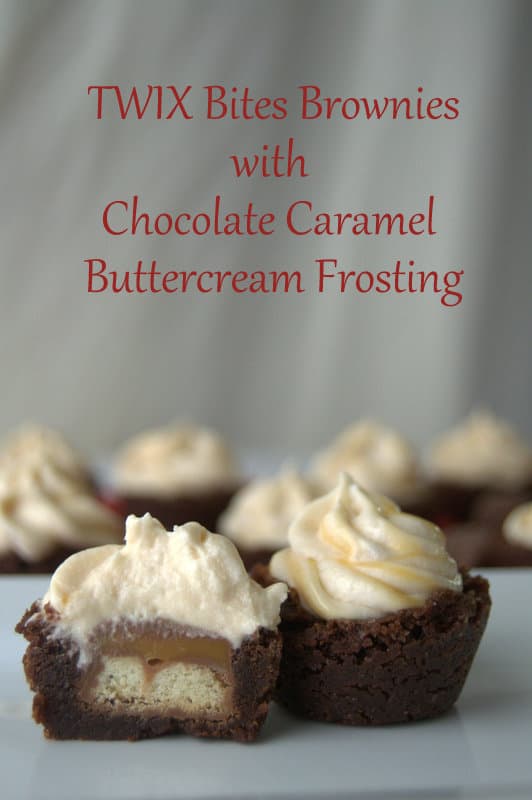 Yeah, I will be making them again.
If you like these, then you'll LOVE…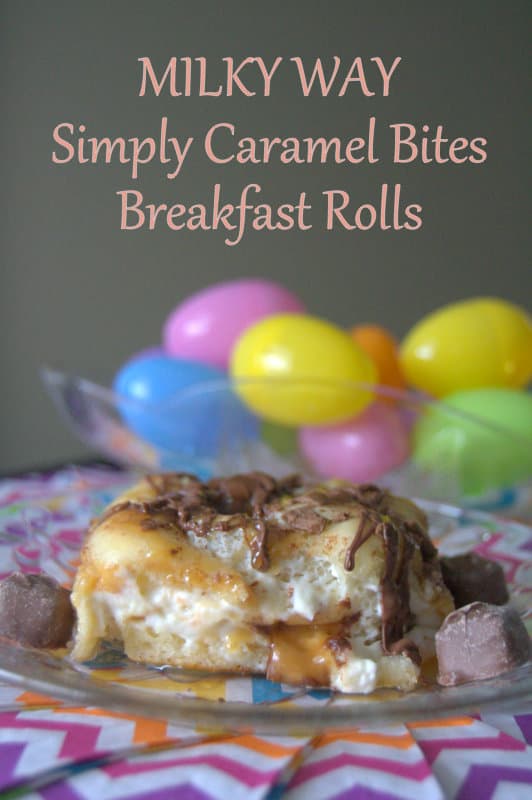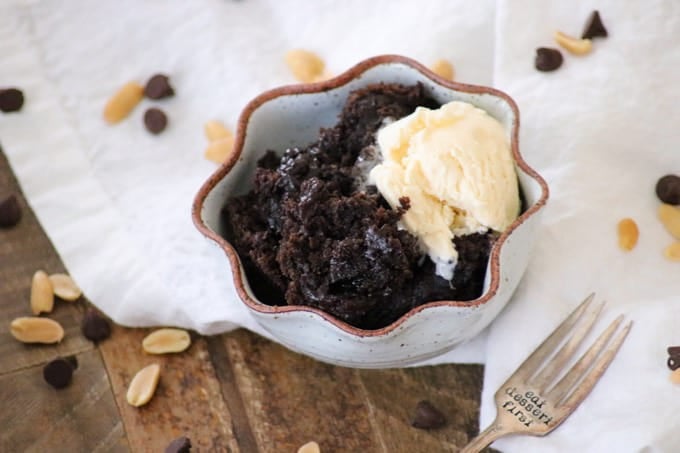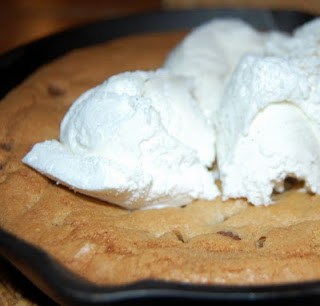 Reader Interactions