I am a member of the Collective Bias®  Social Fabric® Community. This shop has been compensated as part of a social shopper amplification for Collective Bias and its advertiser.
Kraft Cheeseburger and Blippar – There is a neat app called Blippar that can be used to "Blip" select Kraft products when purchased at Walmart. The application can be downloaded to your iPhone, tablet, or smartphone. Points can be earned through your purchase and can be redeemed for merchandise from Brad Paisley and Walmart gift cards. Purchased products can be used to make the burger recipes from Kraft found on the app!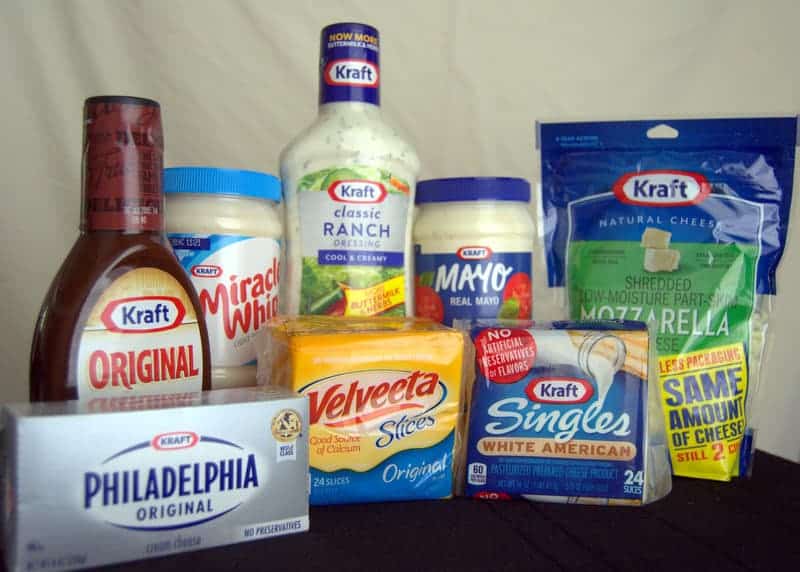 There are times when I'm at the grocery store and I have absolutely NO idea what I'm going to make for dinner.
I wander around the store aimlessly looking at all the products, but can't for the life of me decide what I want to make.
It's happened time and time again.
Fortunately, in today's day and age we now have these wonderful smartphones, and tablets that can connect us to the web and help us with that dilemma!
It's SO much easier.
Now when you're planning to have friends over for a BBQ to cook up some burgers, Kraft and Blippar have your back!
Blippar is a new application that you can download for free on your apple, android, blackberry or windows device.
Once you've downloaded it, you can open it while you're in the store, scan a product with your device's camera and neat things will happen!
There is also a cool rewards program going on in conjunction with Brad Paisley!
You know who Brad is, right?
He's that cute country singer  who sings 'He Didn't Have To Be' and other great hits.
You can earn points and get some cool merchandise from Brad!
Let me show you how it works!
1) First, of course, you're going to want to download the Blippar app to your mobile device.
2) While in Walmart, scan one of the participating Kraft cheese products by activating the app.
You'll see lines and little dots on the camera appear as it scans to detect the product.
Ok, obviously, I was at home for picture taking purposes because I couldn't figure out how to take a screen shot while playing with the app. I needed that extra set of hands and my camera.
Be patient while scanning. I found that some products took a little longer to upload than others and sometimes it had trouble focusing on the product.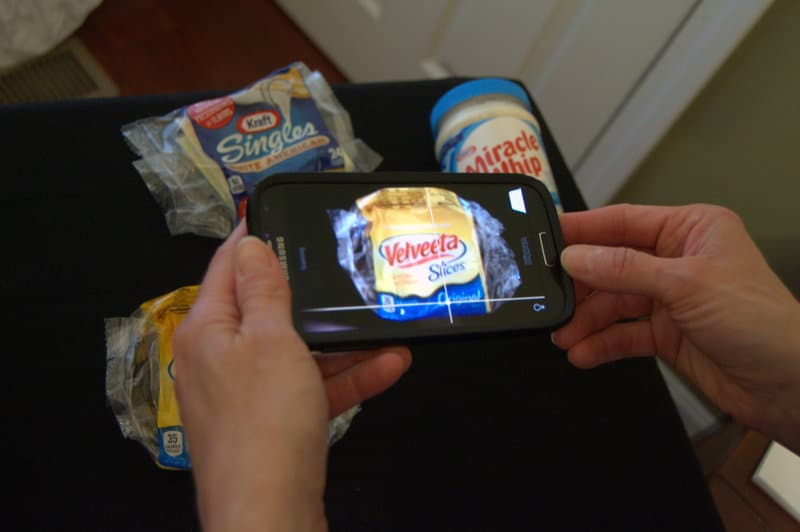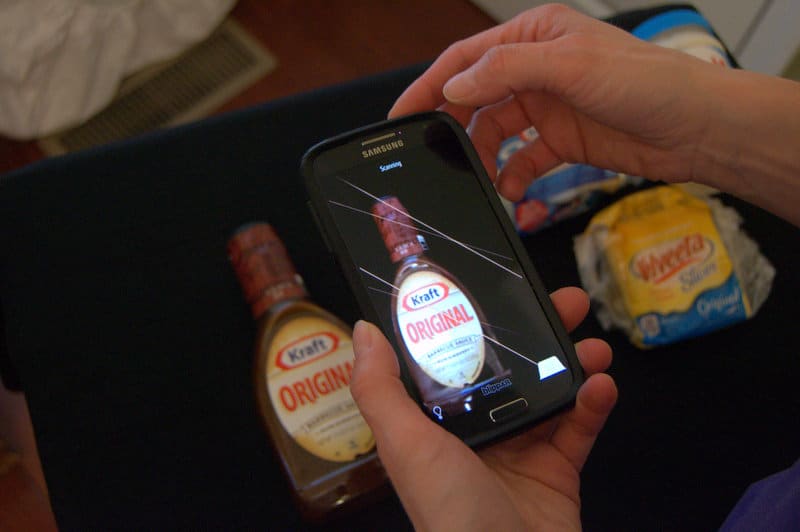 3.) Once the product is recognized, the B for Blippar will come up.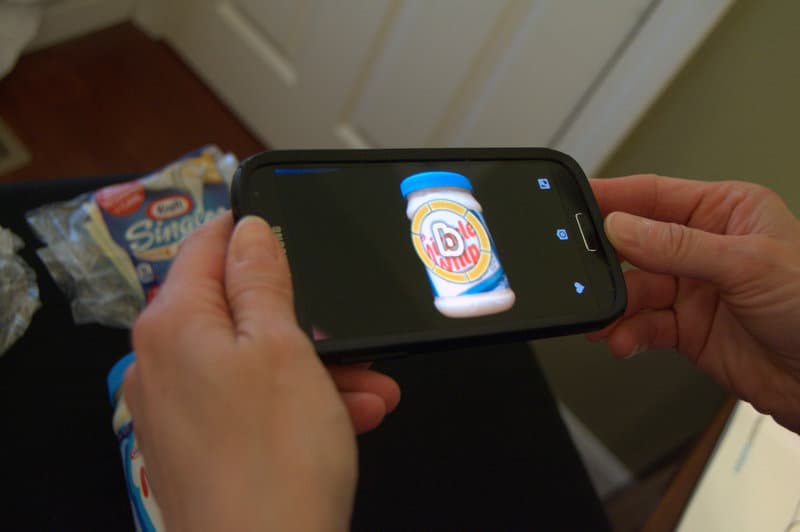 4.) This will bring you to the interactive screen.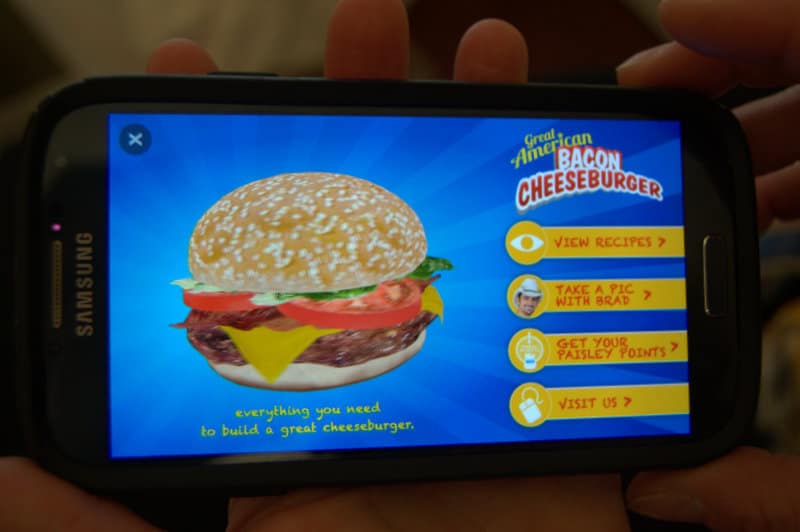 On this screen you'll see that yummy Great American Bacon Cheeseburger and then to the right is a list of tabs that you can touch which will take you to other screens.
View Recipes – here you can…what else, view recipes!
There are different burger recipes that you can scroll through and with each recipe the products needed to create it will be displayed. You can also save the recipe for later if you choose.
Take a Pic with Brad – you tap this tab and a frame will come up with Brad Paisley and a space for you, friends or family to take your picture with him. Then you can share it with others through Facebook, Twitter or by sending an e-mail. Here's mine: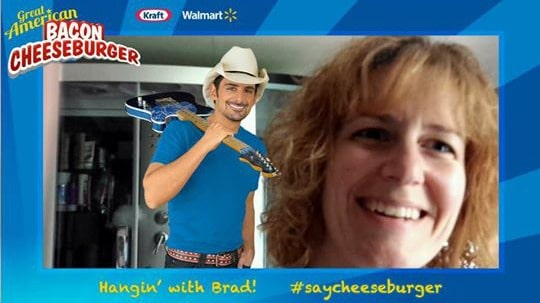 Get your Paisley Points – with this tab you'll upload your Walmart receipt with the required products which will then transfer into your points. With the points that you earn, you can redeem them for Walmart gift cards in different denominations and merchandise. Wouldn't it be cool to own one of Brad's CD's or one of his T-shirts? Ok, not really one of his T-shirts that he's worn, but you know what I mean.
Also in this tab you can see the products you can earn points with, your activity, Snap  – where you'll upload your receipt, rewards you can earn and More such as frequently asked questions and your personal account information.
Visit Us – will take you to the Walmart #SayCheeseburger website where you can enter to win tickets to one of Brad's concerts!
I used it while shopping at my local Walmart because I'm in there practically all the time and liked seeing the recipes and the different products I'd need to make them. While I haven't made the recipes yet, I'm dying to try the Cheese Stuffed Bacon Burgers.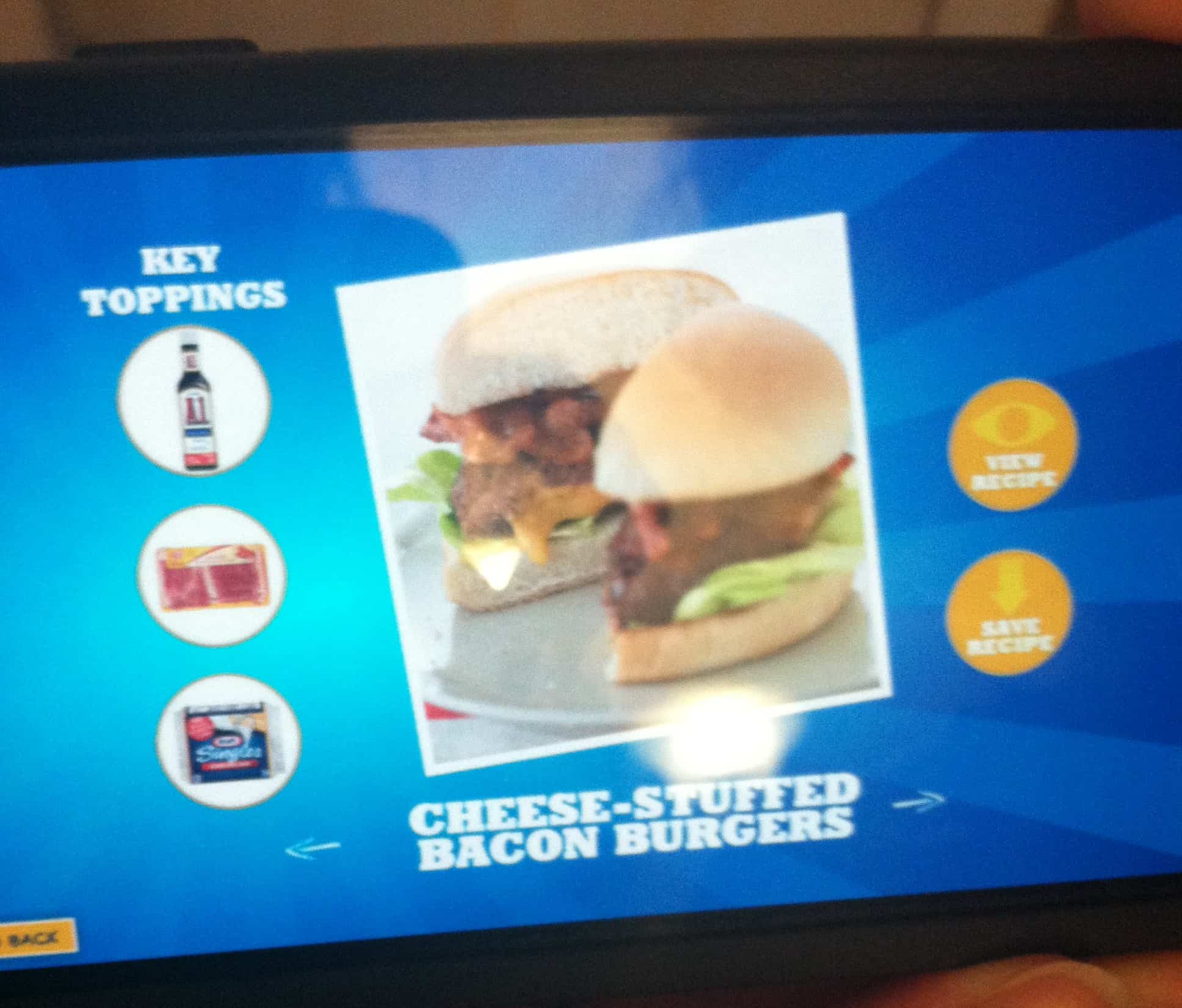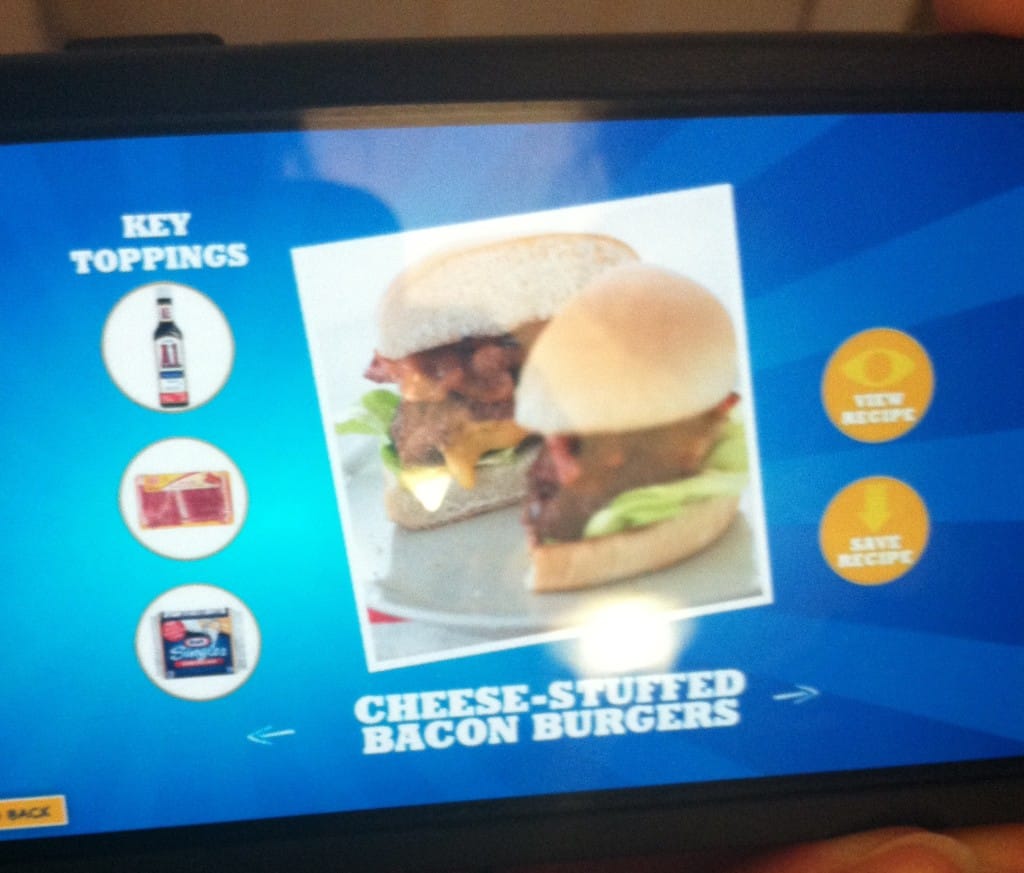 Or the Bacon Double Cheese and Onion Stuffed Burger. Although I don't think I'd be able to eat all of that one! haha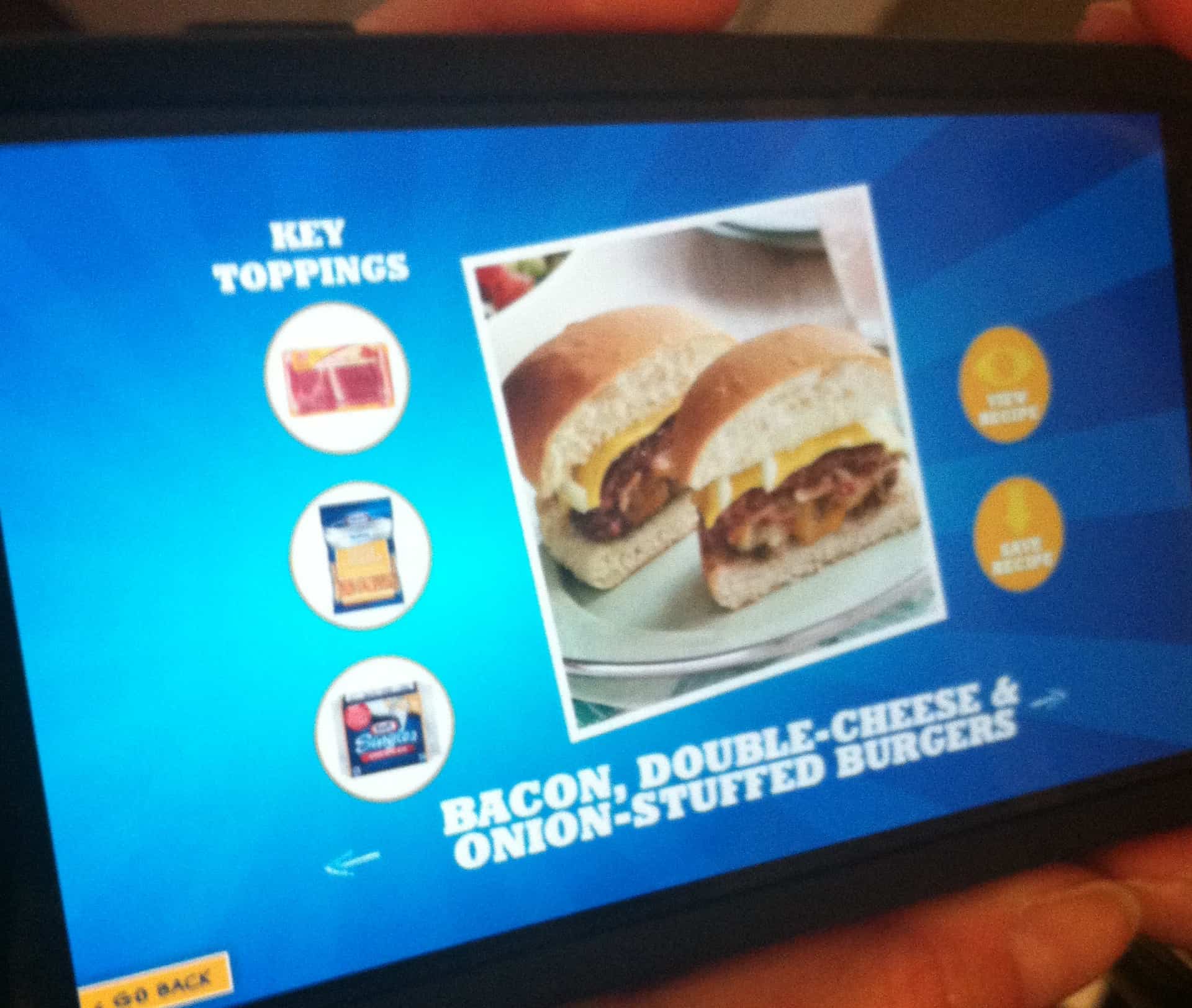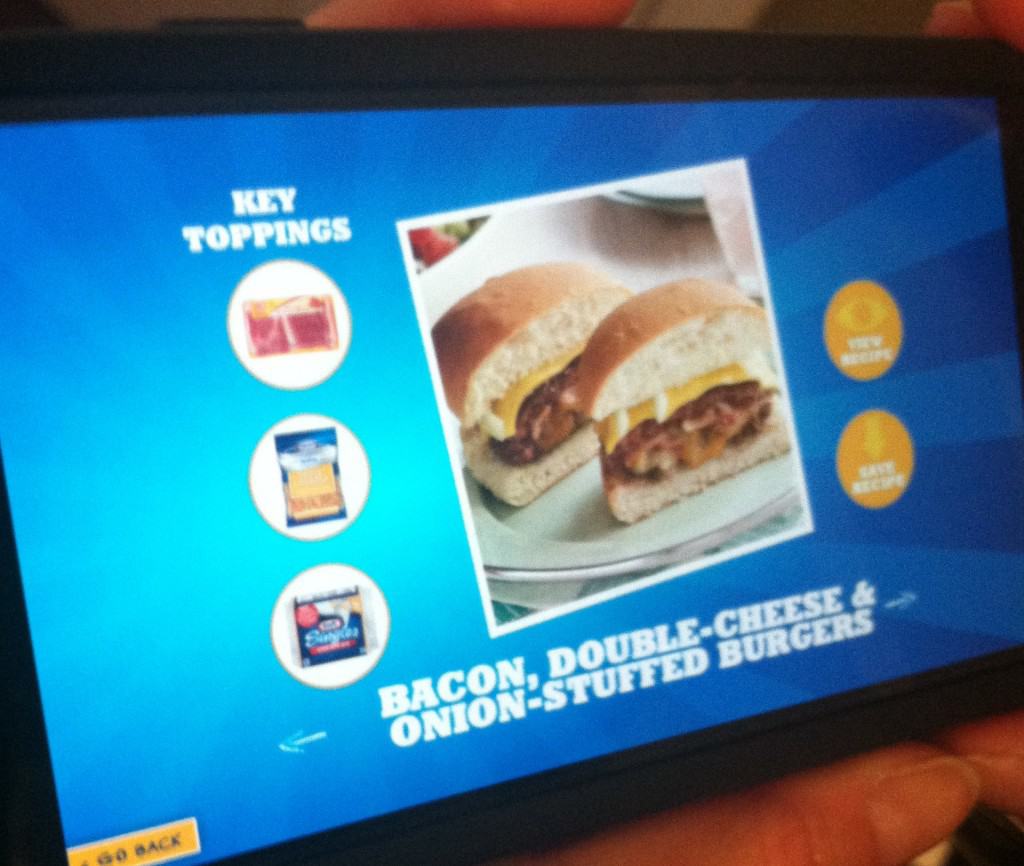 Try the Blippar app by using Kraft products to create some awesome burger recipes, earn points and redeem them for Brad Paisley merchandise and Walmart gift cards!
I'd love to know what you think!
Remember #SayCheeseburger!
I was compensated for this post by #CollectiveBias.
I give you BIG baking hugs and muffins!!