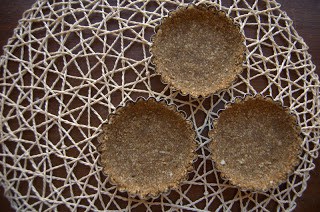 This time, my dears is flying! I only have 130 days left!! That's nothing!
And then I'll quietly disappear into the woodwork from whence I came never to blog again.
I'm kidding. I know you three faithful readers would be upset! Thank you by the way, this week's check is in the mail. 😉
No, I am kidding. I do plan to keep doing this. I'm having too much fun to stop and besides, the relatives are getting almost daily updates on our family happenings. (Hi Gram!)
I've also received some wonderful feedback from a lot of you and for that I am very grateful. It really does help to keep me going when I'm at my wits' end and don't want to stick another thing in the oven. I thank you.
Oh, and I don't get tired of hearing it, so PLEASE keep it coming!! 😉
And yes, I'm looking forward to having some variety in my kitchen experiences and blogging.
So, tossing around a few different names and wondering if I should just keep it as it is, but then I'd be cooking and/or baking every day.
We'll see. I'm excited.
Life is so much easier when I'm organized and not running around like a chicken with my head cut off.
I was actually able to accomplish so much today, it was awesome!
I just know you're dying to hear about a day in the life of Lynne, so I'll share it with you. I'm not shy, at least not on the internet and when I get to know you.
And I already know all y'all, so I'm sharin'. (Eeks, there's that southern accent coming out of a Yankee again. I know, sometimes I just can't help myself, especially when I'm in a good mood!)
Awoke after resetting the alarm (I know, that wasn't productive, but actually could've been depending on how you look at it.) to 1/2 hour later.
Some computer time to update the 365 status on FB, and to do my daily perusal of blogs.
Are you bored yet?
Wake up!!
What I did today was important, and there's nobody home to share it with I want to share it with you, my lovely reader!
Ok, now the condensed version. I know you don't want to really hear every little detail about my day.
I made the kids lunches (yes, they're old enough to make their own, but I'm home and it's part of what I do.), threw in a load of laundry, did the P90X.
I actually started baking around 11:00 as opposed to 3:30 in the afternoon. I'm so much more relaxed when there's plenty of time to do it and I'm not trying to finish a recipe, take pictures, AND attempting to put dinner on the table.
I was even able to go to a much needed hair appointment.
THEN I came home and acted like a nut because I still had get dinner ready and take pictures before the sun went down.
Phew!
Not too exciting, but it's my life and I love it.
I have to tell you that I was pretty excited about this recipe.
As I told you yesterday, I never jumped on the pumpkin bandwagon OR the cheesecake bandwagon for that matter, but THIS recipe may have changed all that! (Ok, this cheesecake that I made on Day 148 was pretty darn good, too.)
I adapted this from Janelle's Pumpkin Cheesecake Bites on Talk of Tomatoes.
Caramel Pumpkin Cheesecake Tartlets and Bites – made 12 bite-sized cheesecakes and 4 4-inch tartlets
Crust
1 cup almond flour or almonds finely ground in food processor
1 cup gingersnap cookies finely ground
3 tablespoons butter, melted
Preheat oven to 325 degreesF. Combine all ingredients in a medium bowl until crumbs are moistened and sticking together.
(I used 3 tablespoons of butter, but you may need 4 since the crusts were just a little bit crumbly when placing them onto plates.)
Using a 12 cup mini-muffin tin, fill each cup using a tablespoonful of crust mixture.
With the back of the tablespoon, press firmly into each forming a well. Use fingertips to give more definition to the bottoms.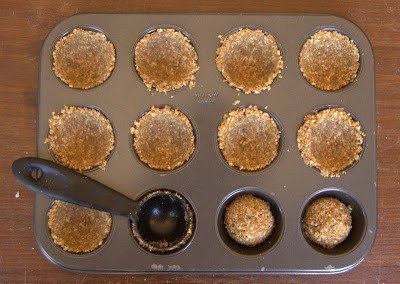 To fill the 4-inch tartlet pans, use three tablespoonfuls of crust and mold it into the pans with your fingers.
Bake for 10 minutes until set.
Filling
8 ounces cream cheese, softened to room temperature
2 tablespoons dark brown sugar
3 tablespoons caramel sauce, plus extra for garnish
1/2 teaspoon vanilla extract
1/4 teaspoon cinnamon
1/4 teaspoon allspice
1/4 teaspoon freshly ground nutmeg
1/8 teaspoon salt
3/4 cup canned pumpkin
2 eggs
In a mixing bowl, cream the brown sugar and cream cheese until fluffy.
Add caramel sauce, vanilla, cinnamon, allspice, nutmeg, and salt and mix well.
Add pumpkin and egg and mix until thoroughly combined.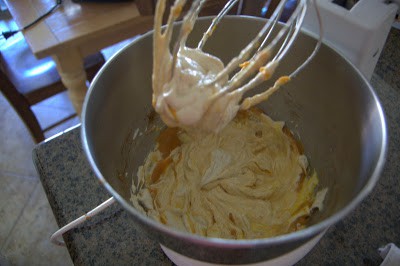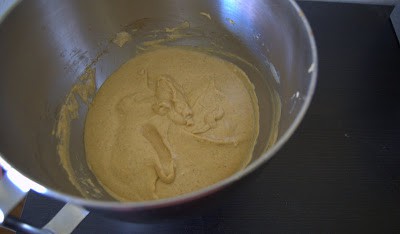 To fill the mini-muffins, use 2 rounded teaspoonfuls; for the tartlets, fill with 4 tablespoons or 1/4 cup.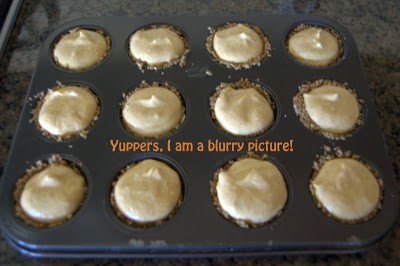 Bake for 25-30 minutes until middles are set.
Place tartlets and entire muffin tray on a wire rack to cool for 10 minutes.
Refrigerate for 2 to 24 hours before serving.
To remove mini-muffins from tray, gently use an off-set spatula or a rounded knife.
Cinnamon Whipped Cream
1 cup heavy whipping cream
1 teaspoon granulated sugar
1/2 teaspoon cinnamon
In a mixing bowl, combine whipping cream, sugar and cinnamon.
Beat on medium-high until soft peaks form.
Spread over cheesecakes or decorate with a star piping tip before serving.
Drizzle with additional caramel sauce.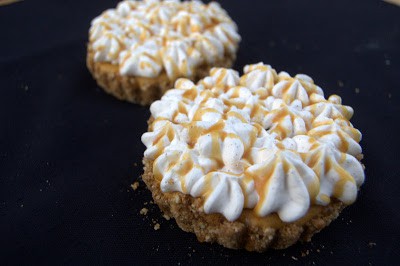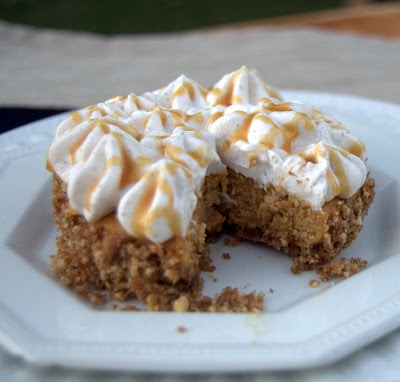 I rate everything I bake on a scale of 1-4 with 4 being the best and these Caramel Pumpkin Cheesecake Tartlets and Bites earned 4 rolling pins! Can I get a Yee-Ha?! As I said before, I've never been nuts about pumpkin anything (goes for watermelon, too, but this is Fall we're talking 'bout) OR cheesecake, but this dessert had me at Caramel. The flavors, especially the spices, were all married quite nicely and the cheesecake was just sweet enough. The whipped cream with the cinnamon in it definitely added more depth, too.
Unfortunately, I forgot to take a picture of the bite-sized ones before I gave them away. But you can imagine the tartlets, just in a smaller version.
These will be a very nice addition to the Thanksgiving table this year if you're looking for a new and updated version of the old standby pumpkin pie!
I give you all BIG baking hugs and muffins!