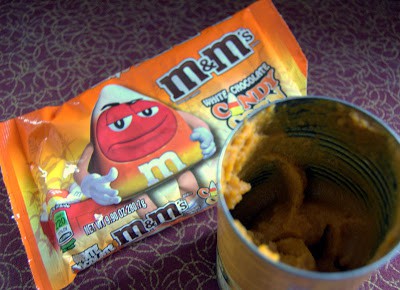 Did you take the time to just listen today?
I mean REALLY listen.
Either to your spouse, your children or a co-worker?
Or just to the world around you?
I brought our recycling out to the curb right before dinner and just stood there listening to the sounds of the neighborhood: the cars going by, the children playing and laughing, planes flying overhead and the silence.
Enjoying the silence while having the opportunity to observe a beautiful sunset with the simultaneous rising of the full moon.
It warmed my heart and I felt completely blessed that I was in that moment, able to experience every bit of it.
Life is good great.
Tomorrow be more conscious of the messages coming in from the world around you and see what happens.
Have you tried these things yet? These Candy Corn M&M's? They're different and I haven't determined if I like them by themselves yet.
I bought some and was going to put them in another kind of cookie, but as I was making these pumpkin ones, I thought,
"Aw, what the heck."
Yeah, seriously. That's what I thought.
"What the heck, why can't I just put these M&M's into these cookies I'm making now?"
"You can, but how will they taste?"
"I don't know. I've never had them before and I've only seen them this year. I'm kind of afraid of how they might taste actually."
"Well, you're not going to know until you try it."
"Yeah, I know and they could turn out great or be another disaster waiting to happen."
"Oh, just do it."
Doesn't everyone talk to themselves while they're baking?
This was adapted from The Fannie Farmer Cookbook, Thirteenth Edition
Pumpkin Candy Corn M&M Cookies – makes about 4 dozen
2 cups flour
1 teaspoon baking soda
1/4 teaspoon salt
1 teaspoon cinnamon
1/4 teaspoon freshly grated nutmeg
1/4 teaspoon ground ginger
1/2 cup butter, softened to room temperature
1 cup sugar
1 teaspoon vanilla
1 cup canned pumpkin
1 cup Candy Corn M&M's
Preheat oven to 375ºF.
Sift flour with baking soda, salt, cinnamon, nutmeg, and ginger into a small bowl and set aside.
Cream butter with sugar until light.
Add vanilla and pumpkin, and mix thoroughly.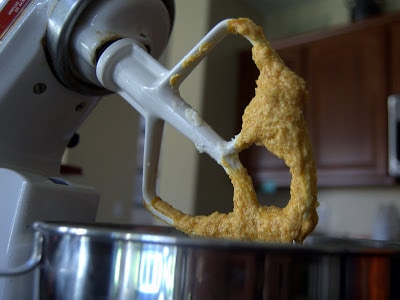 Slowly add dry ingredients.
Fold in M&M's.
Place on cookie sheet by rounded teaspoonfuls leaving 2 inches in between each.
Bake for 13-15 minutes or until they are lightly golden.
Cool on wire racks.
I rate everything I bake on a scale of 1-4 with 4 being the best and these Pumpkin Candy Corn M&M Cookies earned 2 1/2 rolling pins.
They weren't the best cookies I've ever had, but they weren't the worst.
Surprisingly, I liked the M&M's in the cookies better than I liked them by themselves. I think they were just too sweet and I wasn't nuts about the taste.
But in the cookie they were much better.
I've never been much of a pumpkin fan either, never eating pumpkin pie at Thanksgiving,
BUT,
these cookies were really ok.
They aren't the cookie I'd ask for if I was to have a last meal, but they were fine.
Fine? Since when is a cookie fine?
Let's put it this way, I would eat them again. I just don't think I'll be making them again.
They were adequate.
It's Fall.
And there are pumpkins.
And there are Candy Corn M&M's.
Eat them together or apart.
You have the opportunity to choose!
Or you can not eat them at all.
I give you BIG baking hugs and muffins, my friends!!!
Thank you SO much for being here!!