With Fall comes apples (although they are available all year round), apple cider, and apple cider doughnuts.
I first got the craving for these things when I saw them on one of the cooking shows on The Food Network. I don't remember which show it was, but they had gone to an orchard in Vermont or New Hampshire where people went apple picking, enjoyed freshly pressed apple cider and absolutely delicious looking doughnuts covered in cinnamon sugar.
I wanted one. Or two. Or more
So of course, I got to searching and then started baking today.
I found this recipe on Lauren's blog, Healthy, Delicious and made some adaptions.
Baked Apple Cider Doughnuts – makes 21 doughnuts and holes
4 cups flour
1 1/2 teaspoons baking powder
1 teaspoon baking soda
1 1/2 teaspoons cinnamon
1/2 teaspoon freshly ground nutmeg
1/2 teaspoon allspice
1/4 teaspoon salt
2 tablespoons butter, room temperature
2/3 cup brown sugar
1/2 cup apple cider
1/3 cup buttermilk (I used 1/3 cup milk mixed with 1 teaspoon white vinegar and let it rest for 10-15 minutes)
1 egg
1/3 cup pure maple syrup
1/3 cup natural applesauce
1 apple, peeled, cored, and diced fine
Preheat oven to 425 degreesF.
In a small saucepan, boil the 1/2 cup of apple cider until it has been reduced to 1/4 cup. This will concentrate the flavor.
In a mixing bowl, cream butter and brown sugar.
Add egg, and mix well.
Add buttermilk, syrup, reduced cider, and applesauce and mix until thoroughly combined.
Add apple, and incorporate.
In a medium bowl, combine flour, baking powder, baking soda, cinnamon, nutmeg, allspice, and salt. Mix well.
Slowly add dry ingredients to apple mixture. Beat until just combined.
Place dough on a generously floured surface and pat down until it is about 1/4-inch thick.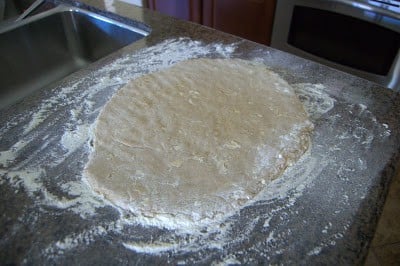 Using a doughnut cutter or other circular devices, such as a drinking glass and shot glass, cut out doughnuts
Combine scraps together and flatten dough again to make more doughnuts and holes.
Place on cookie sheet.
Bake for 10 minutes.
Transfer to a wire rack to cool until they can be handled.
Frosting
2 tablespoons cider
4 tablespoons honey
1/2 cup sugar
1/4 teaspoon cinnamon
In a bowl large enough to fit a doughnut, mix together sugar and cinnamon.
In a separate bowl large enough to fit a doughnut, combine cider and honey. Place in microwave for 30 seconds until warm. Mix well.
Dunk top of doughnut in honey/cider and then in cinnamon sugar. Place on wire rack.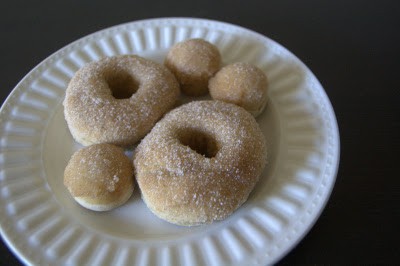 I rate everything I bake on a scale of 1-4 and these Baked Apple Cider Doughnuts earned 1 1/2 rolling pins.
As I said, I adapted Lauren's recipe and I think I added too many extras to them.
And because I added extras, such as the maple syrup and applesauce, I wanted to add extra flour so that the dough wouldn't be too sticky.
Only problem, they tasted a lot like flour and didn't have enough flavor.
Yuck.
I mean, they were still edible and I needed to have like 4 before I decided I really wasn't nuts about them.
Other family members felt the same way.
My recommendation would be following Lauren's recipe OR only using 3 cups of the flour instead of 4 an just make sure your working surface is generously dusted and that you use parchment or a Silpat on the cookie sheet to prevent sticking.
I have to admit that I was quite bummed that these didn't turn out as I had expected them too. I was so in the mood for some really good doughnuts.
After eating these and eating the doughnuts I made on Day 46, I've decided that I really don't like the baked doughnuts. I'd really rather they be fried, and all I can think about right now is a Dunkin' Donut.
(sigh)
After 365 is over, I'm frying some!
I give you BIG baking hugs and muffins!!