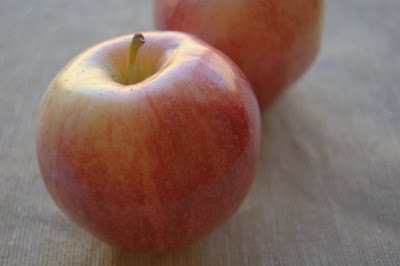 BOO!
Did I scare you?
It's almost Halloween. Get excited!
Nevermind, I just had a moment.
I love having apple slices with peanut butter on top and when I saw this recipe on Two Peas & Their Pod two days ago, I knew I was going to be making them sometime soon.
That soon turned out to be today! Sometimes you just need to go satisfy a craving when you have a food blog.
Remember that.
Cravings will provide a lot of inspiration.
I did adapt the recipe, but you can drop by and say hello to Maria and Josh, and check out theirs (they even put frosting on theirs!).
Apple Peanut Butter Bars – makes an 8 X 8-inch dish
1/4 cup unsalted butter
1 cup dark brown sugar
1/3 cup creamy peanut butter
1 egg
1 teaspoon vanilla
1 1/4 cups flour
1/2 teaspoon baking powder
1/4 teaspoon baking soda
1/2 teaspoon salt
2 medium apples
1/4 cup candied/sugared pecans (directions here)
1 tablespoon turbinado sugar
Preheat oven to 350ºF.
Prepare an 8 X 8-inch baking dish by spraying it with cooking spray.
In a saucepan, melt butter and brown sugar over medium heat, stirring constantly until smooth.
Remove from heat and stir in peanut butter until it is completely mixed in. Set mixture aside and allow to cool.
In a large bowl, combine flour, baking powder, baking soda, and salt.
Add the egg to the peanut butter/sugar mixture and thoroughly combine.
Mix in the vanilla.
Pour mixture into the dry ingredients.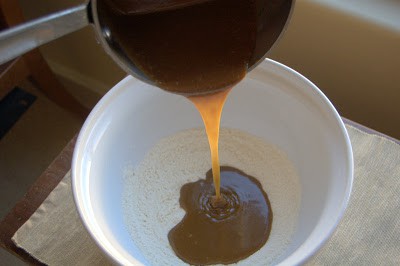 Stir until smooth.
Pour1/2 of the batter into the prepared baking dish, spreading it completely in the pan with a rubber spatula.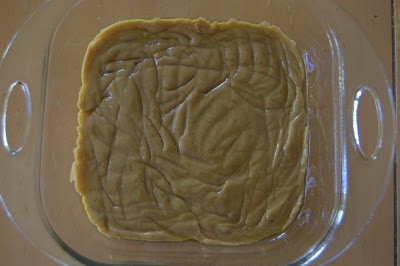 Peel, core and very thinly slice the apples. Arrange the slices from one apple on top of the batter.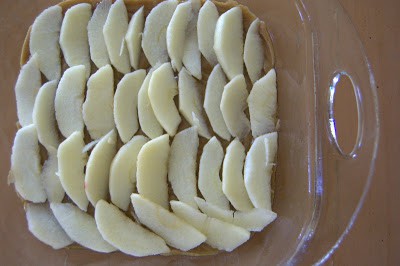 Repeat with the second apple in opposite pattern.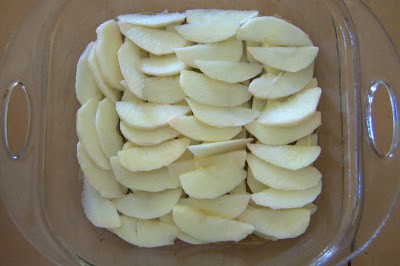 Place remaining batter on top of apple slices. I found it was easiest to take some batter in my hands, flatten it and then lay it down. It looked like a puzzle, but it was so much easier than trying to spread it.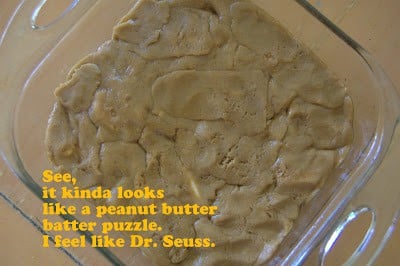 Sprinkle the candies pecans and turbinado sugar on top, lightly pressing them into the batter.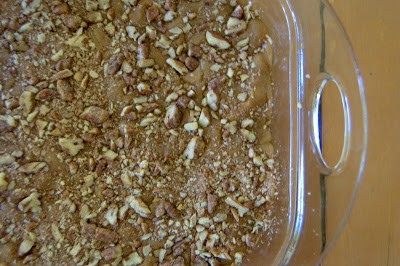 Bake for 30 minutes.
(NOTE: Ok, here's where it gets tricky. I baked the bars for 30 minutes, but because I had sliced the apples and put them in the middle instead of dicing them and mixing them in, they weren't fully cooked. I took them out of the oven, reset the oven to 325ºF to prepare dinner and realized after dinner was in the oven that the bars weren't done. Back into the oven they go for 25 minutes. Still not completely done, so in for another 25 minutes, and at the end, just a tad underdone, Long story short, they were baked at 350ºF for 30 minutes, then at 325ºF for an additional 50 minutes. I'm thinking 50 minutes at 350ºF should pretty much do it. The apple slices kept the area around them moist, but it added a nice touch to the bar,)
Transfer to a wire rack to cool.
I rate everything I bake on a scale of 1-4 with 4 being the best and these Peanut Butter Apple Bars earned 3 1/2 rolling pins.
Mr. 365's reaction: "Oh my God, what the hell are these??!! These are unbelievable!! You can make these whenever you want!"
I guess he liked them.
He does have an affinity for peanut butter. Crazy man.
These were really good. The peanut butter combined with the apple was really delicious and I liked the added crunch of the pecans on the top, giving it some extra texture. (That's SO NOT the word I'm looking for, but I can't think of the one I want.)
They're a keeper and yes, Mr. 365, I will be making them again.
I give you all BIG baking hugs and muffins!!