Baked Blueberry Waffles – homemade waffles filled with cream cheese and blueberries, topped with a brown sugar caramel sauce and baked. A breakfast so warm, delicious and full of delicious fruit that will leave your family begging for more!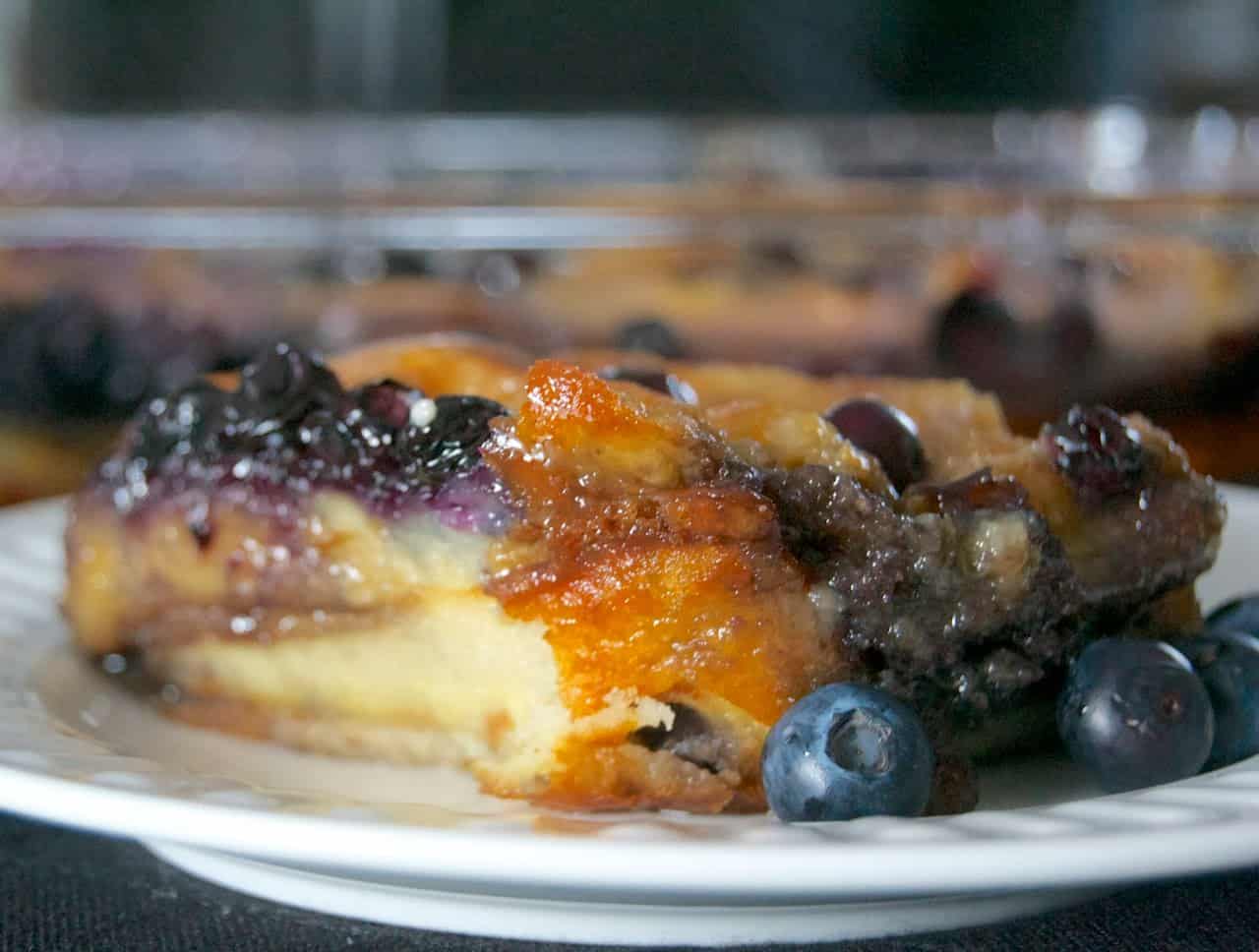 It's snowing.
Again.
Notice how there were no exclamation marks at the end of each of those sentences. And yes, I know I'm now living in northern New Hampshire, only 1 1/2 hours south of the Canadian border, but I want to see the crocus, Lilly-of-the-Valley, and tulips come up!
I want to smell Spring!! This was something we weren't able to do while living in Phoenix because it seemed as though we rarely ever had a Spring. Now I'm back east. Call me selfish, but I want ONE!


SAVE THESE BAKED BLUEBERRY WAFFLES TO YOUR FAVORITE PINTEREST BOARD!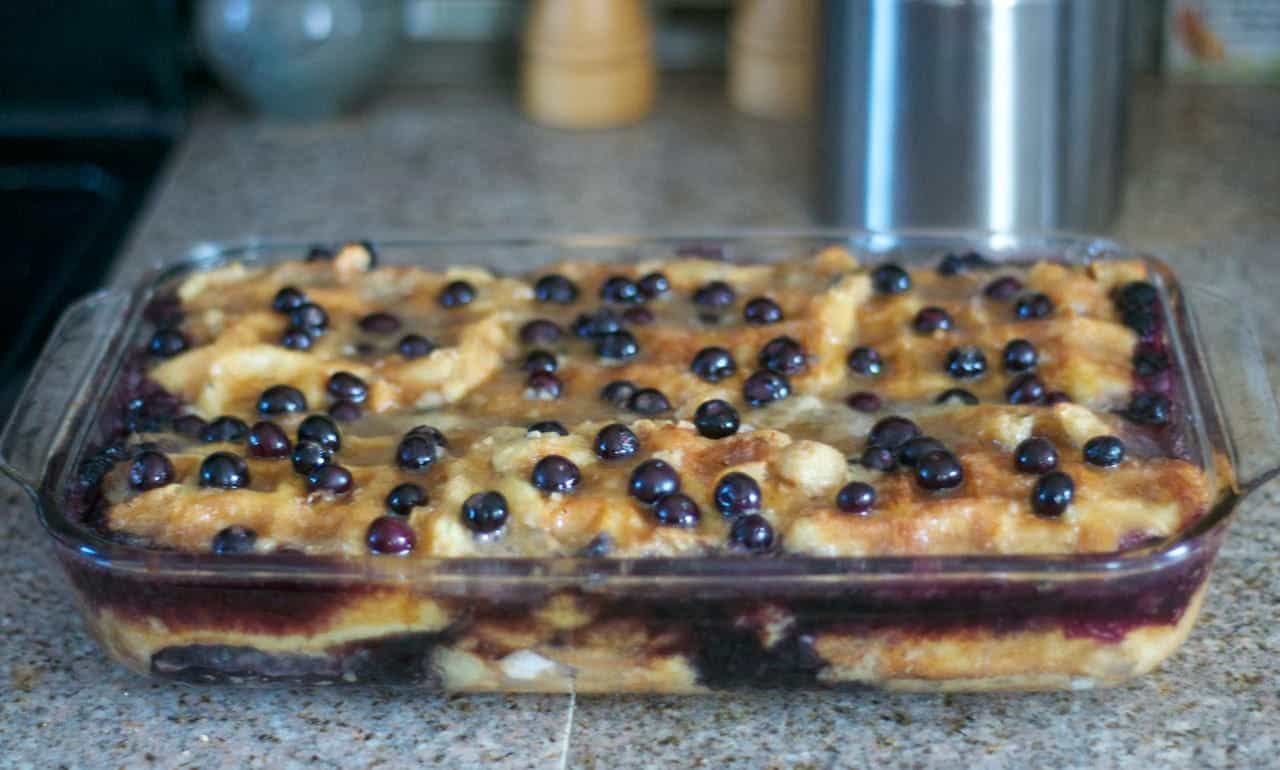 I'd love to do a face plant into that dish above. Oh, those blueberries!!
Here are some pictures of the prep…
Blueberries in the light of the early morning sun, saying, "good morning, Miss Lynne. How are you this fine Tuesday morning?"
Ok, maybe not, but there are times when I do hear the food talking to me. JK. haha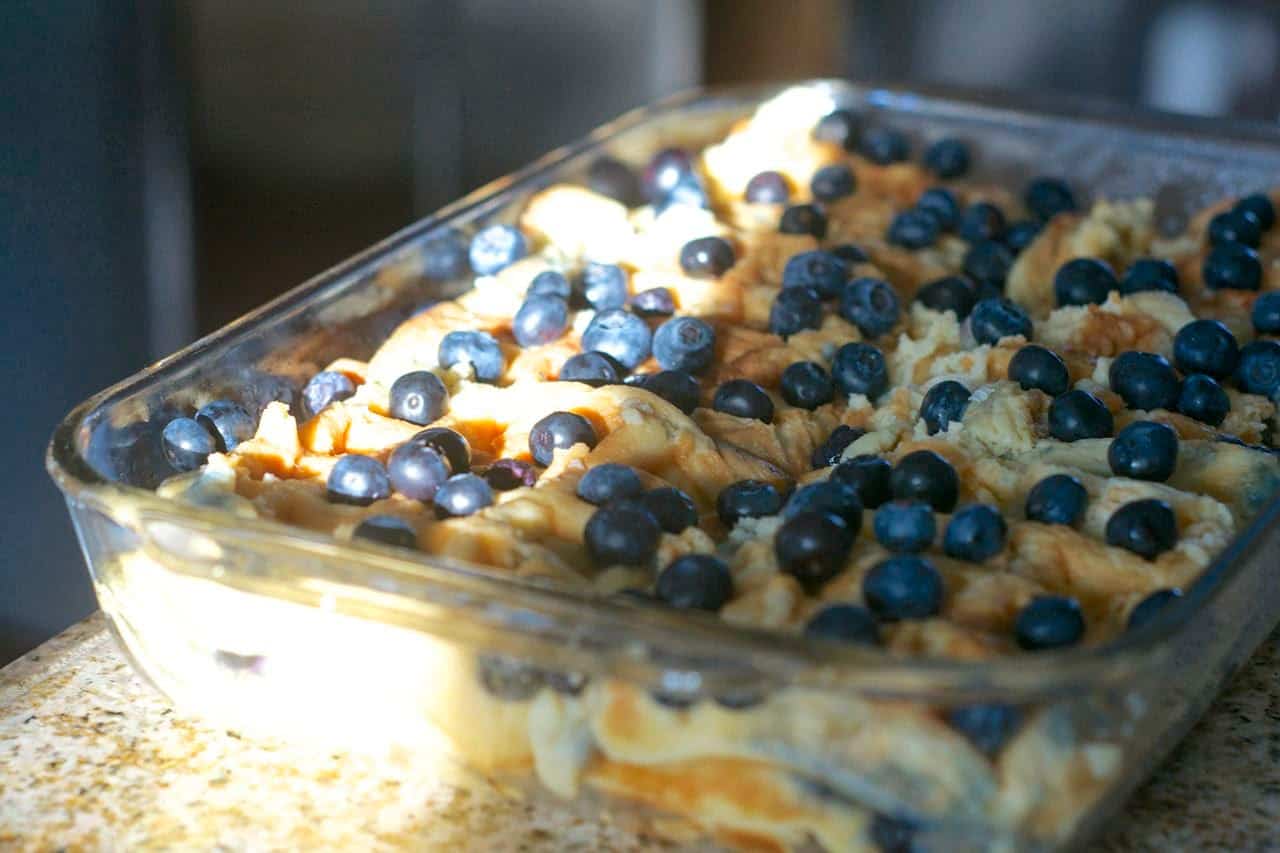 Just before going into the oven after the brown sugar sauce is poured on top. Yum!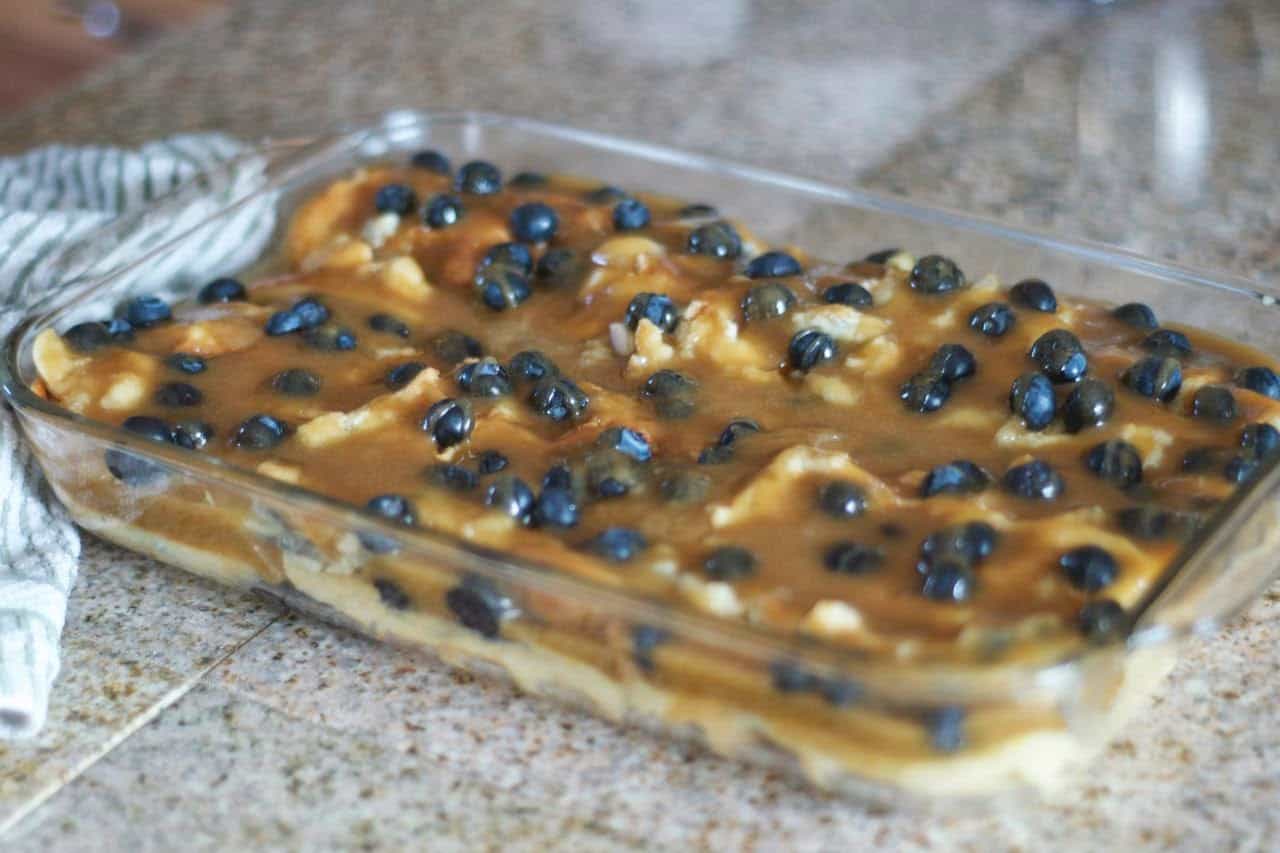 Just look at the layers of waffles and how the blueberries have burst and oozed during baking…sigh…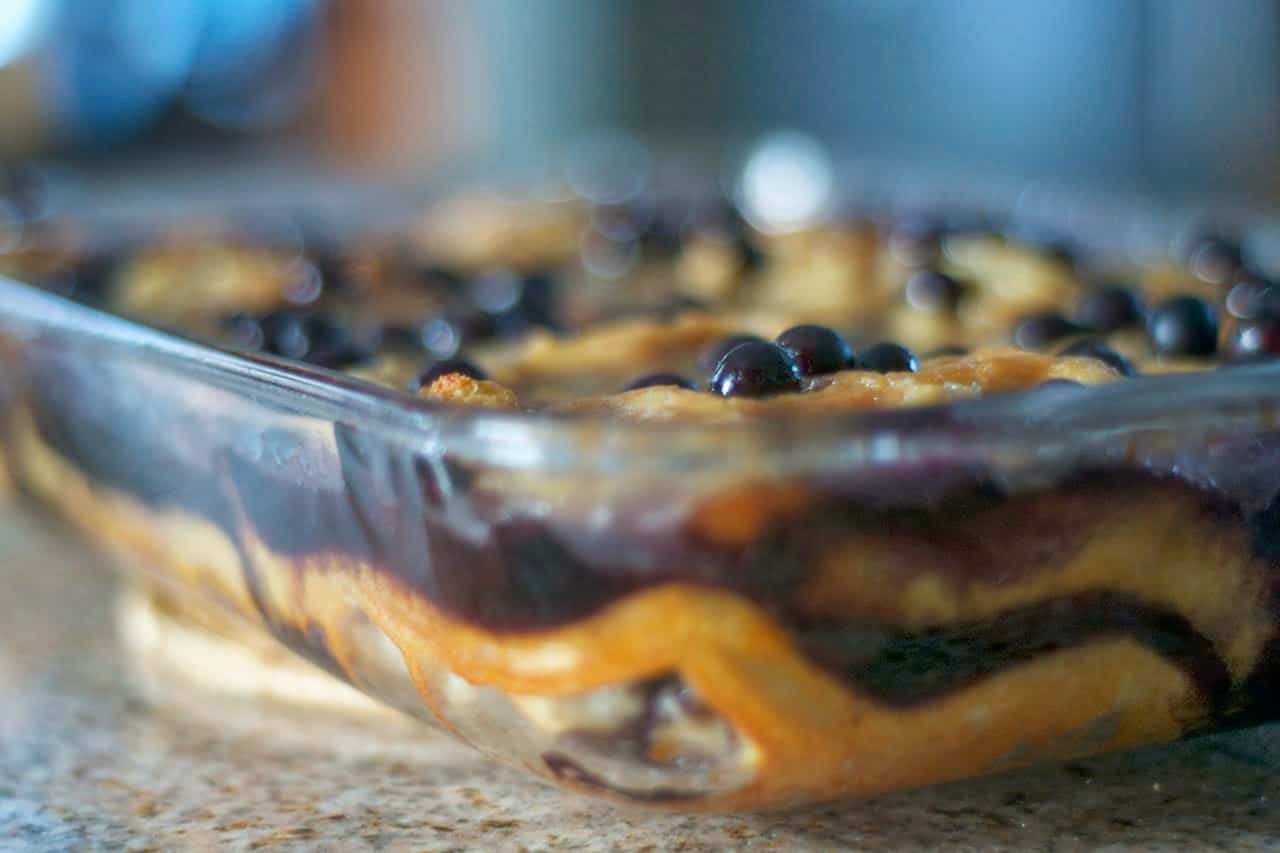 These layers of goodness make for a very yummy breakfast.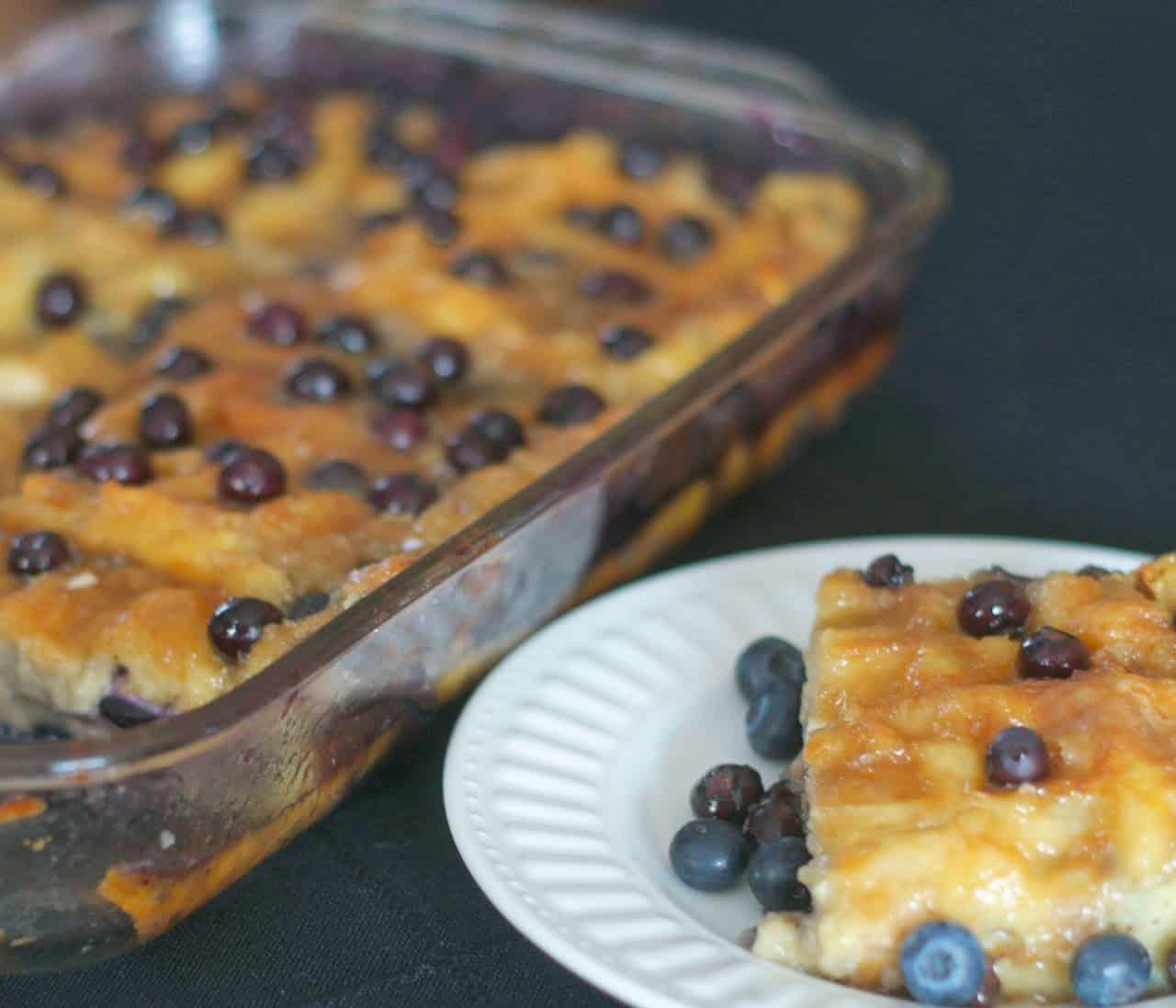 SIGN UP FOR THE WEEKLY
365 DAYS OF BAKING & MORE NEWSLETTER BELOW!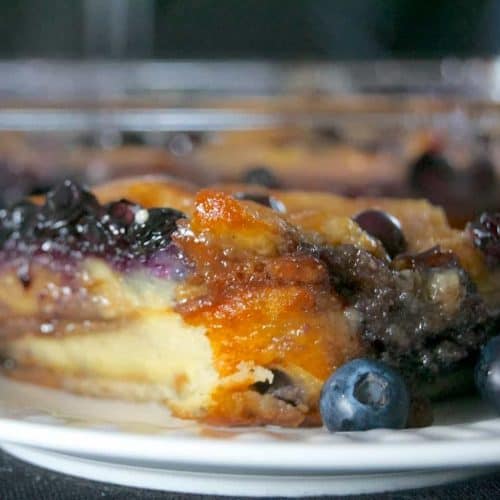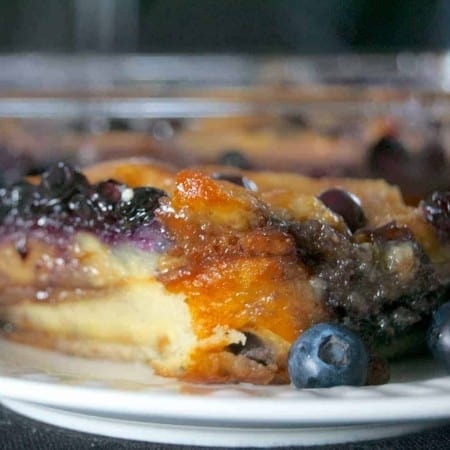 Homemade waffles filled with cream cheese and blueberries, topped with a brown sugar caramel sauce and baked. A breakfast so warm, delicious and full of delicious fruit that will leave your family begging for more!
Ingredients
12 Buttermilk Waffles I made a double batch and there were 4 extra
6 ounces cream cheese room temperature
3 ½ cups blueberries plus more for garnish (I used 2 1/2 cups frozen and 1 cup fresh on the top before putting into the oven, plus some additional when serving)
1 ½ cups milk
6 eggs
¼ cup maple syrup
¾ cup packed brown sugar
¾ cup 1 1/2 sticks butter
Instructions
Make buttermilk waffles above.

Prepare a 9 X 13-inch baking dish by spraying it with cooking spray.

Divide the cream cheese into 6 cubes. Spread one cube of cream cheese onto the top of one waffle and place in a single layer in the bottom of the prepared baking dish, cream cheese side up. Repeat with remaining cream cheese and 5 more waffles.

Sprinkle 2 1/2 cups of the blueberries over the cream cheese.

Place remaining 6 waffles on top so that it resembles 6 waffle sandwiches.

In a medium bowl, beat eggs. Add milk and syrup and mix well. Using a ladle, pour mixture evenly over the waffles, making sure each is well coated.

Cover baking dish tightly with plastic wrap and refrigerate for 30 minutes.

Remove from refrigerator and using a metal spatula and one clean hand, carefully turn each individual waffle sandwich over. It's not a big deal if they fall apart too badly, just place blueberries back in and put waffles back together as best you can.

Replace plastic wrap and refrigerate overnight.

When ready to bake in the morning, preheat oven to 375 degrees F.

While oven is warming up, in a small saucepan, combine butter and brown sugar.

Heat over medium-high until butter is melted and sugar is dissolved. You can test this by rubbing some of the mixture in between your fingers – if it's still gritty, continue to heat and stir.

Pour mixture evenly over waffles.

Bake for 25-30 minutes until set in the middle. Allow waffles to stand 10 minutes before serving.

Garnish with additional blueberries.
Did you make this recipe?
Share it with me on Instagram and make sure to follow me on Pinterest for more recipes.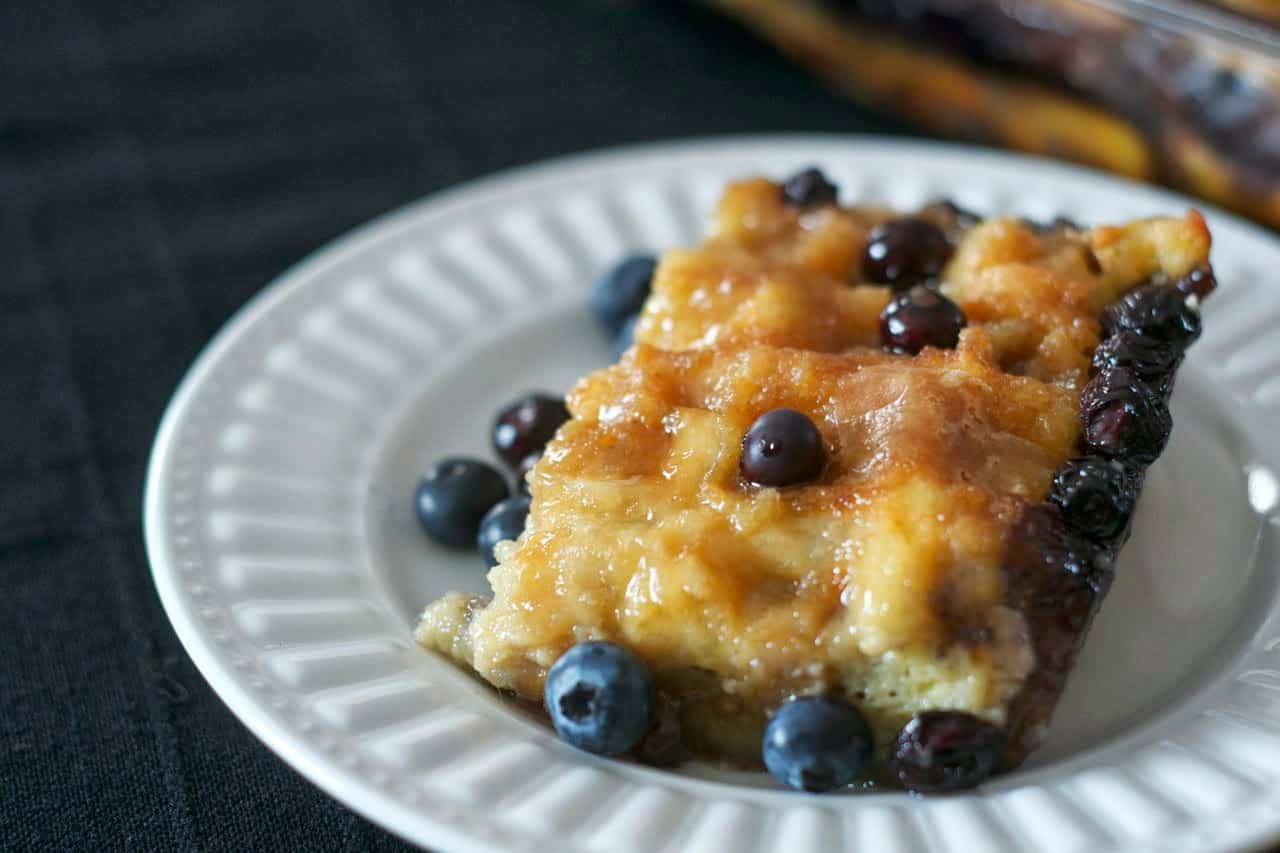 I rate everything I bake on a scale of 1-4 with 4 being the best and these Baked Blueberry Waffles earned 3 1/2 rolling pins.
I, along with some other family members thought they were better than the Strawberry Baked Waffles I'd made a while ago. These were much better, also because I added another cup and a half of blueberries to the mix.
If you think these baked waffles look tasty, try these other 365-day recipes!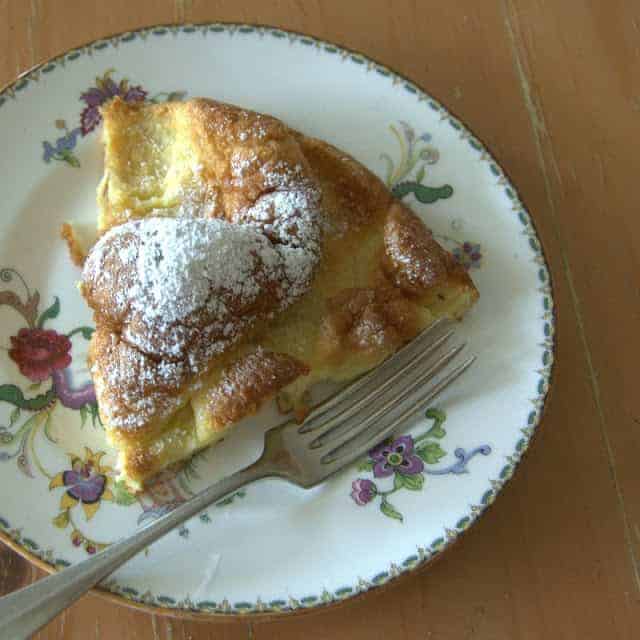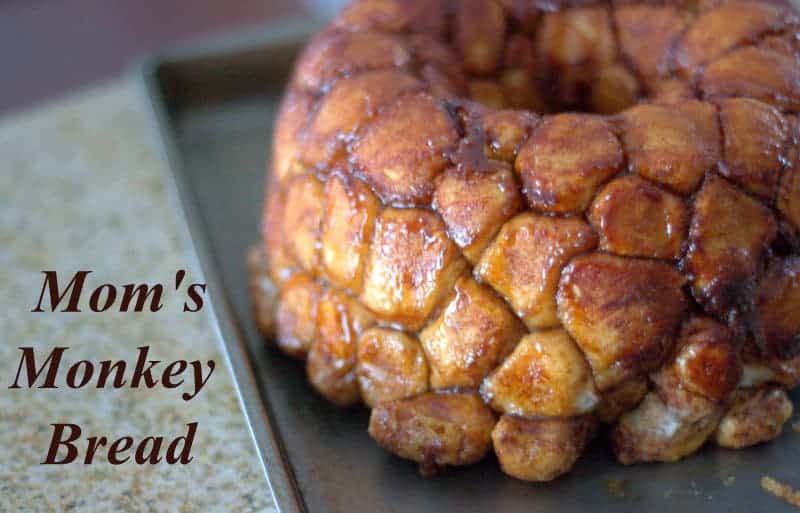 Two of the five family members thought it was too sweet for breakfast.
Oh well, all the more for me!
Actually, it is pretty rich, so you may want to serve smaller portions and then those who want seconds can return for more.
Reader Interactions