The Best Lemon Squares – a slightly nutty crust is the base for these layered lemon bars. A layer of cream cheese blended with confectioners' sugar and Cool Whip is sandwiched between the crust and a lemon pudding layer and then topped with the remaining Cool Whip. A "Cool" and lemony refreshing treat for those hot summer days ahead.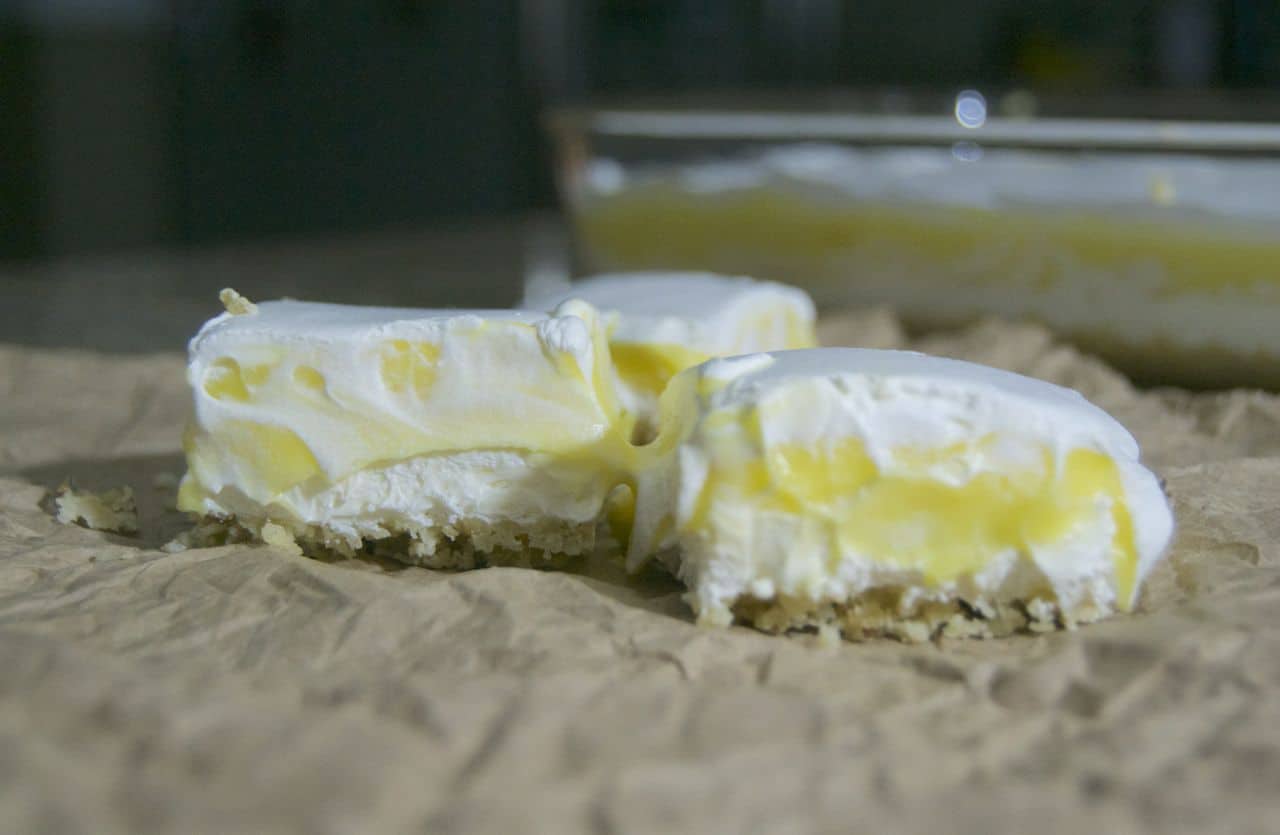 These lemon bars hold a very special place in my heart.
While going through my mother's recipe box one day, I found the recipe card for these Lemon Squares from one of my mother's very good friends, Cherie.
I think I seriously have ADD.
I'm trying to write this post and granted it's 10:22 at night and I'm REALLY tired, but I keep getting sidetracked and opening other windows on my computer.
We're all good now. The recipe is uploaded as are the pictures!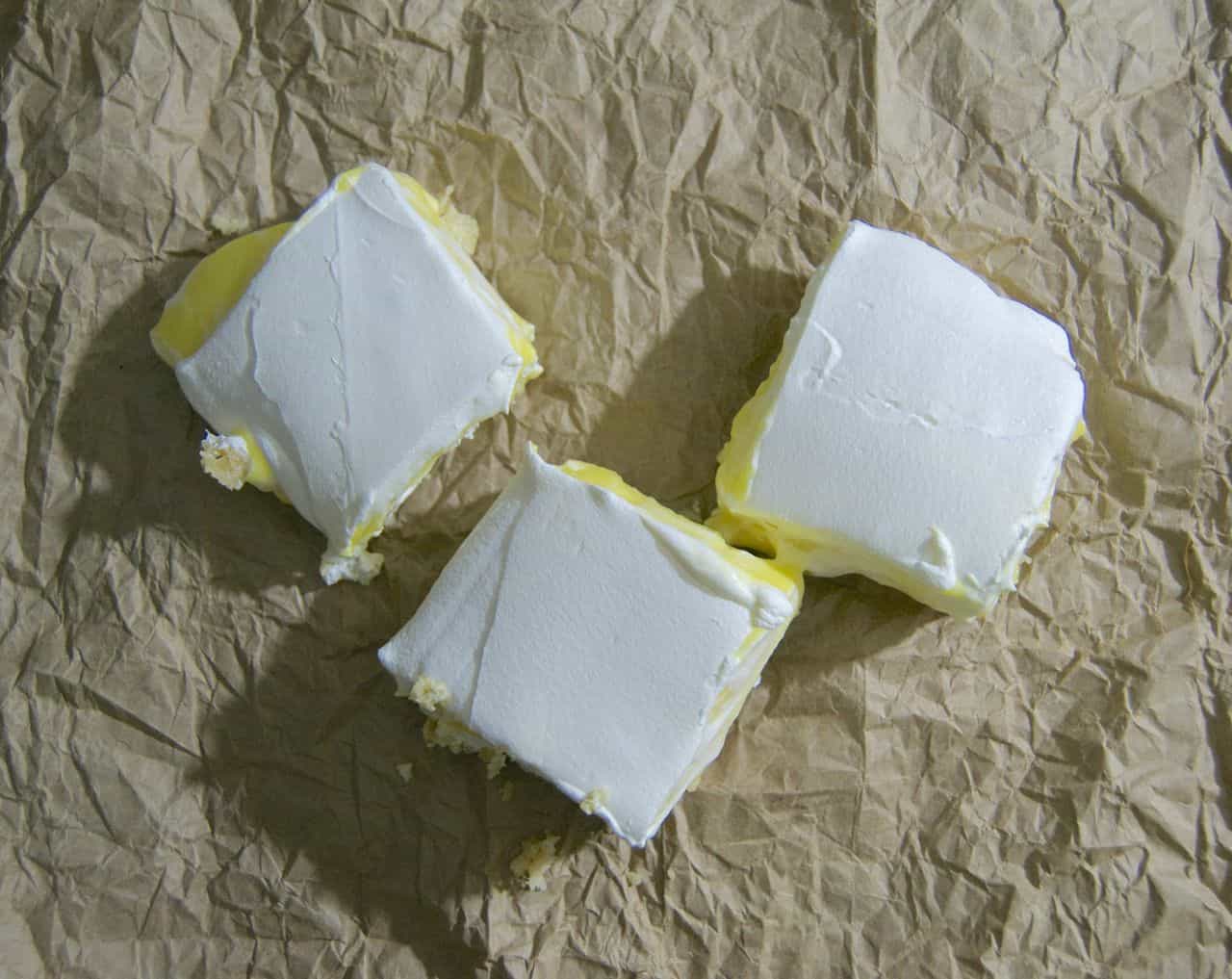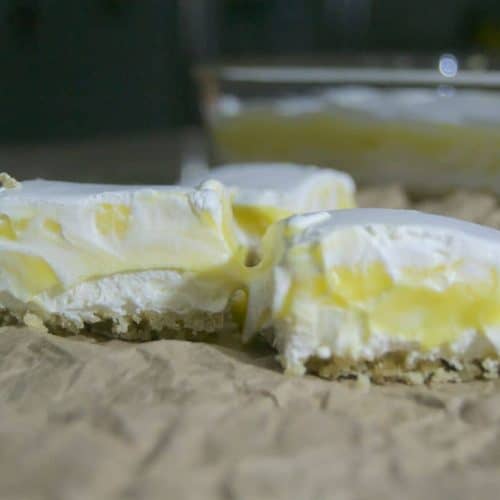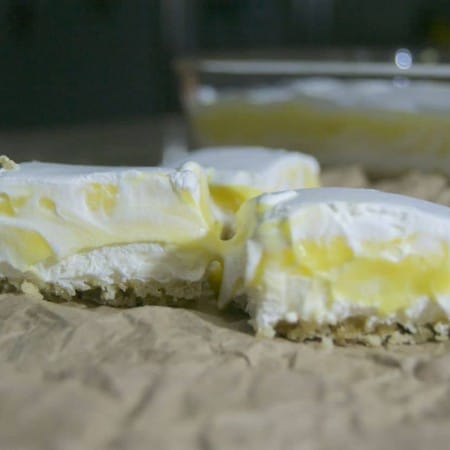 Makes one 9 X 13-inch dish
Ingredients
½ cup flour
8 tablespoons 1 stick butter
¼ cup chopped walnuts
8 ounces cream cheese
1 cup confectioners' sugar
1 8- ounce container Cool Whip
2 3.4 oz. packages instant lemon pudding
3 cups milk
Instructions
Preheat the oven to 350 degrees F.

Using a pastry cutter, cut the butter into the flour until it resembles coarse meal.

Gently mix in nuts.

Press into an ungreased 9 X 13-inch baking dish.

Bake for 10 minutes, until lightly golden.

Allow crust to cool completely before proceeding.

In mixing bowl, beat cream cheese and confectioners' sugar together.

Fold in half of the Cool Whip.

Spread cream cheese mixture over the cooled crust.

In a medium bowl, mix the two packages of pudding with the milk. Let sit as directed and then spread over the cream cheese layer.

Spread remaining Cool Whip over the pudding layer.

Refrigerate two hours before serving.
Did you make this recipe?
Share it with me on Instagram and make sure to follow me on Pinterest for more recipes.
I rate everything I bake on a scale of 1 – 4 with 4 being the best and these Best Lemon Squares earned, what else…
if I'm calling them the best, by George you can bet that they earned 4 rolling pins! They're rich and you don't need to eat a big square to enjoy them, but MAN are they GOOD!!
Mr. 365 says there one of the best things I've ever made and he is SO not a dessert person. He kept saying, "mmmmmm….wow…hmmmmm….s@#t!" So, I think he liked them. hee hee
Reader Interactions