Cinnamon Rolls with Vanilla Bean Cream Cheese Frosting are made using the sweet Texas Roadhouse Roll dough brushed with butter, and sprinkled with a cinnamon/sugar mixture. Then they're rolled, sliced and baked. Once they're removed from the oven, I spread the tops with a cream cheese frosting flavored by a vanilla bean. They're the perfect menu addition to any weekend breakfast or brunch or to just enjoy with a cup of coffee!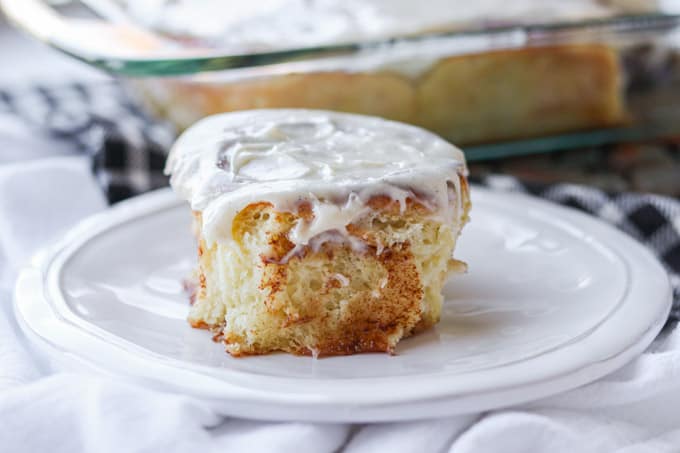 Some mornings you just need some yummy gooey goodness to get you moving. Am I right?
This recipe has been updated on 1/22/21 to make 12 cinnamon rolls.
You KNOW what I'm talking about.
You've got that awesome cup of coffee in your favorite mug and made just the way you like it – black, extra light, or sweetened with my easy French vanilla creamer.
And to complete that picture of you snuggled on the couch under a blanket with either your phone or laptop or most often in my case, both, you have a large, warm homemade cinnamon roll smothered with this awesome frosting on a plate next to you.
Can you smell it?
I sure can!
SAVE THESE CINNAMON ROLL RECIPE TO YOUR FAVORITE PINTEREST BOARD!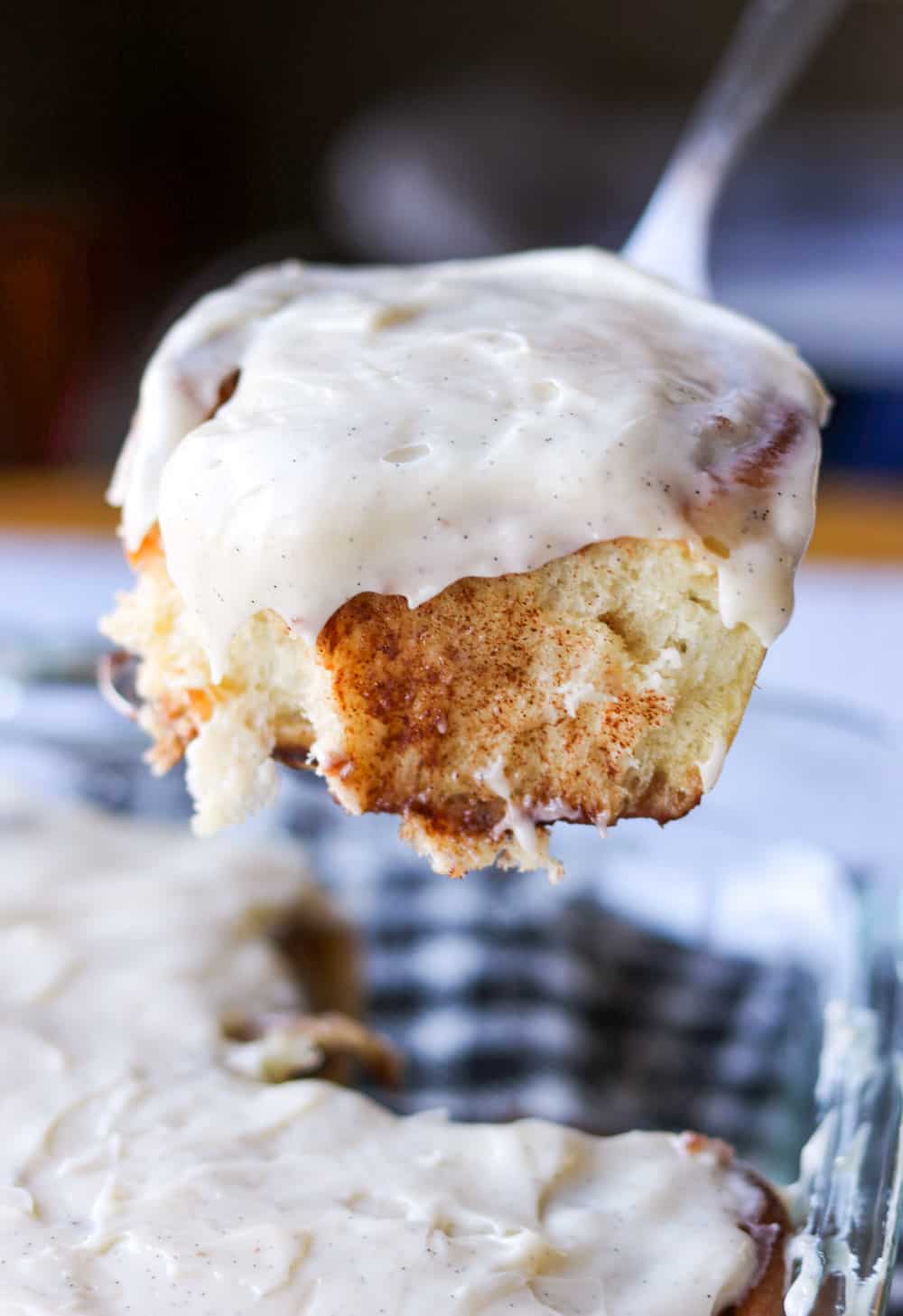 The reason why they were that good is this…it's the dough of all doughs for any cinnamon rolls I make from now on.
I found the secret.
I'm not gonna lie – they take some time to rise.
Plus, the recipe is wordy and looks more involved than it actually is, but they'll be well worth it. I promise.
Surprisingly, it really is an easy cinnamon roll recipe.
You're just taking this dough, letting it rise, spreading it with buttah, sprinkling with cinnamon/sugar, rolling it up, cutting it into slices, spreading with more buttah, sprinkling with more cinnamon/sugar, letting it rise some more, baking and slathering that icing on.
No problem!
If I can do it, so can you. Seriously.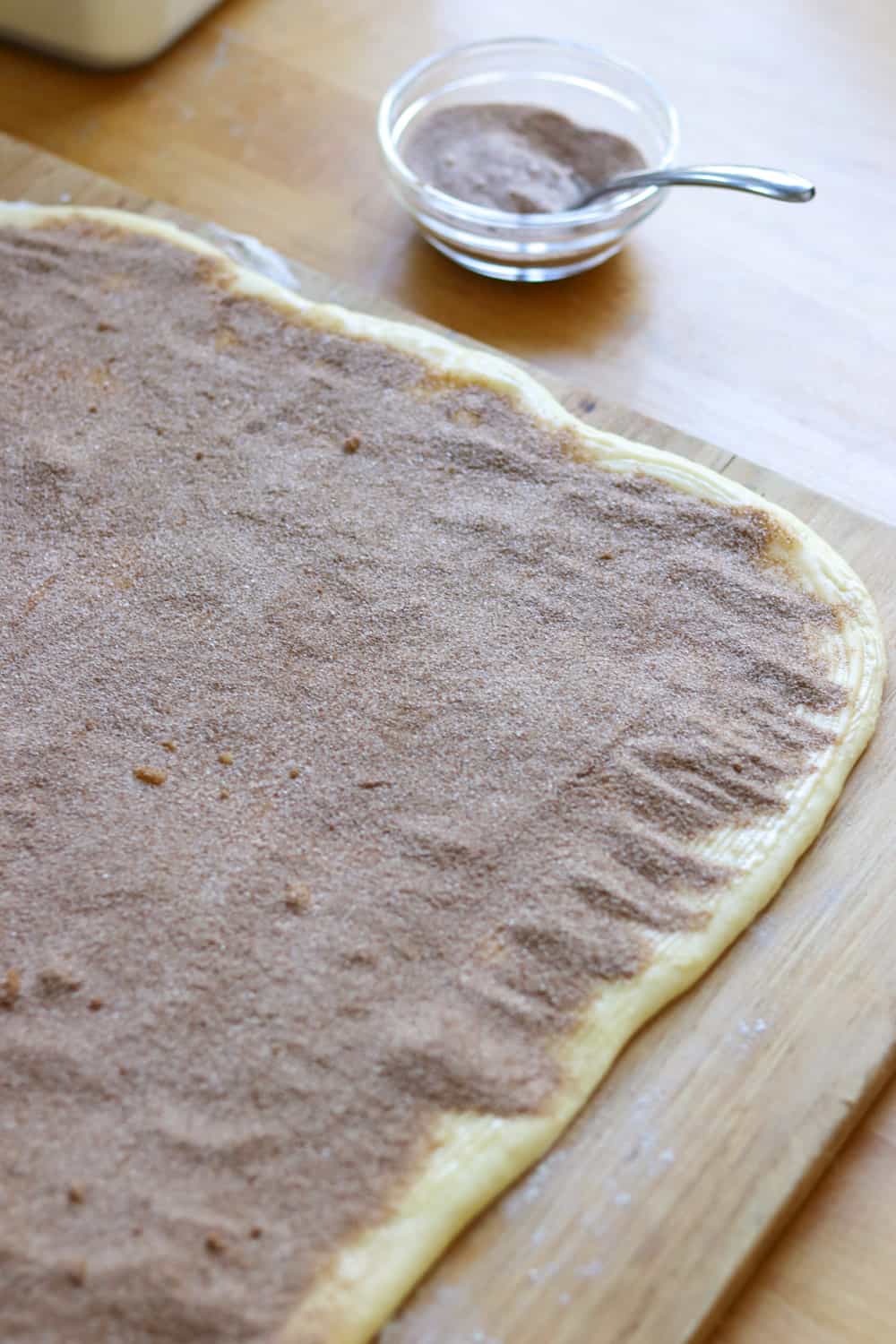 Here are some tips and tricks to make these yeast cinnamon rolls from scratch the best EVAH!
I know there are plenty of other recipes where you can make overnight cinnamon rolls, one hour cinnamon rolls, and yes, you can even save time by going to the store to pick up a canister of Pillsbury cinnamon rolls, BUT…
I really think you'll be pleased with how soft, and incredibly delicious these are even if you do have to wait a bit before enjoying them.
Remember, good things come to those who wait!
Make the dough by dissolving the yeast, warm water, and sugar in the bowl of an electric mixer.
Mix in the milk, remaining sugar, and enough flour to make a medium batter, much like that of a pancake batter.
Let rest for 8 – 10 minutes.
Mix in melted butter, egg, and salt. Then add enough flour to form a soft dough.
Turn the dough out onto a lightly floured surface and rest for 10 minutes.
Place dough into a large bowl covered with cooking spray and cover tightly with plastic wrap.
Place in a warm area to rise until double in size, about 1 – 1 ½ hours.
Punch the dough down and roll out to a rectangle about 15″ x 20″ and about ¼ – ½ inch in thickness. Let dough rest for 10 minutes.
Spread dough with melted butter to the edges then sprinkle with cinnamon sugar mixture.
Gently roll the dough on the long side until all compact.
Spread tops of the rolls with the melted butter, then sprinkle with more cinnamon sugar, and freshly grated nutmeg for the "topping".
Cover the baking dish with plastic wrap, and set in a warm place to rise for an hour.
While the rolls rise, mix the cream cheese icing recipe.
In a mixing bowl, cream the butter, cream cheese, vanilla, and seeds of the vanilla bean. Add the confectioners' sugar, and mix well. Add the tablespoon of milk and mix until smooth.
Preheat the oven to 400°F, and bake for 15-17 minutes until golden.
After removing from the oven, spread with cream cheese frosting.
What is the best way to cut the cinnamon roll dough?
I've found that the best way to cut the dough into individual rolls is to slice it with a long piece of clean, unflavored waxed dental floss.
Gently, slide the piece of dental floss under the dough, and move it to the center.
Bring both sides of the floss up, and cross them over each other.
Then, as you pull the edges of the floss away from the dough, it will create a perfect cut.
Using the dental floss will give you rounder rolls.
They won't have the force of the knife pressing down to flatten or compress them.

Cinnamon Roll Icing Recipe
And another secret is the vanilla bean seeds in the frosting.
I didn't just use vanilla extract, I "kicked it up a notch", taking those yummy little black bits out of that long brown piece of goodness.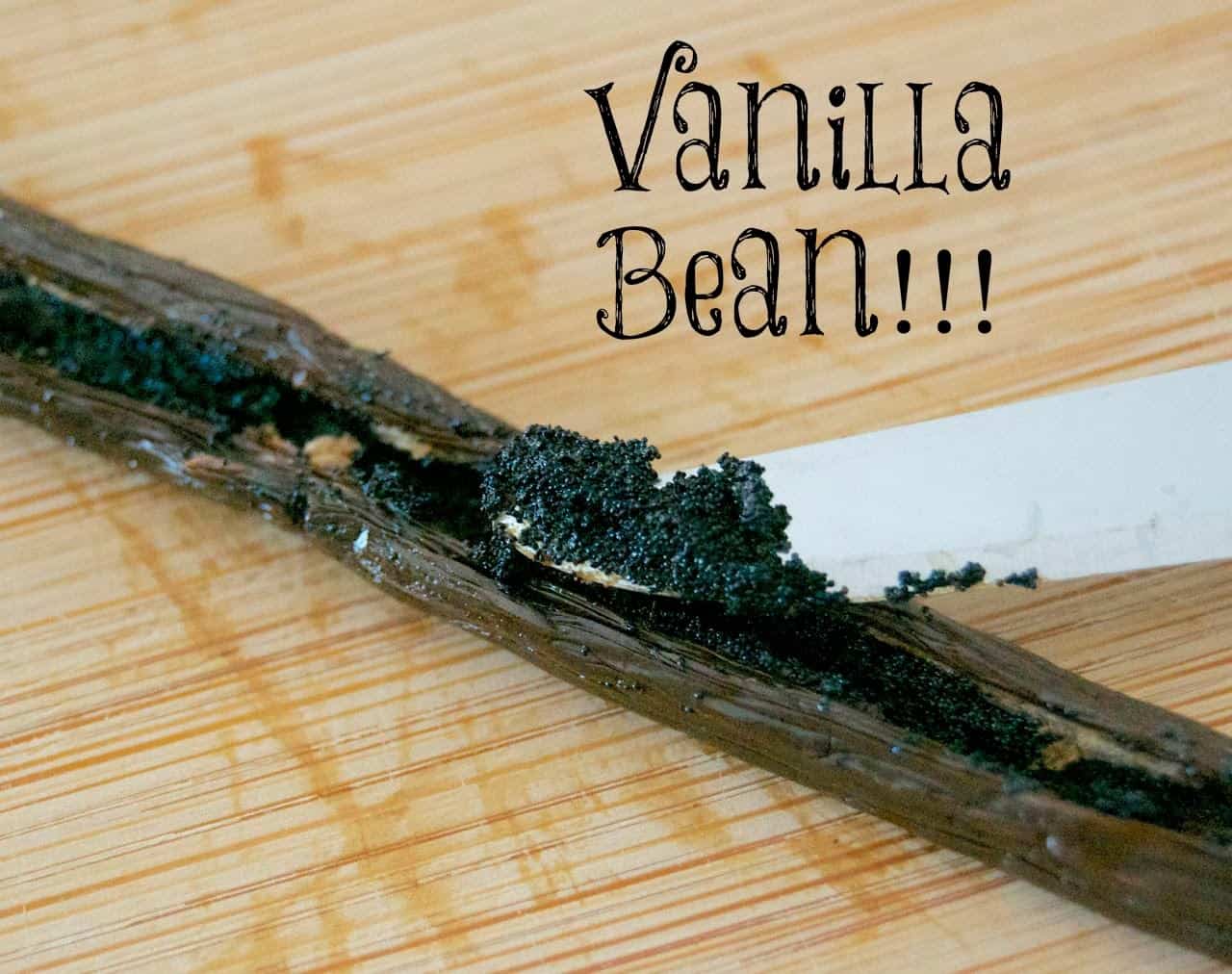 Looks like caviar, kind of sort of.
This stuff is the black caviar of baking.
At least, that's what I'm calling it.
Add it to the frosting, you won't be sorry.
This frosting recipe was adapted from Simply Savvy Recipes.
How much vanilla extract do I use in place of a vanilla bean?
I understand that vanilla beans are expensive and might just not be in your budget.
Not a problem!
I'd love more for you to make these cinnamon rolls using all vanilla extract than skipping them altogether because you don't have a vanilla bean!
So, in place of the vanilla bean, add one teaspoon of pure vanilla extract to the 1/4 teaspoon called for, making the total amount 1 ¼ teaspoons vanilla.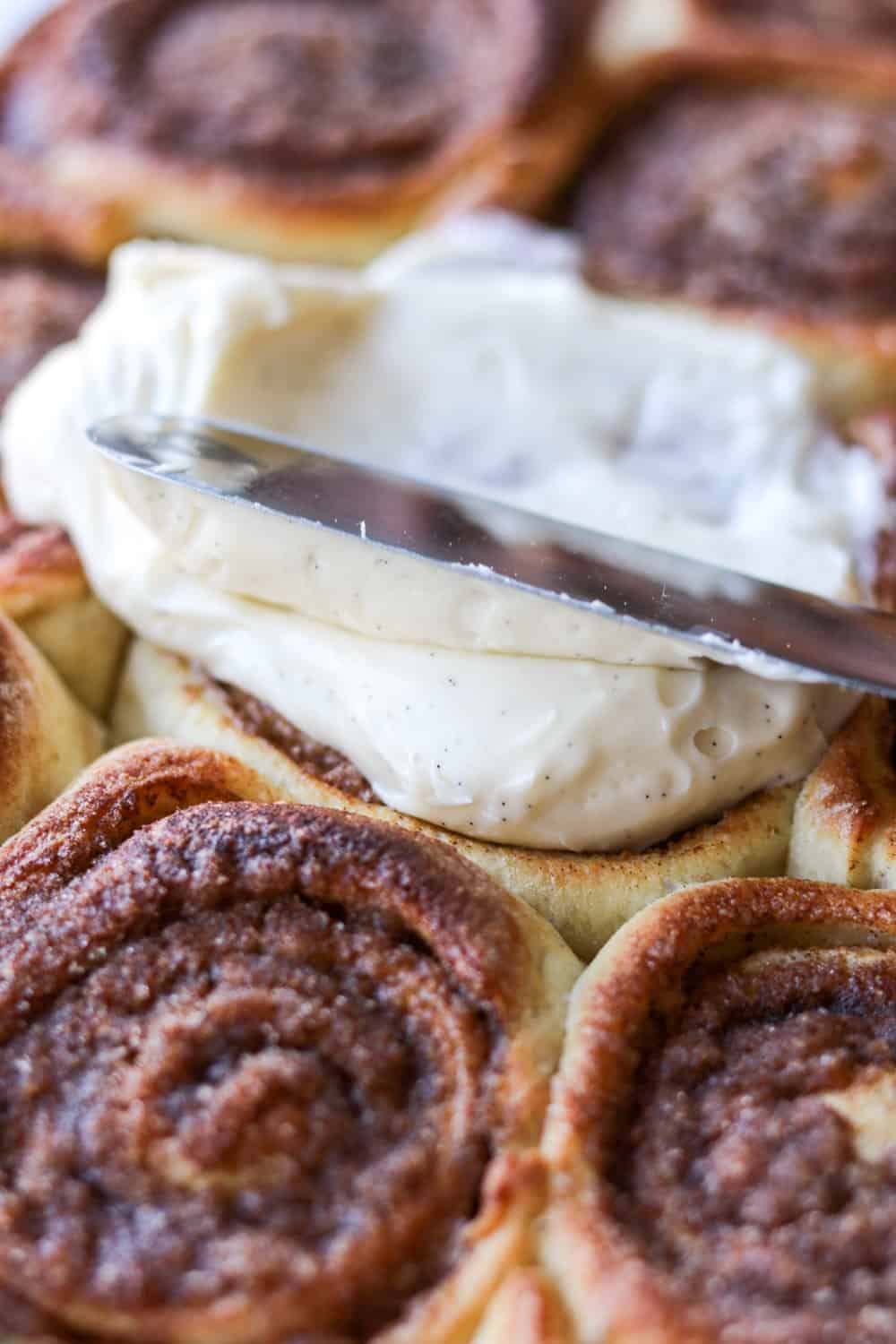 These homemade cinnamon rolls will be delicious paired with a coffee sweetened with this peppermint white chocolate creamer, or a touch of dulce de leche creamer.
I can also see myself enjoying it with a cookie butter white chocolate mocha, or an almond candy bar frozen coffee.
Breakfast will be better with this recipe on the menu.
It will be a delicious meal when you serve my huevos rancheros, crepes, lemon blueberry cottage cheese pancakes, or this easy peaches and cream French toast bake.
The first meal of the day is certainly a favorite around here!
Raspberry cream cheese scones, cinnamon sour cream coffee cake, and this pear cream cheese danish are just some of the recipes I make for my family and have received rave reviews from others.
And of course, bacon!
Every weekend there needs to be some bacon on the table and this is THE best way to make it.
I don't make it any other way because it's so gosh darn easy, AND the clean-up is a breeze!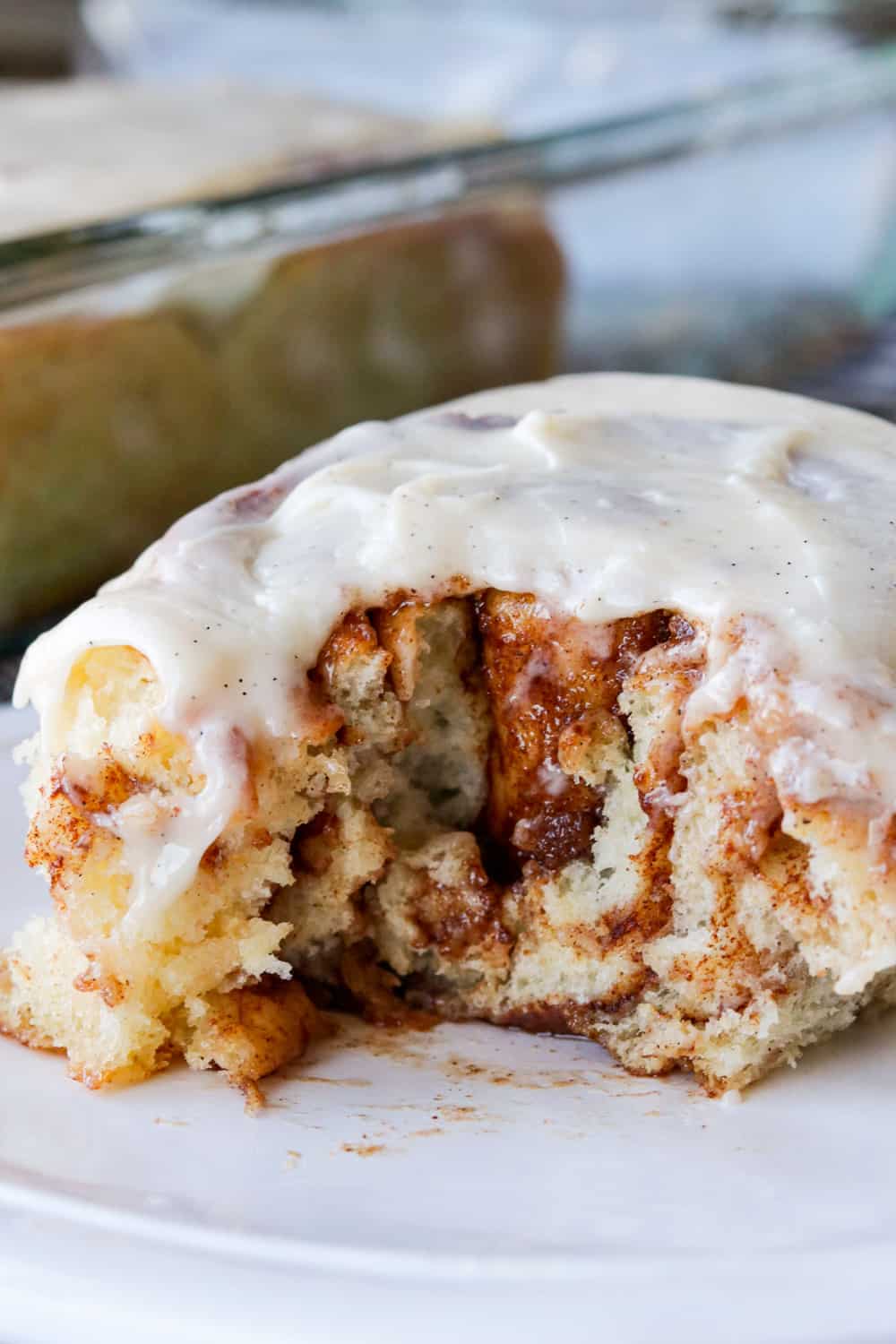 SIGN UP FOR THE WEEKLY
365 DAYS OF BAKING & MORE
NEWSLETTER BELOW!
If you've made any of our recipes, we'd love to see them and possibly give you a shout out on our social media!
Share your finished creations on Instagram, and be sure to tag @365daysofbaking so we can find you.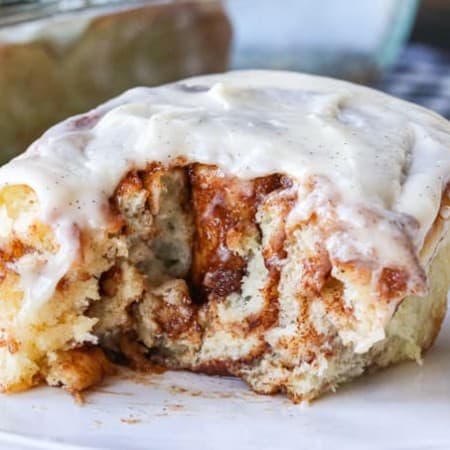 Cinnamon Rolls with Vanilla Bean Cream Cheese Icing
A soft, sweet dough brushed with melted butter, sprinkled with a cinnamon / sugar mixture then rolled, sliced and baked. When removed from the oven, they are spread with a cream cheese frosting flavorfully enhanced with the addition of a vanilla bean.
Ingredients
Cinnamon Rolls
2 teaspoons active dry yeast
¼ cup warm water
1 cups milk scalded and cooled to lukewarm
¼ cup plus 1/2 teaspoon sugar separated
1.5 tablespoons butter melted, plus additional for brushing
4-4 ½ cups flour
1 large egg
1 teaspoon kosher salt
Filling
6 tablespoons butter melted
¾ cups sugar
2 ½ tablespoons cinnamon
Topping
2 tablespoons butter melted
¼ cup sugar
1½ teaspoons cinnamon
¼ teaspoon freshly grated nutmeg
Frosting
6 ounces cream cheese softened
6 tablespoons butter room temperature
¼ teaspoon pure vanilla extract
1 vanilla bean sliced lengthwise with seeds scraped out and reserved
2 cups confectioners' sugar
1 tablespoon milk
Instructions
Rolls
In the bowl of an electric mixer, dissolve yeast in the warm water with the half teaspoon of sugar.

With the paddle attachment, mix in the milk, remaining 1/4 cup of sugar, and enough flour to make a medium batter. The batter should be about the thickness of a pancake batter.

Mix thoroughly.

Allow to stand until light and foamy, about 8-10 minutes.

Add melted butter, eggs and salt.

Beat well.

Add enough flour to form a soft dough.

Turn dough out onto a lightly floured surface and allow it to rest for about 10 minutes.

While dough is resting, prepare a large bowl by spraying it with cooking spray.

Knead dough until it is smooth and satiny, about 10 minutes.

Place into prepared bowl and turn over, coating it with oil.

Cover bowl tightly with plastic wrap and set to rise in a warm area until double in size, about 1 - 1 1/2 hours.

Punch dough down.

On a lightly floured surface and with a lightly floured rolling pin, flatten dough into a rectangle approximately 15 X 20-inches and about 1/4 – 1/2-inch thick.

Allow to rest for 10 minutes.

Prepare a 9 X 13-inch baking dish by spraying it with cooking spray.
For the filling:
Spread the melted butter evenly onto the dough, up to the edges.

Combine the cinnamon and sugar required for the filling in a small bowl and mix until thoroughly combined. Evenly sprinkle it all over the dough.

Starting from the long side, gently roll the dough up into one long roll.

Using a clean piece of dental floss, cut into slices about 1 1/2-inches thick.

Place into prepared baking dish, leaving an inch or so between each, if possible.
Cinnamon Sugar Topping
In a small bowl, whisk together the sugar and cinnamon for the topping until completely mixed.

Spread some of the melted butter on top of each roll then sprinkle the sugar/cinnamon onto the top.

Freshly grate the nutmeg over each roll. (Can also be mixed with cinnamon sugar and sprinkled altogether.)

Tightly cover the baking dish with plastic wrap and allow to rise in a warm area until double in size, about 1 hour.
For the frosting:
In a cleaned mixing bowl, combine cream cheese, butter, vanilla extract, and vanilla bean seeds. Beat till well combined.

Gradually add confectioners' sugar and thoroughly mix.

Add the tablespoon of milk and beat until smooth and creamy.

Preheat oven to 400° F. Bake rolls for 15-17 minutes or until lightly golden.

Upon removing rolls from oven, spread with frosting.
Notes
I've found it super helpful to use a piece of unflavored dental floss when slicing the dough into individual rolls. It helps them keep their shape as opposed to cutting the dough with a knife which can sometimes flatten them.
Nutrition
Serving: 1g | Calories: 538kcal | Carbohydrates: 81g | Protein: 8g | Fat: 21g | Saturated Fat: 13g | Trans Fat: 1g | Cholesterol: 70mg | Sodium: 386mg | Potassium: 136mg | Fiber: 3g | Sugar: 42g | Vitamin A: 703IU | Vitamin C: 1mg | Calcium: 72mg | Iron: 3mg
Did you make this recipe?
Share it with me on Instagram and make sure to follow me on Pinterest for more recipes.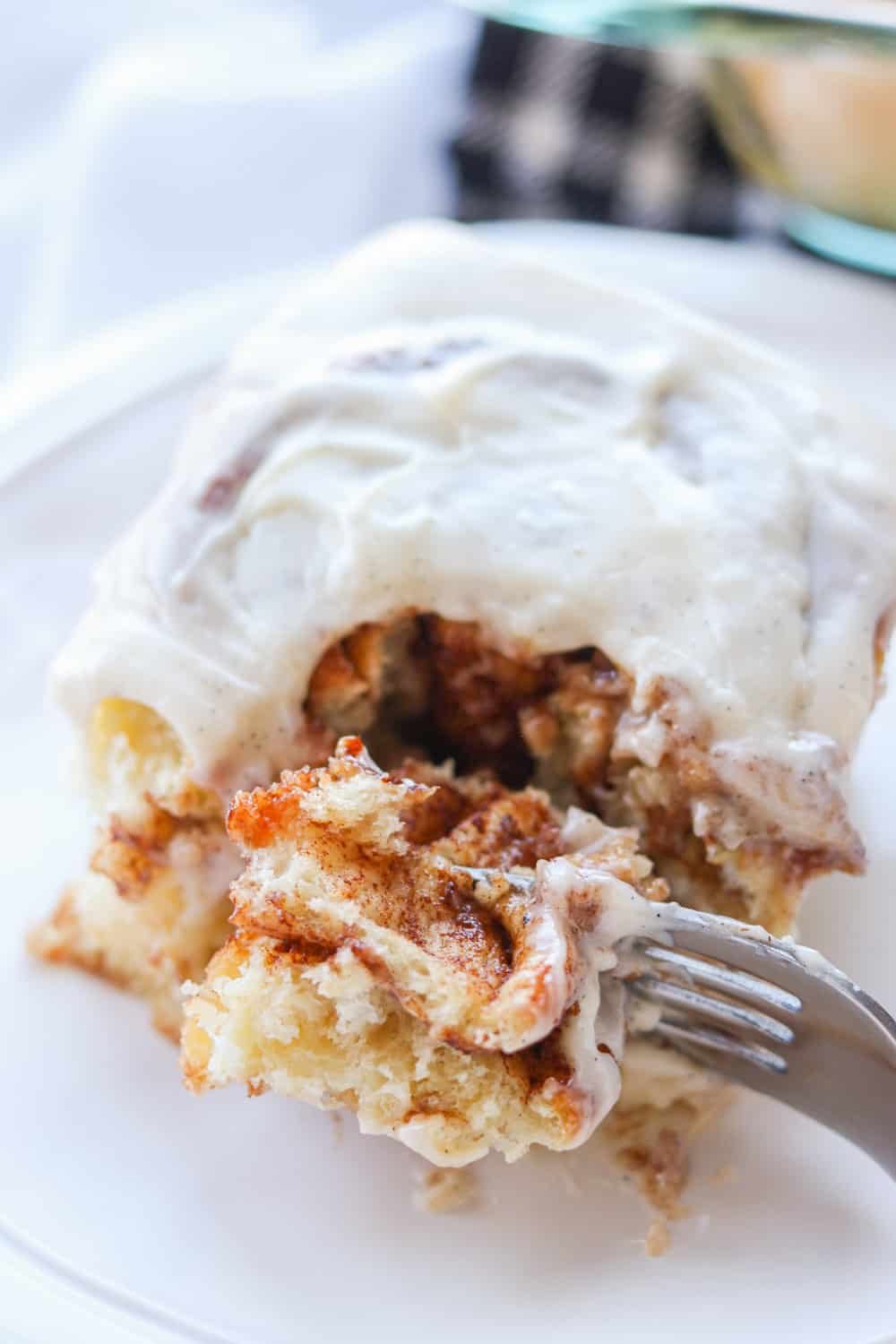 Your family will thank you and beg for more.
I rate everything I make on a scale of 1-4 with 4 being the best and these Cinnamon Rolls with Vanilla Bean Cream Cheese Frosting earned…yesiree, Bob, 4 rolling pins!!
I really think that your family will love them as much as mine does.
Reader Interactions