This One Pot Bacon and Tortellini Zuppa Toscana is a hearty and flavorful soup made with Pure Farmland Bacon, Tuscan kale, and other farm ingredients inspired by my visit to Steadfast Farm.
Pure Farmland Bacon is a key ingredient in this soup's delicious flavor! It is all natural, contains no MSG, artificial ingredients, preservatives or added hormones. It's the perfect choice whenever bacon is on the menu!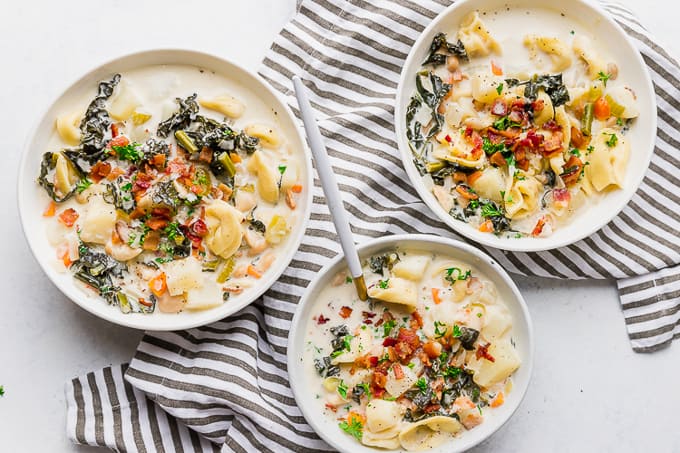 This One Pot Bacon and Tortellini Zuppa Toscana is seriously a cornucopia of great farm ingredients.
I am proud to be partnering with Farmland in association with American Farmland Trust to bring you this sponsored One Pot Bacon and Tortellini Zuppa Toscana. I have been compensated but as always all opinions are 100% my own.
This soup is made in just ONE POT! No separate cooking of the bacon or boiling of the tortellini.
It's a delicious and hearty meal with just a little cleanup that I'm really excited to share with you.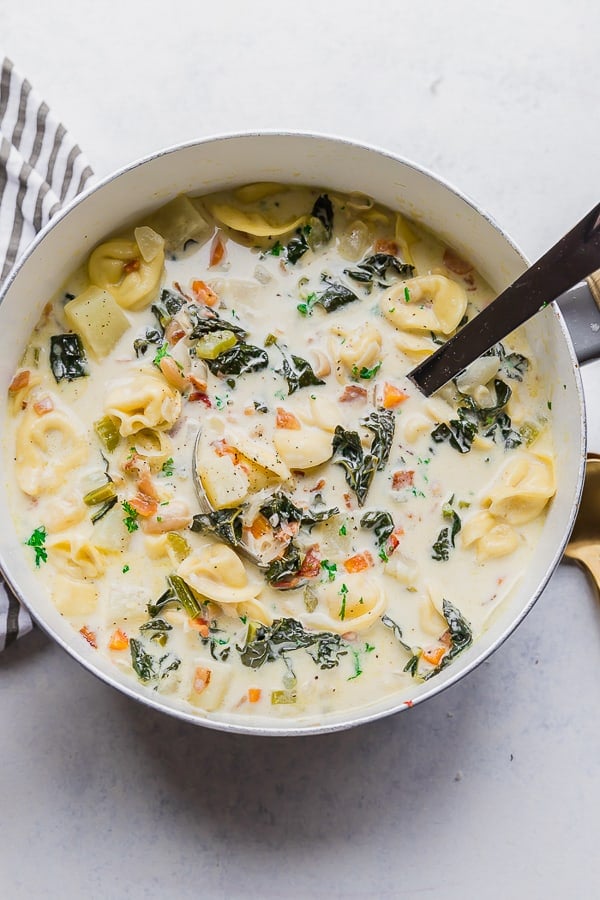 Believe it or not, there are only two soup recipes here on the blog. That's why I was inspired to create another one after my recent visit to Steadfast Farm – A Micro Farm Tour.
This Creamy Tomato Basil Soup and this Avgolemono Soup are both absolutely delicious, but this Bacon and Tortellini Zuppa Toscana tops them both. It's just so good, especially because of the bacon!
Farmland created their Pure Farmland product line knowing that people want healthy options when it comes to feeding their families. With no hidden ingredients, these pure pork products were created with the consumer's well-being in mind. They are all natural and raised on American farms without antibiotics.
SAVE THIS ONE POT BACON AND TORTELLINI ZUPPA TOSCANA RECIPE TO YOUR FAVORITE PINTEREST BOARD!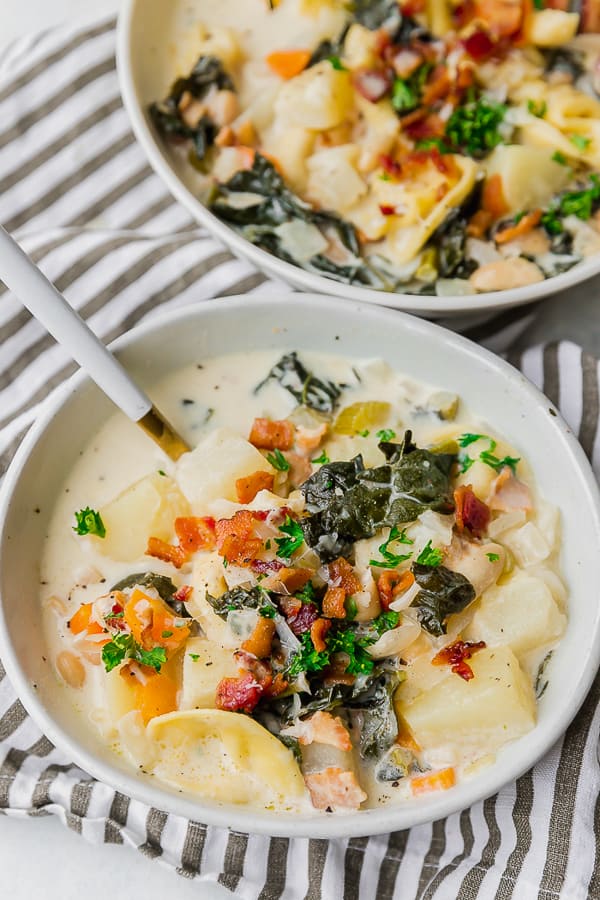 If you've been following me for a while you know that I have an affinity for farmers and ranchers. I am humbled by all that they do, not only for consumers but for their crops, livestock, their families and their communities.
Their work ethic is nothing short of amazing and very admirable.
American Farmland Trust is very aware of the impact farmers and ranchers have on so many facets of life. This organization was created in 1980 in an effort to promote voluntary conservation practices to preserve America's farm and ranchland, soil, and water supplies.
Did you know that American farms and ranchland are being lost to development at the rate of 3 acres every minute?
That to me is just mind-blowing.
And very heartbreaking.
Think about this…
Every single meal we eat contains ingredients grown on a farm.
Farms and ranches sustain us, so we need to do what we can to make them sustainable.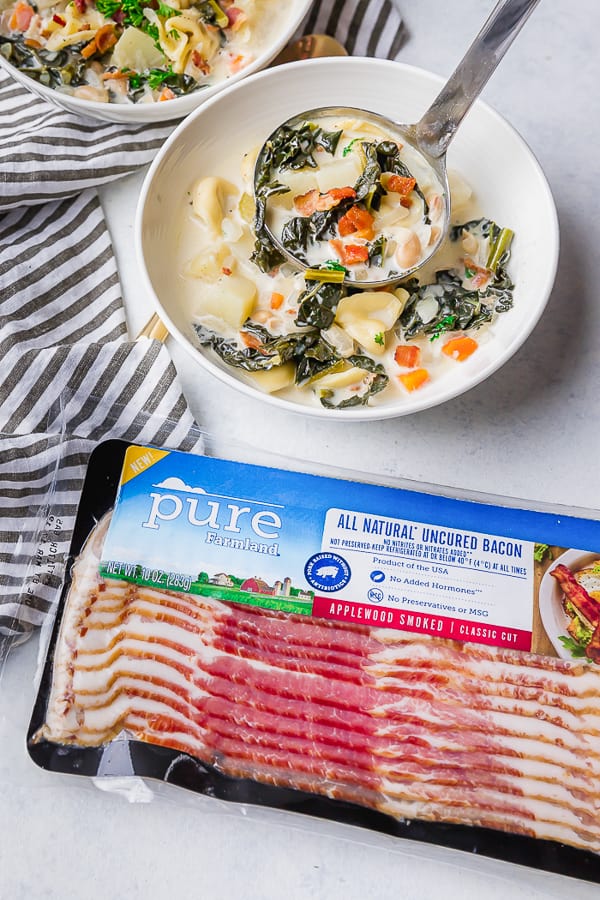 That is why from now until December 31, 2019, Farmland has pledged to protect one square foot of American farmland for every specially-marked Pure Farmland item purchased, up to $140,000.
Farmland wants to help continue American Farmland Trust's mission to promote sound farming practices, protect America's farm and ranchland and enable farmers to continue working on their land.
There are ways that you can help, too!
You can purchase specially-marked packages of Pure Farmland Bacon to make this One Pot Bacon and Tortellini Zuppa Toscana as well as other Pure Farmland items to make your meals. Each purchase will assist Farmland with their donation.
Visit American Farmland Trust to learn more about their organization. You'll see what they've been able to do to help so many around the nation, how they're continuing their mission, and how you can be a part of it.
Visit your local farms and farmer's markets. Learn more about what they do and join their Community Supported Agriculture (CSA). Members of a CSA pay a fee which provides the farmer capital to run the farm. In turn, each member is given a portion of the harvest. Everyone wins!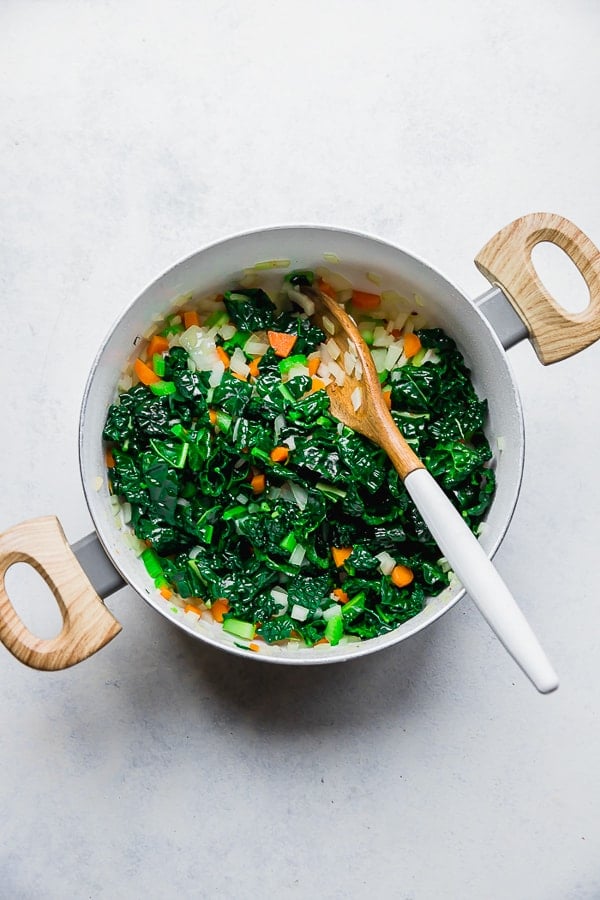 SIGN UP FOR THE
365 DAYS OF BAKING & MORE
NEWSLETTER
BELOW!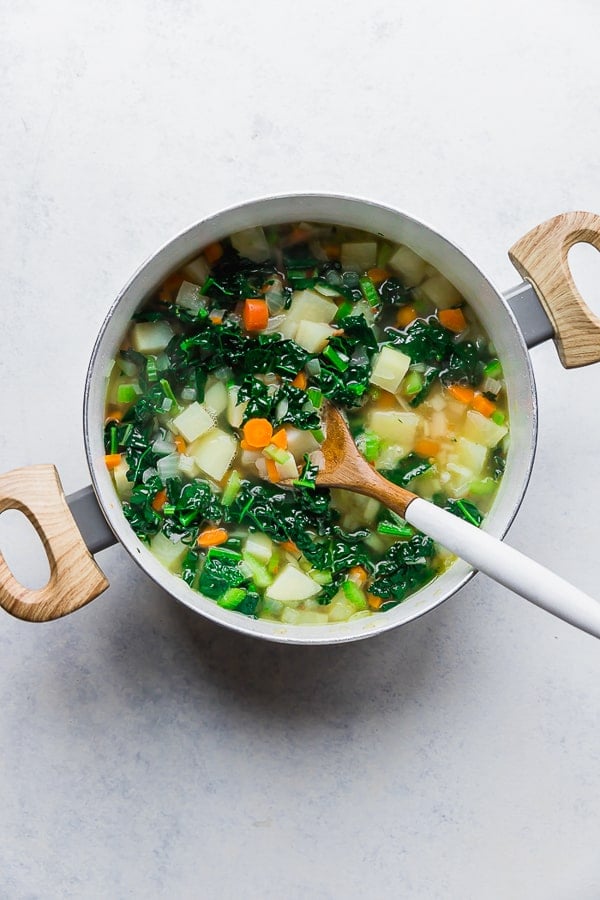 Tips for making your One Pot Bacon and Tortellini Zuppa Toscana –
Use Pure Farmland Bacon – with no added preservatives, ingredients, MSG, or added hormones, this all natural bacon is an ingredient that will add incredible flavor to not only this but other recipes, too! It's something you can feel good about feeding your family without question.
Use the bacon grease to saute the vegetables. This will add another level of flavor to the soup as opposed to using olive oil. And honestly, who doesn't love bacon?
I used the Tuscan kale and small carrots from my visit to the farm in this recipe.
Tuscan kale is related to the kale you're probably more familiar with. It is also known as lacinto kale, dinosaur kale, and palm tree kale. This variation tastes better and is easier to use as the leaves are more flat than ruffled. Not a problem if you can't locate it though. You can substitute the kale and carrots from your local grocery store.
I prefer to dice the carrots and celery very small. It allows them to cook faster and gives you delicious flavor in every spoonful.
Once you add the heavy cream, just warm the soup until heated through. It shouldn't take more than one to two minutes.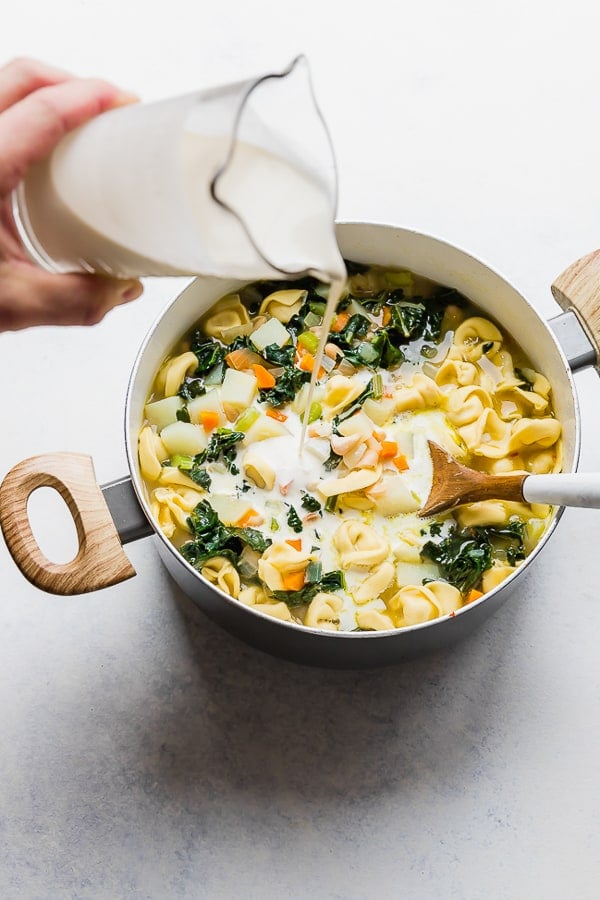 I'm excited to try this recipe using Pure Farmland bacon, too!
Yvette from Muy Bueno made these Black Bean and Bacon Flautas. Also known as taquitos, she used kale in her recipe as well. It's going to be one delicious dinner for sure!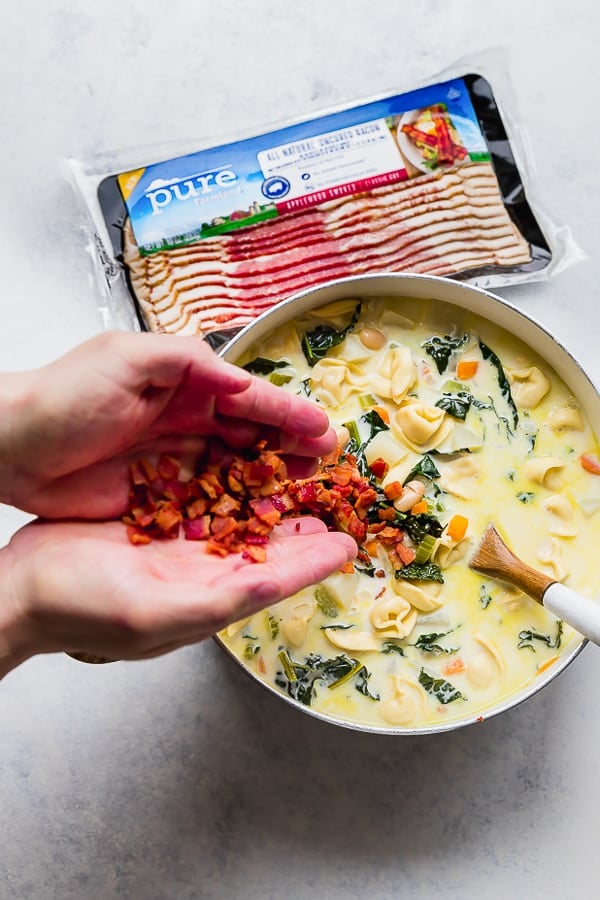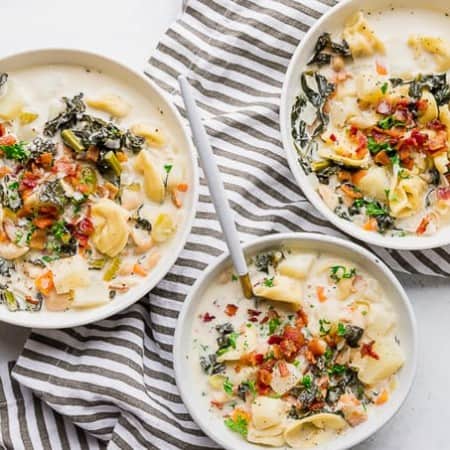 One Pot Bacon and Tortellini Zuppa Toscana
This One-Pot Bacon and Tortellini Zuppa Toscana is a hearty and flavorful soup made with Pure Farmland Bacon, kale, carrots, and more. With so much flavor and little cleanup required, everyone's sure to love it.
Ingredients
10 ounces Pure Farmland Bacon diced
4 cloves garlic minced
2 cups Tuscan kale or lacinato kale hard stems removed and chopped
2 medium carrots diced very small
2 stalks celery diced very small
1 medium yellow onion diced
5 cups low sodium chicken broth
¼ teaspoon red pepper flakes less or more, if desired
2 medium Russet potatoes, peeled diced to 1/2-inch squares
15.5 ounces Cannellini beans drained and rinsed
9 ounces cheese tortellini
2 cups heavy cream
salt and pepper to taste
grated Parmesan cheese, for serving
Instructions
in a large pot, over medium heat, cook the Pure Farmland Bacon. Stirring frequently, cook until brown and crisp, about 15-17 minutes.

With a slotted spoon, transfer bacon pieces to a plate lined with a paper towel. Drain all but TWO tablespoons of the bacon grease from the pot.

Add the garlic, Tuscan kale, carrots, celery, and onion to the pot and saute in reserved bacon grease for 5 minutes.

Pour in the chicken broth and red pepper flakes and bring to a boil.
Add the potatoes and boil for 5 minutes.

Place the Cannellini beans and tortellini into the pot and boil for an additional 5 minutes.

Reduce heat to low. Pour in cream and 3/4 of the cooked Pure Farmland Bacon.
Add salt and pepper to taste and cook until heated through, about two minutes.

Ladle into bowls. Top with remaining bacon and Parmesan cheese.
Notes
Recipe adapted from Dash of Sanity. If Tuscan kale, aka lacinato kale, cannot be found then kale from your local farmer or grocer can be used.
Nutrition
Calories: 767kcal | Carbohydrates: 52g | Protein: 24g | Fat: 53g | Saturated Fat: 26g | Cholesterol: 156mg | Sodium: 777mg | Potassium: 787mg | Fiber: 7g | Sugar: 3g | Vitamin A: 5365IU | Vitamin C: 16.5mg | Calcium: 206mg | Iron: 4.1mg
Did you make this recipe?
Share it with me on Instagram and make sure to follow me on Pinterest for more recipes.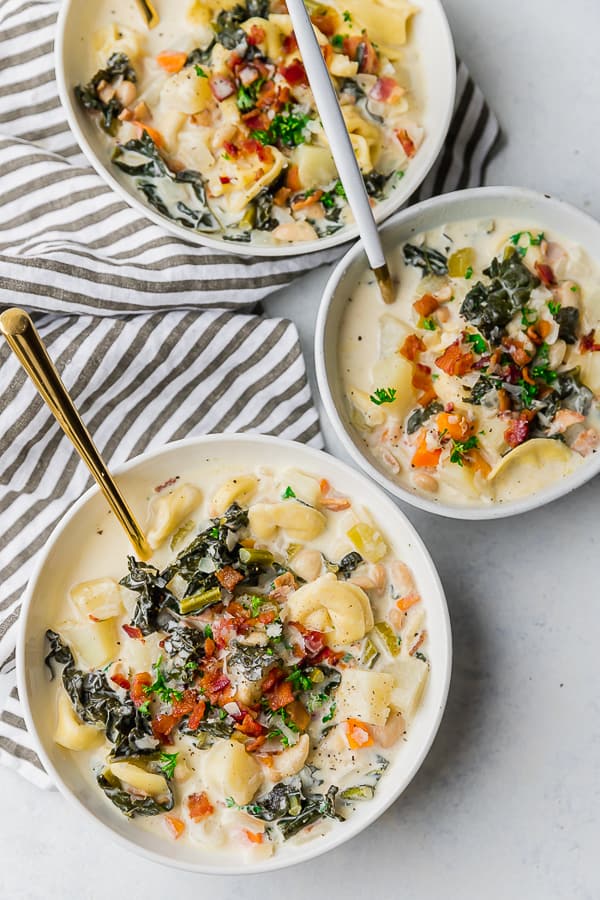 Reader Interactions