It's fall season, and this easy Apple Crumb Cake makes the perfect breakfast, dessert or afternoon snack. This buttery, moist cake is loaded with apple chunks and cinnamon, and baked with a crunchy streusel topping! It's an easy recipe that family and friends will keep coming back for.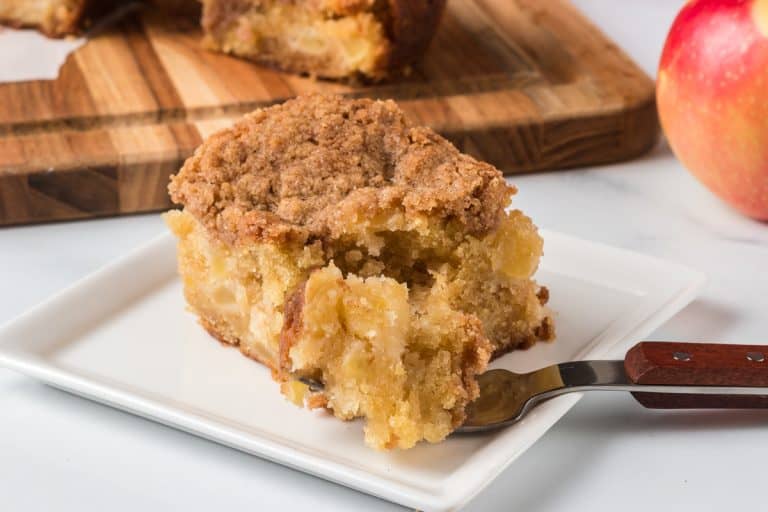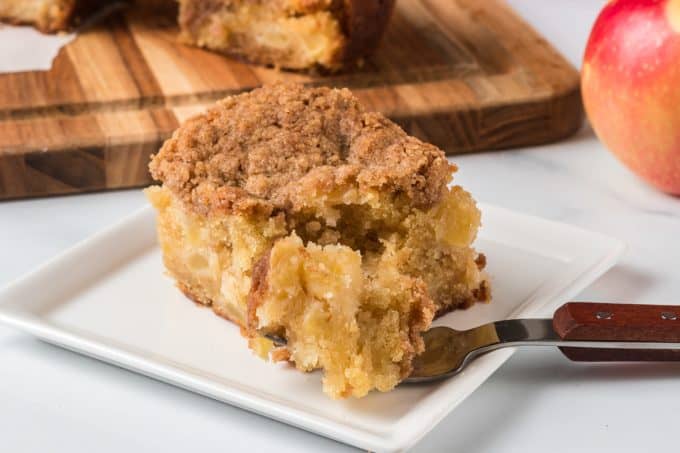 We are a little nuts for coffee cakes around here. If you like Cinnamon Coffee Cake and apple recipes, this Apple Crumb Cake recipe is going to win your heart—and your taste buds.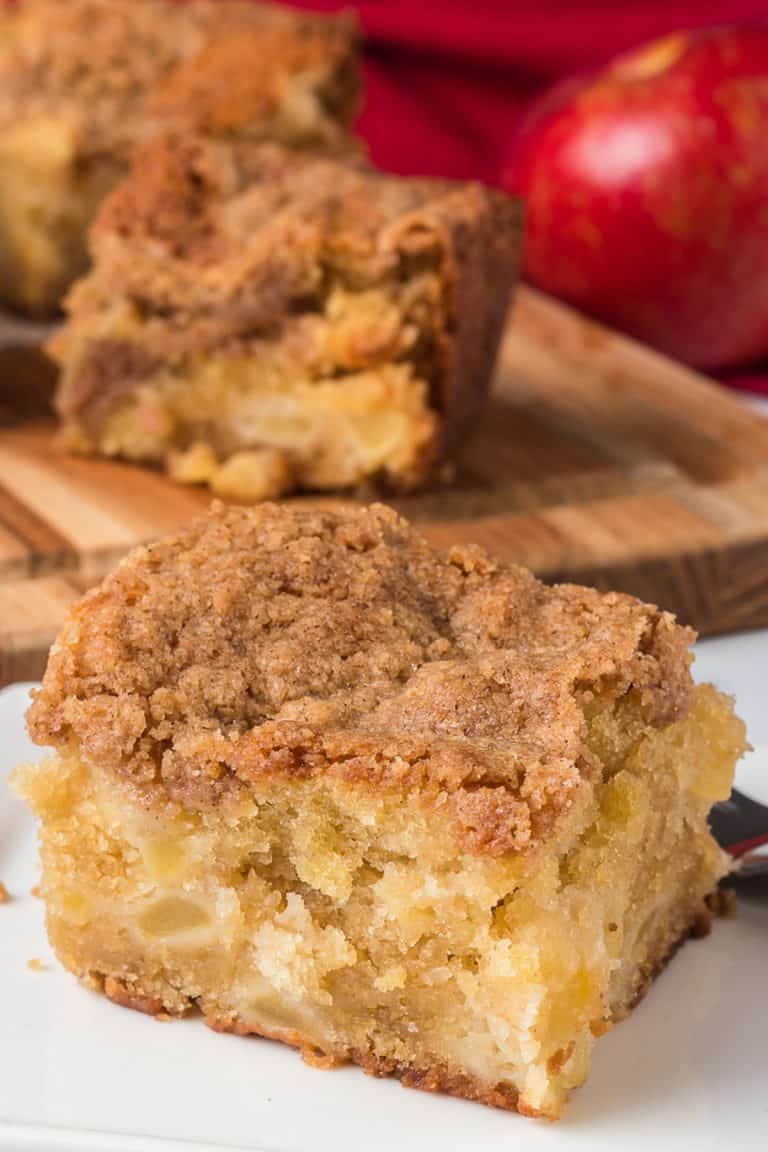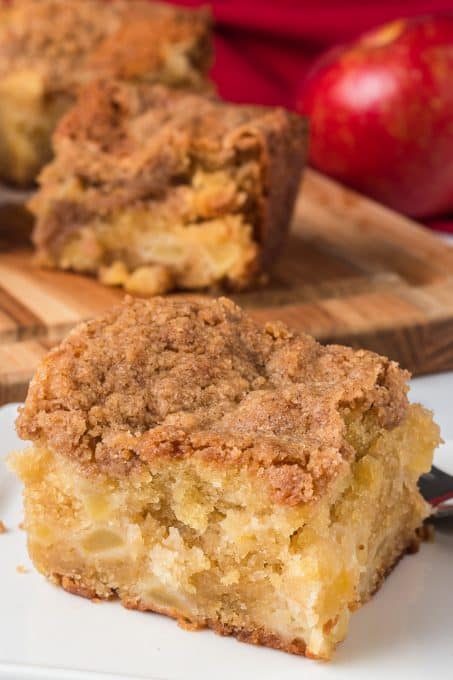 I have baked my fair share of crumb cakes, folks, and of course, baking is my love language. BUT, let me tell you: this is the BEST Apple Crumb Cake Recipe you'll ever try. It immediately received rave reviews when I made it.
Moist, buttery crumb.
Loaded with REAL apples.
A hint of vanilla flavor.
Covered with a sweet cinnamon sugar crumble!
It's that time of year when I'm starting to dig my sweaters and wool socks out of storage. There's nothing like a a slice of fresh baked apple crumb cake on a crisp autumn morning. All you need is a strong cup of hot coffee and you're ready to take on your day!
One more reason I love this crumb cake recipe? It's so easy! There's no frosting or decorating to worry about; just mix, bake and eat. The hardest part is waiting for it to bake and then cool off after it comes out of the oven.
Seriously.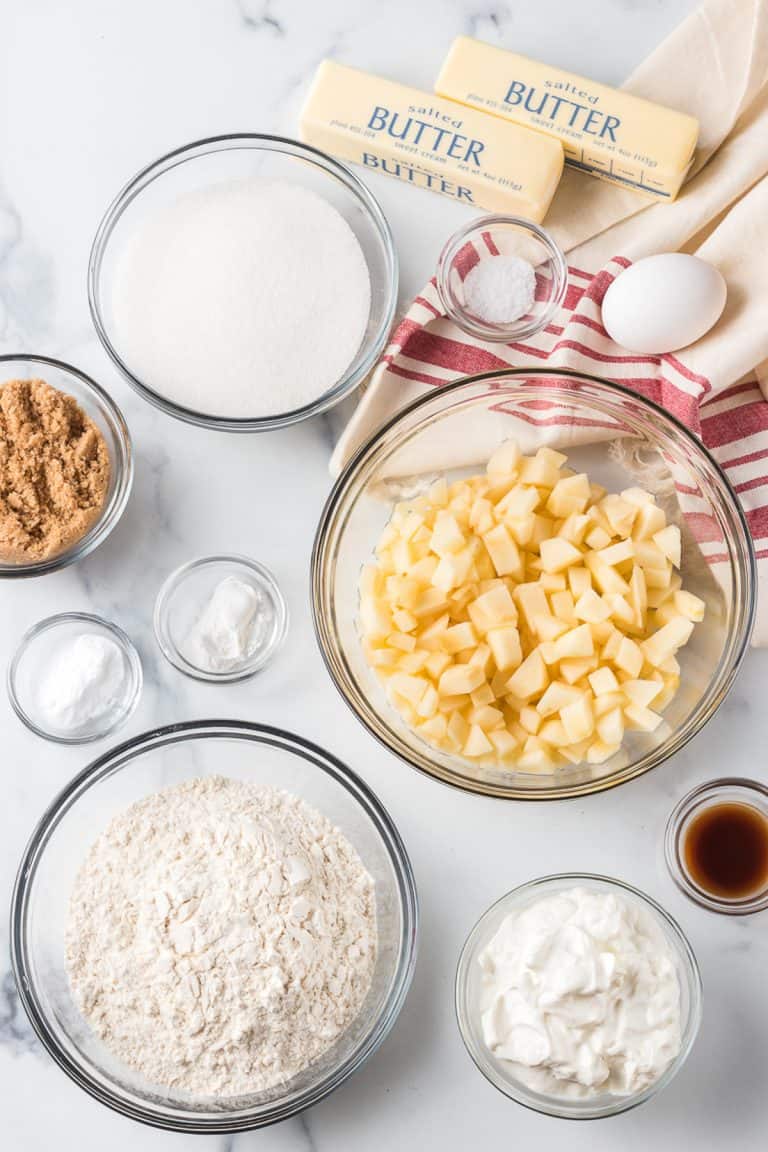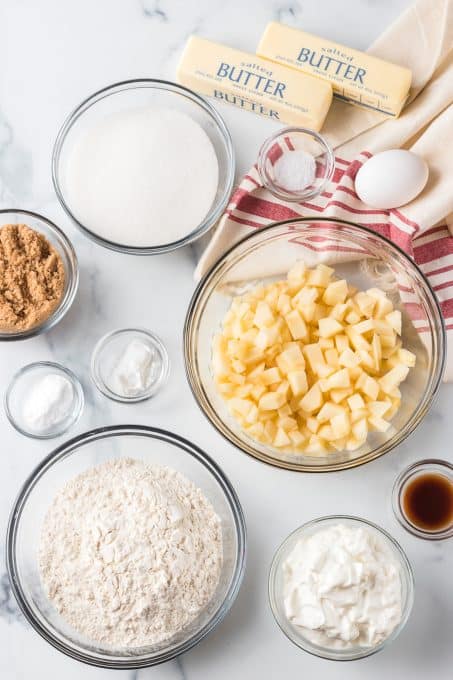 What do I need to make this easy cake with apples?
Here are the ingredients you need to make the cinnamon apple cake.
All purpose flour
Baking powder
Baking soda
Salt
Butter – Use room temperature butter for easier mixing.
Granulated sugar
Light brown sugar
Egg
Vanilla extract
Sour cream or plain Greek yogurt
Diced apples
Lemon juice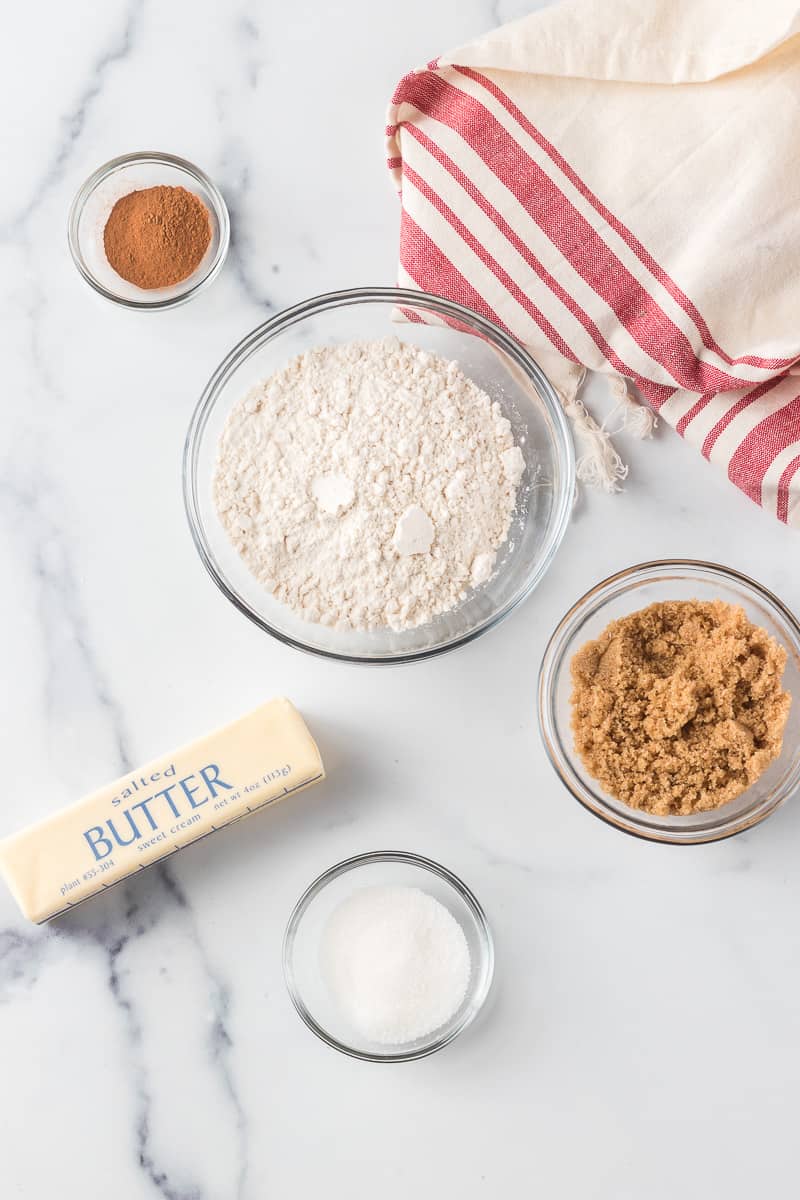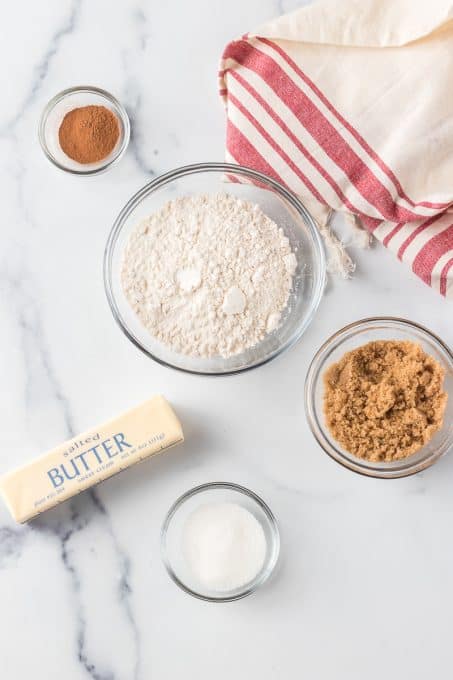 For that show-stopping crumb topping, you'll also need. . .
Light brown sugar
Cinnamon
Flour
Butter – This butter should be COLD. Use it straight from the fridge for best results.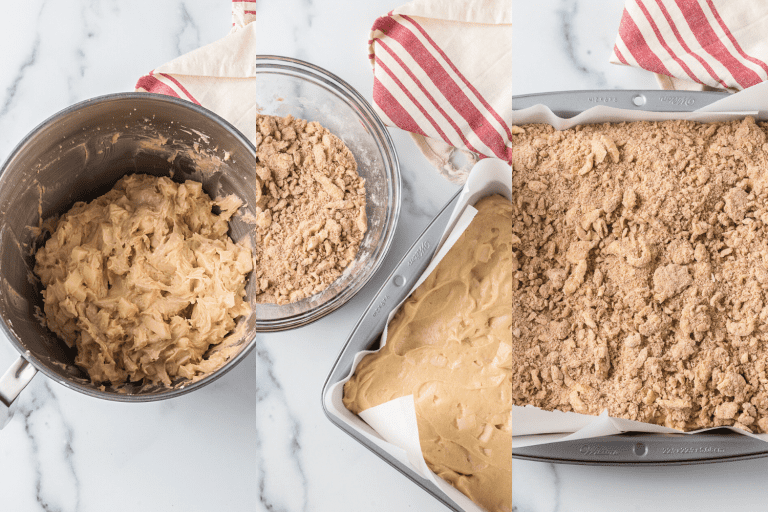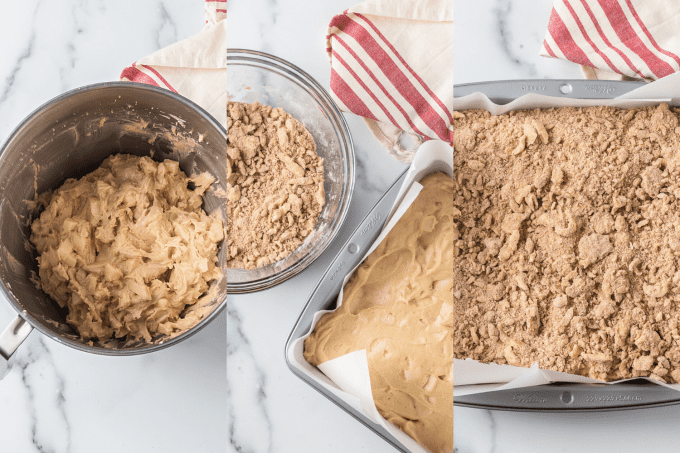 How do I make this cinnamon apple crumb cake?
Making an apple crumb cake recipe from scratch is a breeze. Hardly any more work than opening a boxed mix.
First, preheat your oven and line a square baking dish with parchment paper. You can use baking spray or butter to grease the pan instead if you prefer.
Now, make the cake batter. Mix together the dry ingredients in a medium bowl. In a separate large bowl, you're going to combine the wet ingredients by creaming the butter with the sugars first. Mix in the vanilla and egg.
Add in half the flour mixture. Mix lightly. Then add the sour cream and mix again. Stir in the rest of the dry ingredients, followed by the sour cream. Mix gently until no lumps of flour remain.
Finally, in a medium bowl, toss the chopped apples with the lemon juice and fold into the batter.
Tip: Be careful not to mix the batter more than necessary. Over mixing results in a denser, tougher cake.
Pour the batter into the prepared cake pan. Use the back of a spoon or spatula to spread the batter to the edges in an even layer.
Next it's time to make your crumble topping! Mix together the flour, sugars and cinnamon in a separate bowl. Cut in the chilled butter with forks or a pastry cutter. Continue until the mixture resembles coarse crumbs. Sprinkle the buttery crumble topping over the top of the batter.
Baking time for my apple crumb cake is about 50 minutes. The cake is ready when the top is golden brown and a toothpick inserted in the center comes out clean.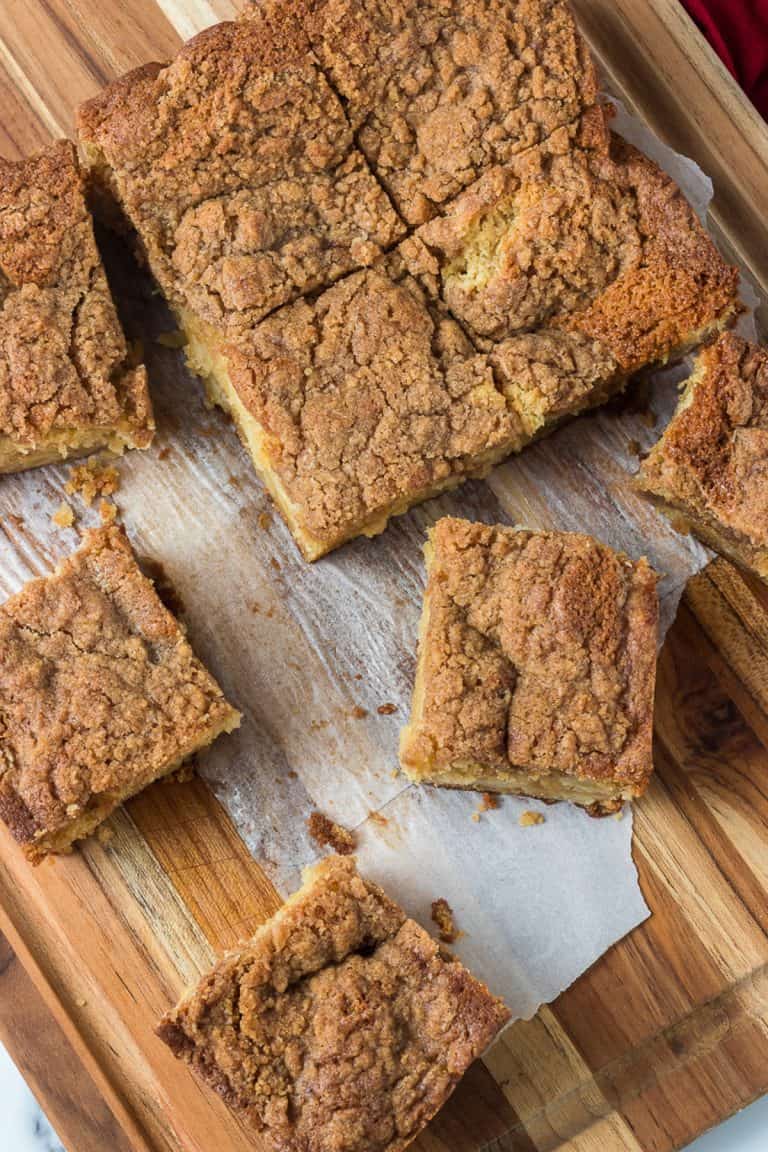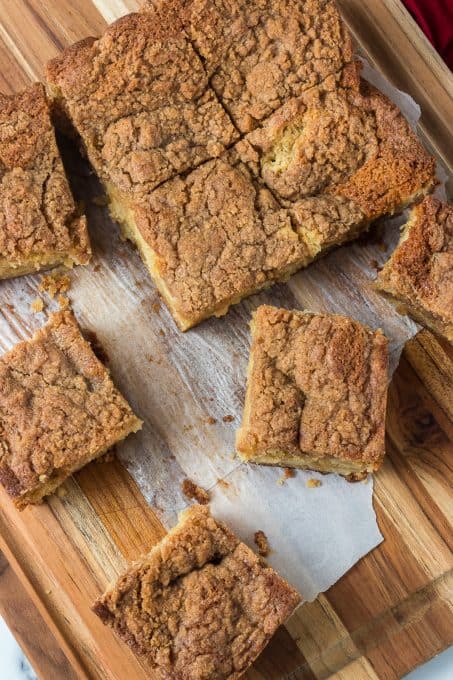 Which fresh apples are best?
When it comes to apple recipes, the apples you use have a big impact on the flavor of the finished product. Nine times out of ten, apples with a firm texture and a bit of tartness are best for baking.
I prefer Granny Smith apples for a soft apple crumb cake, this Skillet Apple Crisp and my favorite Caramel Apple Cheesecake Bars. The extra tartness brings out a bolder apple flavor, but they aren't too tart. You'll love them in sweet recipes, too like Caramel Apple Pound Cake and Apple Cinnamon Oatmeal Cookies.
Honeycrisp, Fujis and Pink Lady apples are two other good choices with a nice balance of sweet and tangy flavor. Braeburn and McIntosh aren't quite as tart, but also produce good results.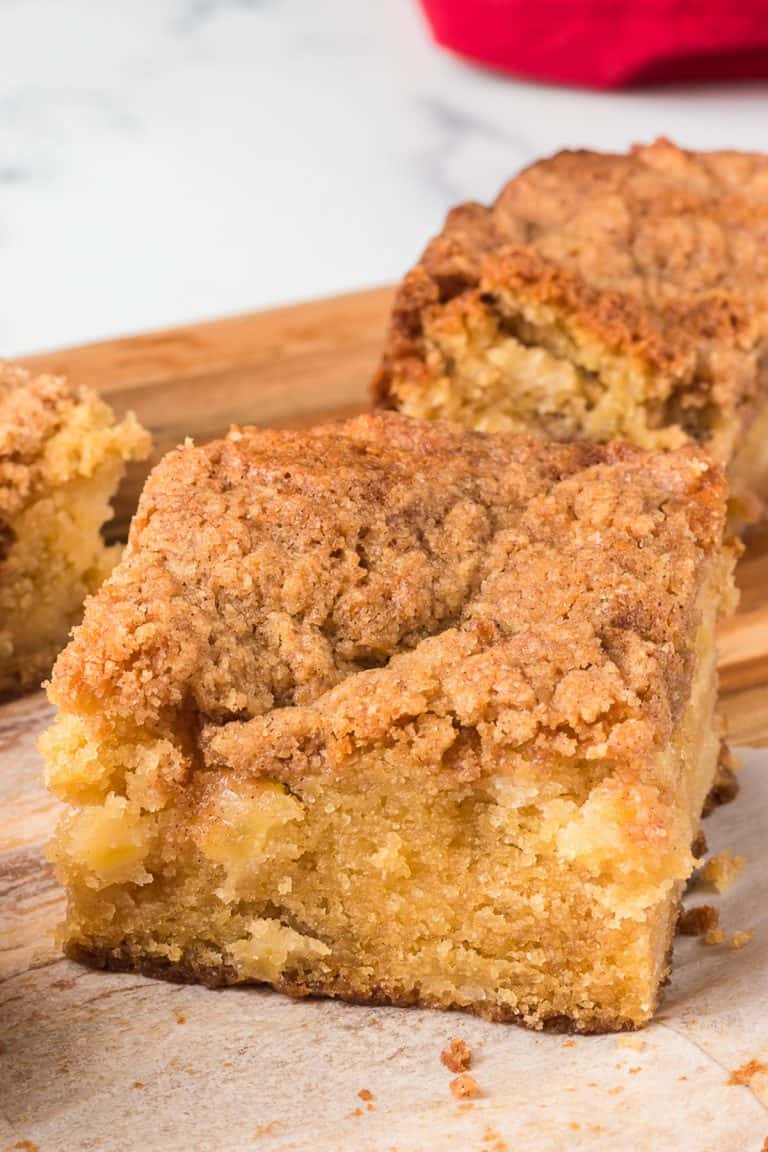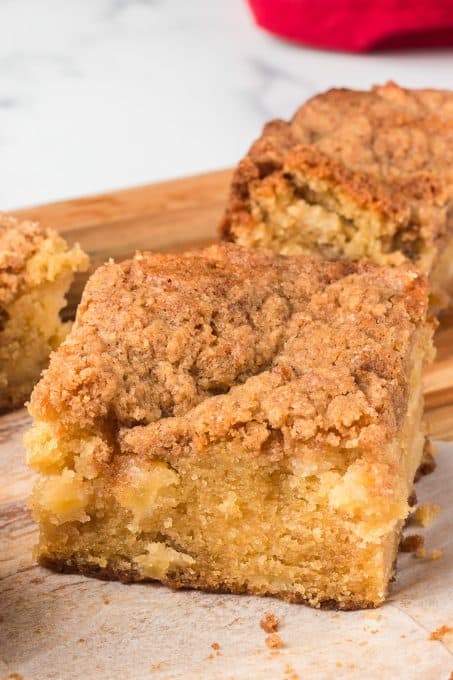 Apple Recipes
Don't stress too much about having the ideal variety of apple when you're making apple recipes. The most important thing is that they are fresh, firm and flavorful!
Today's crumb cake is an ideal autumn breakfast. Make sure to try your hand at this Baked Apple Cinnamon Pancake and these Apple Streusel Muffins this fall, too. These Apple Cinnamon Scones with Maple Glaze are great any time of year! Perfect for tea time or coffee with a friend.
For weekend breakfast and brunch, you can't go wrong with this Baked Caramel Apple French Toast. It's Caramel Apples baked into an easy breakfast casserole! Amazing.
If you have extra apples to use up at the end of "apple season", you have a great excuse to make a batch of Fried Apple Rings or some homemade Baked Applesauce! Or chop them up to toss in a Cranberry Apple Chicken Salad for lunch.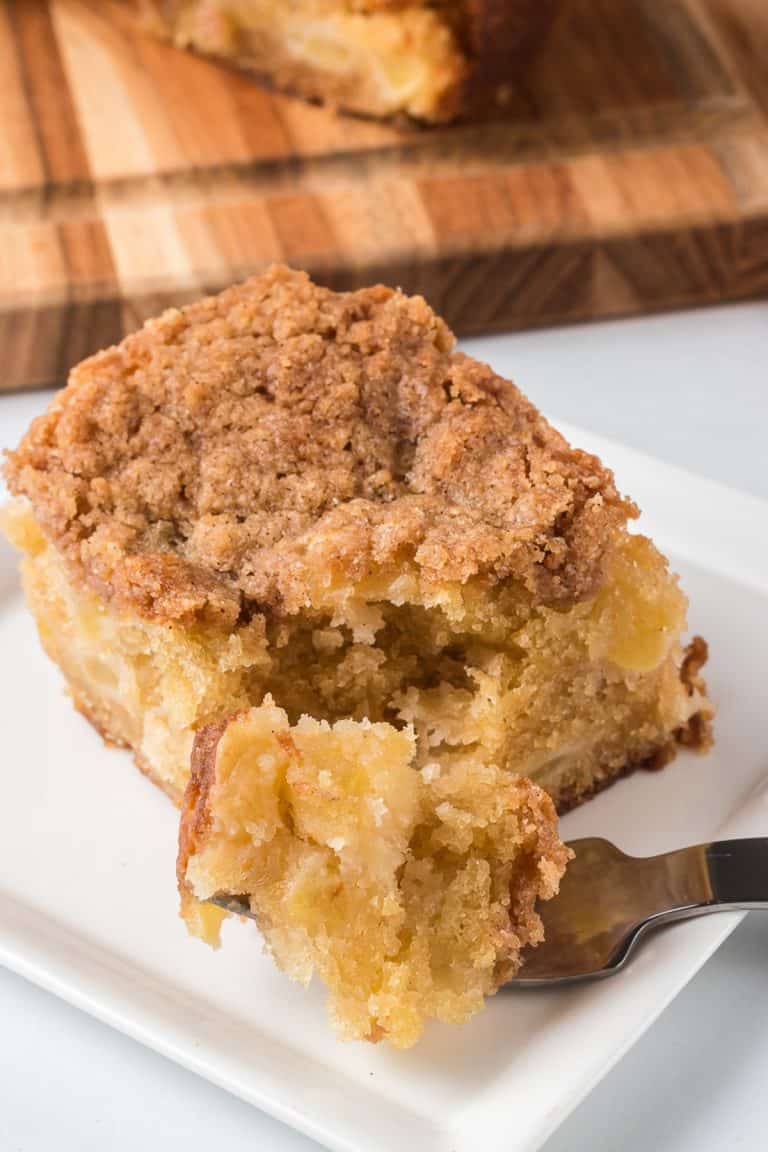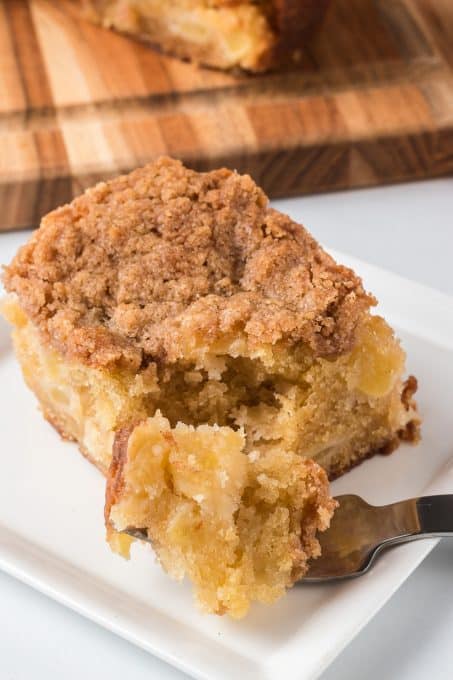 Apple Desserts
Apple Crumb Cake is sweet enough that you can serve it for dessert, as well as breakfast.
Want an even more decadent option? These Caramel Apple Cheesecake Bars are made with real sweet apples, a creamy cheesecake filling and sweet ribbons of caramel on top of the apples! If you love caramel apples you'll enjoy these Caramel Apple Pie Crust Cookies and my Bacon Caramel Apple Crisp too.
Cakes are always more delicious when apples are added to them! This Easy Apple Cake is a definite showstopper, and will be the highlight of any dessert table. Dust with a bit of powdered sugar, and top with a dollop of fresh whipped cream and you've even got the perfect weeknight dessert, too.
Sometimes, you need a good apple dessert you can eat with your hands! Apple Cinnamon Cookies and Apple Peanut Butter Oatmeal Cookies are two fall desserts you can take anywhere.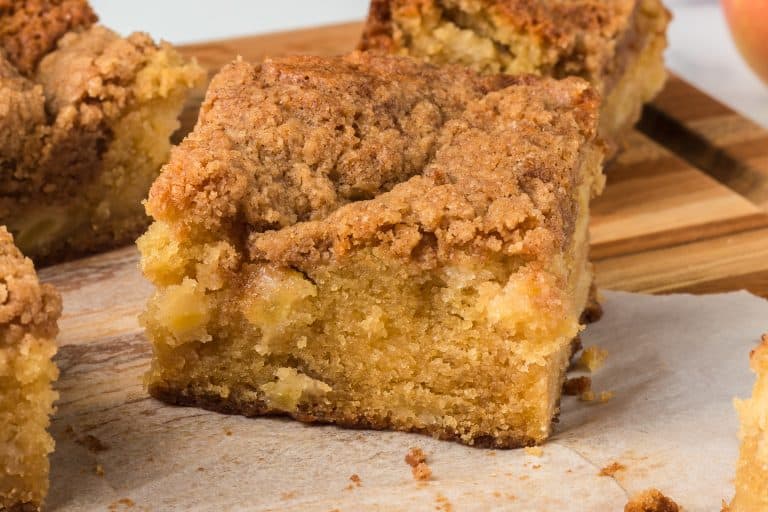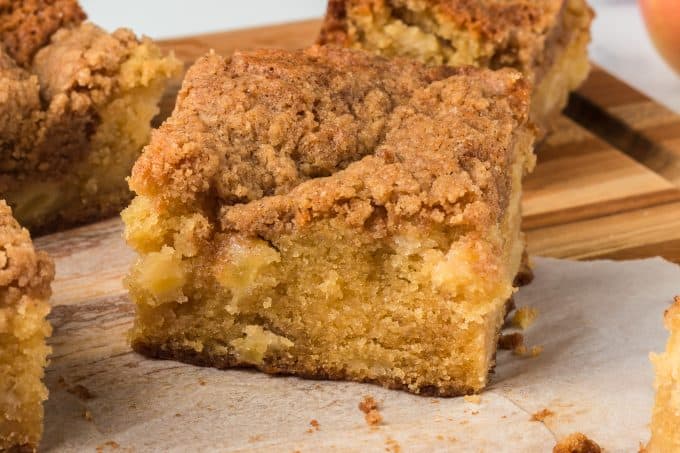 Cake Recipes
Back to today's topic: cake!
I love coffee cake. Especially when it's covered in a crumb layer like this one. But let me tell you: not all crumb coffee cakes are winners. Too often, the cake itself is dry, tough and flavorless. Not this soft buttery cake!
This apple crumb cake has a moist, buttery crumb and real fruit in every bite. If that's your style too, you'll enjoy this Orange Cranberry Coffee Cake. Not into the orange flavor? I have a straight up Cranberry Coffee Cake recipe too.
My love for sharing crumb cake recipes goes way bake to my first year of blogging. This Easy Blueberry Crumb Cake was a hit with readers, and was my inspiration for today's great recipe. I still make it every summer when blueberries are in season!
Not in the mood for crumb cake or coffee cake? Peruse these other easy cake recipes to find the perfect dessert for any craving!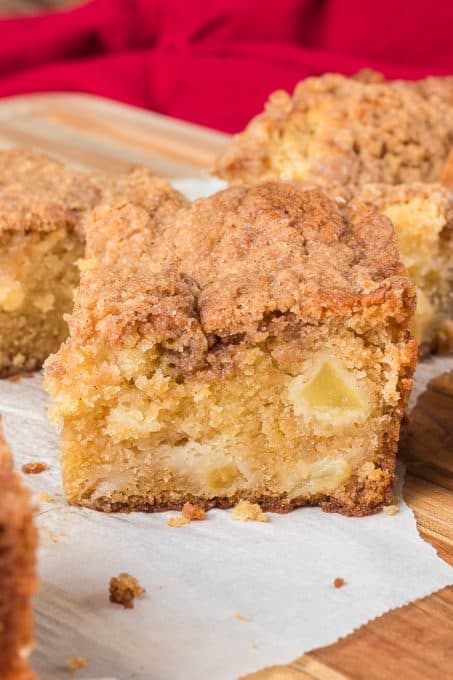 With no complicated steps, and minimal effort, you can enjoy a slice of warm apple crumb cake any time of day. Serve it plain, with a dollop of fresh whipped cream, a scoop of vanilla ice cream, or drizzle it with some caramel sauce to make it a caramel apple crumb cake!
~ FOLLOW ME ~
Keep an eye out for more of my easy recipes each week!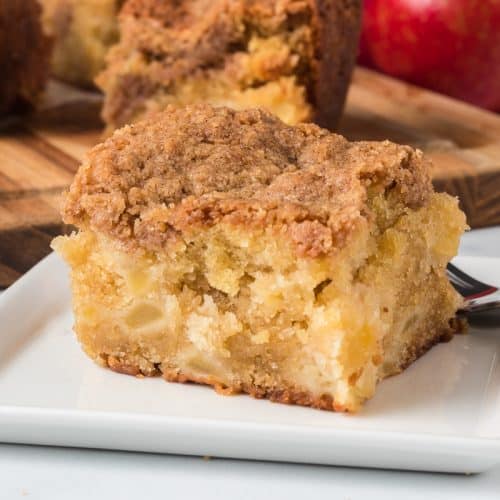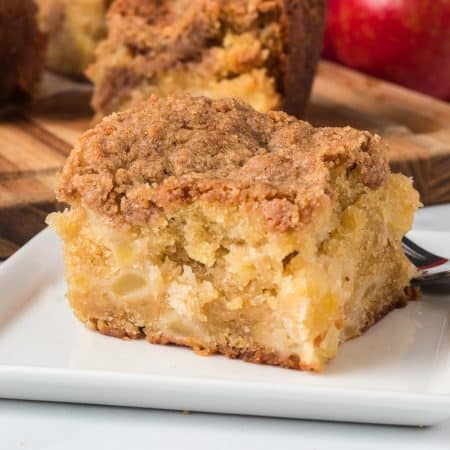 It's fall season, and this easy Apple Crumb Cake makes the perfect breakfast, dessert or afternoon snack. This buttery, moist cake is loaded with apple chunks and cinnamon, and baked with a crunchy streusel topping! It's an easy recipe that family and friends will keep coming back for.
Ingredients
Cake
2 cups all-purpose flour
1 teaspoon baking powder
1 teaspoon baking soda
½ teaspoon salt
1 cup unsalted butter room temperature
1 cup granulated sugar
½ cup packed light brown sugar
1 large egg
1½ teaspoons pure vanilla extract
1 cup sour cream
2 cups diced apples
2 teaspoons fresh lemon juice
Crumb Topping
⅓ cup packed light brown sugar
⅔ cup all-purpose flour
1 tablespoon granulated sugar
1 teaspoon cinnamon
¼ cup butter chilled
Instructions
Preheat oven to 350 degrees and butter a 9-inch square pan or line it with parchment paper.
Apple Cake
In a medium bowl, toss the chopped apples with the lemon juice.

In a medium bowl, whisk together the 2 cups of flour, baking powder, baking soda, and salt.

In a mixing bowl, cream the butter. Add both sugars and beat until light and fluffy, about 4 minutes, scraping the sides of the bowl a couple times while mixing.

Add egg and vanilla and mix until combined.

Add half the dry ingredients and mix until just barely combined. Add half the sour cream and mix until barely combined. Add remaining flour, mix, and then remaining sour cream. Mix until just smooth.

Gently fold in the diced apples, being careful not to over mix.

Pour batter into the prepared cake pan, and spread evenly to all edges.
Crumb Topping
in a medium bowl, mix together the flour, both sugars, and cinnamon. Add the chilled butter and with a pastry cutter or two forks, mix until a coarse meal is formed.

Sprinkle the crumb topping over the cake. 

Bake for about 50 minutes until lightly golden, and a toothpick inserted into the middle comes out clean. Cool before serving. 
Nutrition
Serving: 1slice | Calories: 454kcal | Carbohydrates: 58g | Protein: 4g | Fat: 24g | Saturated Fat: 14g | Polyunsaturated Fat: 1g | Monounsaturated Fat: 6g | Trans Fat: 1g | Cholesterol: 78mg | Sodium: 238mg | Potassium: 144mg | Fiber: 1g | Sugar: 35g | Vitamin A: 745IU | Vitamin C: 1mg | Calcium: 62mg | Iron: 2mg
Did you make this recipe?
Share it with me on Instagram and make sure to follow me on Pinterest for more recipes.
Reader Interactions