Caramel-Apple Pie Crust Cookies – pinwheel cookies made with a cream cheese pie crust, filled with diced apple on top of a cinnamon/sugar mixture and drizzled with a caramel sauce.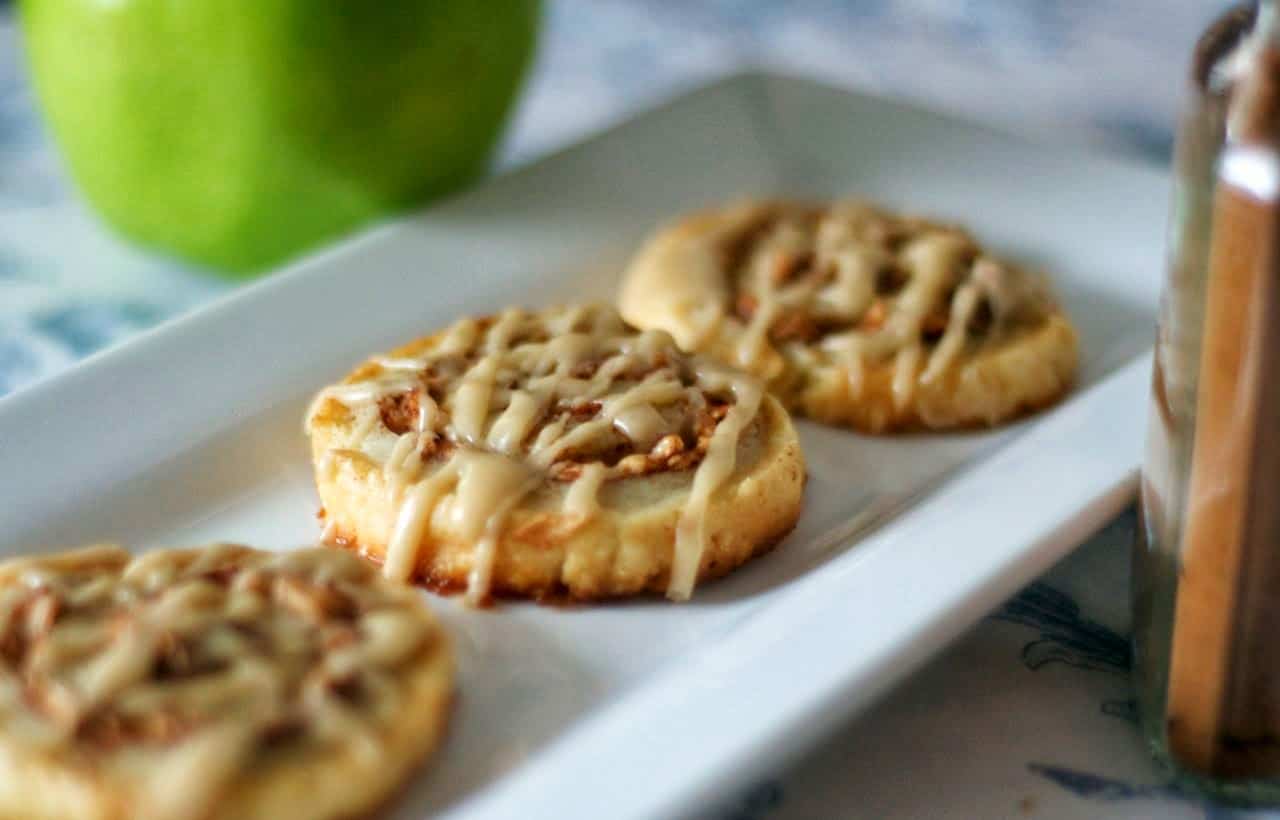 A caramel apple pie all rolled into a little cookie. And it's a genius creation from…
Lori Lange, creator of the fabulous food blog, Recipe Girl. Not only is she an accomplished blogger, but NOW she is an incredible cookbook author as well! SO exciting!!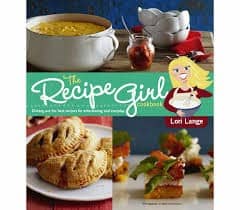 The Recipe Girl Cookbook: Dishing Out the Best Recipes for Entertaining and Every Day
I really, really like Lori's cookbook! The recipes fantastic, and the pictures are great – I just wish she had more. I love that she tells you what essentials you should have not only in your pantry and refrigerator but also in your kitchen (AND liquor cabinet – something I have to work on)!
She has handy dandy icons that accompany each recipe to let you know if it's gluten-free, dairy-free, vegetarian, or a fan favorite from her blog. She also lets you know if the recipe's adaptable to a specific diet.
My favorite parts are her story of how she became Recipe Girl and the brief paragraph about each recipe. It's a great way to get to know her better.
It's a cookbook I know I'll be using again and again and I'm sure you will, too!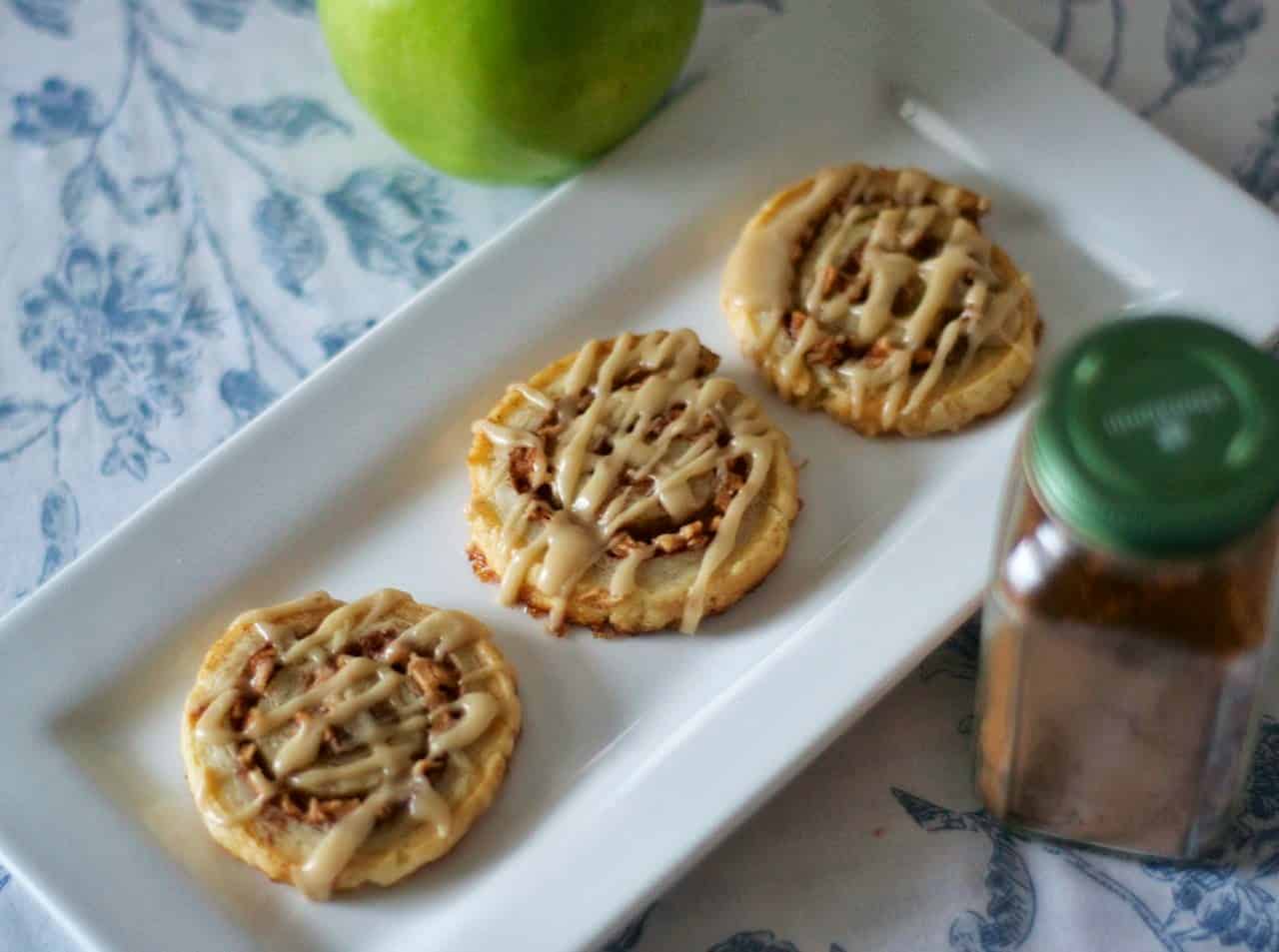 So yes, today begins Day 1 of another 365 Days of Baking. This is not to be confused with the blog's anniversary. We hit the three-year milestone just last week on January 27th and boy, these past three years have F-L-O-W-N!!
I've been doing a lot of thinking lately about starting up again and just couldn't let go of it. I guess it's similar to a woman going through labor, hunh – you do it and when you're in the throes of it, especially when you don't have an epidural to make the experience somewhat pleasurable (just sayin' – never experience that. This crazy woman had something to "take the edge off" (YEAH, right!) with the first two and then nada with the boy), you swear left, right, up and down that you'll never EVER do it again.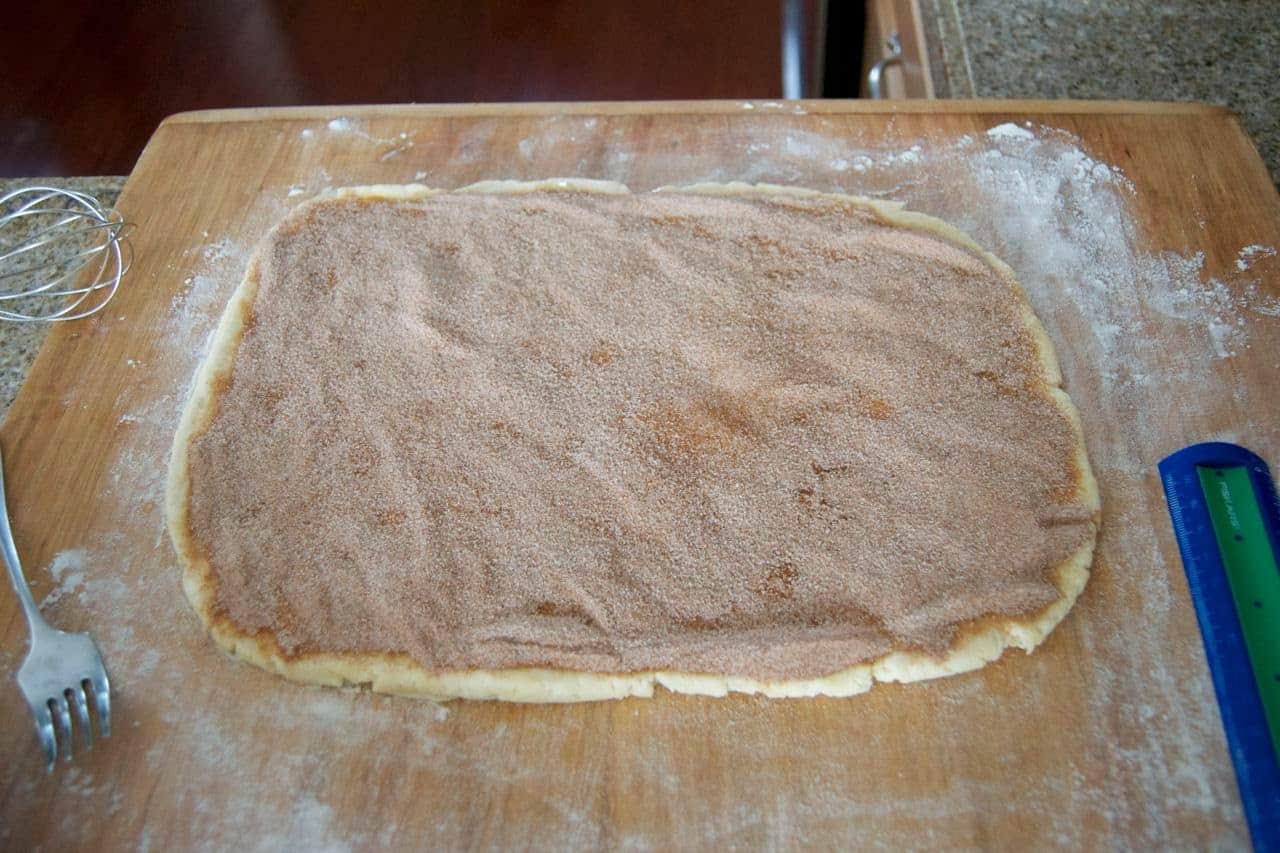 But…then time goes by and you forget the pain.
Yes, I have to say that at times, the last 365 Days of Baking I did was painful. It was strenuous trying to come up with a different recipe to make each day, take pictures AND blog about it every. Single. Day. Ultimately, it didn't happen.
Because Life did. I didn't take into account that there would be days that it just wouldn't happen because I wouldn't feel well, we'd have commitments that I wouldn't be able to work around, there would be unexpected time constraints OR that the heating element on the oven would say, "I've had enough! I don't want to do this anymore!!!"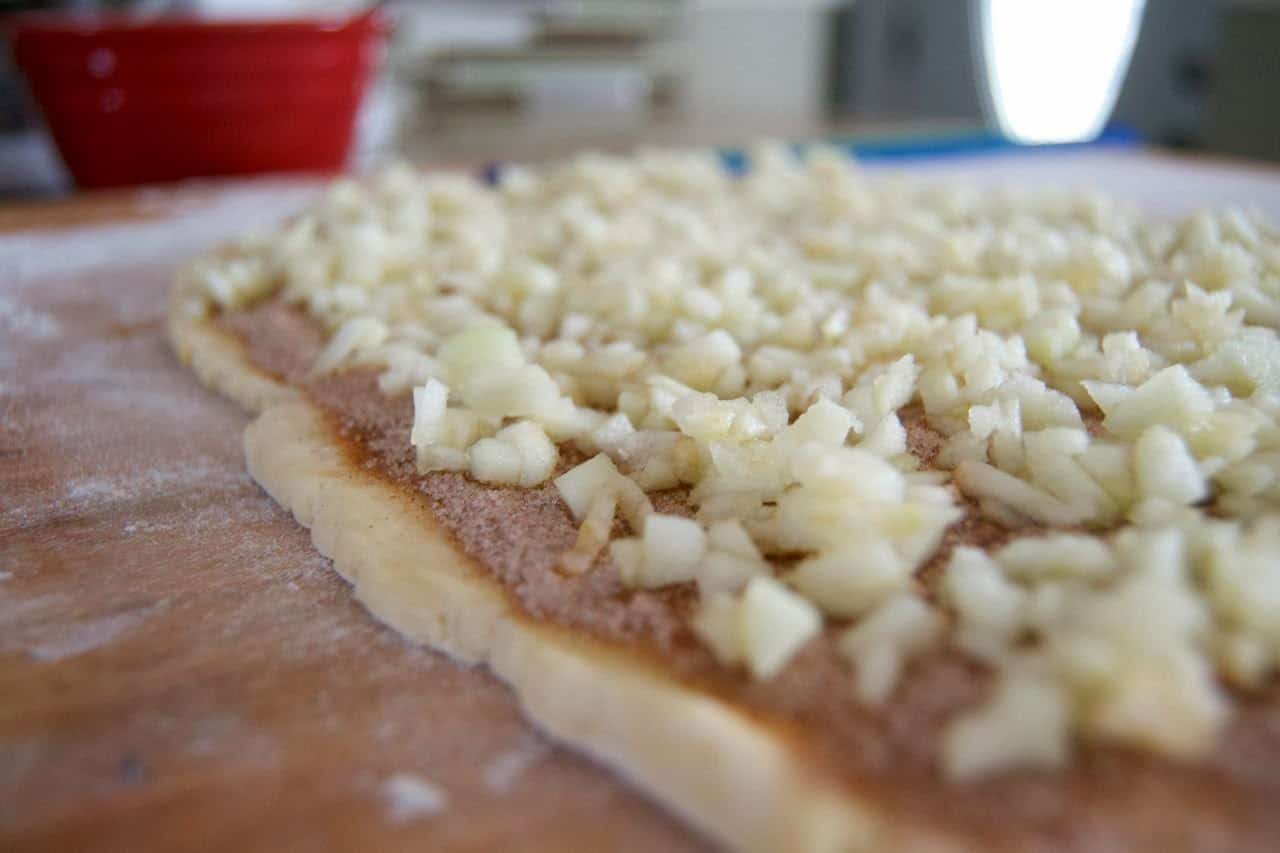 There were times I felt like doing the same. 40 days I extended it, not ending on the day I started, but THIS time!!! I am determined, I'm more organized and I'm going for it!!
And most importantly, I have my family's blessing. Because without them and their support each and every day, this would not be possible.
So, I've got BIG plans for this 365 and I'm excited!! I hope you are as well. It will be fun. There will be a new recipe, a new post, AND I'll be doing a video along with it every. single. day.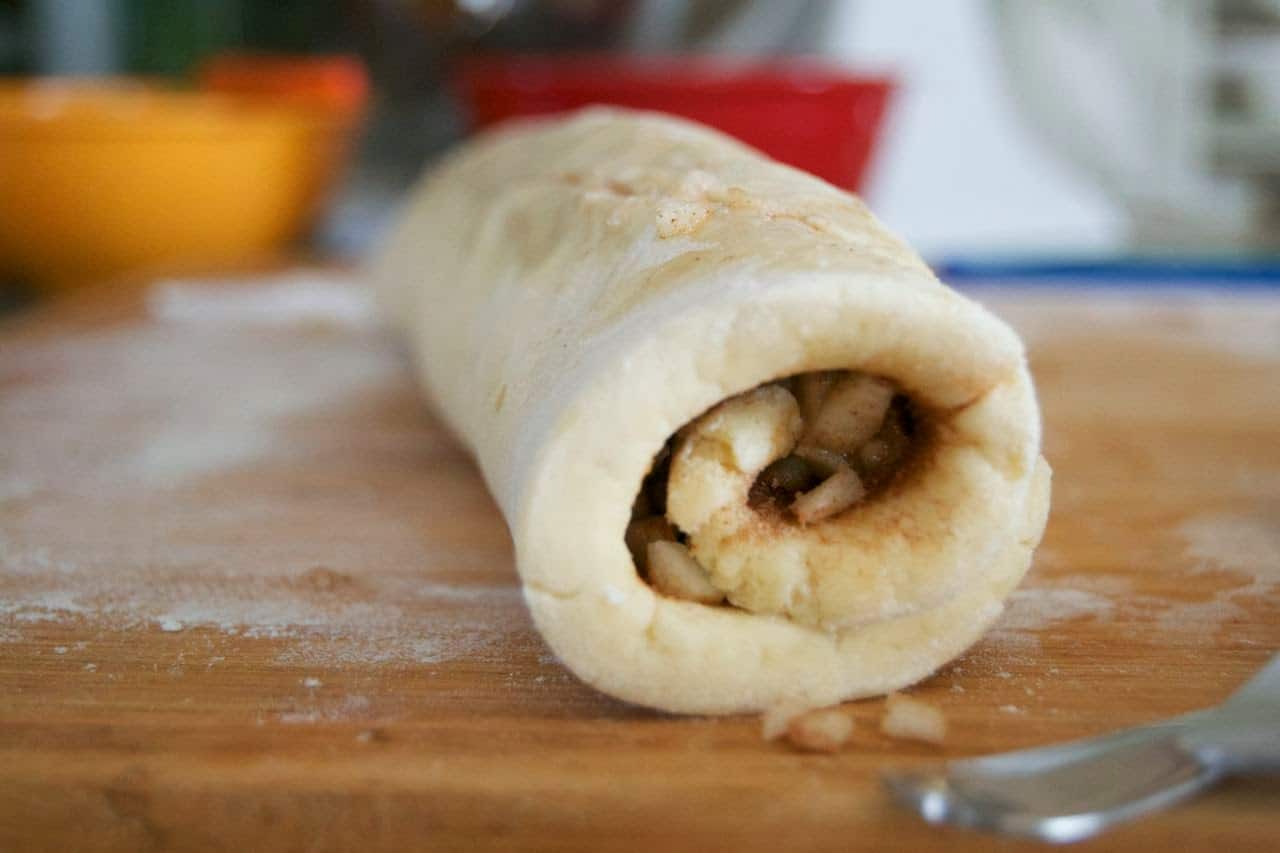 We'll have fun. I want to do this for you. To show you that it's possible to have no culinary background, just an absolute love of getting down and floury, making, baking and just downright enjoying yourself in a room that can bring you, your family and friends so much joy.
YOU can do this!! So, come bake with me. And enjoy the ride!!
Here are some tips and tricks to get that perfect cookie crunch!
The dough can be refrigerated, wrapped in plastic wrap for up to 2 days.
I suggest leaving about 1/2 – 3/4-inch of egg-washed dough without cinnamon/sugar. This will allow for easier adhesion when it is rolled.
Depending on the consistency of the glaze it may be necessary to add either more milk or more powdered sugar.
For easy clean-up, place some tin foil or parchment under the wire rack to catch the extra drizzles from the cookies and just throw away!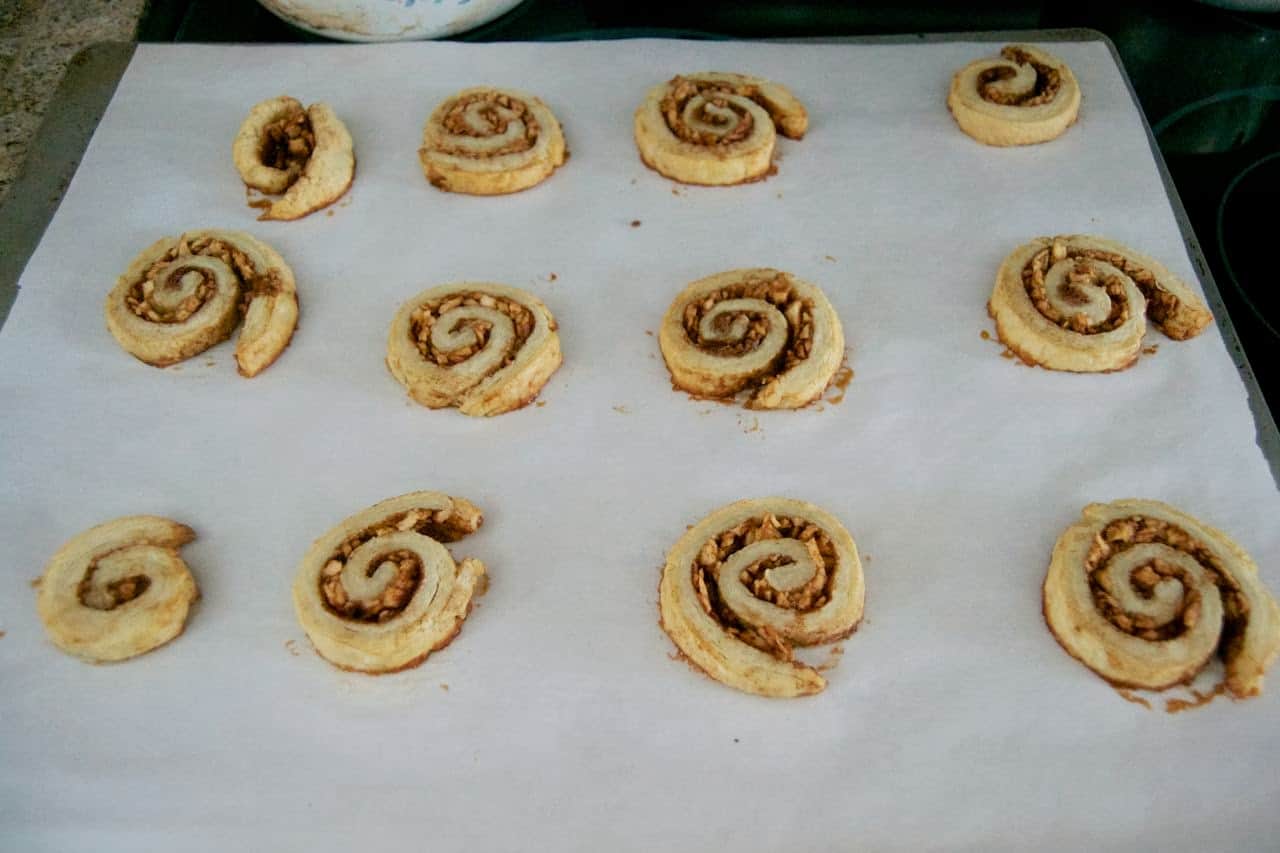 Yeah, so some of them broke apart. Don't worry about them being perfect. That's not what we're aiming for. We're having fun and delicious food is the result!!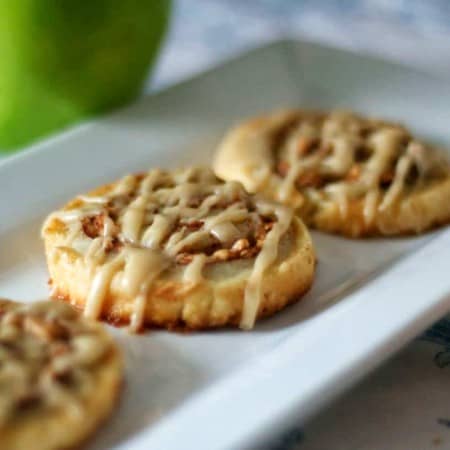 Caramel Apple Pie Crust Cookies
Ingredients
Pie Crust
1 ½ cups all purpose flour
1 teaspoon granulated sugar
pinch of salt
8 tablespoons (1 stick) unsalted butter, cold and cut into smaller pieces
1 8 oz. package cream cheese, cold and cut into small pieces
Filling
1 large white egg
1 tablespoon water
⅓ cup granulated sugar
1 tablespoon cinnamon
1 large apple, peeled, cored, and finely diced
Caramel Glaze
2 tablespoons salted butter
¼ cup light brown sugar, packed
1-2 tablespoons milk
⅛ teaspoon vanilla extract
1/4-1/2 cup confectioners' sugar
Instructions
Pie Crust
Combine flour, sugar, and salt in a food processor. Mix well. Add pieces of butter and process until mixture has a crumb looking texture.

Add pieces of cream cheese and process quickly until dough comes together in a ball, about 25 times.

Turn dough out onto a piece of waxed paper and knead a few times to completely incorporate.

Place the dough onto a lightly floured surface and roll it into a rectangle about 9 X 12 inches with the long side facing you. Whisk together the egg white and the tablespoon of water in a small bowl until foamy.

Brush the egg wash onto the dough, making sure it is completely covered.

In a small bowl, thoroughly mix together the sugar and cinnamon. Evenly sprinkle the cinnamon sugar mixture over the top of the dough, making sure to completely cover.

Evenly distribute the diced apple on top of the cinnamon sugar, also leaving the space at the far long edge.

Beginning with the long edge closest to you, gently and carefully roll the dough up into a log. Seal the edge with another brushing of egg wash and gently press it together with your fingers.

Roll the dough in plastic wrap or parchment paper and place in the freezer for about 1 hour or until firm.

Preheat oven to 325 degrees F. Prepare two baking sheets by lining them with parchment. Unwrap the cooled cookie dough and gently slice into 1/2-inch pieces using a sharp knife.

Place cookie slices onto prepared baking sheets. Bake for 25 – 30 minutes or until lightly golden.

Let cookies cool on cookie sheet before transferring them to a wire rack to glaze
Glazing Cookies
In a small saucepan over medium-low heat, melt butter. Stir in the sugar and 1 tablespoon of milk.

Cook, while continuing to stir, for 1 minute. Transfer to a mixing bowl and allow to cool slightly.

Mix in vanilla and 1/4 cup powdered sugar. Beat with an electric mixer until well blended. You should be able to drizzle it off the end of a spoon.

Drizzle glaze onto cookies. As it cools, the glaze will harden.
Nutrition
Calories: 55kcal | Carbohydrates: 10g | Protein: 1g | Fat: 1g | Cholesterol: 2mg | Sodium: 11mg | Potassium: 10mg | Sugar: 4g | Vitamin A: 30IU | Calcium: 5mg | Iron: 0.4mg
Did you make this recipe?
Share it with me on Instagram and make sure to follow me on Pinterest for more recipes.

*If not using a food processor:

In a large bowl, whisk together flour, sugar, and salt. Using a pastry cutter, cut butter into dry mixture until it resembles coarse meal.

Add the cream cheese pieces and blend together using the pastry cutter. When most of the dough comes together, knead the dough with your hands in the bowl until there are hardly any crumbs left.

Turn the dough out onto a piece of waxed paper. Add the remaining crumbs, If there are any, to the dough. Knead a few times until all the dough is incorporated.
Form the dough into a flattened 7–inch square. Wrap the dough in plastic wrap and refrigerate for at least 30 minutes.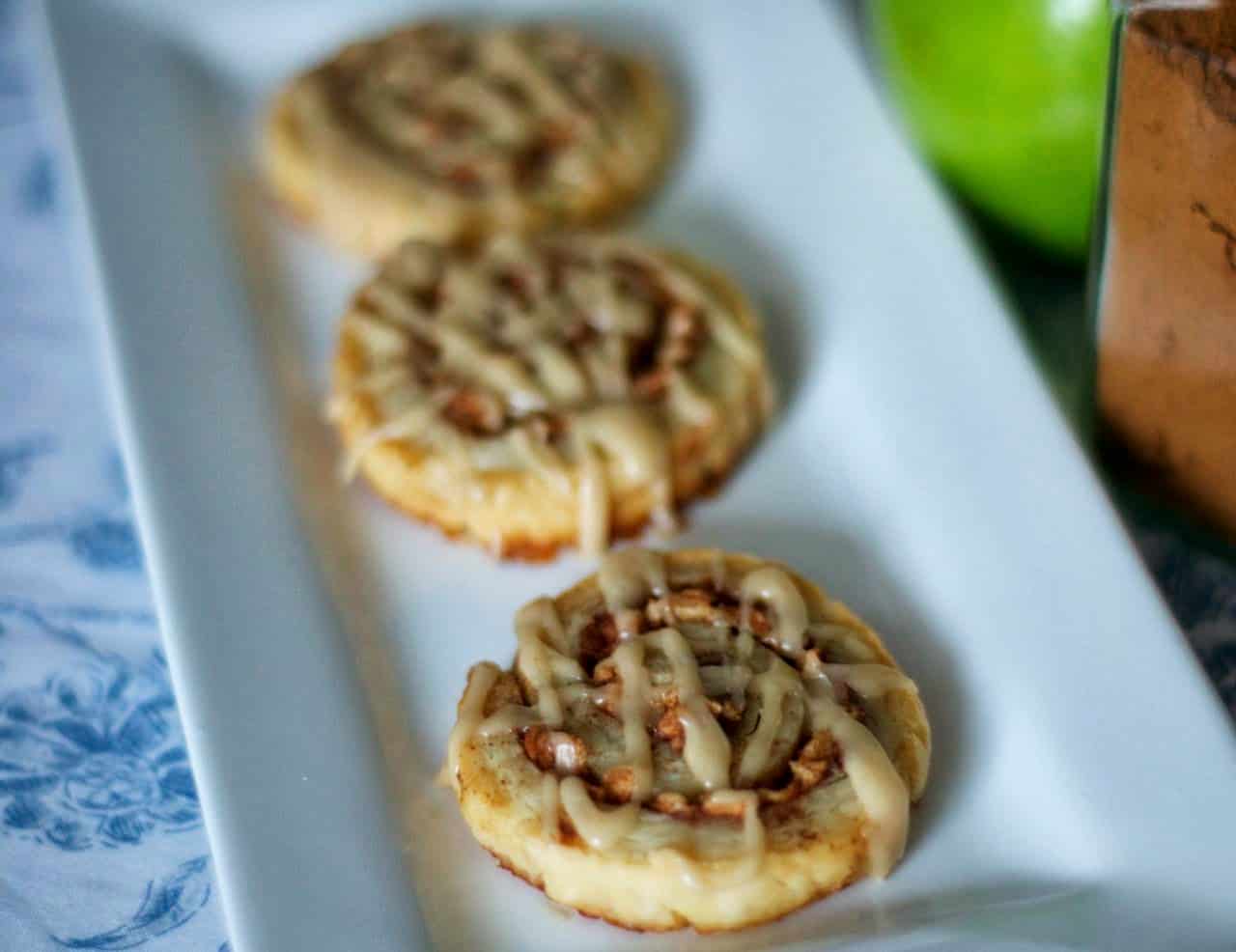 I rate everything I make on a scale of 1- 4 and these Caramel-Apple Pie Crust Cookies earned 3 1/2 rolling pins. They were out-of-this-world-delicious!! Our oldest daughter took one bite and said, "Ooh, those are VERY delicious. I could eat like 5 of these!"
The pie crust is delicate, a bit flaky (kinda like ME!!), and not too sweet. The filling is delicious with the combination of apples, cinnamon, and sugar. AND that caramel drizzle is the icing on the cookie!! hee hee, I'll be making these again, fer sure!
Click here to purchase Lori's fabulous book!!
The contest is over. Thanks to all who left a comment and entered!! Our winner is…Shirley Leoni!!! Congratulations, Shirley!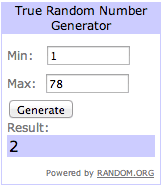 Enter to win a copy of Lori's book!! Leave me a comment below telling me what you would like to see me bake during the next 364 days. The CONTEST will close at midnight EST on Wednesday, February 5th. A winner will be chosen randomly from among the published comments by Random.org and will be sent an e-mail.
They will have 48 hours to respond. If I do not receive a response from the selected winner, another random winner will be chosen. Good Luck!!
*I have received one cookbook to review, but all expressed opinions are my own.
Reader Interactions