Cranberry Pancakes with Orange Cream Cheese Drizzle – orange juice and zest mixed with cream cheese cover these pancakes filled with chopped cranberries. The pancakes are made with a secret ingredient, Silk Cashewmilk, which gives them a delicious and slightly nutty flavor!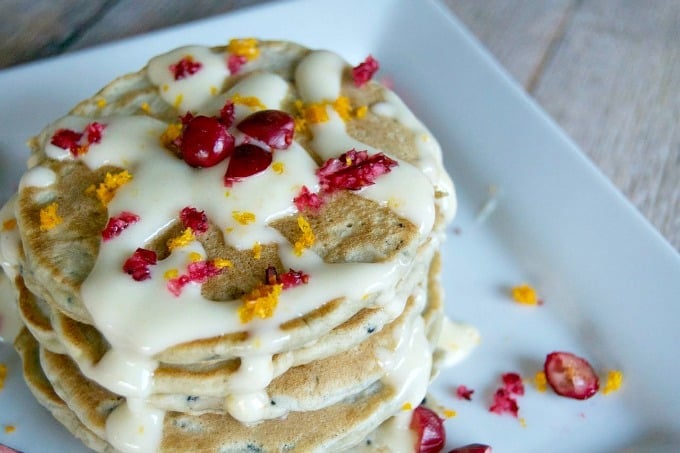 If you're a regular here at 365, then you know I'm a breakfast fan.
This conversation is sponsored by Silk. The opinions and text are all mine.
I mean HUGE breakfast fan. Like, I could eat breakfast food morning, noon and night. And quite often, I'll serve it for dinner!
It's just wonderful comfort food. Breakfast IS comfort food. Plain and simple. And these pancakes have a special ingredient, something I haven't tried before. It's the new Silk Cashewmilk!
SAVE THIS CRANBERRY PANCAKE RECIPE TO YOUR FAVORITE PINTEREST BOARD!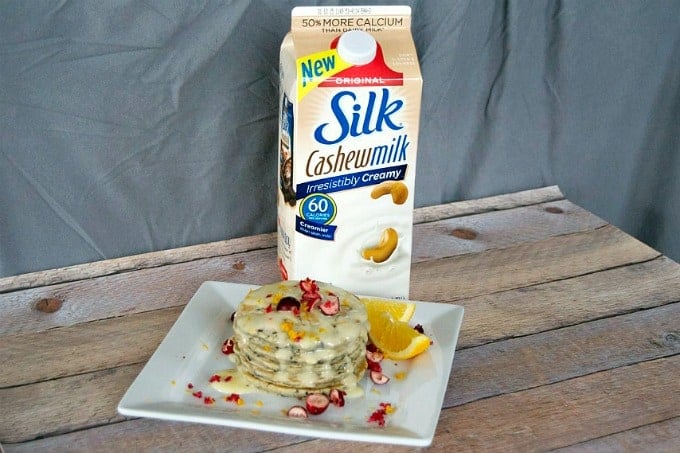 You've heard about soy milk, rice milk, and almond milk and now, there's this!
I'm going to be honest. I was hesitant to try it. I've never been a big drinker of regular milk in the first place. I just like to have it with cereal or dunk my cookies in it.
When our kids were little, our best friends' kids were drinking rice milk. I tried it and wasn't nuts about it. Yet, for a very short moment, I think I bought one-half gallon in an attempt to maybe eliminate whole milk from our diet. Yup, that lasted all of about ten seconds.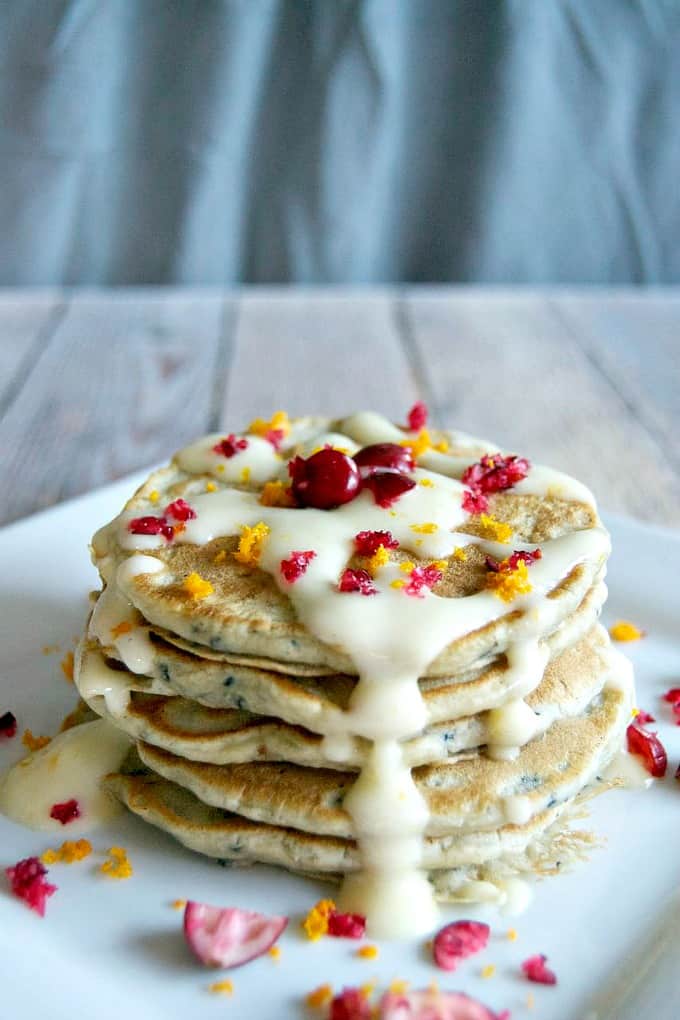 Old habits die hard I suppose, and since I was probably the most opposed to it, I didn't really try that hard to encourage the family to continue with it.
So, there stands my reasoning for being hesitant to try cashew milk.
I have to tell you though, that this stuff I will drink. From a glass, by itself even!
It's not as thick as whole milk. But it has a great creamy taste from the cashews which makes it perfect for drinking straight out of the carton, using it over cereals or in recipes.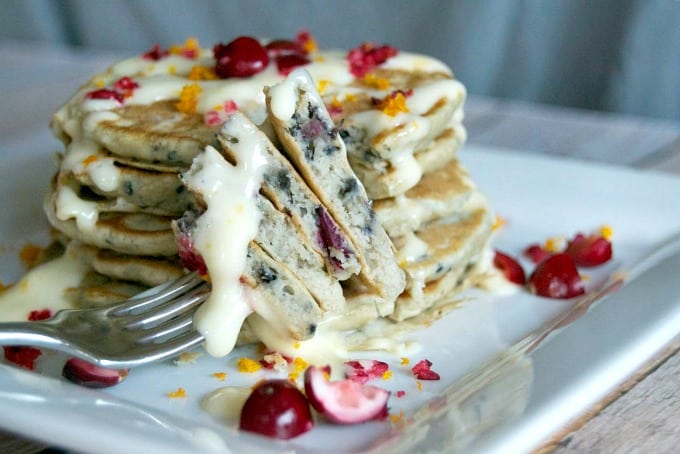 It's an excellent source of vitamin D and get this, it contains 50% more calcium than dairy milk! The Silk Original Cashewmilk that I used in the pancakes has only 60 calories per serving which is 25% less than skim milk.*
*Silk Original Cashewmilk: 60 cal/serv; skim dairy milk: 80 cal/serv. USDA National Nutrient Database for Standard Reference, Release 26. Data consistent with typical skim dairy milk.
I only wish it had been around 20 years ago when I was pregnant because then I wouldn't have had to choke down those icky Tums. And I just couldn't for the life of me, drink any regular milk.
SIGN UP FOR THE WEEKLY
365 DAYS OF BAKING & MORE
NEWSLETTER BELOW!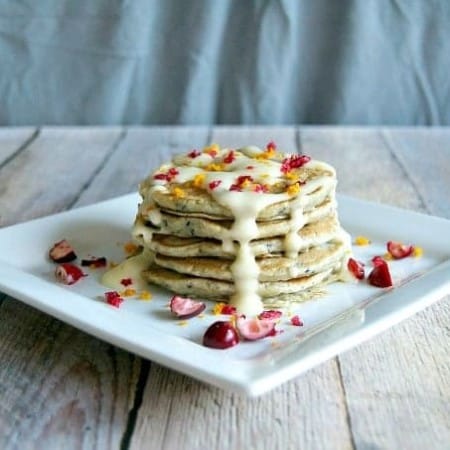 Cranberry Pancakes with Orange Cream Cheese Frosting
Ingredients
Pancakes
2 cups flour
¼ cup cornstarch
1 tablespoon sugar
1 teaspoon salt
¾ teaspoon baking powder
1 teaspoon baking soda
¼ teaspoon nutmeg
1 cup whole cranberries chopped in food processor or blender
2 cups Silk Cashewmilk
2 eggs
1 tablespoon unsalted butter melted
Orange Cream Cheese Frosting
4 ounces Cream Cheese softened
¼ cup unsalted butter melted
¼ teaspoon pure vanilla extract
juice of 1 orange
½ teaspoon orange zest
2 cups confectioners' sugar
Instructions
Pancakes
In a large mixing bowl, whisk together the flour, cornstarch, sugar, salt, baking powder, baking soda and nutmeg. Add the chopped cranberries and mix to coat. This will help keep the cranberries suspended in the batter.

In a medium bowl, beat the egg. Add the Silk Cashewmilk, and melted butter.

Whisk the wet ingredients into the flour mixture until well combined.

Spray a griddle or skillet with cooking spray and heat to medium-high heat. Turn down heat if necessary during cooking.

Using slightly less than 1/4 cup of batter, pour gently onto griddle.

When the batter starts to bubble and turns slightly dry, gently flip the pancake over with a spatula.

Allow pancake to remain on the griddle for another minute or two until completely cooked through.

Repeat with remaining batter, spraying the griddle or skillet with cooking spray between each batch, if needed.
Orange Cream Frosting
In a mixing bowl, combine cream cheese, unsalted butter, vanilla extract, fresh orange juice, and zest, and beat till well combined.

Gradually add confectioners' sugar and thoroughly mix.

Serve with over the cranberry pancakes.
Did you make this recipe?
Share it with me on Instagram and make sure to follow me on Pinterest for more recipes.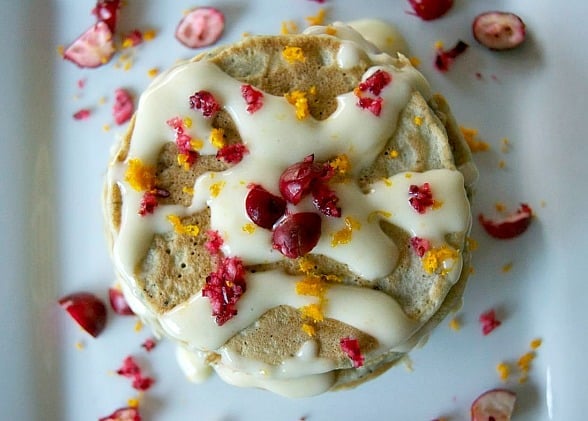 I rate everything I make on a scale of 1 – 4 with 4 being the best and these Cranberry Pancakes with Orange Cream Cheese Drizzle earned 3 1/2 rolling pins!
I've always loved the flavors of cranberries and oranges and they go so well together for breakfast.
You know, I didn't even tell my men that I'd substituted the milk in the pancakes with the Cashewmilk and they were none the wiser.
They ate every last bite. It added a great, slightly nutty flavor to them. which was different than our regular pancakes.
I think these will be a delicious and festive breakfast this holiday season!
Head on over to Silk to sign up for their newsletter to receive the latest news and get yourself a coupon, so you can try it out for yourself!
Have you tried Silk Cashewmilk? Leave us a comment below and be sure to head over to the Silk Facebook page to let them know what you think. They'd love to hear from you!!
Comments submitted may be displayed on other websites owned by the sponsoring brand.
If you like these Cranberry Pancakes with Orange Cream Cheese Drizzle, then you'll love…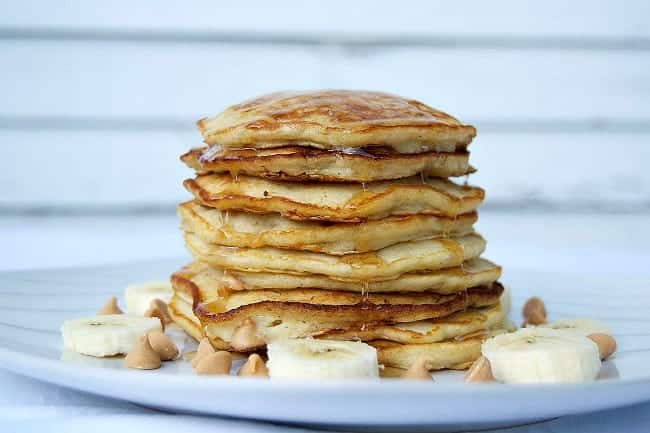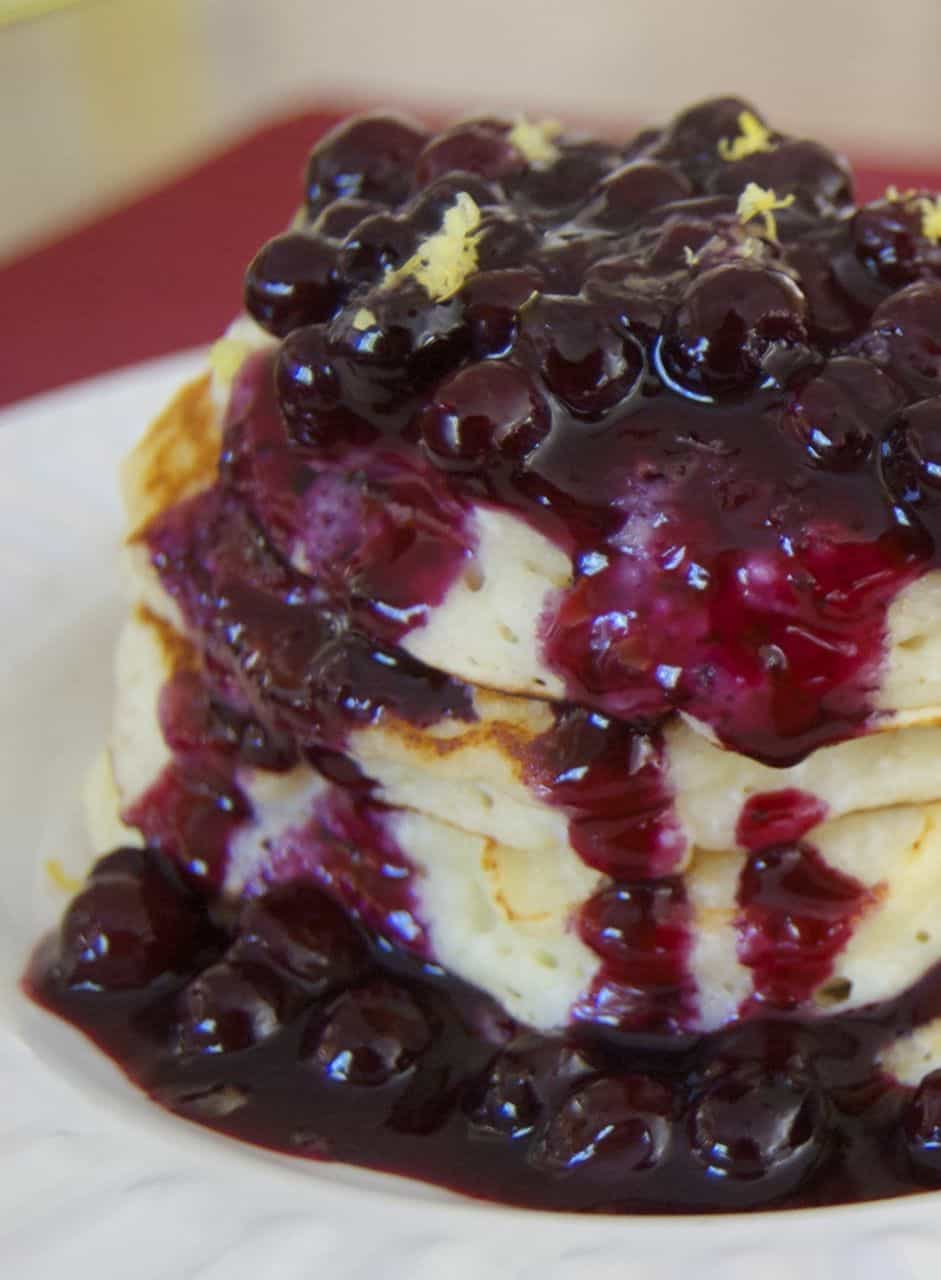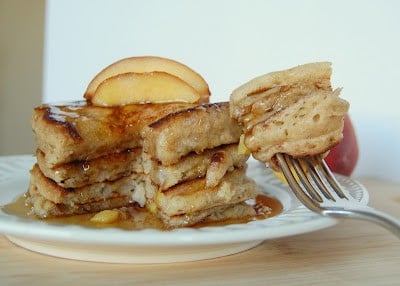 This conversation is sponsored by Silk. The opinions and text are all mine.
Reader Interactions