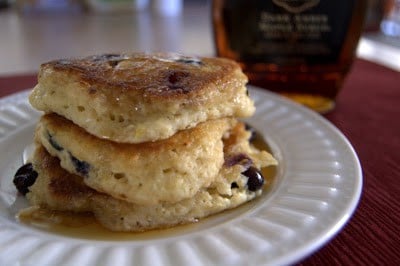 It's THAT time of the month!!
Yesiree, folks, it is the third Monday of the month and that can only mean ONE thing…..

Y'all know what that is, right, that thing everyone does at Christmas where you're given another person in the group to buy a present for, but you can't let them know that you're the one giving them the gift? It's just like that, only everyone in your Group is assigned a different blogger for the month from which we are to chose a recipe to make and then post about on a particular reveal day. It is SO much fun and if you're interested or even thinking about doing it, I highly suggest you check it out and look into joining us!
The leader of the club is April of
Angel's Homestead
and our leader of Group C is Debbi from
Debbi Does Dinner…Healthy & Low Calorie
. They're awesome as are the other women who put a lot of work into making sure things run smoothly every month. They all deserve a HUGE thank you!!!
For the month of February, I was assigned to a blog that I was somewhat familiar with, but hadn't really explored. It is Denise's blog,
As I do every month, I had very difficult time deciding which recipe to chose. Denise has SO many wonderful recipes to choose from that I definitely added quite a few to my "must-make" list!
The recipe I finally chose was
Our Favorite Fluffy Pancakes
. I am ALWAYS on the hunt for a great breakfast recipe whether it's for pancakes or French Toast because we LOVE breakfast and often eat it for dinner, too!
So, when I saw Denise's recipe for the Fluffy Pancakes, it was just a given that I had to try it.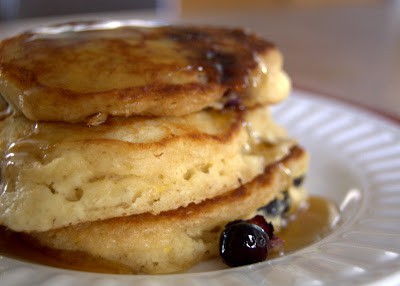 I did make some changes to Denise's recipe. I added blueberries along with lemon juice and some lemon zest for extra flavor. I used all-purpose flour instead of whole wheat because I didn't have any, regular rolled oats instead of organic,buttermilk and regular, large eggs.

The Fluffiest Lemon Blueberry Pancakes – makes about 18 1/4 cup size pancakes
Ingredients
1 cup all-purpose flour
1 cup oat flour (I followed Denise's suggestion and just ground the oats in the food processor)
4 teaspoons baking powder
2 tablespoons sugar
1/2 teaspoon sea salt
zest of one lemon
2 eggs
2 teaspoons fresh lemon juice
1 1/2 cups buttermilk
8 tablespoons (1 stick) unsalted butter, melted plus additional for griddle or skillet
6 ounces fresh blueberries
Directions
Preheat a griddle or skillet to medium high heat.
In a large mixing bowl, combine both flours, baking powder, sugar, sea salt and lemon zest.
In a medium mixing bowl, lightly beat eggs. Add lemon juice, buttermilk and melted butter and mix until well combined.
Pour into dry ingredients.
Add blueberries.
With a rubber spatula, gently fold, do not mix ingredients together until just moistened.
Do not over-mix, batter is supposed to be thick.
Using a 1/4 measurer, pour batter on to preheated skillet with melted butter.
Cook for a few minutes until batter is slightly set and bottoms are lightly browned.
With a metal spatula, flip pancakes to cook on other side until set and lightly browned.
Serve with maple syrup and additional butter if desired.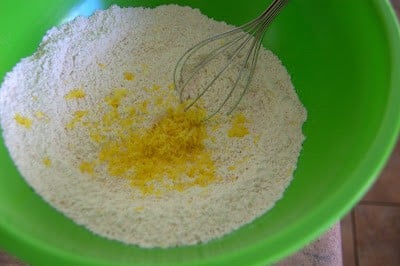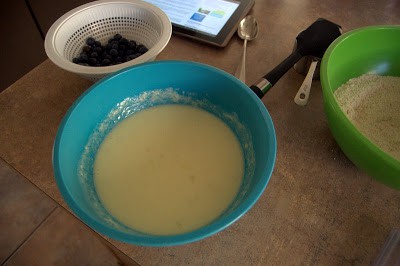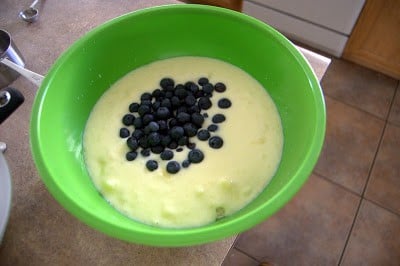 Do not overmix. Batter will be thick, not runny like some pancake batters. It's a good thing.
Place a generous amount of butter on griddle or skillet to melt.
Using a 1/4 cup measurer, pour batter onto griddle.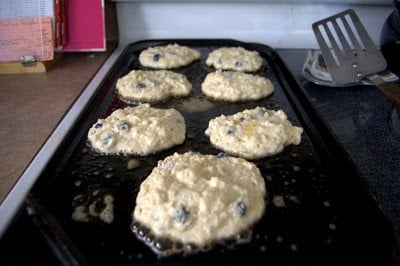 Allow to cook for a few minutes until batter begins to set and bottoms are lightly browned.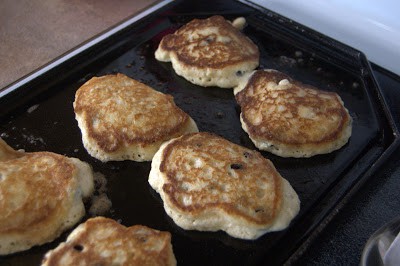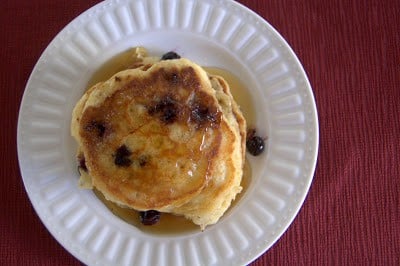 I rate everything I make on a scale of 1-4 with 4 being the best and these Fluffiest Lemon Blueberry Pancakes earned 3 1/2 rolling pins!
They were definitely the fluffiest pancakes I have ever made.
AND the were quite yummy, too!
I love the combination of lemon and blueberries and adding them gave these pancakes some great flavor, but I bet they'd taste great without them, too!
I was just really craving some antioxidants. haha
Be sure to head on over to Denise's blog to check out her other recipes and say hello!