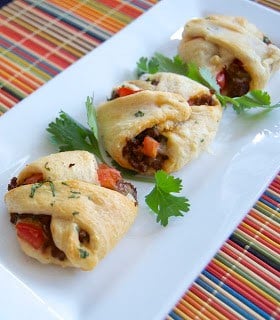 Some recipes are so good that they deserve a second look AND better pictures. This is the case with the Taco Pockets I made on Day 295 of the 365 Days of Baking. I was in a rush to go to a Christmas party and I was bringing them as an appetizer. So, if you're one of the people bringing an appetizer it's best to be on time if not a bit early to the party, you would think.
The pictures were shot sort of haphazardly and the instructions were good, but I'd really like to do them justice today. It's a recipe I really think you should consider serving when you have people over for Game Day, a potluck, or are feeding a large crowd.
SAVE THESE TACO POCKETS TO YOUR FAVORITE PINTEREST BOARD!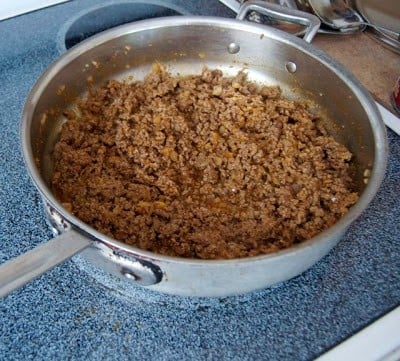 They're a really great finger food (ok, some stuffing may fall out, but it's nothing you can't pick up with a fork), the recipe makes a lot AND for those big guys feeling all testosteronish wanting to show off after their team scores a touchdown, they can impress the ladies by shoving a whole one into their mouth!
Well, it's better than one of those corny pick-up lines, isn't it? "Did you fart, 'cause you blew me away!" Yeah, that would be a big fat no to neither, actually.
I do have to warn you that these aren't something that can be made quickly, like when you're in a rush to go to a Christmas party. haha Just be patient and everything will all come together.
Good things take time, ya know. Don't worry though, they won't take you that long to make. It's not like it's an all-day affair or nuthin'. I'm just strongly suggesting you don't wait one hour before you're planning to serve them to start the prep work.
Just sayin'.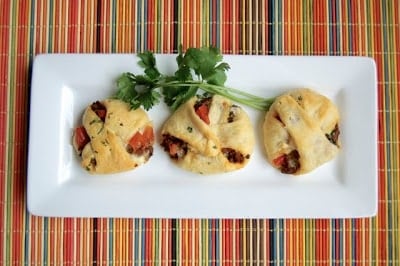 And still some pictures are nearly as bad as the first post. :-/ Well, A for effort, I suppose, right?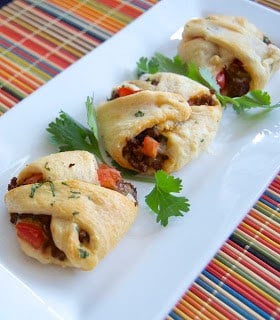 Ingredients
1 lb. ground beef
1 medium onion, minced
3 tablespoons homemade taco seasoning
½ cup water
8 slices pepper-jack cheese
2 cans, 8oz. each 8 count crescent rolls
3 plum tomatoes, chopped
2 tablespoon fresh chopped cilantro
Instructions
Preheat oven to 350 degrees F, and prepare two baking sheets by lining them with parchment paper.

In a skillet over medium-high heat, cook ground beef until no longer pink, crumbling while cooking.

Drain the fat and return to pan. Add onion and cook until soft. Add taco seasoning and water, and stir thoroughly to combine.

Reduce heat to low. Cover and simmer while preparing crescents. On a piece of parchment paper, unroll one package of crescents.

Cut each triangle in half, to make two smaller ones. Gently separate them and arrange on parchment so that they are easy to access.

Stack the slices of cheese and cut them diagonally so that they form four stacks of smaller triangles.

Place a piece of cheese onto each crescent triangle. Place 1 1/2 – 2 teaspoons of ground beef mixture on top of the cheese. Add some diced tomato.

Sprinkle with cilantro. Fold the points of dough over, securing them together so that the result resembles a diaper.

Bake for 13-15 minutes until golden. Repeat with remaining ingredients.
Nutrition
Calories: 63kcal | Protein: 4g | Fat: 4g | Saturated Fat: 2g | Cholesterol: 16mg | Sodium: 47mg | Potassium: 48mg | Vitamin A: 55IU | Vitamin C: 0.2mg | Calcium: 56mg | Iron: 0.3mg
Did you make this recipe?
Share it with me on Instagram and make sure to follow me on Pinterest for more recipes.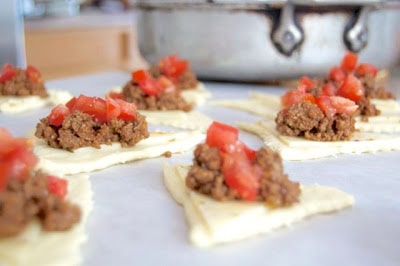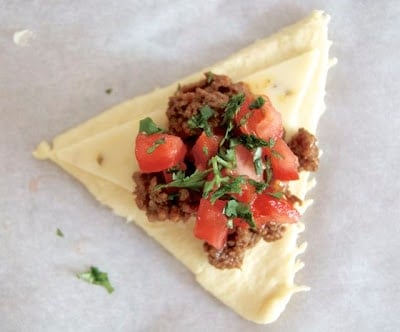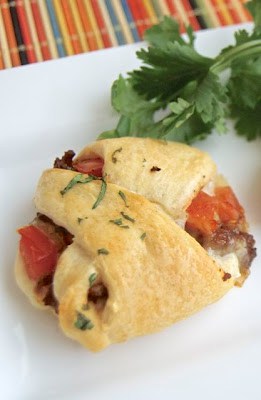 I rate everything I make on a scale of 1-4 with 4 being the best and these Taco Pockets earned 3 1/2 rolling pins.
Even though they aren't the best things in the world for us considering they aren't completely made from scratch,
I really do like making meals with crescent rolls. I like the taste, I like that they're easy to use, and they're fun when using them in recipes. So, shoot me. I know, I am a big proponent of making things from scratch and not eating stuff that's processed, but sometimes I do make that exception.
Just know that there are options out there. And yes, you could make your own dough for these, but I didn't want to.
Find out how to make THE best tacos by using these ingredients!

Reader Interactions