Cranberry Ginger Pistachio Sugar Cookies
This is a simple and easy sugar cookie filled with the flavors of fresh cranberries, crystallized ginger, and chopped pistachios. This recipe makes colorful and delicious cookies to include in your cookie exchange or to tuck into your kid's lunch boxes.
We're on to Day 6!
Today, I'm going to be a woman of few words. It doesn't happen often as you may well know. When it comes to cookies, I have a lot to say.
From Oatmeal Cranberry White Chocolate Chip Cookies to Dark Chocolate Cherry Oatmeal Cookies, I love a cookie that's stuffed with delicious mix-ins.
These Cranberry Pistachio Ginger cookies have a lot to love about them!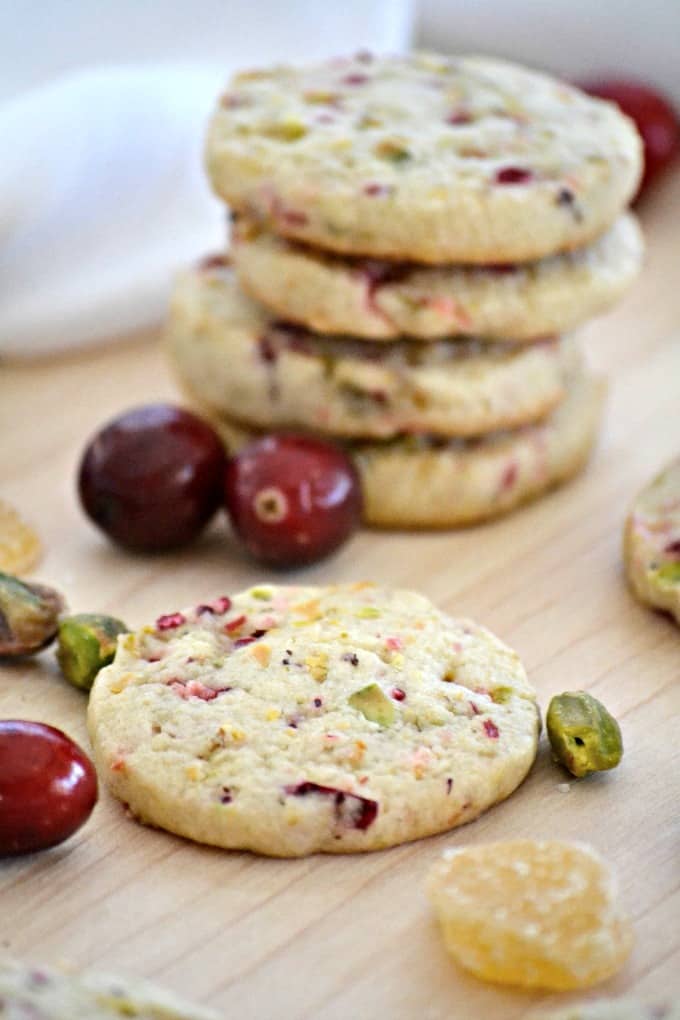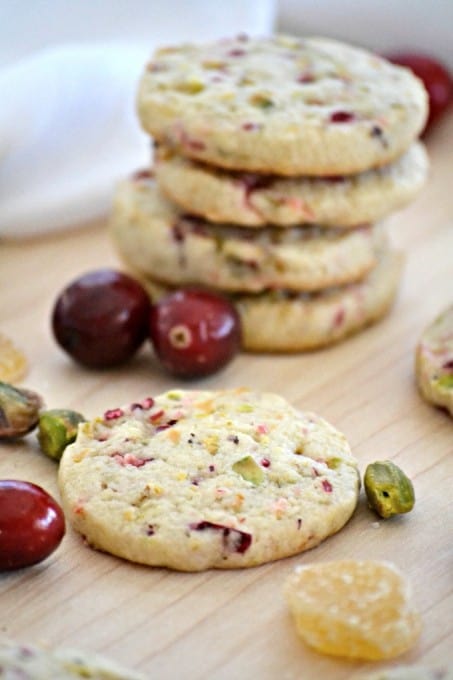 Pistachio Sugar Cookies
I like a lot of things about the holiday season but one of my top five favorite things is how many SUGAR COOKIES are around all the time! At parties and luncheons, there's always a tray of sugar cookies around to share. And there's no other time of year when you're more likely to find a platter of sugar cookies left on your doorstep!
Do people still do that? If not, I propose we bring it back! Leave sugar cookies on your neighbor's porch.
You'll give them a smile, some holiday cheer AND you'll have the excuse to fill your kitchen with the delicious aroma of baking cookies.
This Pistachio Sugar Cookie recipe is the perfect cookie recipe to include in your holiday baking. The bits of fresh tart cranberries and spicy ginger in a sweet slice and bake sugar cookie dough make this recipe a winner.
Slice and Bake Cookies
Yes, I love cut-out sugar cookies! But there's something extremely satisfying about rolling cookie dough into a log and cutting it out in neat little circles, right?
Maybe I'm crazy and most people don't find such satisfaction in slicing cookie dough. Oh well!
The crunchy salty pistachios really make this cookie shine. I don't know why people don't bake with pistachios more often! They really work perfectly in a sugar cookie.
The recipe I'm sharing today was inspired by this Cranberry Ginger Sugar Cookies recipe originally posted as part of the Review of the 12 Days of Cookies a while back. I discovered that they were even better with the addition of pistachios and have made them that way ever since.
Sugar Cookie Recipe
You can never have enough sugar cookie recipes and drop cookie recipes around the holidays, in my opinion! These Peppermint Frosted Sugar Cookies are always a hit at a Christmas cookie exchange. I also love making French Butter Cookies and Cream Cheese Cookies whenever I'm headed to a holiday party.
My friend Lynne over at Love From the Oven is the queen of sugar cookies! She's shared some great options for cut-out sugar cookies, like these ultra soft frosted Easy Soft Sugar Cookies.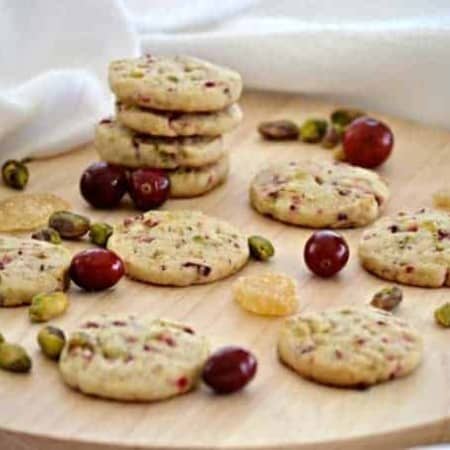 Cranberry Ginger Pistachio Sugar Cookies
A simple and easy sugar cookie filled with the flavors of fresh cranberries, crystallized ginger and chopped pistachios.
Ingredients
1 ½ cups + 6 tablespoons flour
¾ teaspoon baking powder
½ teaspoon salt
½ cup butter
¾ cup sugar
1 teaspoon vanilla
1 egg
½ cup chopped fresh cranberries
½ cup chopped pistachios
1 tablespoon chopped crystallized ginger
Instructions
In a medium bowl, sift together flour, baking powder, and salt.

In the bowl of a mixer fitted with the paddle attachment, cream the butter, sugar, and vanilla until light and fluffy.

Add the egg, and beat until well combined.

Gradually add the flour and mix on lowest speed until just blended.

Mix in the cranberries, pistachios and crystallized ginger until thoroughly combined.

On a clean, lightly floured work surface, roll the dough into two logs about 1 1/2 to 2-inches in diameter.

Wrap both logs in plastic wrap and chill for several hours in refrigerator until firm.

When ready to bake, preheat oven to 375 degrees F.

Cut into slices about 1/4-inch thick and place on a baking sheet lined with parchment.

Bake for 10 minutes, until firm, but not browned.
Did you make this recipe?
Share it with me on Instagram and make sure to follow me on Pinterest for more recipes.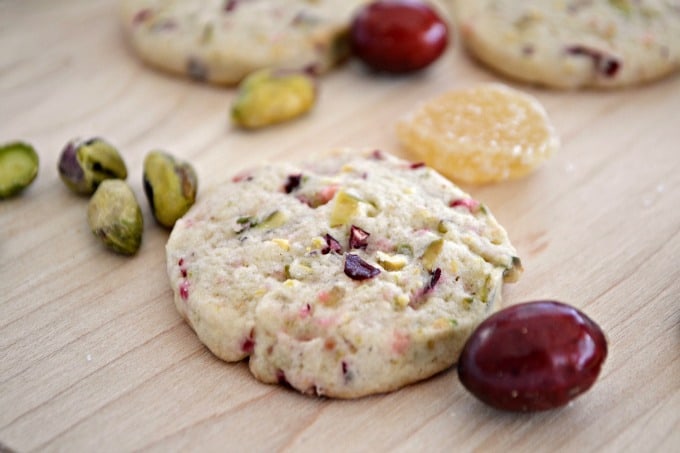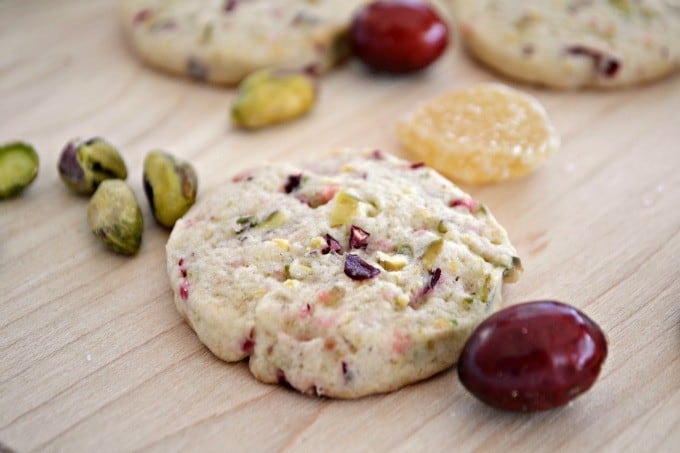 If you like these cookies then you'll love…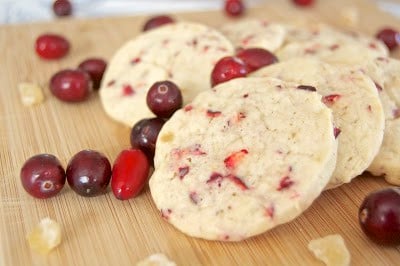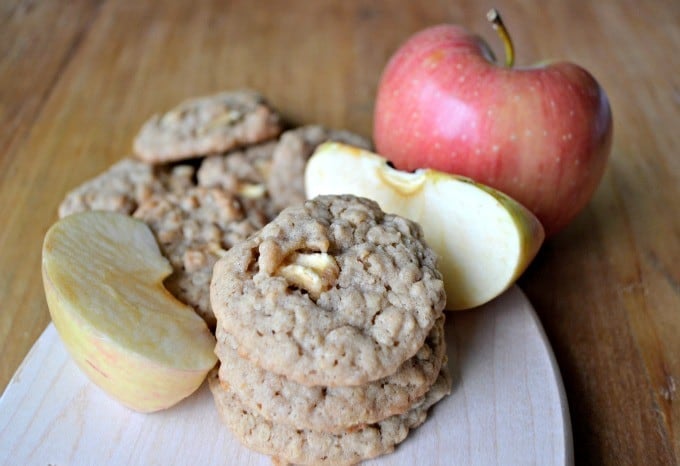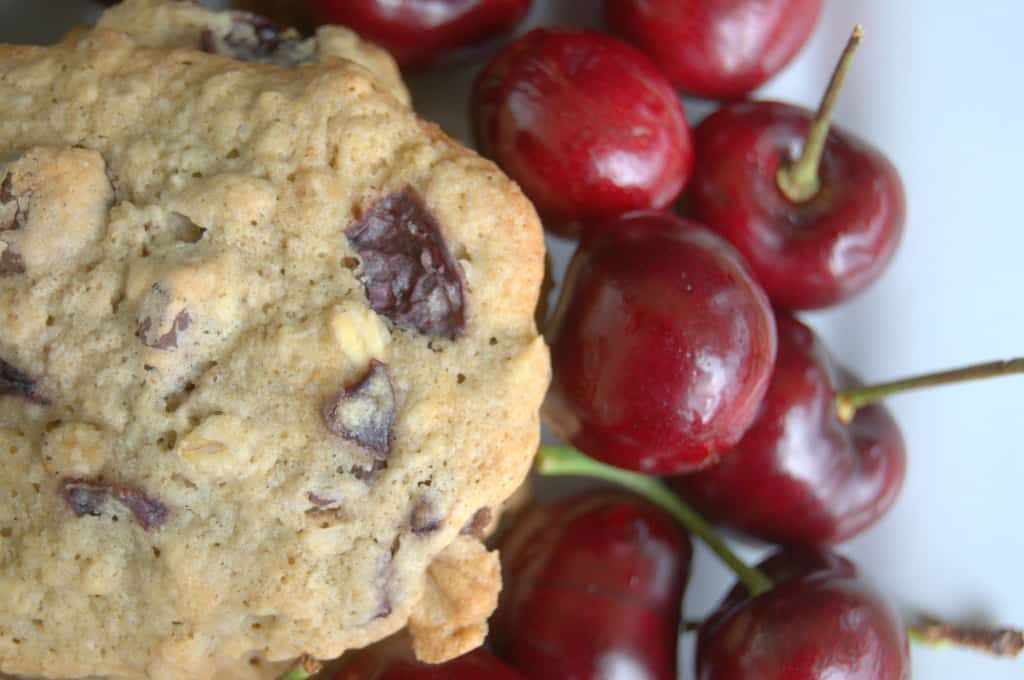 Even more cookie recipes. . .
Like I said, you can NEVER have enough cookies. I want to make sure you don't miss out on decadent Oreo Chocolate Chip Cookies or these chewy Peanut Butter Oatmeal Cookies.
At Christmas time, you'll be everyone's favorite person when you bring them a plate or gift box of Peanut Butter Reindeer Cookies. (They look impressive and taste even better!) For a cookie that's welcome anytime of year, try Double Chocolate Oatmeal Cookies and these Pecan Oatmeal White Chocolate Chip Cookies.
Reader Interactions