Peppermint Blossom Cookies – a simple peppermint sugar cookie rolled in colored sugar or multi-colored nonpareils with a Hershey's Peppermint Kiss.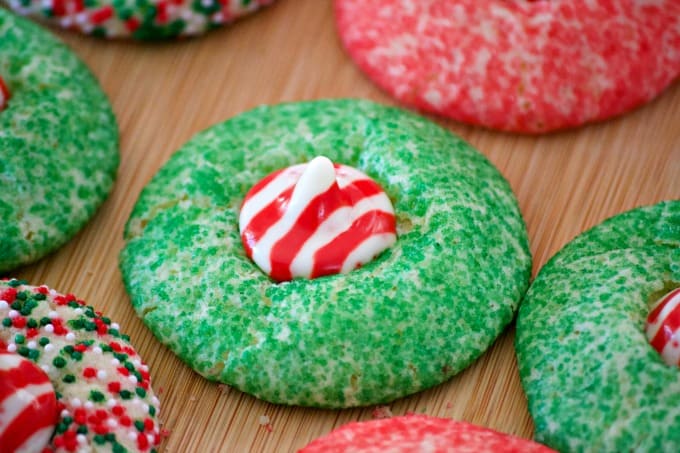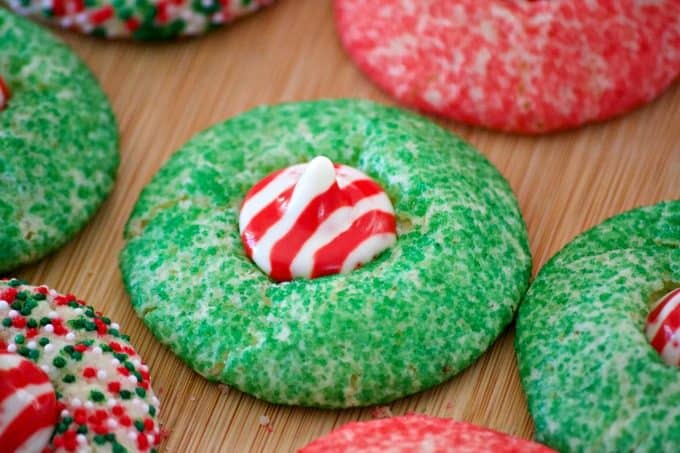 Welcome to Day 6 of our 12 Days of Cookies.
This post contains an affiliate link(s). *Please see below.

I'm a day behind. So, here we are with some Peppermint Blossoms. Yes, it should be Day 7, but I was busy finishing up some other work yesterday and it became dark before I could take cookie pictures, so I scrapped it.
Look for two days in one this week, but I'm not sure which day it will be.
SAVE THESE PEPPERMINT COOKIES TO YOUR FAVORITE PINTEREST BOARD!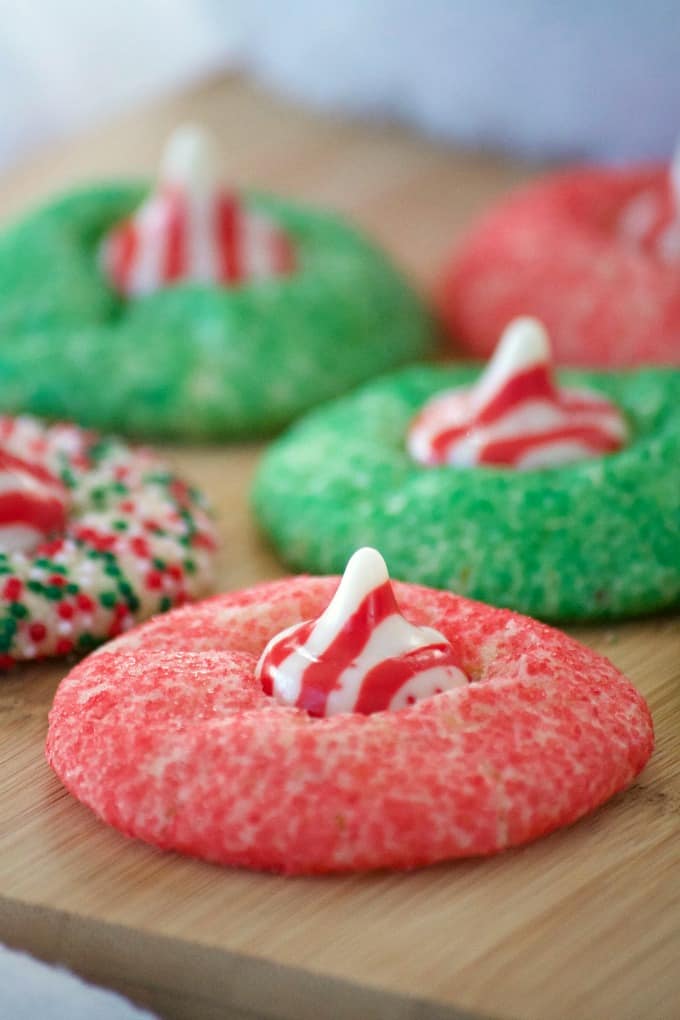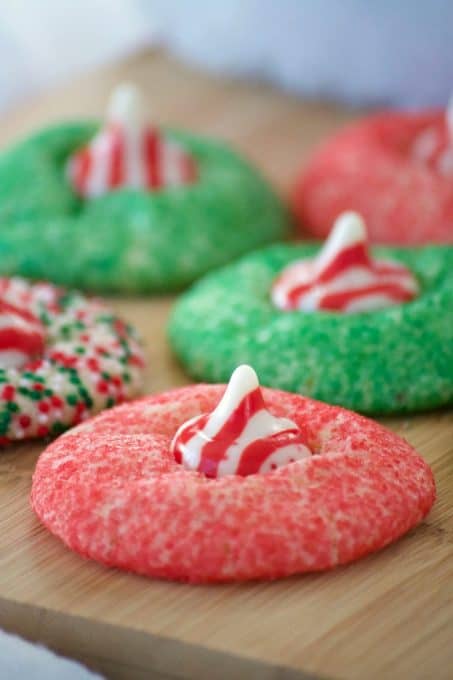 So, the family's been excited that I've been making all of these cookies. Kurt (my husband), has been especially happy because he LOVES to have a few cookies with a glass of milk and would do so every night if he could.
He much prefers them to be peanut butter cookies but will snack on almost any kind, except cookies with candy on top of them. So, both he and Cameron are on the couch watching the Patriots game earlier today. Kurt asked what I was doing and I told him I was making cookies for today's post.
"Are we going to be able to eat the cookies as opposed to just staring at them today?" I'd told him yes. He's such a nut. He asked me that because there have been some cookies they haven't been allowed to touch for a few days because I hadn't yet taken the pictures.

Me: "Ok, I'm done with pictures, you can eat the cookies now." Both boys (notice how I say boys) get up from the couches and Kurt comes over very quickly all excited saying, "Cookies! Cookies!"
Take a look at these peppermint recipes from my fellow bloggers…
He gets to the kitchen counter stops short when he sees the cookies on the rack and says in a little boy voice, "Me no like. Oh, me no like." In his best grumpy little boy voice, "Me no like cookies with candy on top", and walks away sulking. Three minutes later I found he couldn't go without cookies and found him doing this…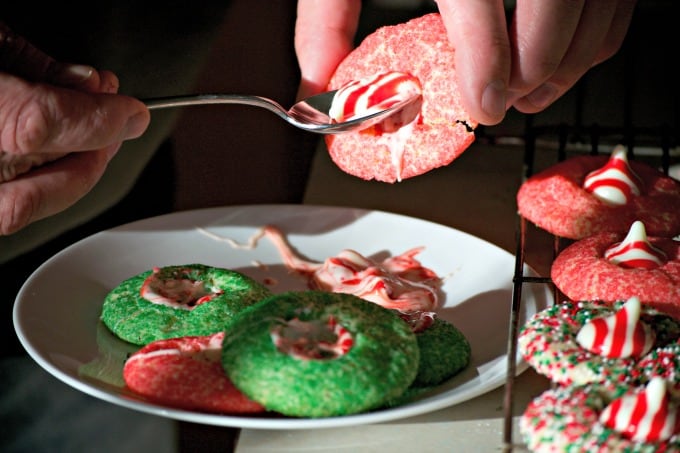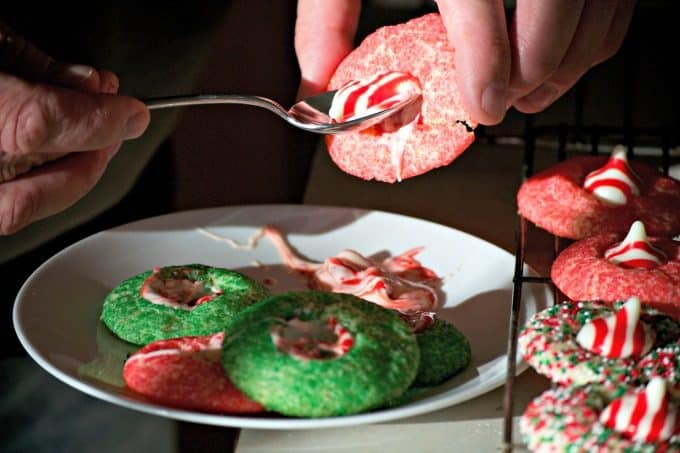 I adapted this from my Fannie Farmer Cookbook, Thirteenth Edition for these Peppermint Blossom Cookies.
Take a look at this short Peppermint Blossom Cookies Video!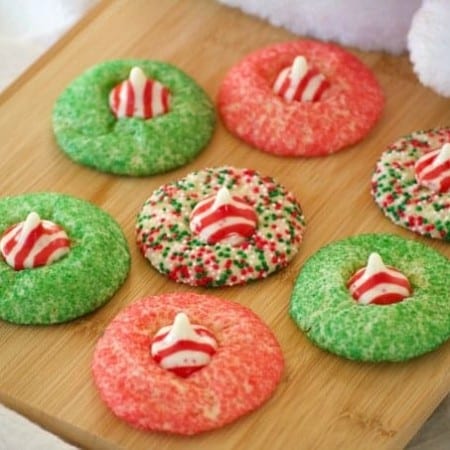 Peppermint Blossom Cookies
These Peppermint Blossom Cookies are a simple peppermint sugar cookie rolled in colored sugar and mulit-colored nonpareils with a Hershey's Peppermint Kiss.
Ingredients
½ cup unsalted butter room temperature
¾ cup sugar
1 egg
½ teaspoon pure peppermint extract
1 tablespoon whole milk
1 ¼ cups + 2 tablespoons all-purpose flour
⅛ teaspoon salt
¼ teaspoon baking powder
1 10- ounce bag Hershey's peppermint kisses
green and red colored sugars
red green and white nonpareils
Instructions
Unwrap 36 of the peppermint kisses, place into a bowl and put into the freezer. This will help them hold their shape better when placed onto the warm cookie.

Preheat the oven to 350 degrees F. and prepare a baking sheet by lining it with parchment.

Cream the butter and sugar together until light, about 3 minutes in the bowl of an electric mixer.

Mix in the egg, peppermint and milk.

In a small bowl, whisk together the flour, salt and baking powder.

add the flour mixture to the we ingredients and mix until well combined.

Using tablespoons full of dough, roll into balls.

Roll each ball into the colored sugars or nonpareils.

Place onto prepared baking sheet about 2 inches apart.

Bake for 12 minutes.

Allow cookies to cool on the baking sheet for one minute.

Place a peppermint kiss into the middle of each cookie and move to wire cooling rack to cool and set.
Notes
The peppermint kisses melt VERY easily, so allow the cookies to cool just slightly before adding them to the cookies.
Did you make this recipe?
Share it with me on Instagram and make sure to follow me on Pinterest for more recipes.
If you like these Peppermint Blossom Cookies, you'll enjoy these peppermint recipes…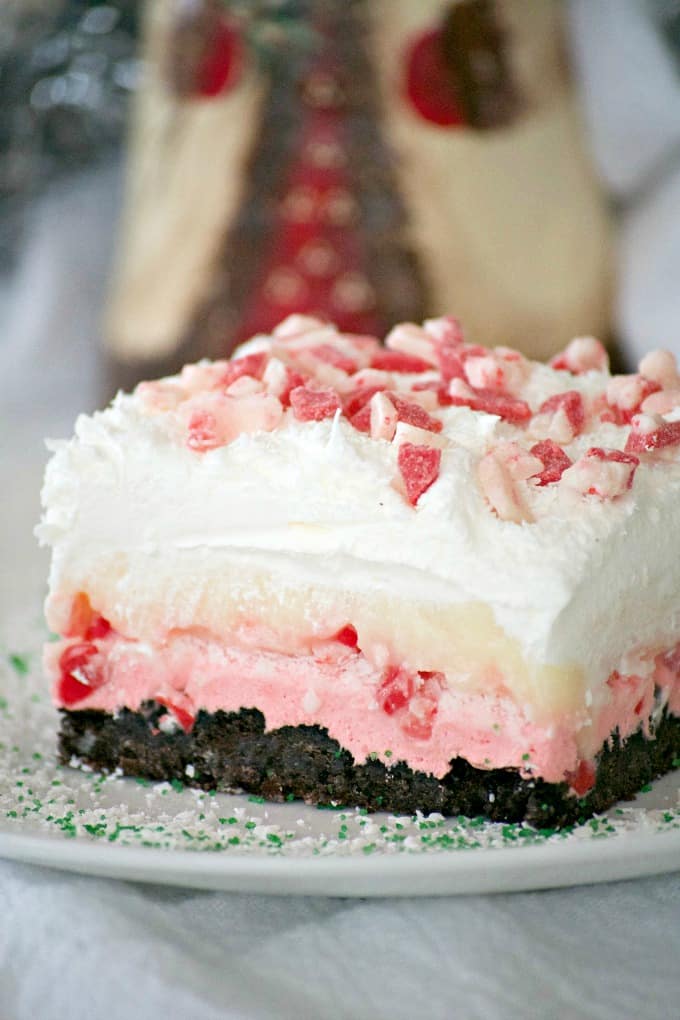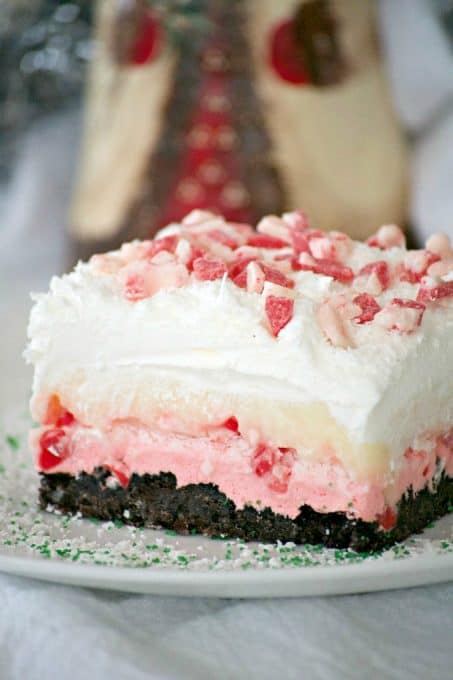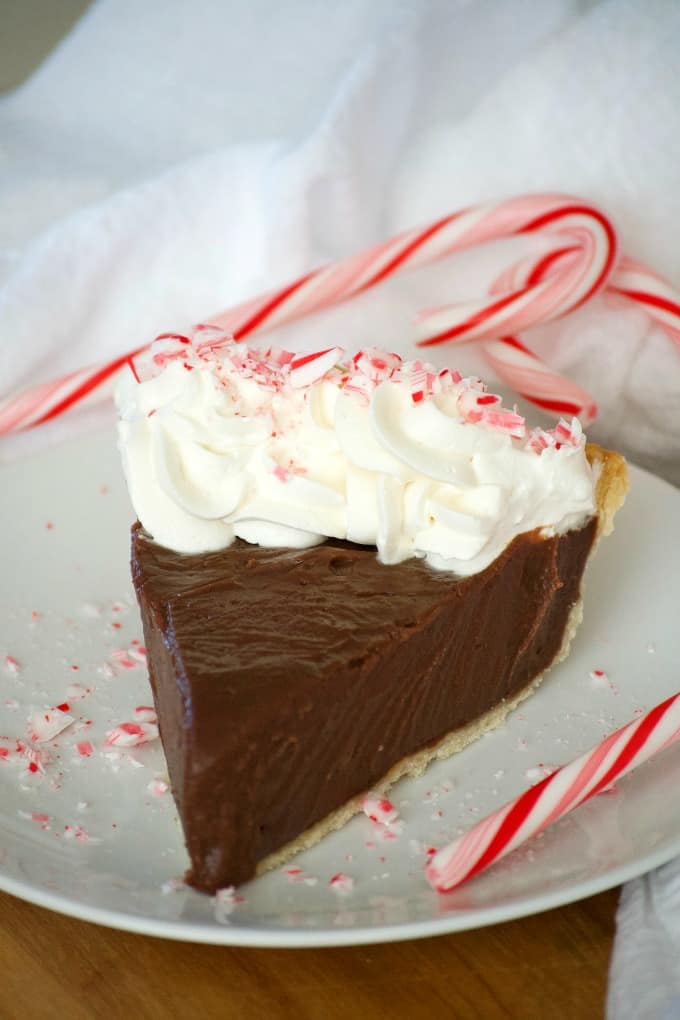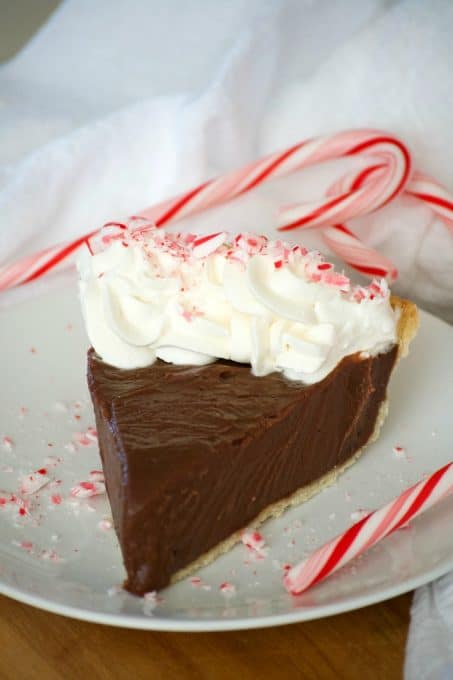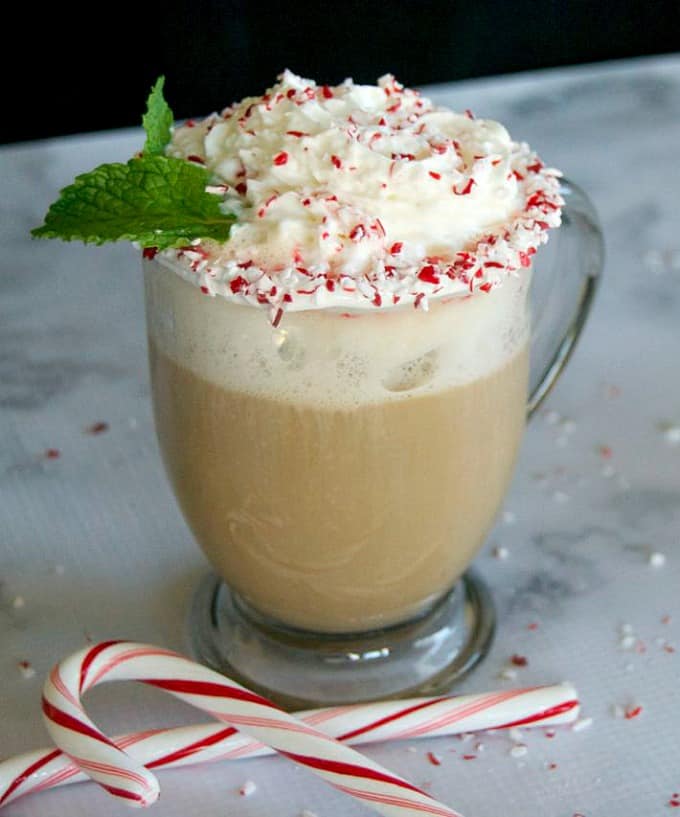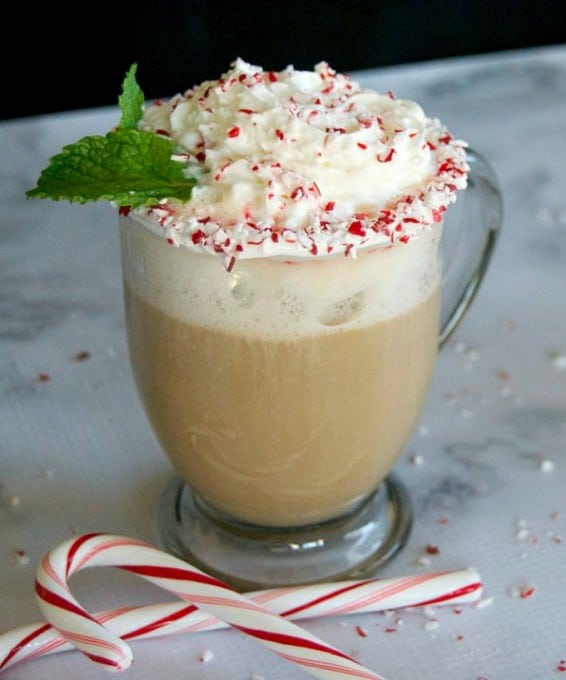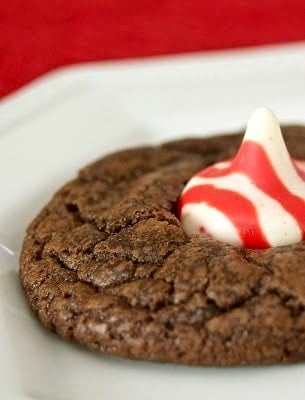 *AFFILIATE LINKS ARE LINKS THAT CAN TAKE YOU TO A PRODUCT (OR PRODUCTS) THAT I RECOMMEND. I DO RECEIVE A PORTION OF THE SALES OR CREDIT FOR MY FUTURE PURCHASES FROM ANY ITEMS PURCHASED THROUGH THOSE LINKS. YOUR PURCHASES ENCOURAGE MY BAKING, COOKING AND BUTTER HABIT, AND CONTRIBUTE TO THE LIFE OF THIS BLOG.
I THANK YOU SO VERY MUCH FOR YOUR SUPPORT. LET'S KEEP HAVING FUN IN THE KITCHEN!!
Watch these videos and get more ideas for Christmas cookies!

Reader Interactions