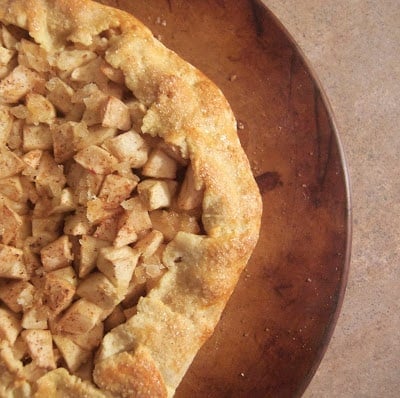 It's Fall.
As if you didn't already know that.
It certainly doesn't feel like it here in Phoenix though ~ still feels like summer with the 100 degree temperatures.
But it is, for some of you anyway.
In other parts of the world, you're starting Spring and I don't know what else.
So, in keeping with the Fall theme, because apples are so awesome here in the States this time of year AND because we had a wonderful guest for dinner last night, I created this galette.
When having a guest or guests for dinner, I like to do as much as the prep work as possible beforehand so that I can spend time with our company as opposed to spending the majority of my time in the kitchen. It only seems logical.
I suppose I could make a party out if it and have them join me in the making of their meal, but I've never been one to do that. I don't want people to feel as if they have to help, and would rather they sit and relax.
Hmmm…although come to think of it, maybe they would enjoy the kitchen bonding time.
Ok, next time I'll accept the help when they offer.
I guess that's an issue for me ~ accepting help when it's offered.
Alright, it is an issue for me. Not gonna lie. Always has been. I don't accept help well.
I've thought it would be a sign of weakness, that people would think less of me for not being strong enough to "handle" whatever it is I'd be dealing with.
I'm an only child. I'm Miss Independent. I should be able to handle whatever life throws my way.
Yes, here I go…
I started talking about having people help me in the kitchen preparing a meal and I made it into a blog post *deep booming voice* ALL ABOUT ME!
Wait, isn't that what this blog is anyway, all about me? Hee hee
Ok, time to knock off the narcississississism. 😉
So my dear, dear aunt (my father's only sibling) came to visit us last night.
It's been a few years since we've seen her and she was in town for a reunion, so I really wanted to have her over for dinner.
Because that's what I do.
Make food. And feed people.
We had a MOST WONDERFUL visit (well, at least I thought so, but I'm sure she did, too) and I must say that it was probably one of the best times I've ever spent with her.
I know she reads my blog and she may be thinking that I'm sugar-coating it, but Carol, I'm being completely honest.
At the end of the night, I brought her back to her friends' who live in a gorgeous part of Phoenix where they are nestled in the desert on a golf course and don't have any streetlights in their neighborhood. We got out of the car and stood in the driveway for about 5-10 minutes completely soaking in the brilliance of the moon and the millions of stars. It was absolutely breathtaking and the perfect way to end an extremely special evening with family.
I walked her inside, gave her a couple huge hugs, saying goodbye and returned to the car.
Driving away, the tears began to roll down my cheeks.
And as I looked out at the stars, I felt completely blessed that I was able to spend such quality time with a woman who has been such an important part of my life, continually keeping in touch with me, supporting and loving me for who I am.
My mother has passed, I have no brothers or sisters, and for various reasons, I am not in contact with my father, so despite having the love and support of Mr. 365's mother and siblings, I sometimes feel like an island.
But my aunt has been there, as has my grandmother, her mother. Time and time again.
And for that, I am extremely grateful.
I apologize for the pictures, they aren't my best and certainly aren't ones that I'm happy with, but the natural light was nearly down to nil in the kitchen.
Crust adapted from Two Peas & Their Pod.
Apple Ginger Galette – serves 6
Crust
1 3/4 cups flour
1/3 cup granulated sugar
1/4 cup yellow cornmeal
1/4 teaspoon salt
1/2 teaspoon cardamom
1/2 cup cold butter, cut into small pieces
1/3 cup buttermilk (I used 1/3 cup milk mixed with 1 teaspoon vinegar and let it sit for 15 minutes before using.)
1 egg, beaten
2 tablespoons turbinado sugar
In a large bowl, whisk together flour, sugar, cornmeal, salt, and cardamom.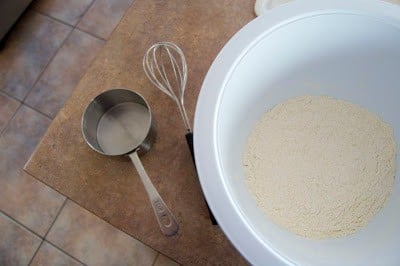 Add butter.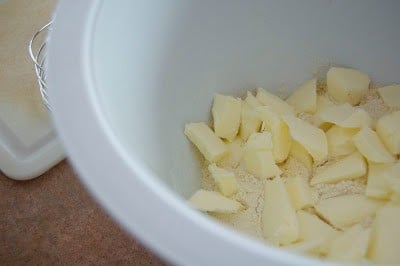 With a pastry cutter, blend in butter until mixture resembles coarse meal. (You can also use a food processor for this step and pulse the butter in to the mixture 4-5 times)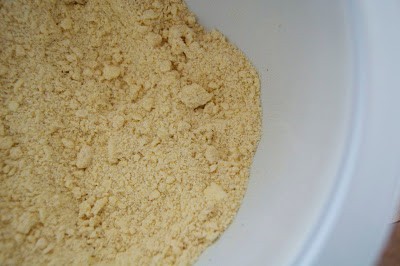 Pour the buttermilk into the bowl and stir dough until it begins to stick together.
(Mine didn't completely stick together, so, I gathered it into a ball and stuck the remnants to it. When I took it out of the fridge to roll it, it was fine and not crumbly.)
(OR: With the processor running, slowly pour the buttermilk through the chute, processing until the dough forms a ball.)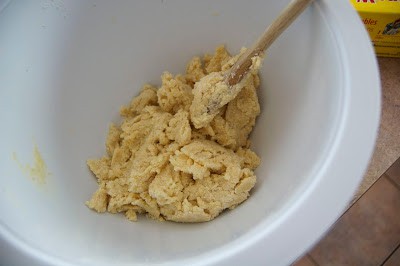 Remove the dough ball and adhere any remaining pieces of dough to it, then wrap in plastic wrap or parchment paper.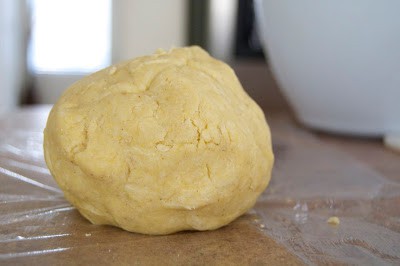 Refrigerate for at least 45 minutes before rolling out.
*The galette dough can be made in advance. It will keep in the refrigerator for 3 days.*

Filling
6 small apples – I used 3 Gala apples and 3 Granny Smith
1/4 cup sugar
1 tablespoon freshly squeezed lemon juice
1/2 teaspoon cinnamon
3 tablespoons crystallized ginger, chopped
freshly grated nutmeg
Preheat oven to 350 degrees F.
Prepare a baking sheet or pizza stone by sprinkling it lightly with cornmeal or by lining the baking sheet with parchment.
Core, peel and dice the apples.
Place them into a large bowl and add the sugar, cinnamon and lemon juice.
Toss to coat thoroughly.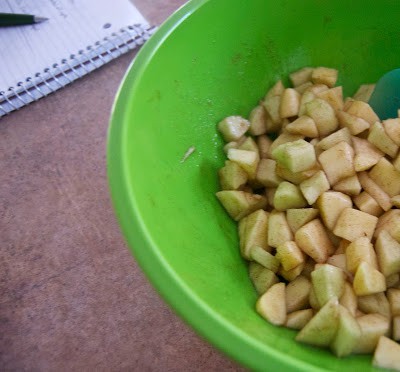 Remove dough from the refrigerator and roll out on the pizza stone or prepared baking sheet to form a 14-inch circle, beginning from the center.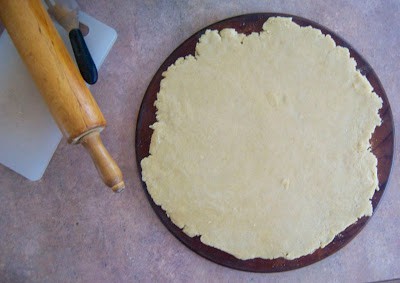 Pour the filling into the center of the dough and spread to within two inches of the outer edge.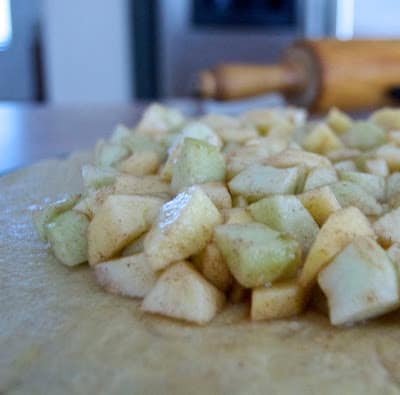 Sprinkle minced crystallized ginger over the apples.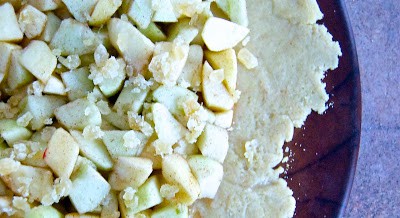 Fold the edges of the dough up and over the filling, gently pressing to secure the creases. You don't want the juice running out onto the bottom of your oven.
Lightly brush the top of the dough with the beaten egg and sprinkle with turbinado sugar.
Sprinkle with freshly grated nutmeg.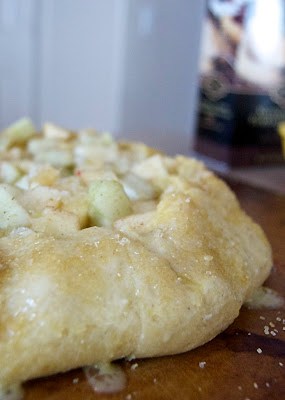 Bake for 1 hour, or until crust is golden.
Transfer baking sheet to a wire rack and allow to cool for 20 minutes.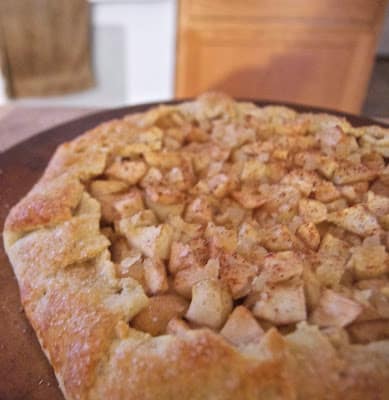 Serve warm or at room temperature.
I rate everything I make on a scale of 1-4 with 4 being the best and this Apple Ginger Galette earned 3 1/2 rolling pins.
Ice cream would be a nice accompaniment, but I only had some with freezer burn and that's sssoooooo unacceptable for company. I wish I'd thought to pick some up when I was at the store.
Oh well, it tasted great without it.
I loved the taste of the ginger on it! I wish I had included at least one more tablespoon, if not two more. I wanted that taste in every bite, but didn't get it. You chose the amount you like.
I found yesterday after tasting the crystallized ginger for the first time that I quickly became addicted.
I had to make sure to stop myself so I had some to use!
My new found treat ~ crystallized ginger.