Let everyone enjoy these biscotti cookies the next time you make them. Add some warm, delicious coffee with it and you won't need anything else.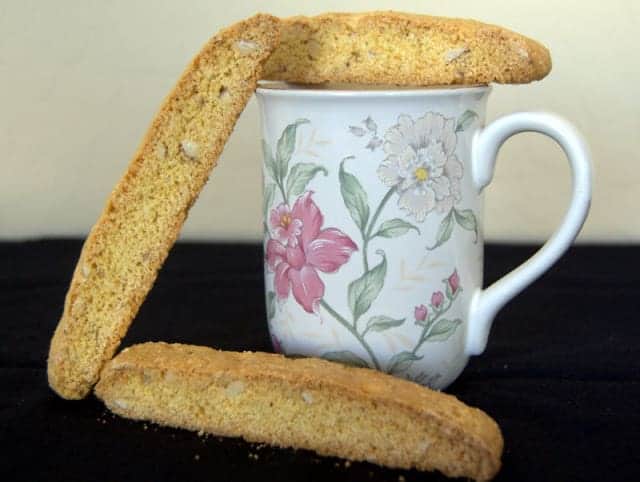 Baking cookies is something you'll always cherish. Now you can add a world-famous biscotti recipe to that list.
When you bite into a biscotti that's made right, it's like you're in another world. Minus the crumbs which the plate should save but really doesn't, biscotti cookies are a treat I'll make in a heartbeat. I thought these were absolutely scrumdiddlyumptious! Yes, they were crisp, but dipped in coffee…ooh, ooh, ooh! They had a nice crunch to them (they'd probably make good teething biscuits haha), and the citrus flavor was wonderful! The only problem I had with this recipe was that when I cut them before they went into the oven to bake a second time, the darn dough was really sticking to the parchment. SO much so that it was ripping as I cut. And I forgot to take a picture. I highly recommend that you spray the parchment with cooking spray.
Tonight I went to the grocery store and did a major shop. They were having a pretty good sale, so I did some research and printed some additional coupons from the computer before I left. Off I went with my coupon binder in hand. I had forgotten my phone, so I wasn't keeping track of the time while I was in the store. As it always happens, I see people I know, and we stop to chat. Mind you, the store is only about 10 minutes away, so driving time to and from is about 20 minutes (if that). I left at about 5 pm and didn't return home until close to 8! Yes, I was going rather slowly because I really wanted to save as much money as I could and was tedious about going through my binder and matching coupons with items that were on sale. After all, isn't that where we save the most money?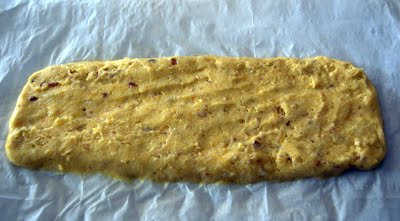 I went through the checkout and the total came to $380. The cashier deducted my store card savings, and then with the coupons, the final total came to $230.57. I saved 45% which I was pretty psyched about but thought even that was too much. When I looked over the receipt at home and saw that some of the coupons hadn't been entered correctly. My head was pounding and I didn't really want to go back, but I knew it couldn't wait until tomorrow. It literally paid off though because the manager reimbursed me $27.52 for the mistakes.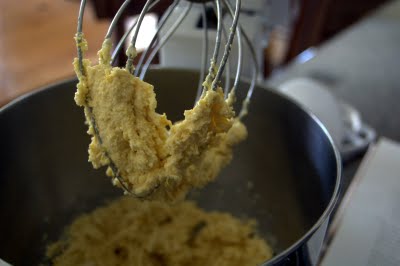 Moral of the story – pay attention when the cashier is ringing you up. I know they're only human and we all make mistakes, but sometimes things happen and it can end up costing you more than it should. Going back to the store was definitely worth it, and yes, I guess I am "one of those" people (as a little old woman referred to me upon seeing my coupon binder a few shopping trips ago). Yes, I like to use coupons and make sure I'm saving as much as I can.
And I'll be honest, I get a little rush from it, too. 😉
Nothing tastes as good as this homemade apple cider from gimmesomeoven on a cold or rainy day. I know I'll be loving it in this "cold" we have in Arizona.
Since I saw these biscotti cookies in Everyday Italian by Giada De Laurentiis, I knew that the recipe had to be good. I mean, how could it not be, it's Giada! I love her. She's awesome. I think I have a girl crush. Not that kind of crush, c'mon. It's just a food blogger's envious I'd-love-to-be-able-to-cook-like-her crush.
I would LOVE to have her cook me dinner and just sit and talk with her (because I'd be way too intimidated to cook for her or even with her!). Actually, I don't think I'd even be able to talk with all of that delicious food in my mouth! Here's the adapted recipe courtesy of Everyday Italian, p. 244; author, Giada De Lalurentiis; publisher, Clarkson Potter/Publishers, a member of the Crown Publishing Group, a division of Random House, Inc.; ISBN 1-4000-5258-0.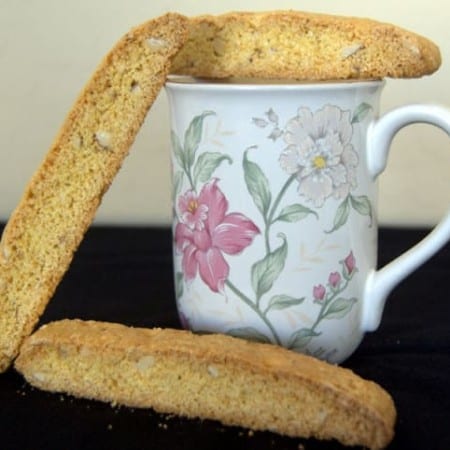 Ingredients
2 cups all-purpose flour
¾ cup fine yellow cornmeal
1 ½ teaspoons baking powder
1 teaspoon salt
1 cup sugar
3 large eggs
1 tablespoon orange zest (1 orange)
1 tablespoon grated lemon zest (2 lemons)
½ cup coarsely chopped almonds
Instructions
Preheat oven to 325 and line a baking sheet with parchment.

In a large bowl, whisk together flour, cornmeal, baking powder, and salt.

In a mixing bowl, beat the sugar and eggs until pale yellow and fluffy, about 3 minutes.

Mix in orange and lemon zest.

Mix in the flour mixture and beat until just blended. The dough will be soft and sticky.

Mix in the almonds. Let stand for 5 minutes. Using a rubber spatula, transfer the dough to the prepared baking sheet, forming two equal mounds spaced evenly apart.

Moisten your hands with water and shape the dough into two 11 x 4-inch long logs.

Bake until the logs are lightly browned (about 45 minutes).

Cool for 5 minutes, then with a serrated knife, cut the logs crosswise into 1/2-inch thick diagonal slices.

Arrange the biscotti cut side down on the same baking sheet, and bake until the cookies are pale golden. About 25 minutes. Let cool before serving.
Nutrition
Calories: 1904kcal | Carbohydrates: 394g | Protein: 44g | Fat: 16g | Saturated Fat: 5g | Cholesterol: 558mg | Sodium: 2550mg | Potassium: 1080mg | Fiber: 6g | Sugar: 200g | Vitamin A: 810IU | Calcium: 381mg | Iron: 14.7mg
Did you make this recipe?
Share it with me on Instagram and make sure to follow me on Pinterest for more recipes.

I know we all love our coffee whatever time of day it is. And with my homemade french vanilla coffee creamer, you'll be all set.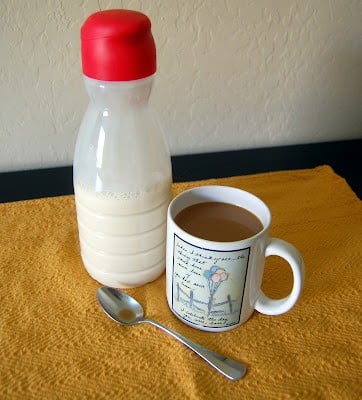 One of my favorite cookies on the blog are these cream cheese cookies. They're small but watch out cause you'll eat more than you think if you don't pay attention. Not that that's a bad thing.

I must say that I am now excited to try some other biscotti flavors. Giada's recipe called for pistachios, but I substituted almonds because that's what I had. I also cut the recipe in half and made only one log, but I posted the whole recipe. I just wasn't sure if we'd be eating that much and now I'm disappointed I didn't make the full batch.
Oh well, lesson learned. I rate everything I bake on a scale of 1-4 with 4 being the absolute best and Giada's Citrus Biscotti earned 3½ rolling pins.
Reader Interactions